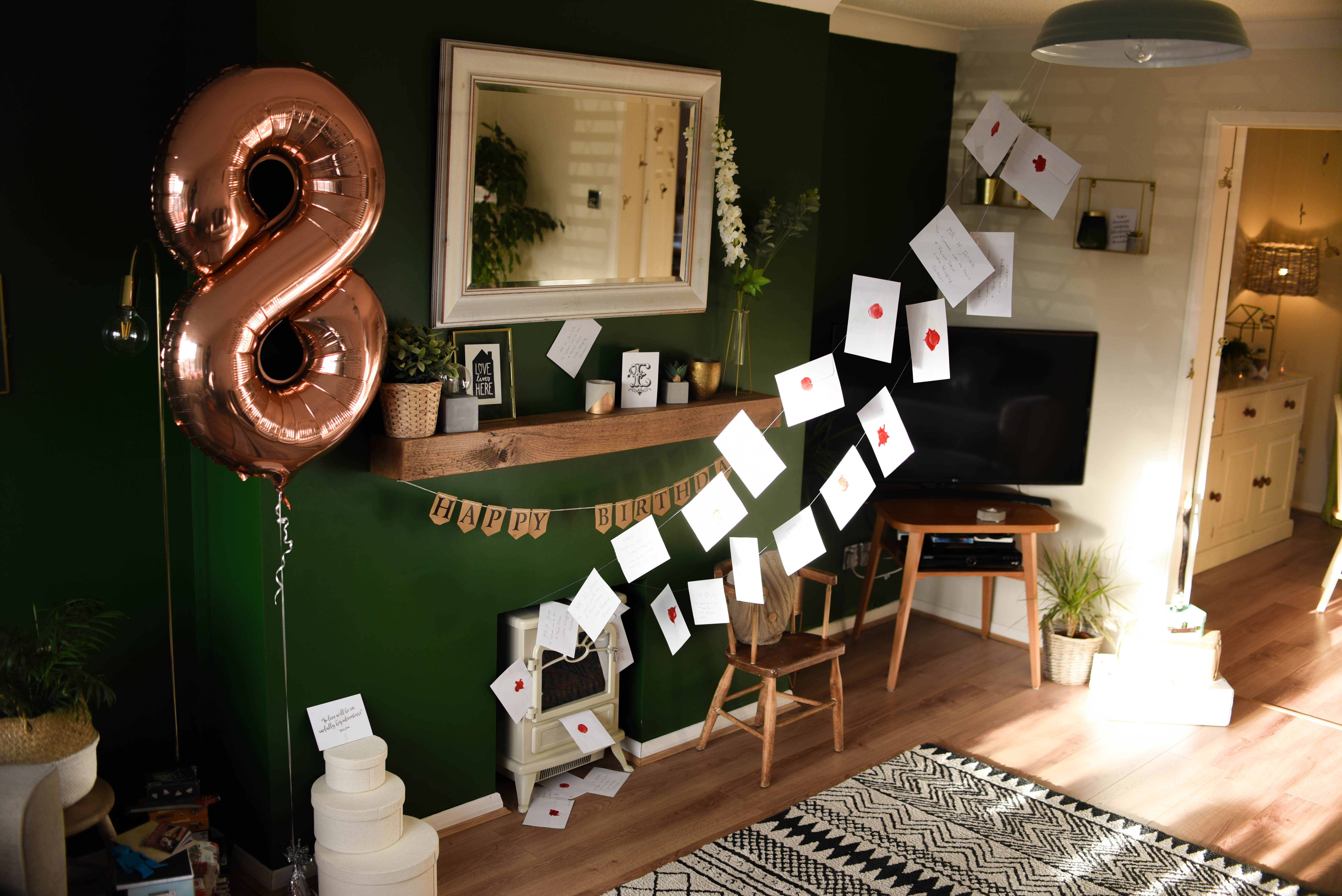 When I threw the girls a sports day themed un-birthday party in the summer I thought I had hit the jackpot. It was fun, easy to organise, inexpensive, inclusive, and around about a time when nothing much is going on (other than normal busy family life that is!) It was basically just really enjoyable for me which, let's be honest, is the premise of lots of party planning….second to the child's enjoyments obviously.
When it was over I thought that was going to become the plan for the next few years. Summer parties woohoo I was off the crazy Christmas busy time hook. Alas arrive in December and I am surrupticiously reminded that the summer was in fact in leiu of the last birthday where no party was involved and 'just' a trip to a science museum with the four of us and that this year my soon to be 8 year old socialite would perhaps 'only' have a few friends over for afternoon tea.
Ok. I could deal with that.
Before realising that a 'few friends' for afternoon tea with a 7/8 year old soon turns into a request for 8 children in your house for a Harry Potter themed afternoon which is essentially the party you were trying to avoid 5 days after Christmas. 8 children or 80 children the party prep is the same right!?
So once the crackers were cracked, the leftover gammon consumed and yet still the festive spirit remained, so came 3 days of super speedy Pinterest planning and alas we had a Harry Potter afternoon tea/at home party with some friends. I have to say for all the stress and rushing around, she had the best time, which of course, jokes aside, really is what it's all about.
In fact she said it was the best party ever and was so proud to show her friends that I felt like I had won the Mum lottery. Whilst perhaps also giving myself a rod for my own back in the party stakes for years to come!
I do have a bit of a thing for party planning though, I genuinely love it. Naturally I love it more with relaxed planning time but there is something intrinsically satisfying about putting it all together. To transform even the smallest of ideas and make them really quite special with maybe not so much money (or time and prep lets be honest) and probably just more energy than anything. Little on price and for me it's all about the experience, the fun and the memories that they will make, I'm happy to go all out for that. Though I am then shattered and swear I'll never do it again. Ever. Yet here I am a couple of weeks later planning a dinosaur party for a soon to be 4 year old. I will literally never learn.
Onto the details.
Decorations
First and foremost you have to make an initial impact and with a Harry Potter theme there was never a question than to have a platform 9 3/4 with a 'wall' you could disappear into. Cue a white sheet, sponge and some brown paint. This is also where we learnt that a sheet is in fact permeable and meant days and days of scrubbing the kitchen floor of said paint! Totally worth it as Eva thought this was the best bit. We also managed to hang it in the little porch so as not to have people head butting the door as they walked through (not the best way to greet your guests) I made a sign with a piece of card, paint and google images. This is also where my colour mixing skills had to come into play to get just the right colours, harder than it seems I tell you!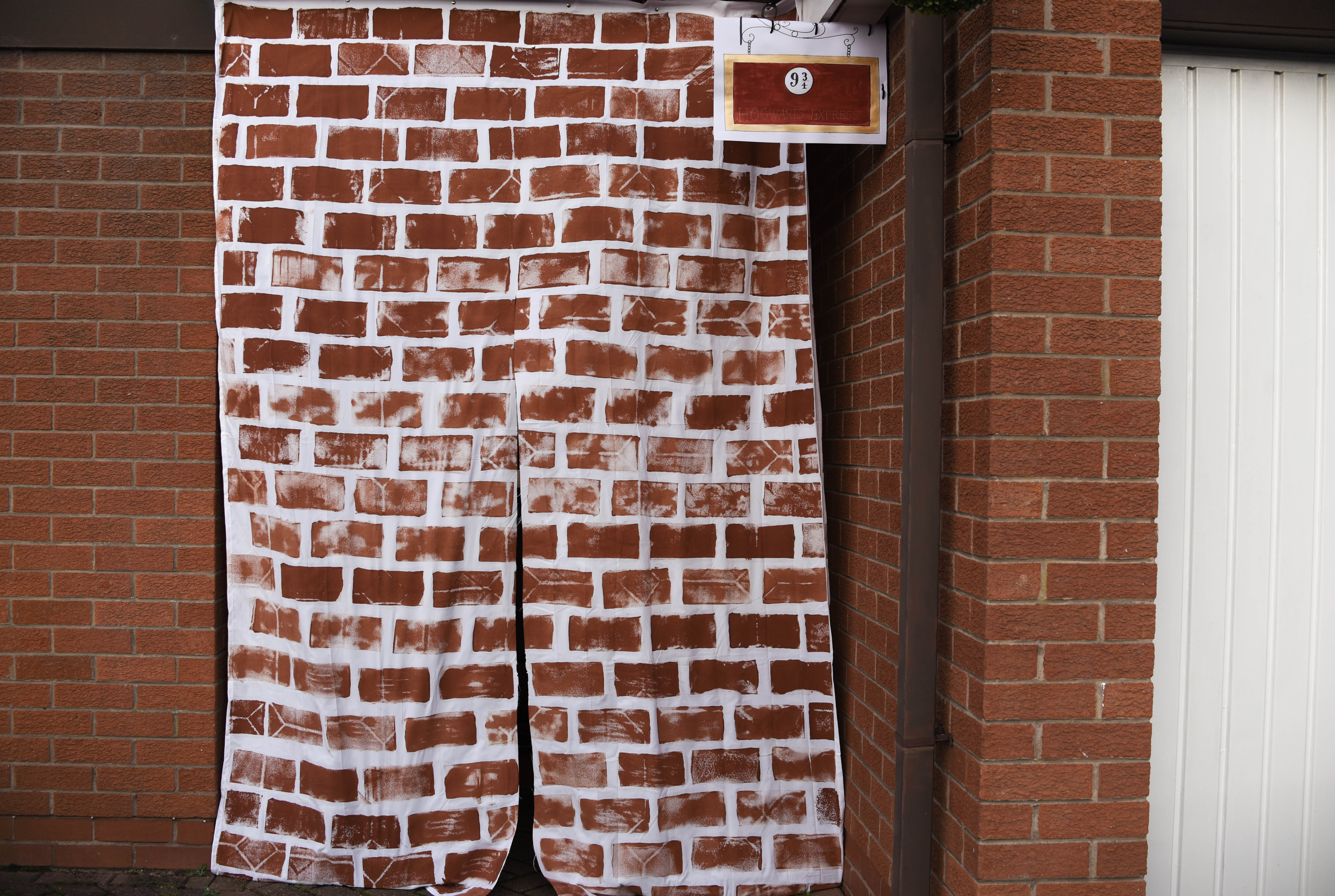 As you came through in the hall I hung a coat hanger and blackboard sign as an 'invisibility' cloak, again a really simple idea that doesn't take much to achieve but effective nonetheless!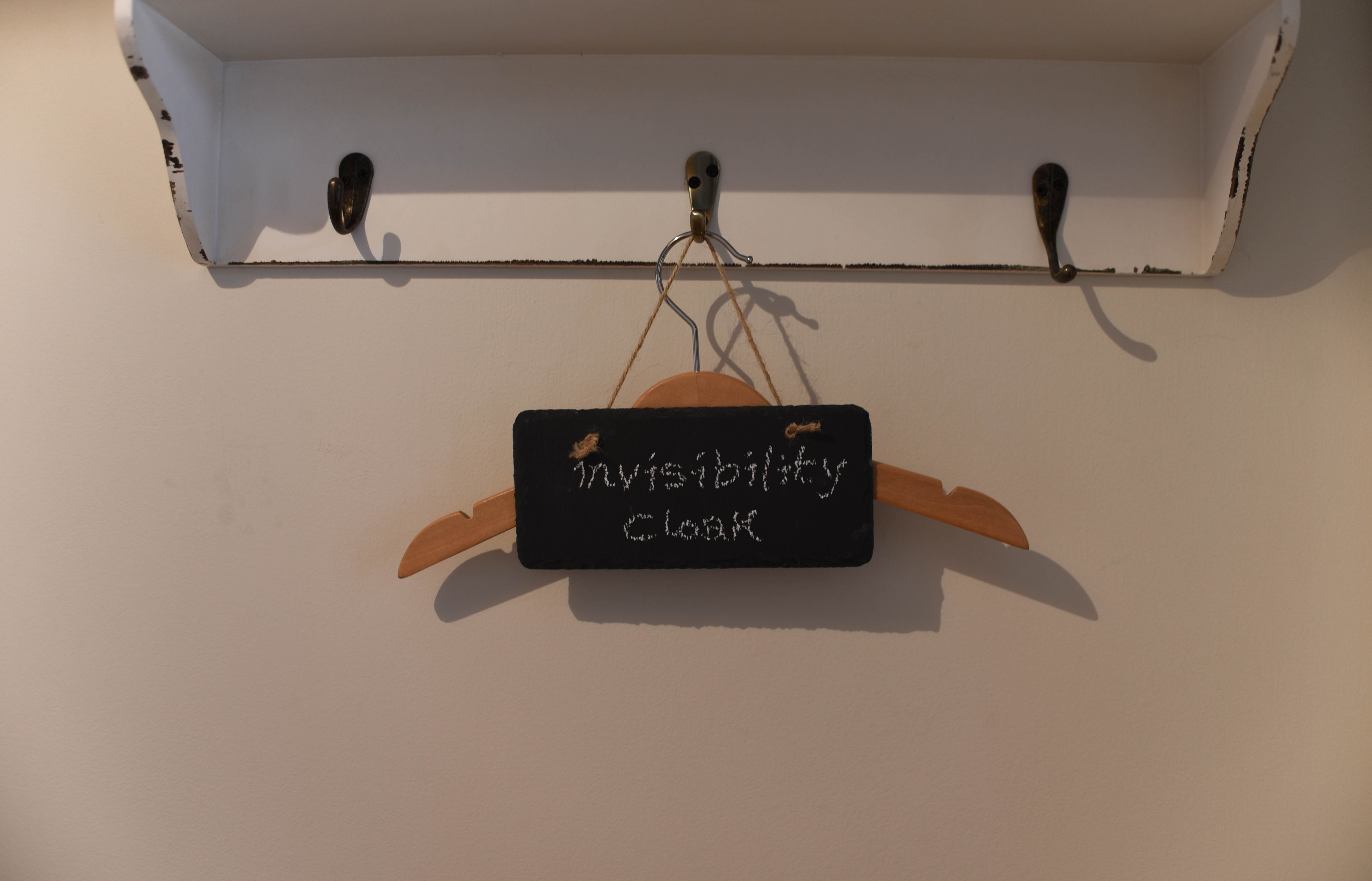 In the lounge we made the Hogwarts letters coming out of the fireplace which again I thought made a real statement and set the scene nicely. I hand wrote on envelopes the address, used a red leftover Christmas candle and a penny to make a wax seal and hung them by threading through simple sewing cotton which was the closest to invisible you could get. We hung it from the fireplace to the light shade and then dotted them around the room too (you might just about see one in the plant in this picture here)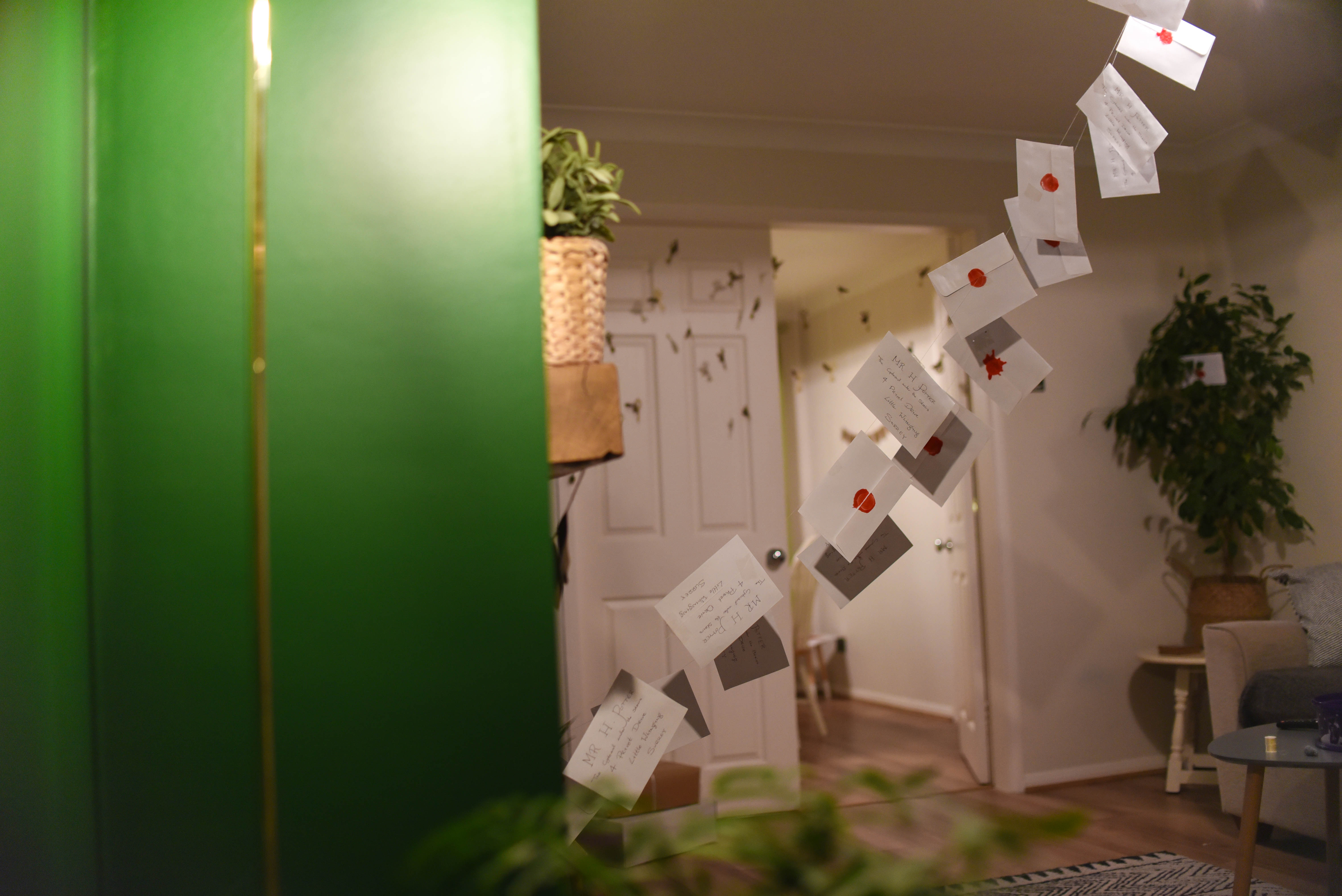 The next big thing was the 'flying' keys I hung with white cotton from the door frame between the lounge and dining room. The keys are wooden ones that you can get in a pack from most craft stores for about £1. I spray painted them gold and stuck feathers on the back that you can get in a pack for £1 from places like hobby craft or the range (this is where almost all of my supplies come from). I hung them at differing heights all the way along. I did order some proper brass little keys but found the wood worked better as they were lighter to hang and also as they were in a doorway they would inevitable get knocked about a million times in an afternoon and not only would they not fall off but they wouldn't ping anyone on the head too sharply either. Always a bonus when you can send children home unharmed from a birthday party isn't it?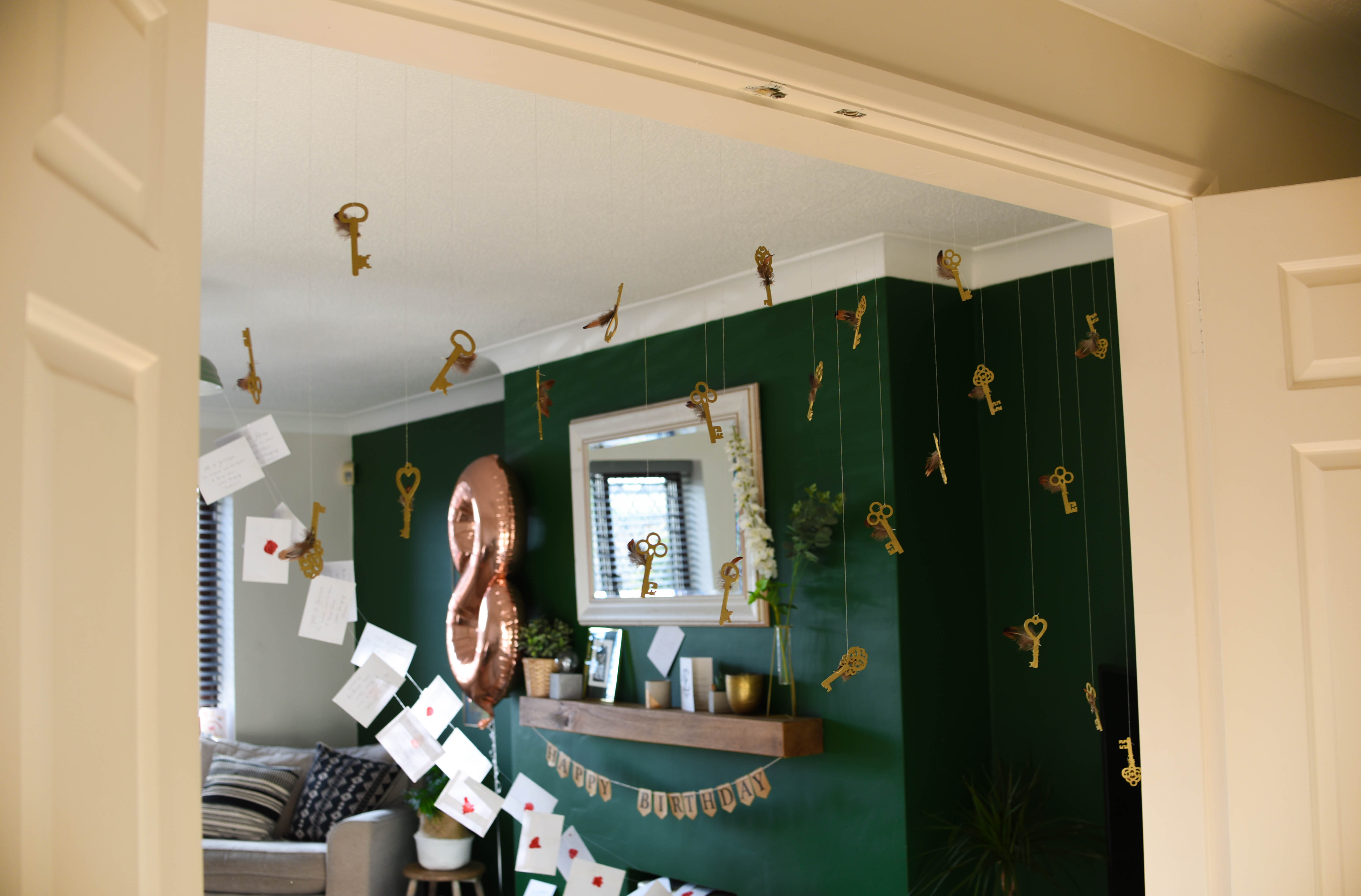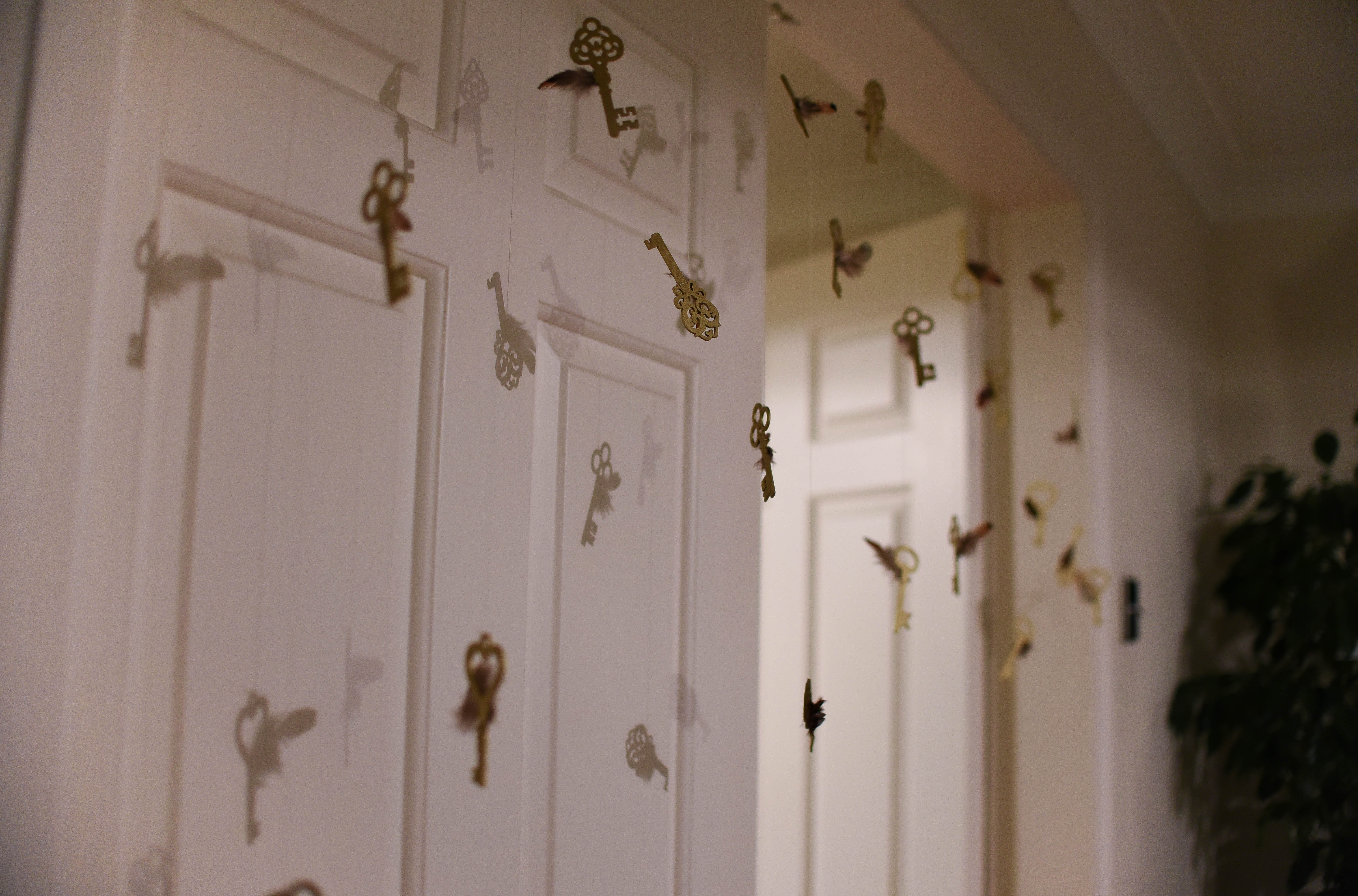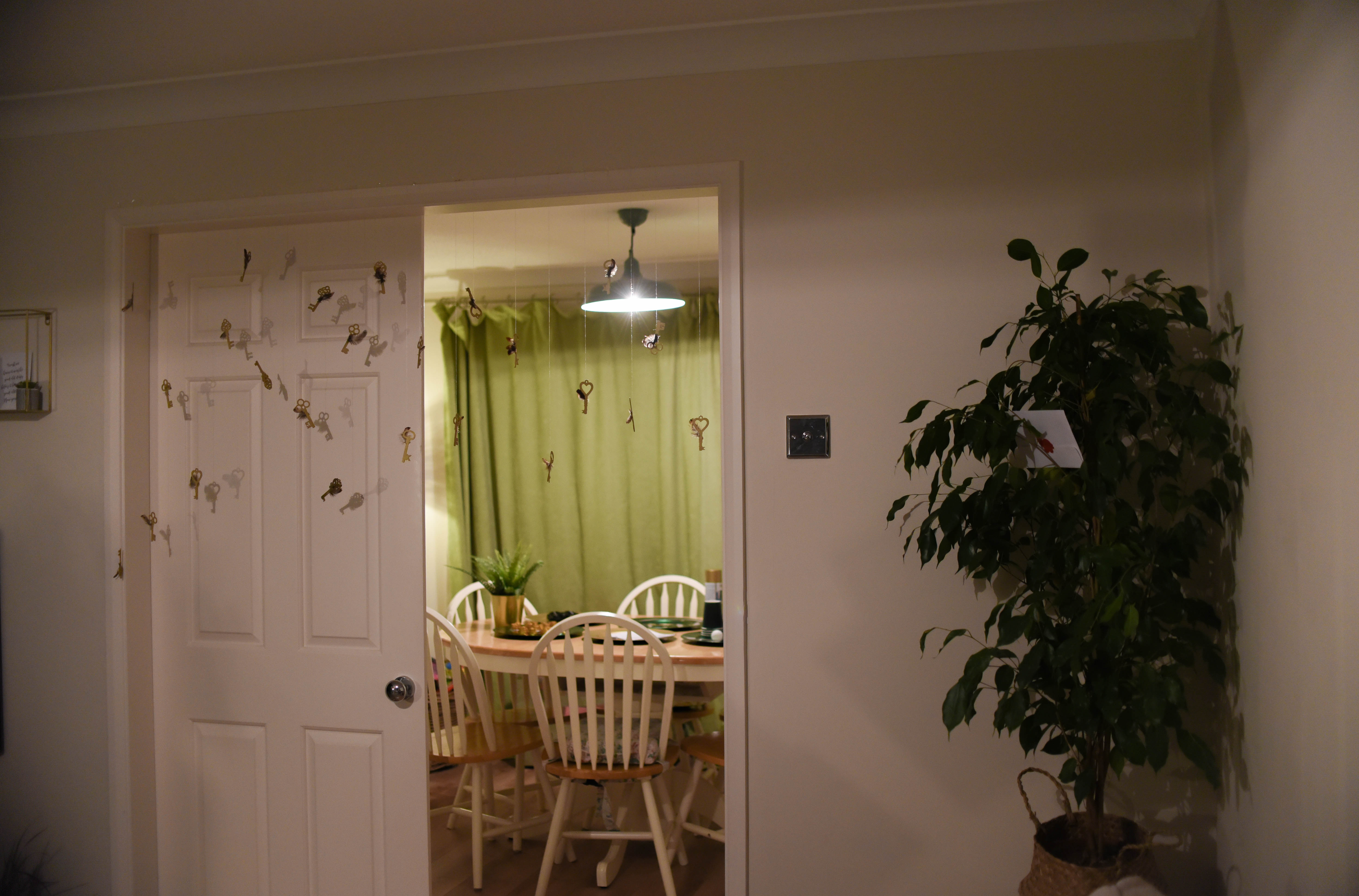 The only other items that I added in the lounge were these parcels. One is merely a white cardboard box (I do thank the just after Christmas timing for the fact that we had lots of boxes hanging around from presents) which I have wrapped around with twine. The other is a brown parcel/craft paper wrapped box with some ribbon and the top turquoise one is from a stack of cardboard suitcases we have in the playroom for storage. I used Evas little Hedwig ornament that she got for her birthday to put on the top and a stick from Romas stick collection to look like a broomstick. Perhaps the only time to be thankful for the permanent stick collection that we have outside the front door.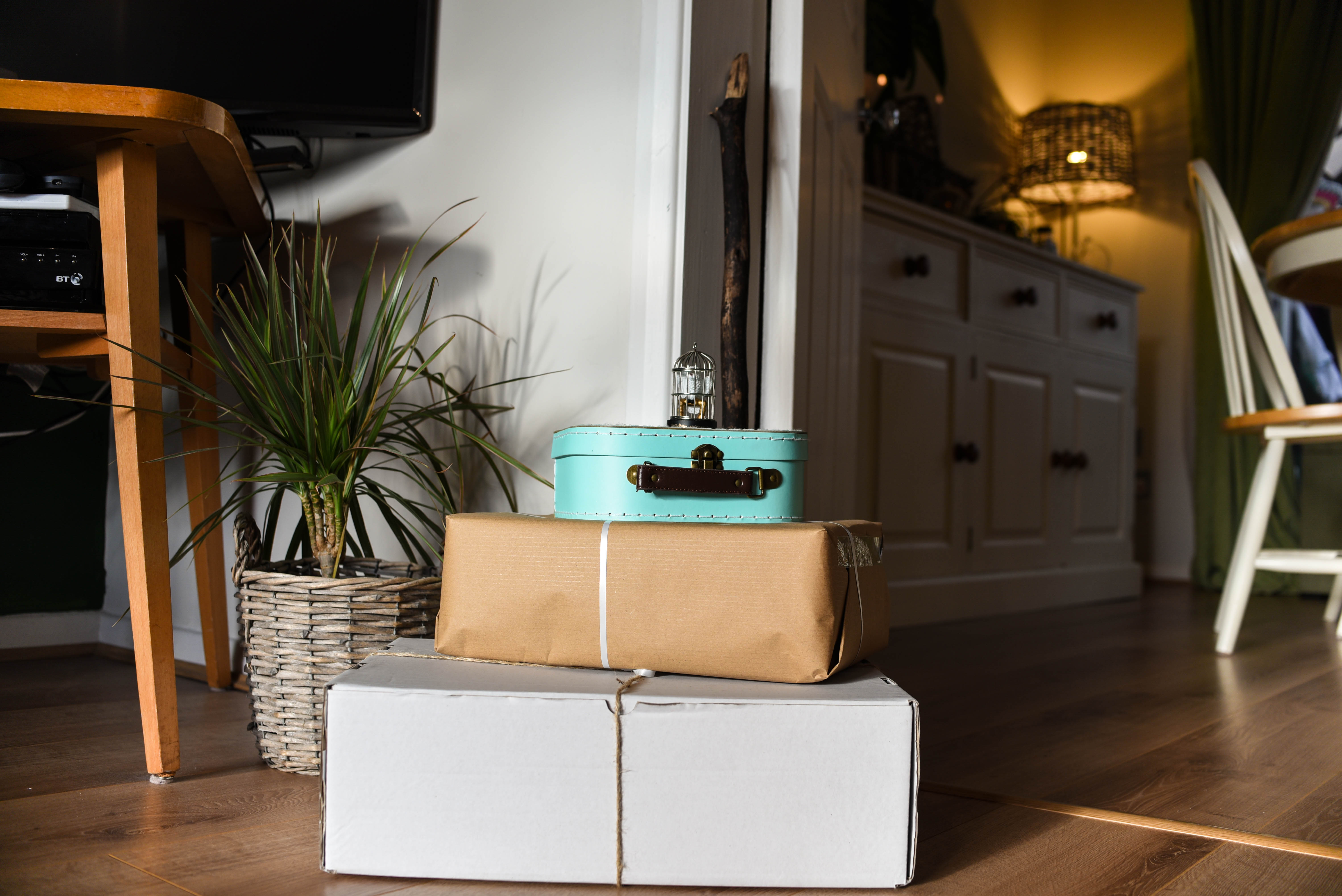 In the dining room we have a dresser which is the perfect place for a display. Somewhere to make a statement in one place which makes a real impact without having to do too much around the house, thus diluting your effort.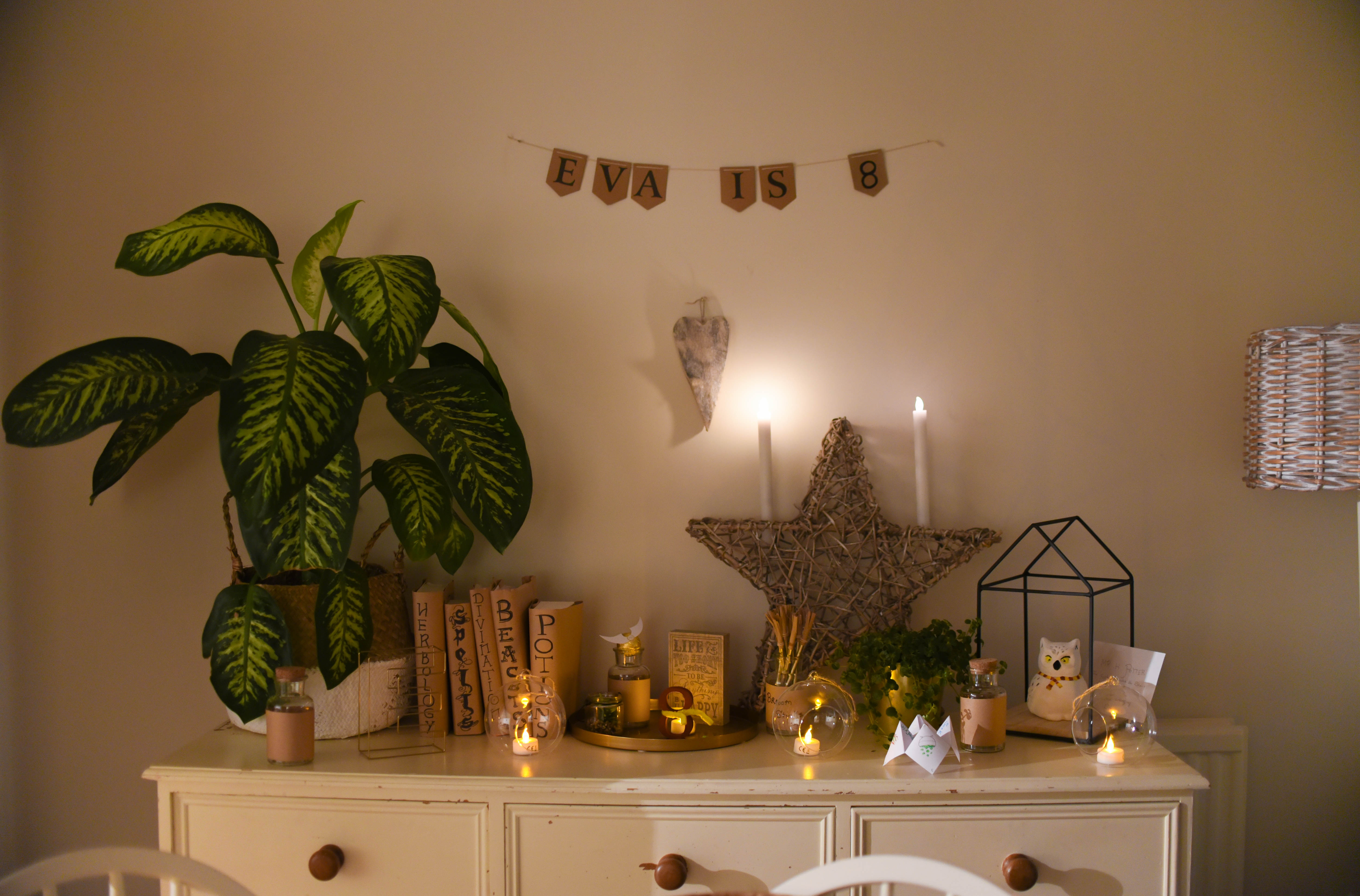 The brown cardboard bunting is one that we have used for years from a craft store, very inexpensive, the small tea lights are battery operated £1 for 4 from hobby craft and the glass domes they are in are actually plastic and again from hobby craft which I knew I would reuse in her woodland bedroom makeover in the new year. The star is a Christmas decoration we got from a local gift shop years ago and the long candles stuck in there are from JYSK. They are battery operated and we use them for the children to take to the Carols by Candlelight service we go to each year. Helps them not to worry about burning themselves and me to concentrate on singing Carols – my favourite!
The Owl is made from a plain polystyrene one which I got from Hobby Craft (I told you that everything was from there didn't I!?) I painted the whole thing like Hedwig including the scarf with the colour mixed earlier.. me and google images are quite well acquainted by this point.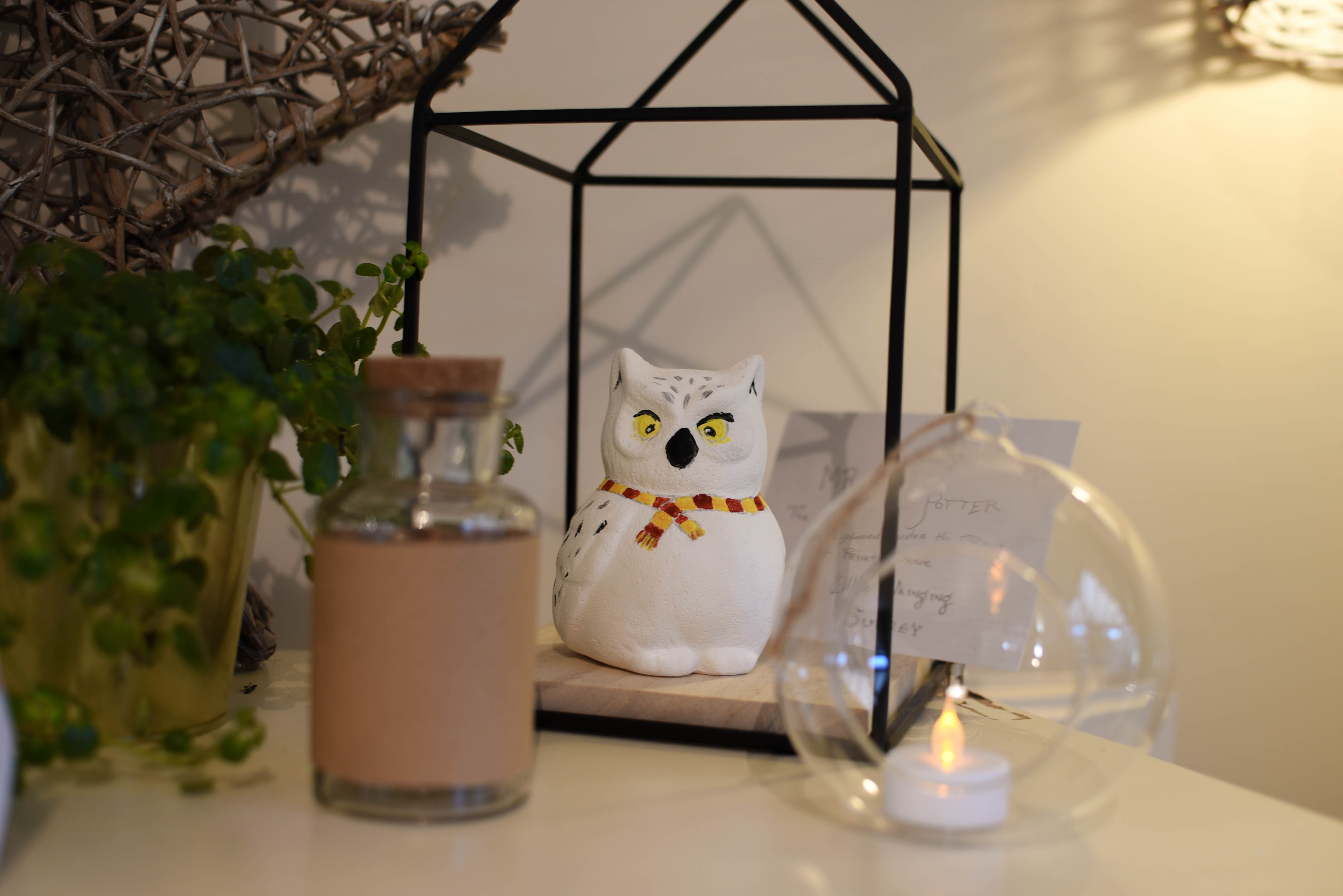 The wooden 8 is painted in gryffindor maroon colour with a yellow pipe cleaner for scarf (she now has that in her room), glass bottle jars are items we already have for little bits of craft storage (always a good idea to see what you already own that can be repurposed) I just used craft/parcel paper and sharpie to write things on there, like broomsticks.
I made the 'broomsticks' with pencils spray painted gold and some brown paper snipped at the ends and wrapped around held with elastic for the broom bit which were used for the games and also to take home as a party favour in place of a traditional party bag.
The 'Golden Snitch' I also made with a ping pong ball and a Ferrero Rocher wrapper (I know I am such a dedicated parent eating my favourite kind of chocolate just for the wrapper, the things we do for them!) I merely just cut some wings from white paper to stick on. Did the job quite well I think.
The same with books, I wrapped just ordinary thick books from around the house in parcel paper and copied lettering from google images with a sharpie to wrap around. I am sure you could print these things aswell but when time is short you just go with whatever you have at 10pm in front on Netflix!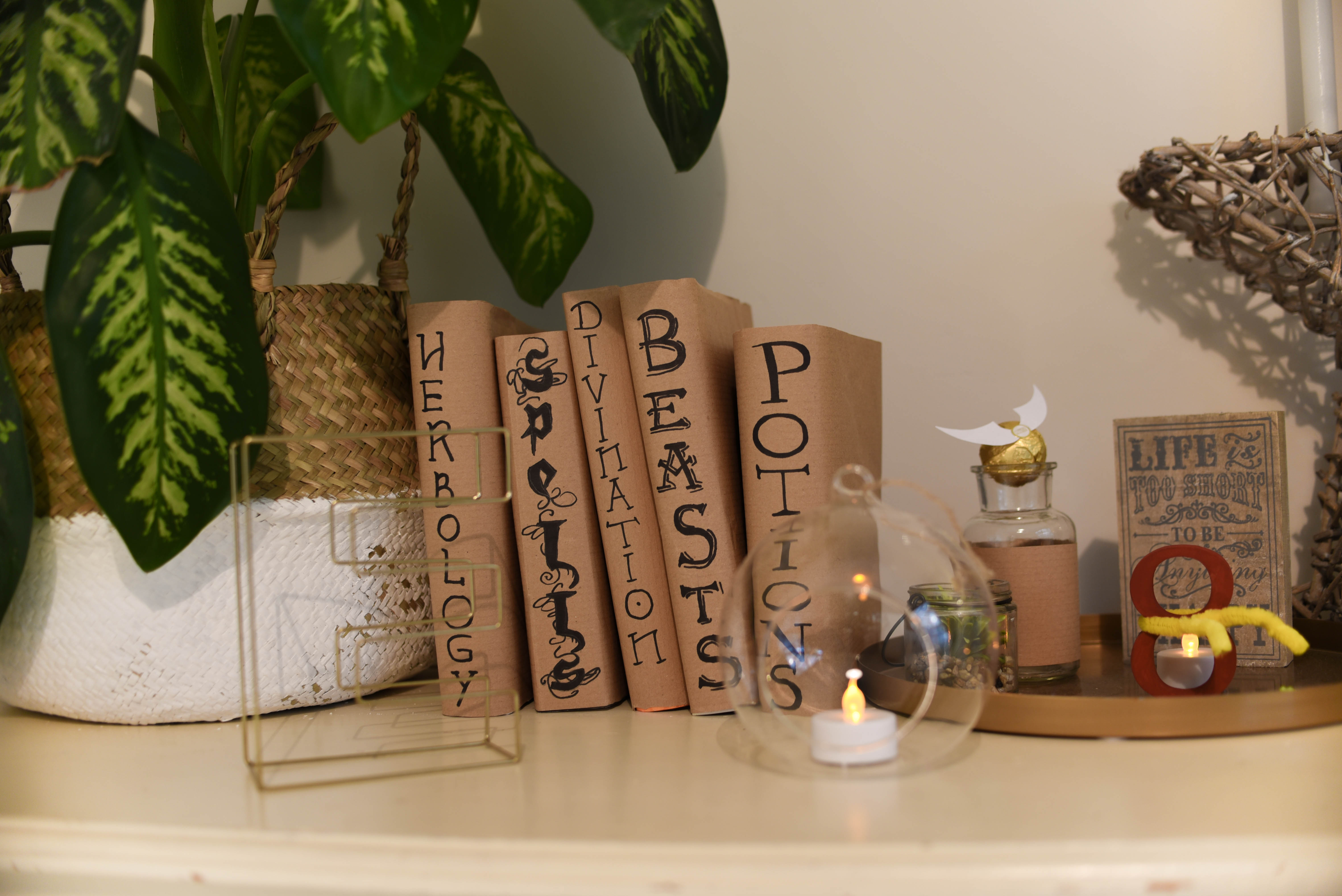 The gold E is from her room (Hobby Craft) and this completes the display which was mostly just added to what we always have on the dresser.
Games
Eva is at the age now where she can easily hang around for a few hours chatting to her friends about everything and nothing but hey what is a party without games right? I arranged most of the games to be displayed also so it added a bit to the visual impact aswell as being fun.
Pin the scar on Harry Potter I drew on some white card with a sharpie, good old google images and some gold card for the scars. I then wrote the name or initial on them so they knew who won. Although I didn't actually award prizes, it was all just for the fun of it and I think the competitive streak of some 8 year olds means that beating your friends is enough reward in itself!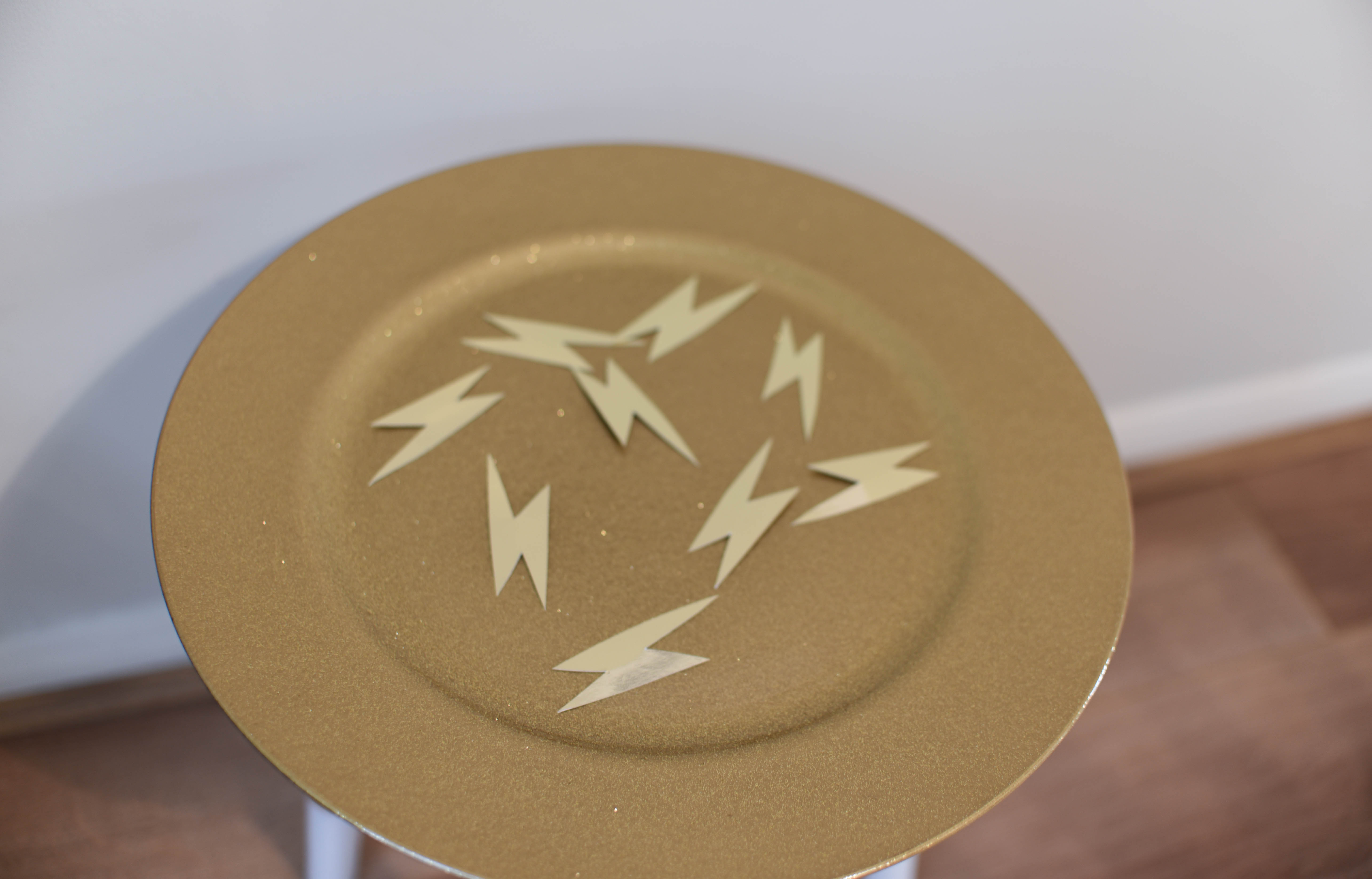 Quidditch. The ultimate Harry Potter game this went down a treat. I filled 3 beer bottles with rice to steady them (which Eddy selflessly drank for the occasion, hero that he is. In fact Eva loved to tell her friends Daddy HAD to drink 3 beers to get them!) Then used a children's floral headband and a plastic straw to make the loop, you could easily use florists wire for this part but I couldn't source any in such a short time and well we had these lying around as you do! I finished it all off by spray painting it all gold in the most rustic of ways – ie sloppily! I painted cardboard cups in two colours for teams and used ping pong balls for them to throw through the hoops in teams and into the opposing cups awarding points for each 'goal'. Now this game got VERY competitive and there were some strops had, some cheating carried out, and more than a little rice spilt over my long pile rug. All in the name of fun.
Tip — do it for fun rather than for point scoring if you want to avoid the sulking!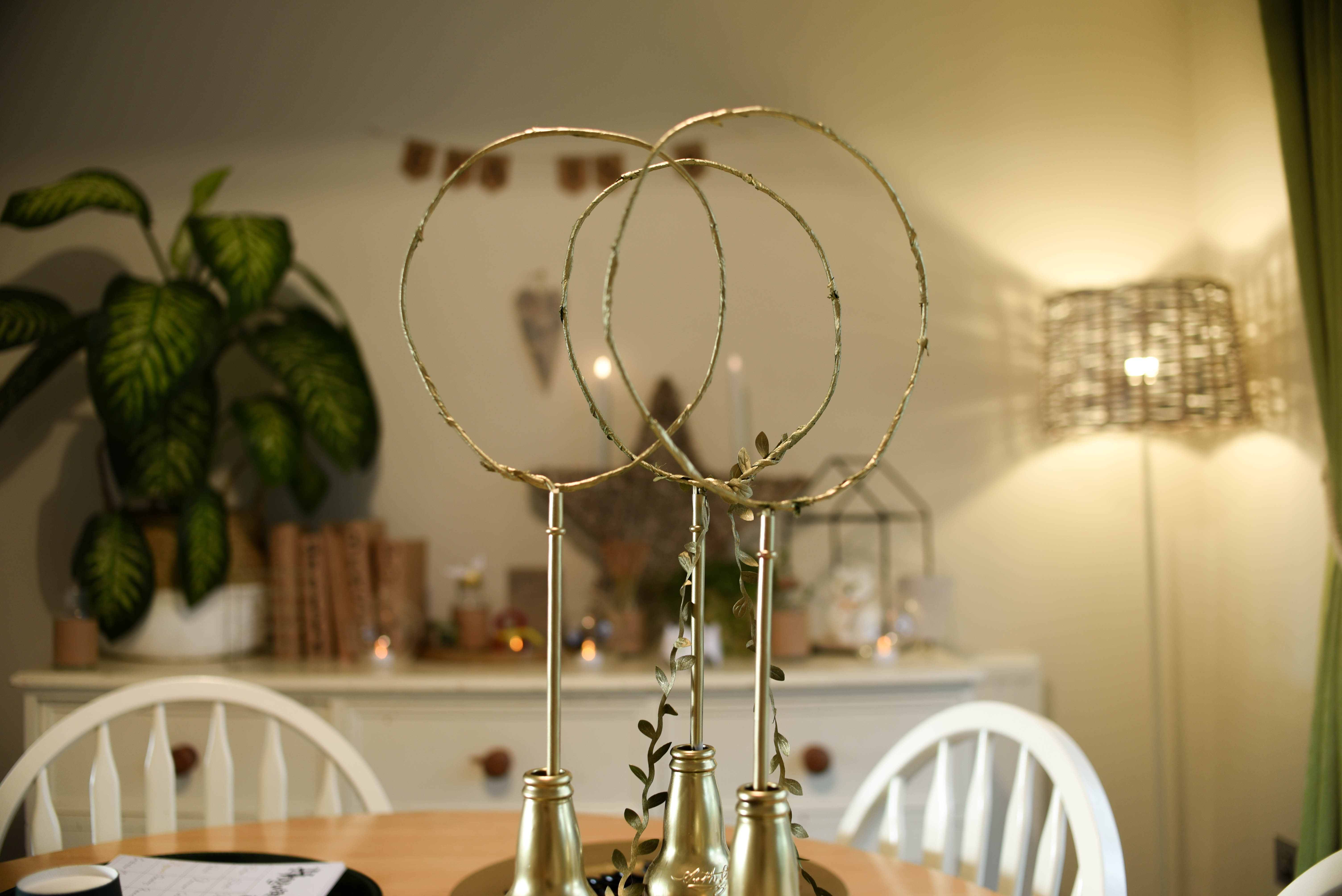 Jelly Bean Game – A game of guessing flavours, I used white card to draw a grid and list of the possible flavours and placed the jelly beans on each one numbered 1-10 (this takes some organisation to remember which one is which so definitely something to do before there are lots of children making lots of noise around. I actually made a master list of them all and made most of them the same so I didn't have to do any tasting myself, that isn't my kind of fun for sure.) They used their broomsticks pencil to circle their guess once they had swilled their mouths out with the very necessary water. As gross as some of them were it was an 8 year old dream and they had a lot of laughs. Even if one of the girls refused to do anymore in fear she wouldn't like them.
A bit of a warning for this game, it is not for the faint hearted! Yes ok it could be said to have been a bit cruel to add the 'gross' flavours in when it could have been filled with nice ones but you can of course do this without the more interesting (read; disgusting) flavours. I just think myself lucky no one threw up but I gave them a napkin and a bowl on the table for the ones they would inevitable spit out!
Dog food? I actually almost threw up myself just from the smell. They were good sports that's for sure.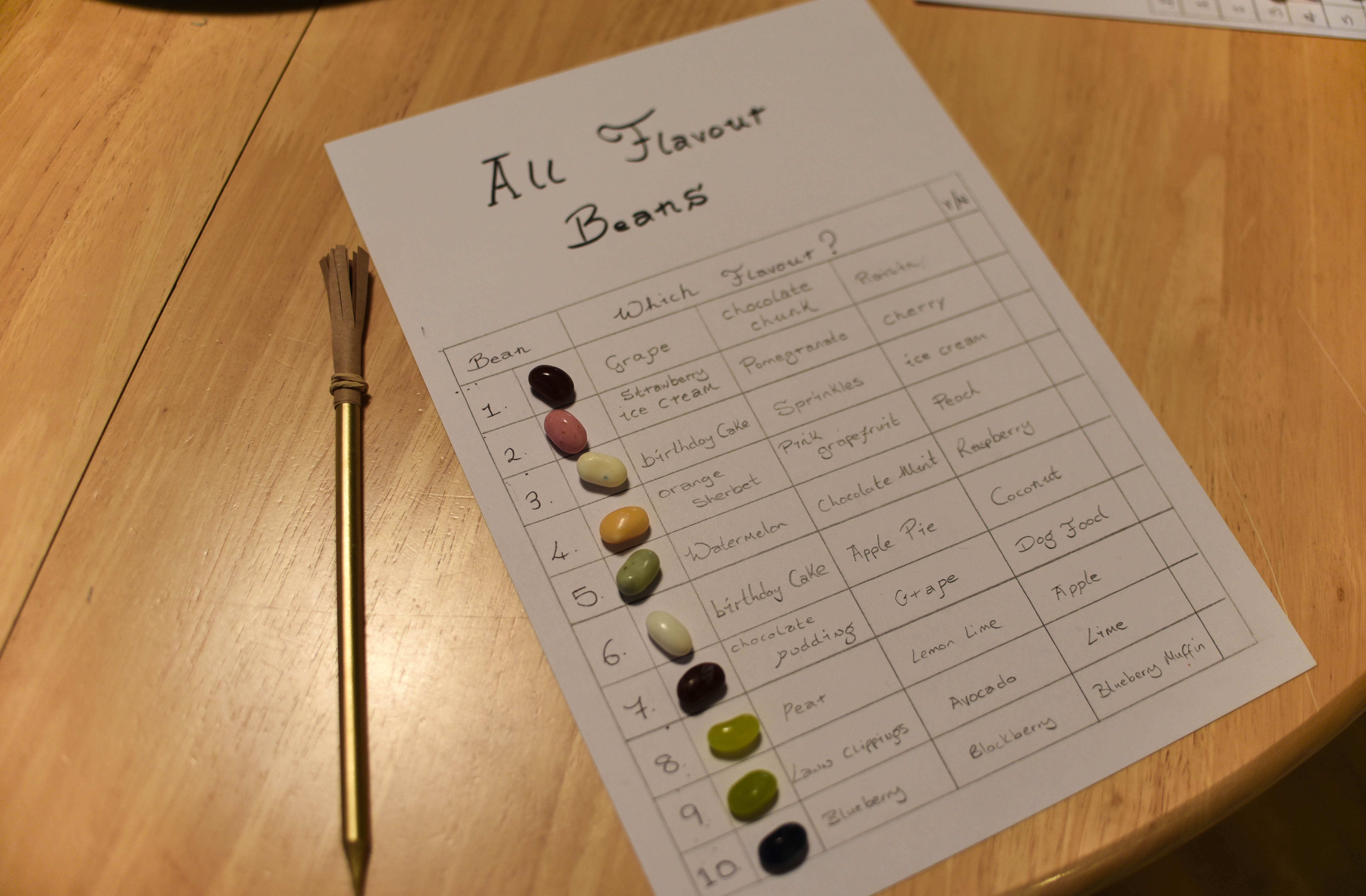 Harry Potter Bingo – You could definitely print this with much less effort but of course I chose to spend my December evenings hand writing out 8 bingo cards. I just used words I knew from Harry Potter (and asked Eva when I ran out, she knows so much more than I do!) wrote them randomly and made the ones to draw out with card too. They used chocolate coins for counters like in the Gringotts bank (dairy free ones for Eva) I just called them out like the pro bingo caller that I am! At the end they shouted Hogwarts instead of Bingo and of course got to eat the money too.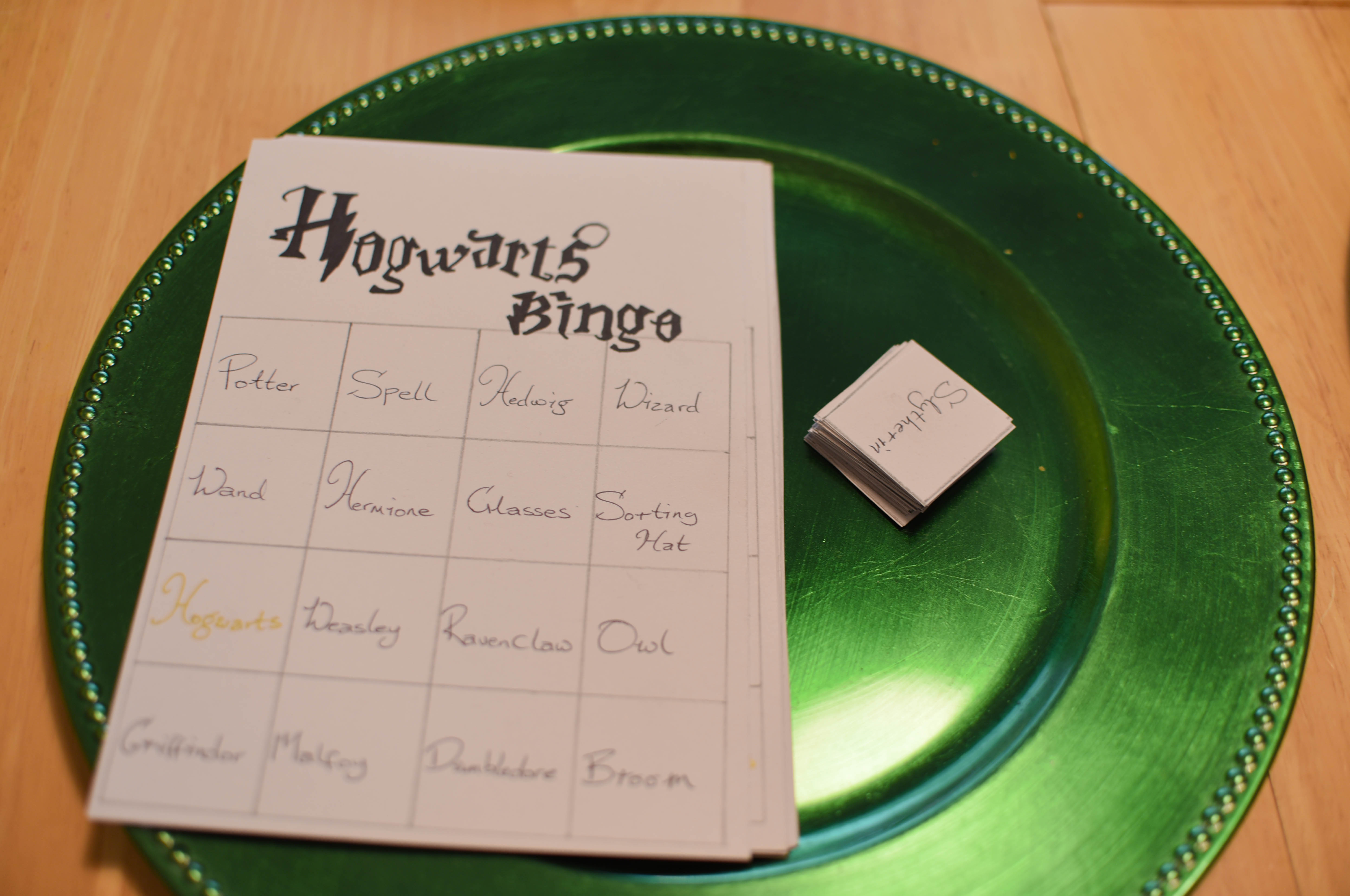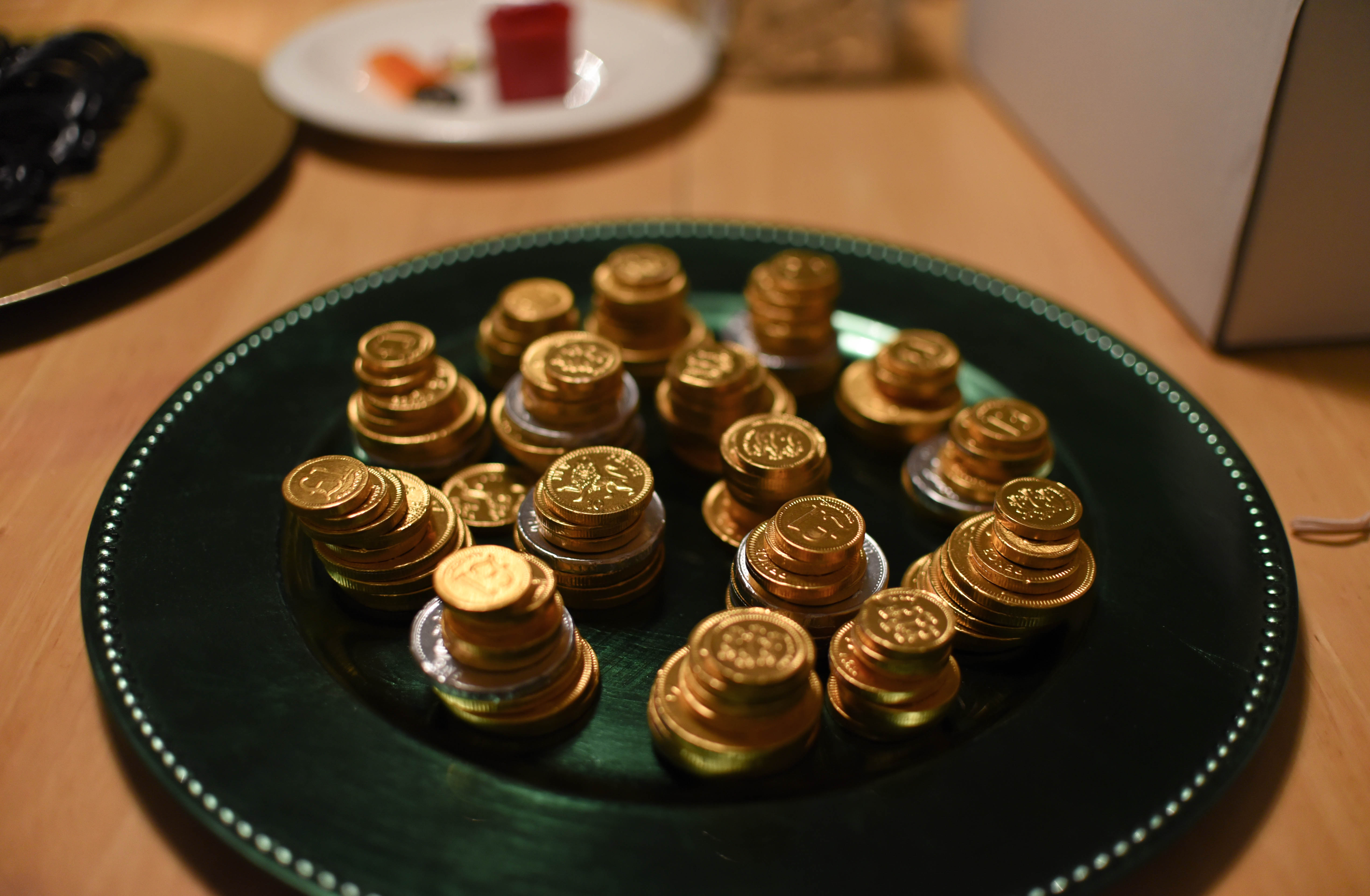 I made sure that the games were really inclusive and did not require any prior Harry Potter knowledge (as I am aware that most 7/8 year olds haven't read all the books and are completely obsessed like Eva is) whilst also being special for the people who did which worked really well in my opinion.
I also made a fortune teller origami thing (technical term I am sure)…. anyone else remember making these at school? I definitely do so when I saw a Harry Potter one on Pinterest (my party planning friend and colleague) I just had to make it. For my own fun more than anything else I think.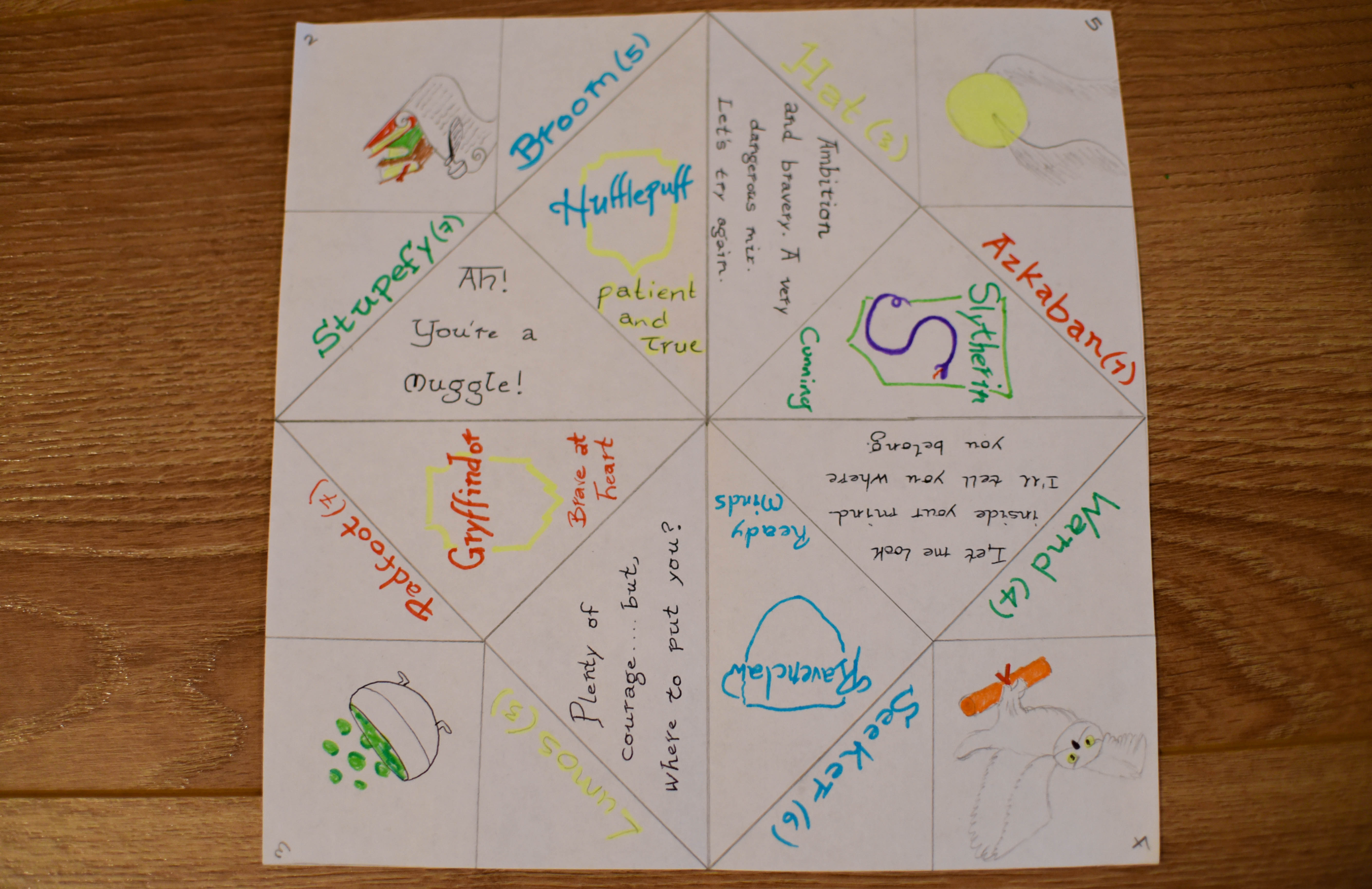 Party Bag/Favours
I don't like party bags as a rule so instead I sent them home with a pair of round black glasses they were given as they came in to wear, the broomstick pencil, an owl suncatcher to paint, a Harry Potter surprise chocolate and of course a piece of the cake. Not to mention the scar on their head that I drew on with an eyeliner pencil when they came in. Obviously I am not going to share photos of her friends but they did all look very cool.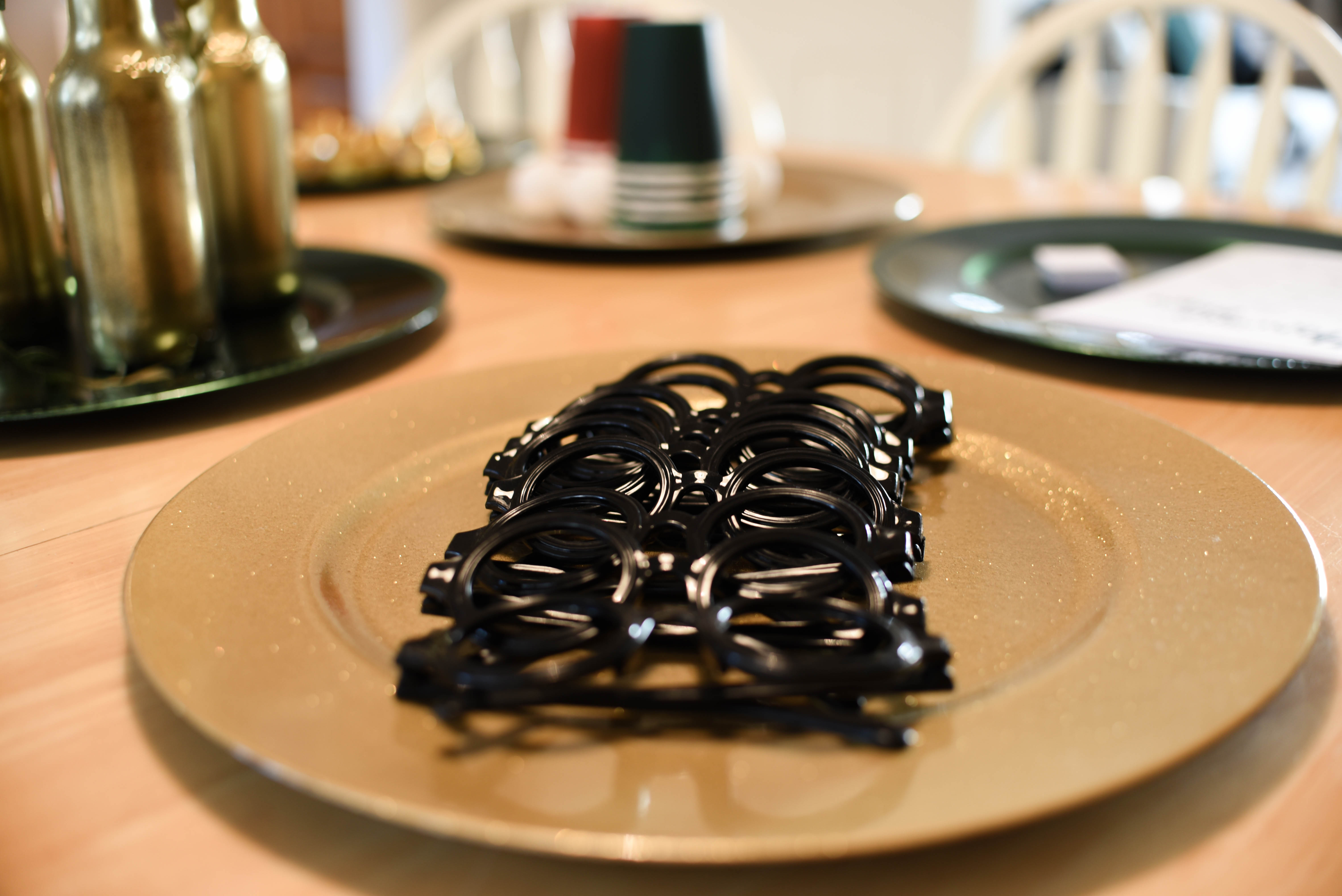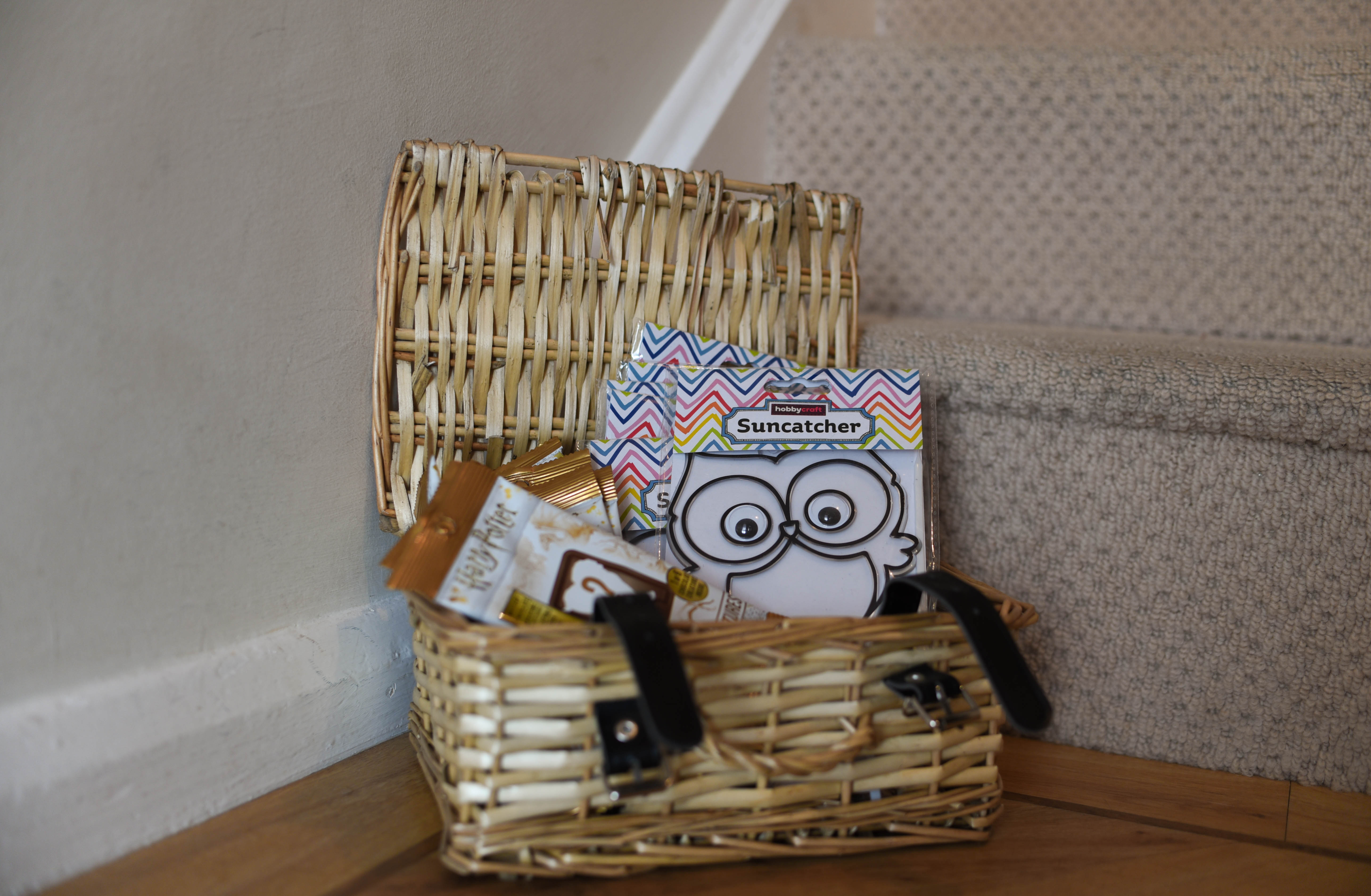 Food
Simple is the key here and anything that I could make into something without real effort was the joy. I didn't do a lot of themed food and put on simply sandwiches, crudités, crisps and some vegan cupcakes but if you add a little bit of creativity that really is all you need. I had this below which is a centre piece for a Christmas table and filled it with jelly beans, bonus is it kind of looks like a witch hat.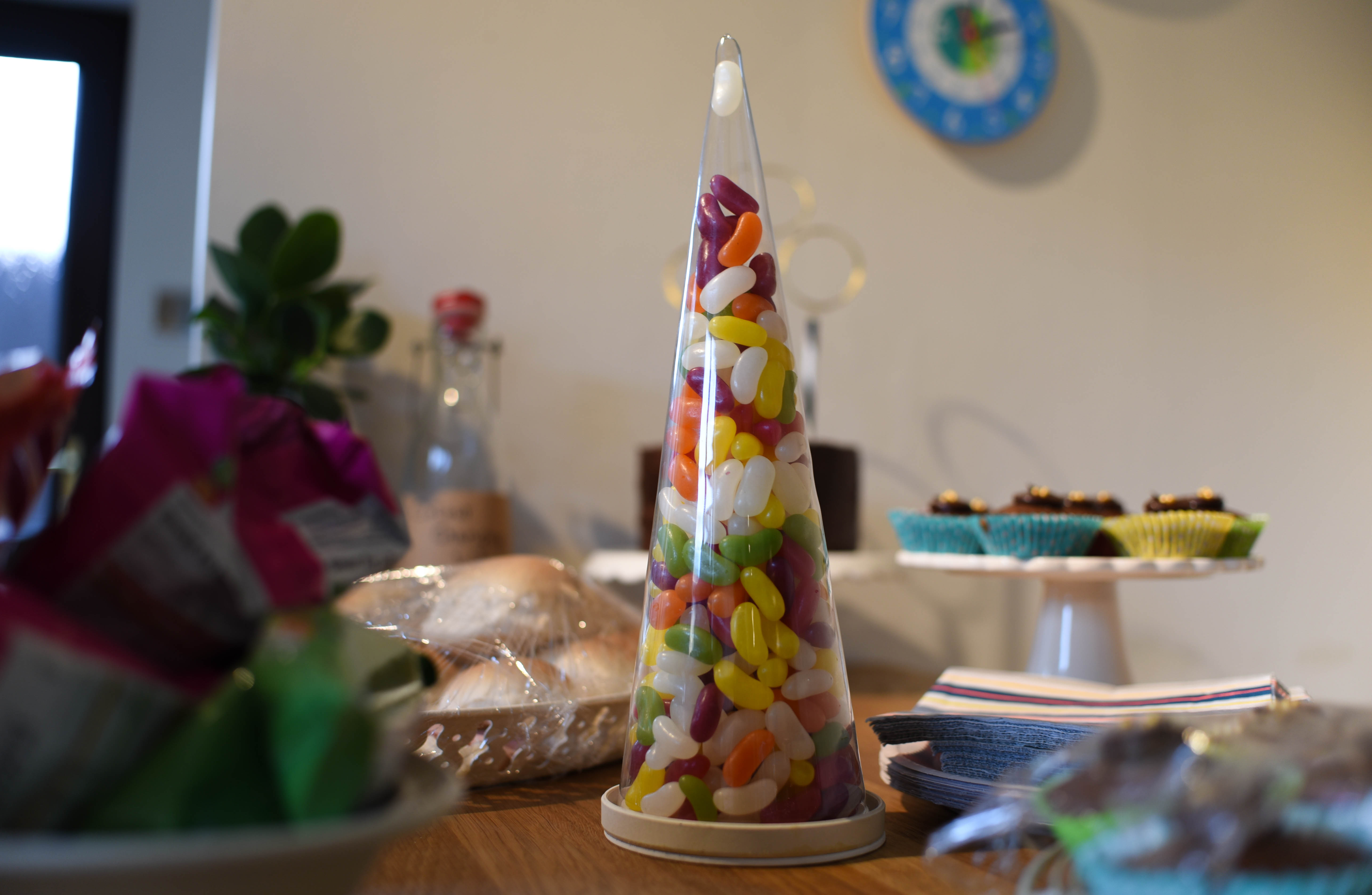 I also served 'colour changing water' where you pop a tiny bit of food colouring in some plastic cups, let it dry and cover with some ice, you then simply pour water in it and ta-da you have colour changing water. I only did this once as 1 – apparently 8 year olds ask ALOT of questions trying to get to the route of the 'magic' and well you know you don't want all of the hopped up on too many E numbers do you? I did feed them jelly beans after all.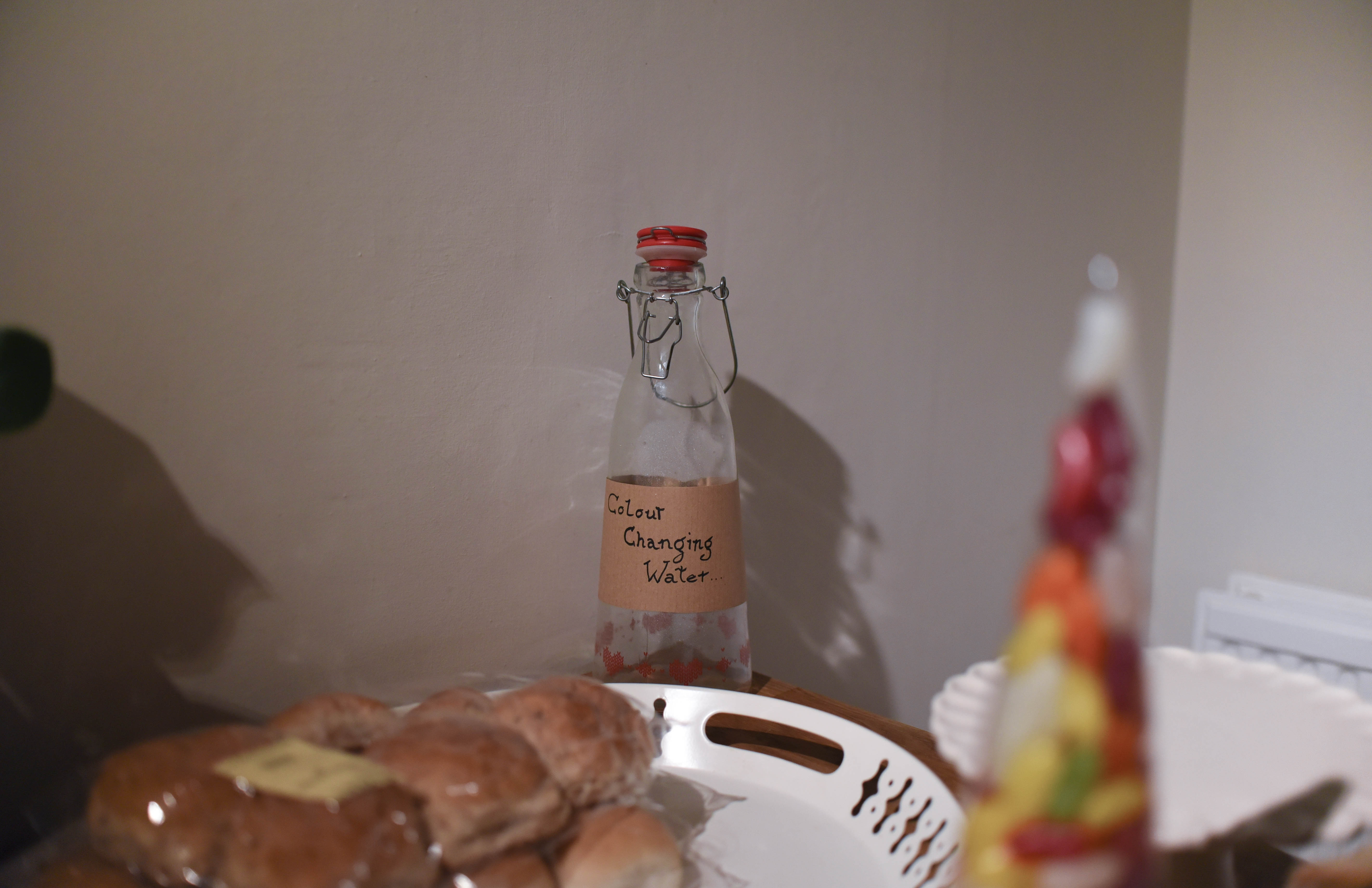 And of course the cake, again simple is the key, always, and so I made the cake, added chocolate icing and then made some 'quidditch' goals with some gold wire from the craft store and black and white plastic straws with another snitch the same as above to pop on the top. Simple yet effective.
You can see a theme to my party planning can't you? I actually might write a party planning tips post if anyone is interested. As much work as it is, I do still love the result and the happiness in the childrens face.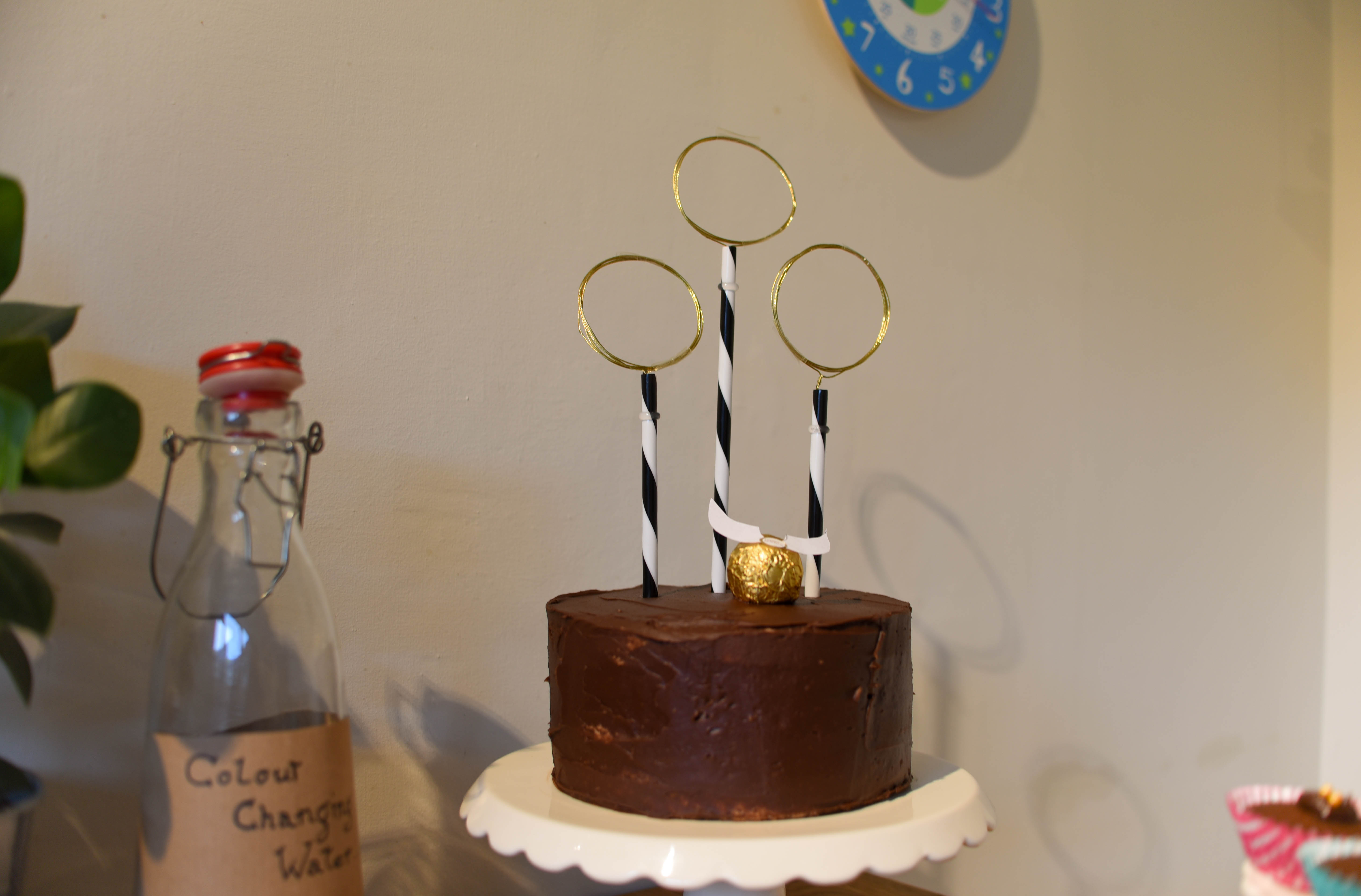 Like I said with the games lots of Evas friends don't know a lot about Harry Potter, some know nothing at all so I ensured all games, decorations and food didn't require any prior knowledge or explanation but were also fun for Eva who has all the knowledge for anyone ever. It was important to me for it all to be inclusive and didn't mean she has to choose her guests based on their knowledge rather than friendship alone, and of course that everyone leaves having had a good time. Which I think they really did and Eva was beaming from ear to ear which is all I can ever ask for.
Nothing is perfect, it's all home made or put together and I am not precious about any of it seen as it will really only be for the day and I guess that is part of the charm, wonky writing and all. You see I know they won't want at home parties forever and there will be a time in the not too distant future when putting in this much effort will be more of an embarrassing moment than a proud one but whilst it is still highly requested I will try and be happy and enthusiastic about the just after Christmas demands…I do always wonder what next year will bring!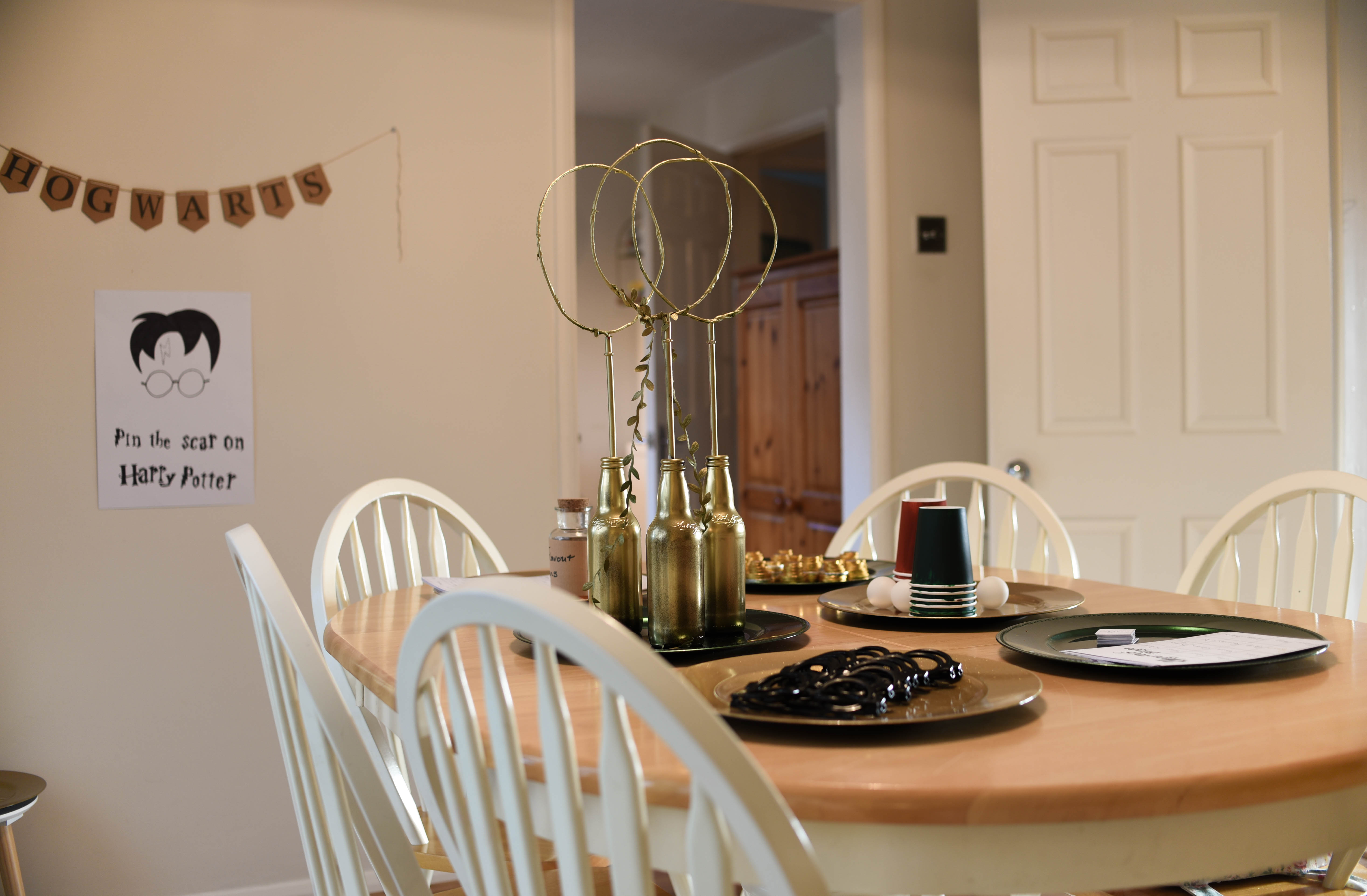 Other party ideas I have done in the past include
Dinosaur Party (post on its way)
Little Mermaid/ Under The Sea Party (post to come)