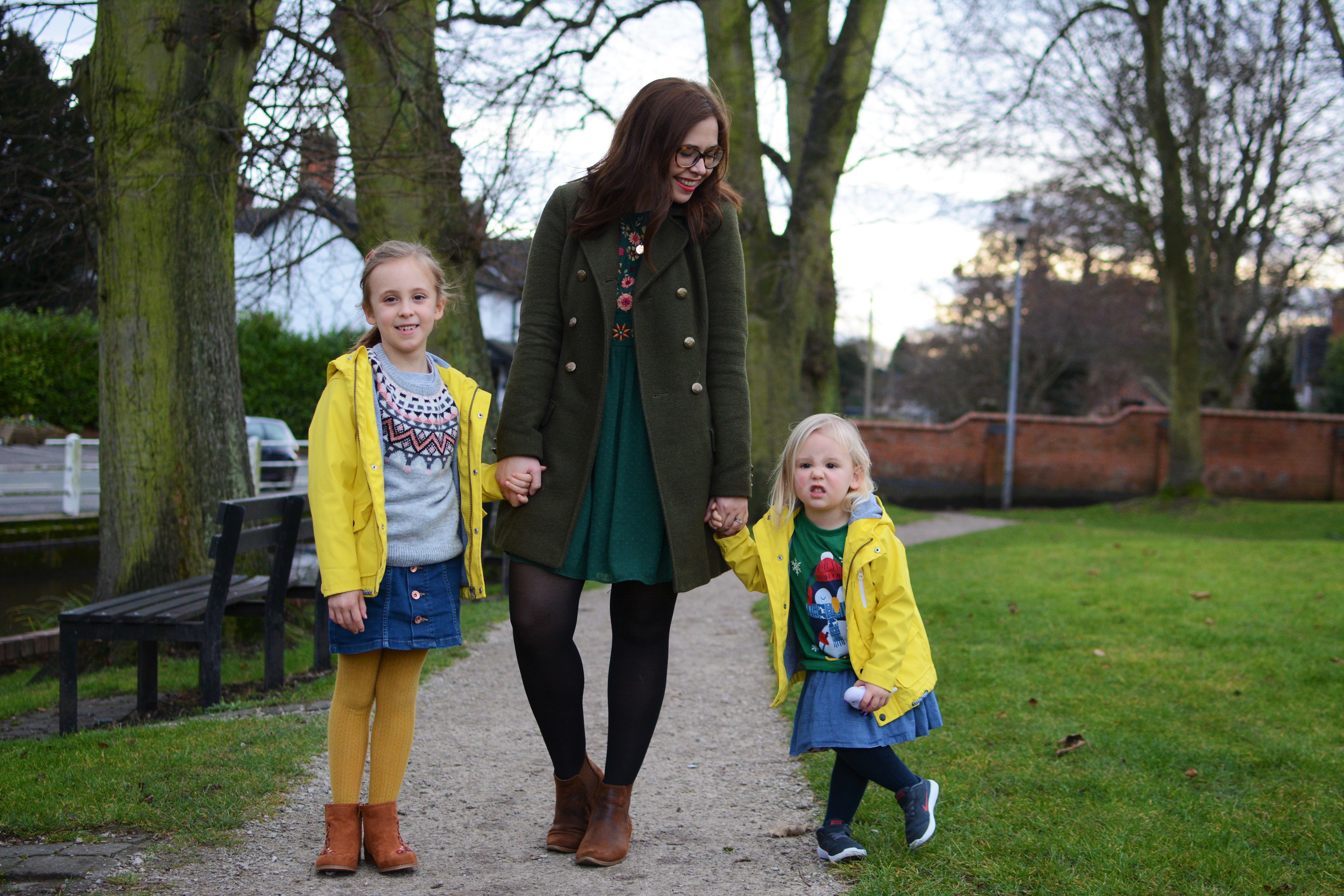 Christmas for me, and for us as a family, is all about traditions. About time spent together and about the festive feeling that it brings. Of course I love Christmas day but for me the best part is what we call 'Christmas time' which just gives me all the feels. We don't go overboard on presents and prefer to have a few experiences thoughout the month. To make sure that the girls remember all the ordinary moments that make our Christmas ours.
If you've read before you will know I am all about making the ordinary wonderful and making sure we appreciate and remember that so I thought I would write a Christmas Bucket List this year too.
These are not all costly. It is always worth seeing what free events they have in your area or at a nominal fee or mostly it is just about making the ordinary moments at home a real event and put the Christmas fun in to December. They also don't have to be big on time either. Some can take just 1 min or 5 minutes out of a busy day (we all still have lives and jobs in December after all) but it shows them about making time every single day no matter how much. A little goes a long way and all that.
So here goes…
Open our activity advent calendar every day (which house any given activities from below!)
Search for the Elf on the shelf every morning (the joy this brings is worth every bit of mess and chaos this little thing brings)
Buy presents for a childrens charity and talk about the importance of giving
Visit Father Christmas (we have the ultimate experience this year, more to come soon)
Decorate a wreath together
Buy/rent a new Christmas dvd
Write a letter to Father Christmas
Go out for hot chocolate
Decorate the Christmas Trees and house
Choose a new Christmas tree decoration
Sing to our hearts content at Carols by Candlelight (my absolute favourite)
Visit local illuminations with my sister(s)
Take a family photo
Have a picnic by the Christmas Tree
Visit an outdoor cinema to watch a Christmas film
Make Christmas Cards for our friends and family (we make fingerprint ones every year)
Do some christmas Craft
Go on a wintery Walk
Make Reindeer Food
Build a snowman (weather permitting)
Go ice skating
Learn some Christmas jokes
Visit the library for Christmas books
Play Christmas games (new game or same ones brought out from last year)
Donate food to a food bank
Decorate a gingerbread house (we buy a kit, they do great ones in Ikea)
Drive around to see the Christmas lights
Visit national trust Christmas lights
Read Christmas books together
See a Christmas show/play
Snuggle together to watch a Christmas Movie at home
Indoor snowball fight (we have indoor snowballs but it works just as well with cotton balls too)
Have a laugh getting creative with Christmas facepaints
Eat Christmas Pizza (a local pub does the BEST pizza which is basically Christmas dinner on a pizza pigs in blankets and cranberry sauce and all. It is epic)
Christmas Baking (my favourite are mince pie toasties, they are delicious)
Have a Christmas dance party
Send a message of kindness to someone
Enjoy a Christmas Bath (shaving foam and foam shapes to make snowmen goes down a treat)
Visit a Christmas Market
Sample a Christmas coffee – that one's just for me
Visit the garden center to see the lights and the singing reindeer
Sing along to Heart FM's count down to Christmas every morning on the way to school
Children choose dinner
Enjoy a cosy drink in a pub surrounded by twinkly lights
Put out mince pie, drink and carrot for Father Christmas
Christmas Eve snuggle down. We hunker down about 5pm just us to watch a Christmas movie and appreciate the calm before the storm. I get grateful and emotional every single year!
Have lots of festive fun
I am well aware that the festive season is actually only 24 days long. What with both children now being at school and still in all of their extra curricular activities (not to mention the fact that we don't need to add more pressure on ourselves this time of year) we will indeed not get everything of this very long list ticked off. But it feels so good to have a base. A sort of master list to refer back to and choose from when your brain is fried of ideas. As with the summer bucket list this it is definitely not all about getting to the end or must dos but about enjoying every moment no matter how big or small, ordinary or extraordinary, together.
I think of it as a great incentive to appreciate the little things in such a busy time of year.
I hope you have got some ideas and I would love to hear if you have any of your own that I have not listed. I am always open to new traditions and adapting the list, especially as the girls get older.
Happy Christmas Time!