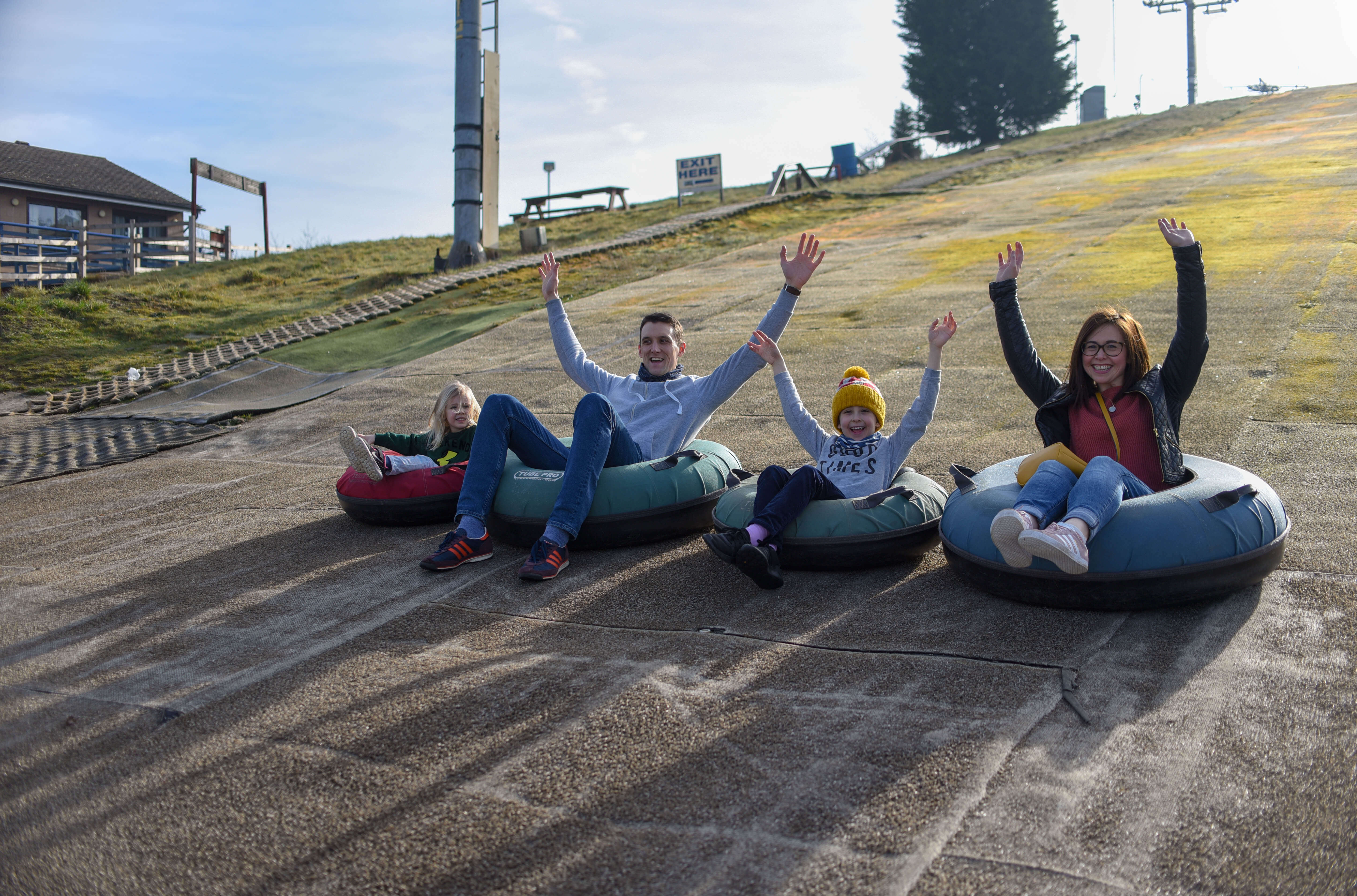 It's been a really long time since I've just written a post about our ordinary days and what better week than half term.
February half term I always find a bit tricky to manage. It hasn't got the magic of Christmas, the excitement of Easter nor the weather of May. It's almost one to just get through I think. Usually that is. With social media in the mix too it can sometimes seem like everyone's half terms are filled with exciting adventures whether far afield or even close to home with people pressing pause on ordinary life, families taking holidays from work together and money to spend well.
Don't get me wrong there is no part of me that thinks this is anything but wonderful for them, of course, and if circumstances were different and in years to come maybe it will be us, who knows. However I don't know about you but this soon after Christmas, with the girls birthdays that we have so closely following, February really does need to be a simple affair both physically and for the purse strings.
So I thought whilst documenting our ordinary days I'd share our low spend week with you and how we did it. It was one that has been really quite lovely in a simple ordinary way, enough to do each day without going crazy or bankrupt, the dream right?
Ok so maybe the weather helped a lot, and I thank the universe for that!
Although the weekend before isn't technically half term (I mean we have that every week right?) something about not rushing around to get everything done in a short amount of time and not washing uniform means it kind of feels extra special.
My sister visited and we went to a National Trust Property Sudbury Hall. We walked around, played on the park, spotted snowdrops, climbed trees and got involved with some of the half term activities they had on. Then of course we stopped at the café for coffee and cake and a game of cards.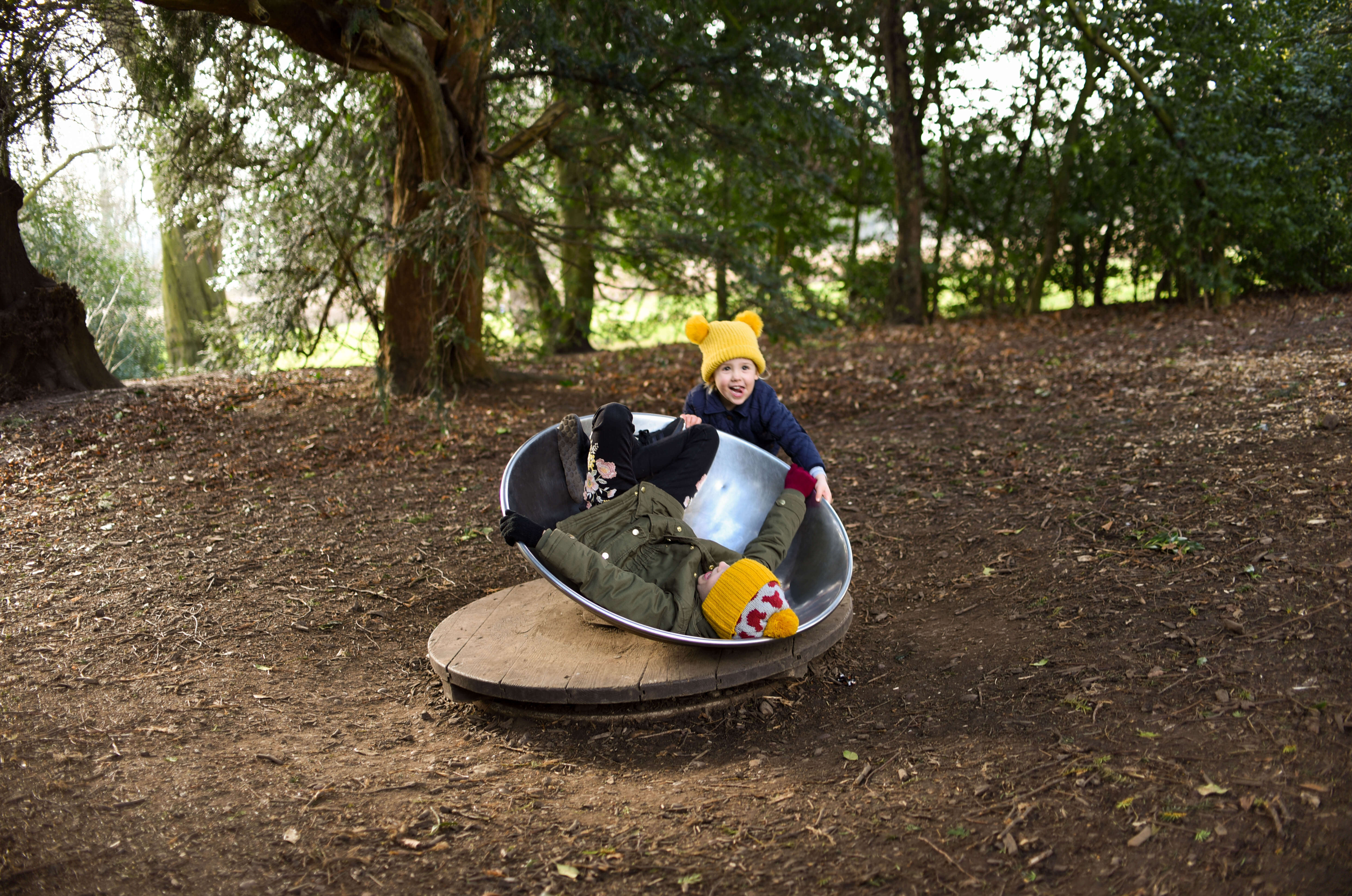 With a family National Trust membership (£10 a month) the only thing it cost us was the coffee and cake, you will notice that's a running theme here but you could of course take your own to keep the costs to a minimum.
Monday we started the day with Roma literally squealing that it was half term and Eva was home, I love how much she adores having her sister around. Or maybe just despises the school run as much as me! Either way we went to the National Memorial Arboretum to watch the Stick Man in their pop up cinema, complete with bean bags and cushions for the children to sit at the front.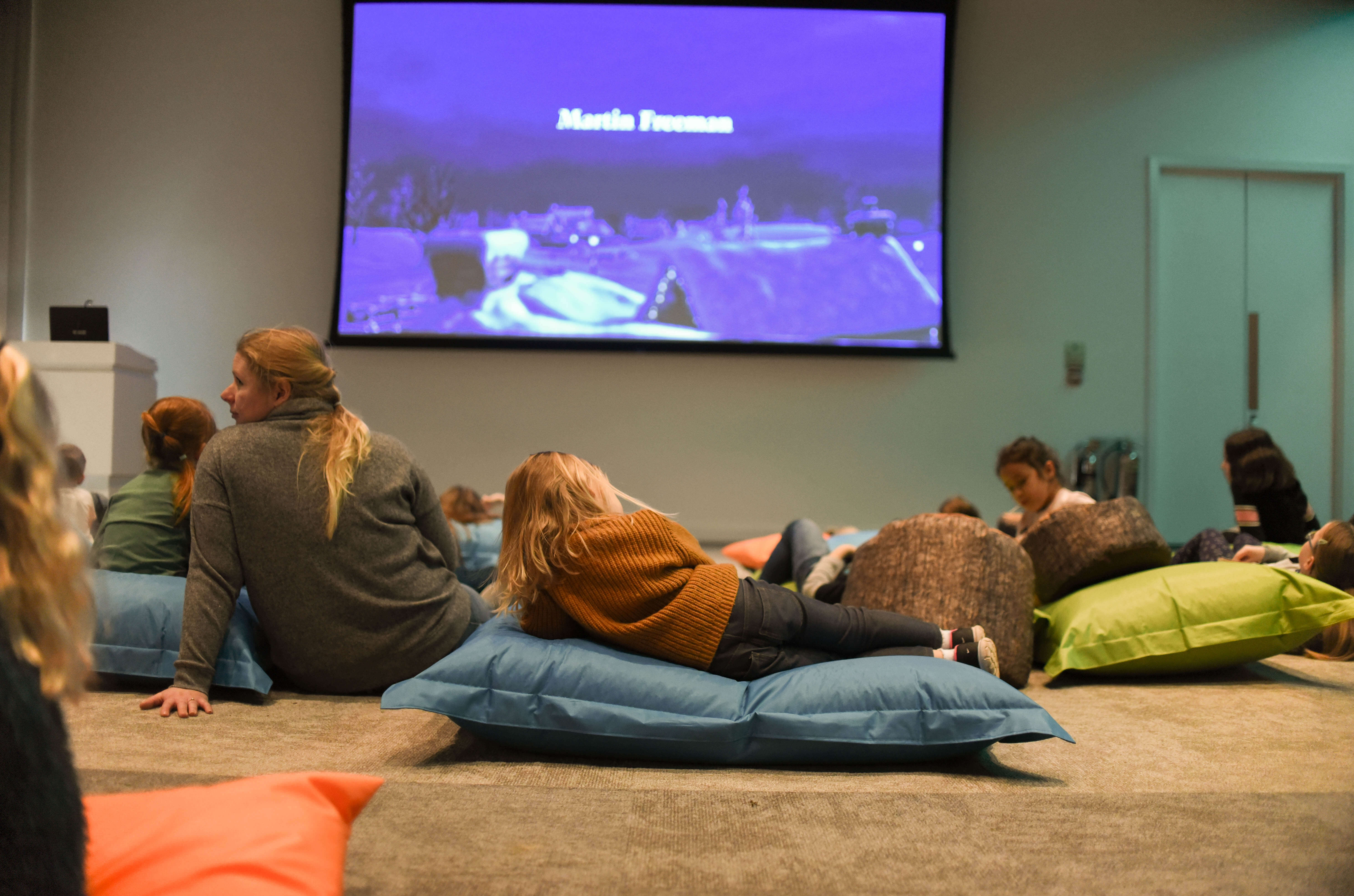 It was really nice, we booked the free tickets in advance (donations welcome) and they have the Stick Man trail to do at the moment to run alongside which unlike to the pop up cinema (which was for half term only) is sticking around for a while (pun totally intended). We walked the route around parts of the Arboretum we had not been before searching for the letters and reading all about each one, after getting a coffee of course (peppermint tea for Eva and milk for Roma, gosh they looked so grown up with little takeaway cups!) Also worth noting that it's some of the best coffee around, if you've read any of my other posts on the Arboretum you'll know I literally always mention it, because it is the best!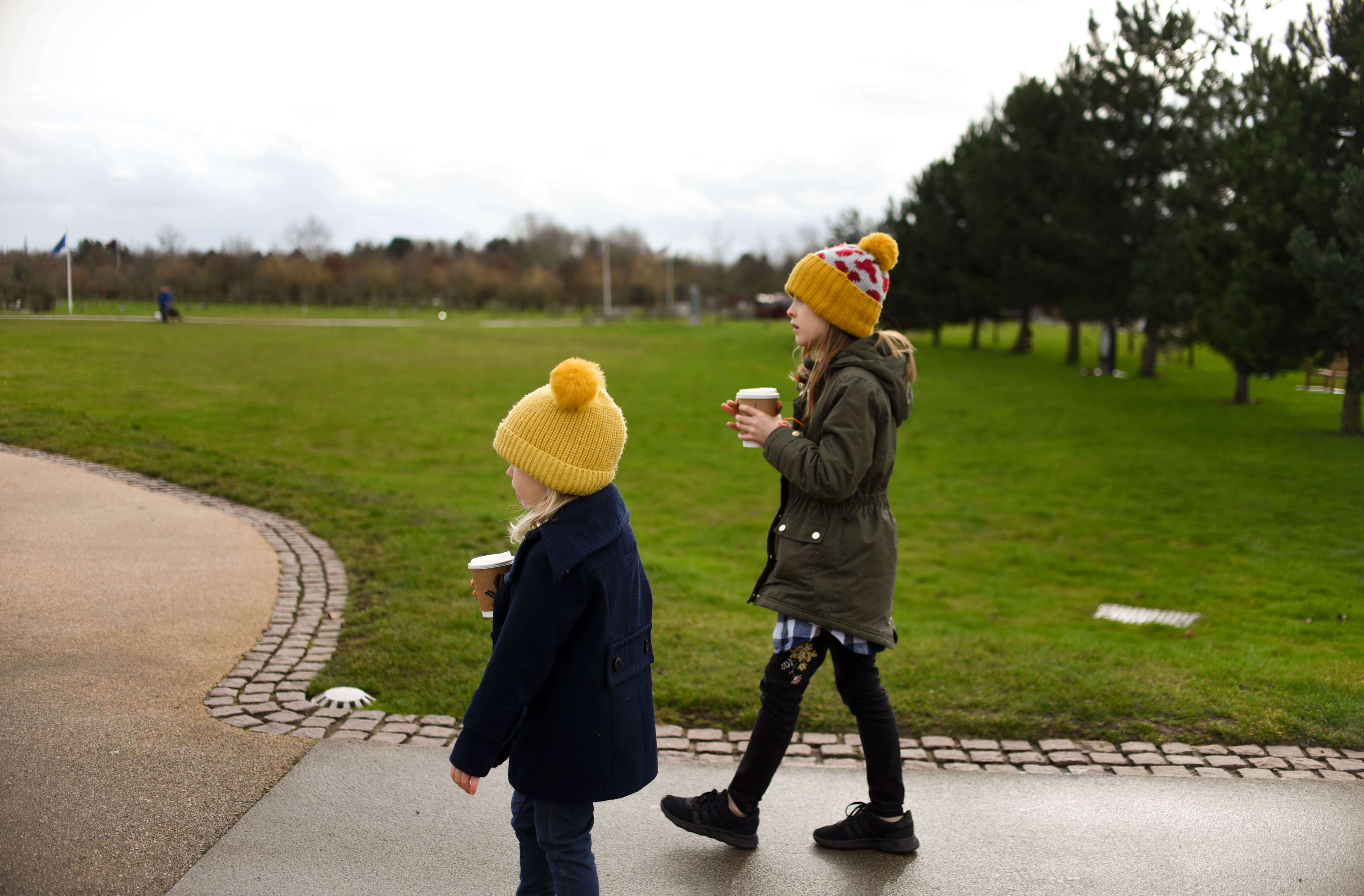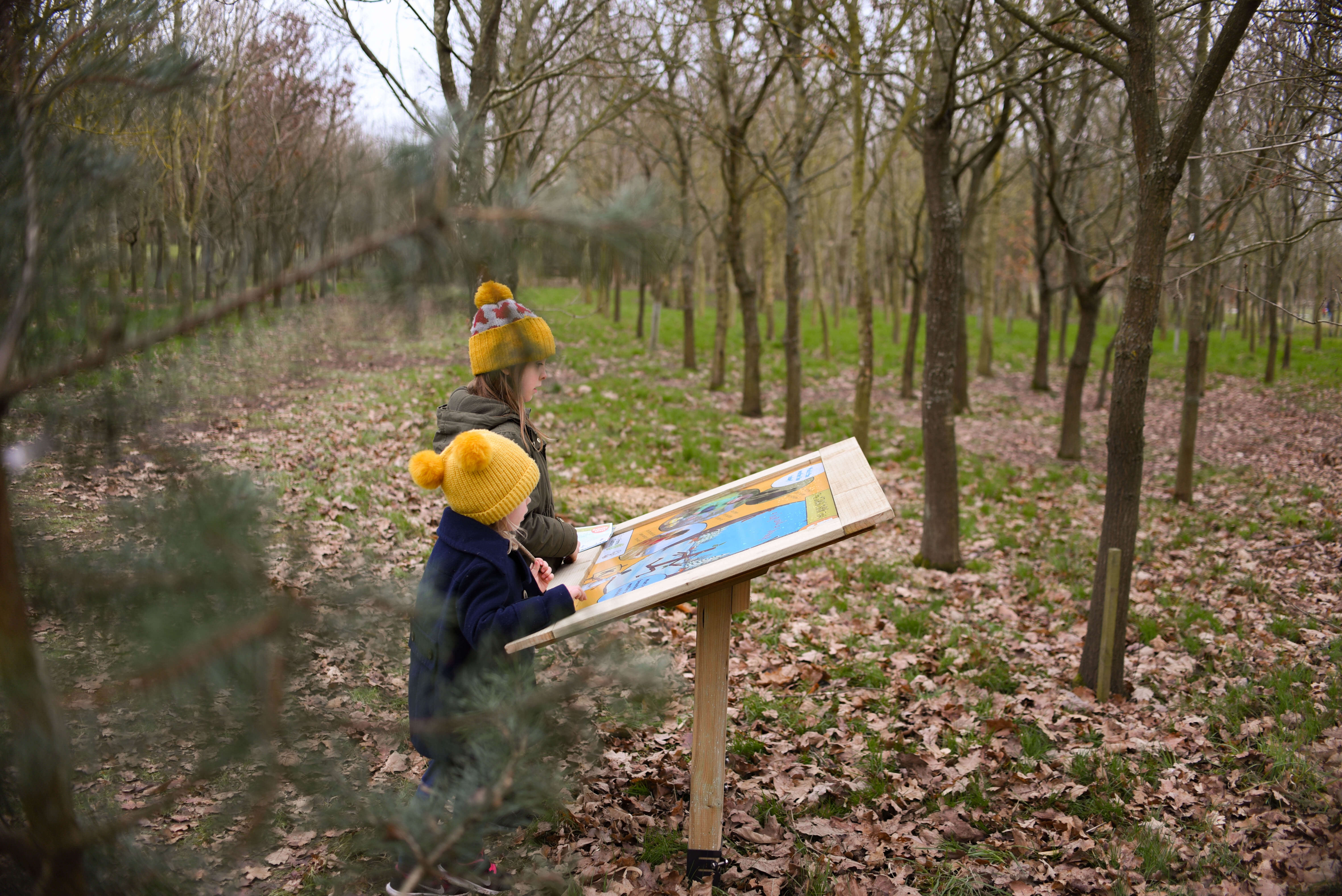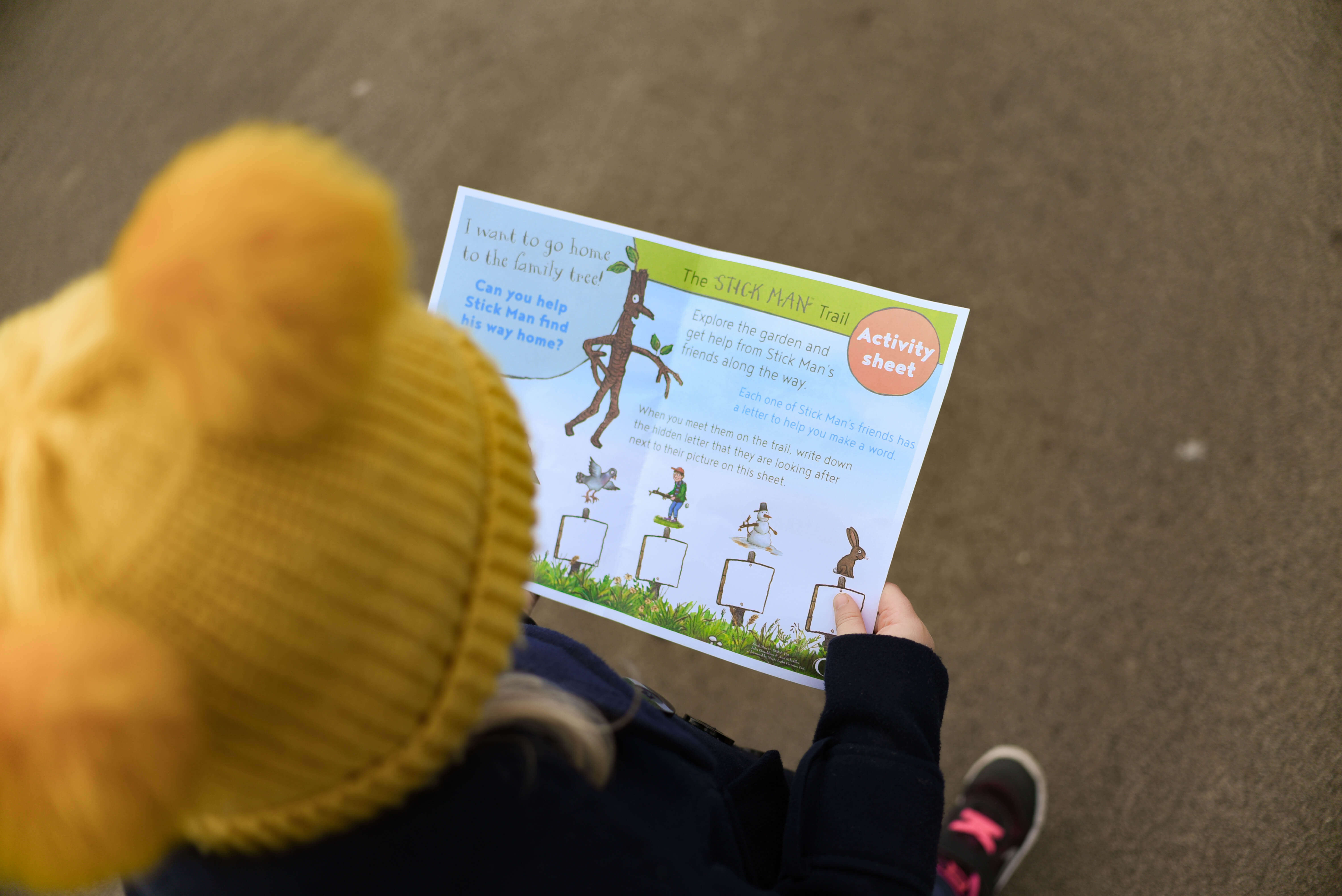 It was simple and really fun, I mean it would have been more imaginitive for the word you found to be something other than 'sticks' I'll be honest (sorry if that's a spoiler, the girls guessed after the first two letters and it somewhat took the shine off a bit) but it was a lovely all the same and a good way to engage them for a couple of hours anyway. Plus who doesn't like some fresh air mixed with a bit of healthy sibling competition when it comes to who can find the next letter first and racing on ahead. We have been to the arboretum lots yet every time we go we see or do something new and I love that they keep it fresh meaning there is always a reason to return and the coffee shop…did I mention that??
Tuesday is Roma's only nursery day and as she loves it so much plus Eva and I rarely get time just us we dropped her off and were in a local forestry centre with her scooter by 8.30! We had the whole place to ourselves because sane people are still in bed at 8.30 on a cold February half term morning. Though there was something special about that, being the only ones for miles around felt like proper quality time together, no distractions. Until that is I realised the cafe didn't open until 10am so no coffee to warm the hands up!
We walked through the forest, read all about trees, looked for wildlife and just followed Evas lead. It was so good to take a slow pace. We spent ages in the bird hide, you would think looking at birds but it was mainly Eva seeing how close she could get to a squirrel, admiring it through the one way glass and me trying to convince her that even though they look cute she could under no circumstances have one as a pet and that should that glass disappear they would scratch her eyes right out! I am not sure if I convinced her or not but I am sure she now thinks she is the squirrel whisperer and I just hope that she doesn't try that on our next family walk.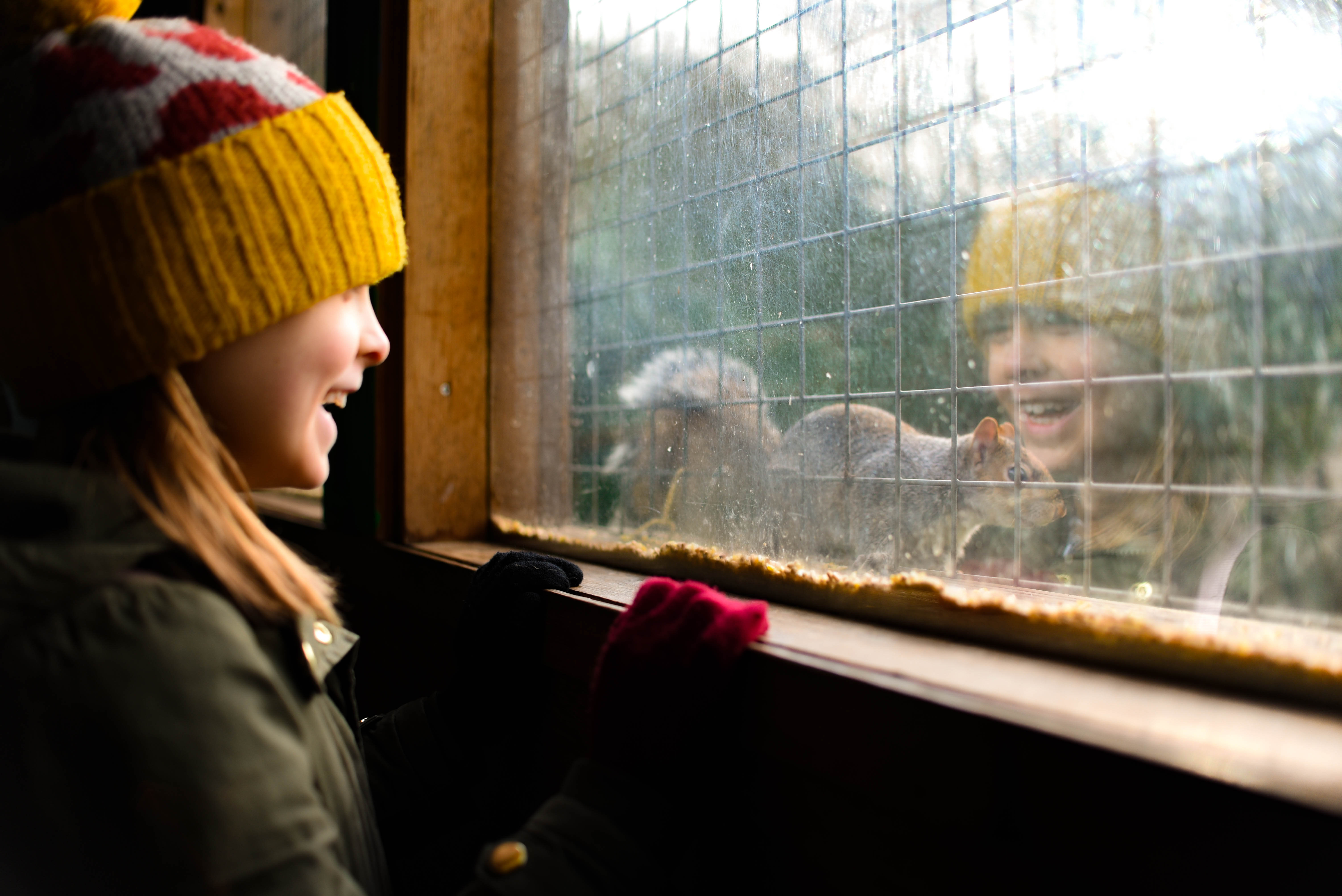 We spent the rest of the day just chatting, reading and baking vegan millionaire shortbread It was our very first attempt and turned out to be pretty good. If I do say so myself. She absolutely adores baking and as anyone with more than one child will tell you it isn't the easiest activity to do with multiple children. One on the other hand, and one that loves baking (and is 8 years old) is a joy and we had such a lovely time it really did remind me to do it more often with just her. Not the big days out but the simple ones, its all too easy to forget how important they are when I just want to make the most of the time she isn't at school.
Wednesday was a fairly lazy morning, and by that I mean how is it so hard some days to even get out of the house? I swear we are best if we need to be out by 7.45 than having loose plans. Anyway when we eventually made it out we visited a little place with a fairy wood. It is quite genius really as it is merely some space behind a shopping village on an A road but it's done out really considerately, uses recycled items, has uplifting and environmental messages and the girls just love it. It's a little random I must admit but who am I to spoil their fun!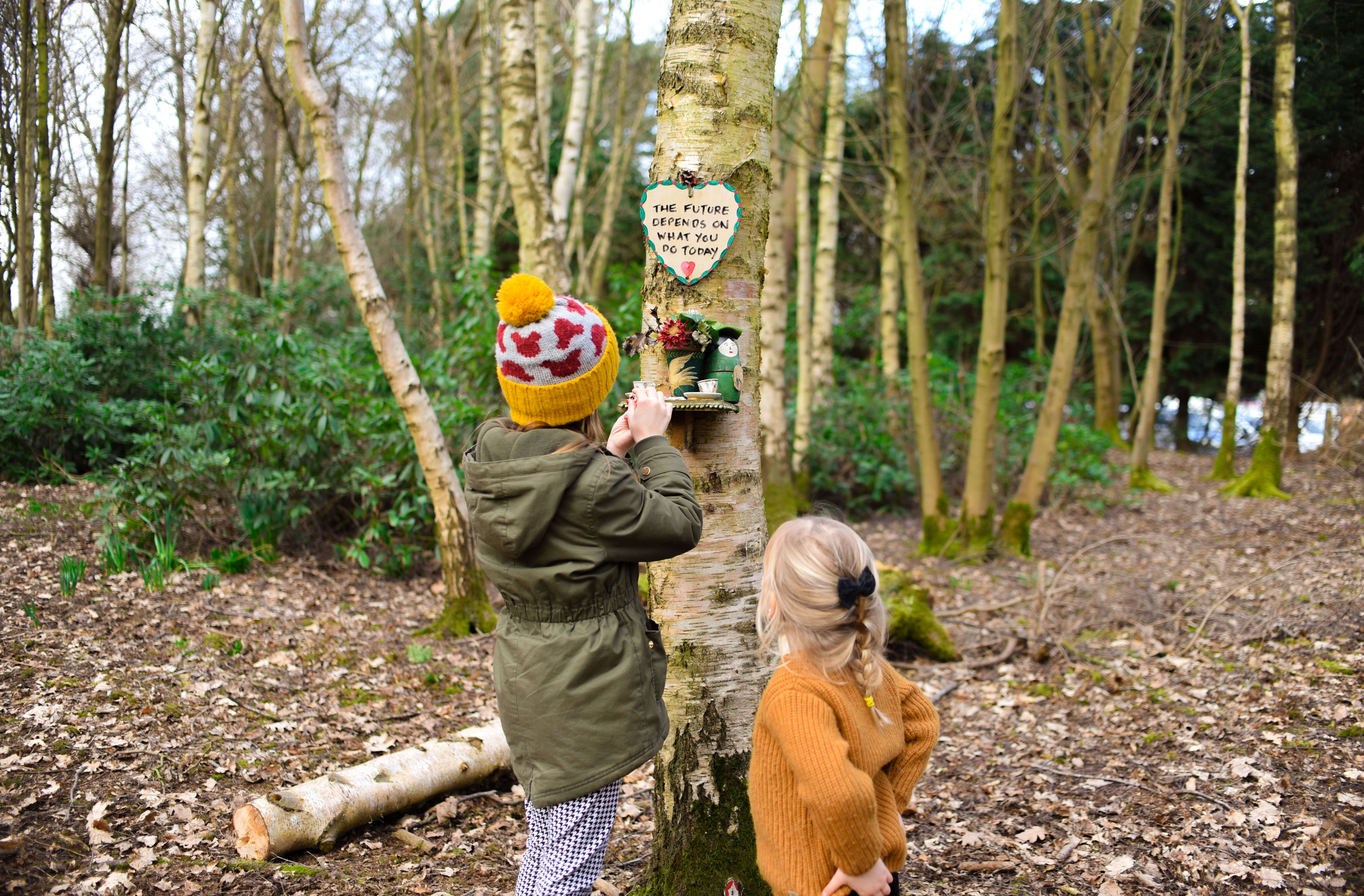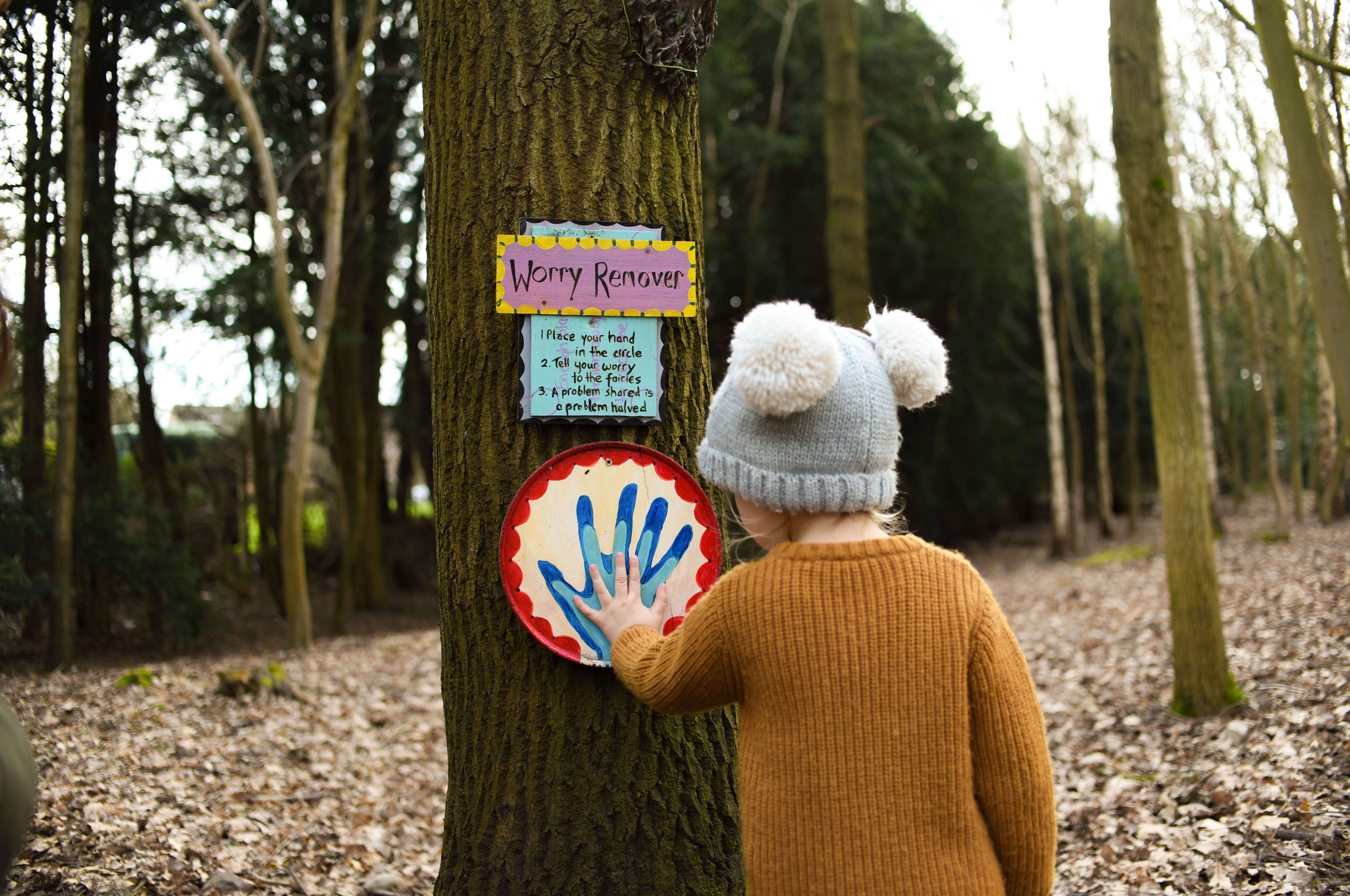 Particularly for Roma the dummy tree they have is a big hit. We've been before and this time it is all she wanted to find. I am sure it's great for parents who's children actually have a dummy. You pop it in a box and then it is hung by the fairies on the tree. But you see Roma doesn't have a dummy and never has, yet she is absolutely obsessed and part of me thought I would look round and find her hanging from one of the muddy ones on the tree at one point! Thankfully I didn't.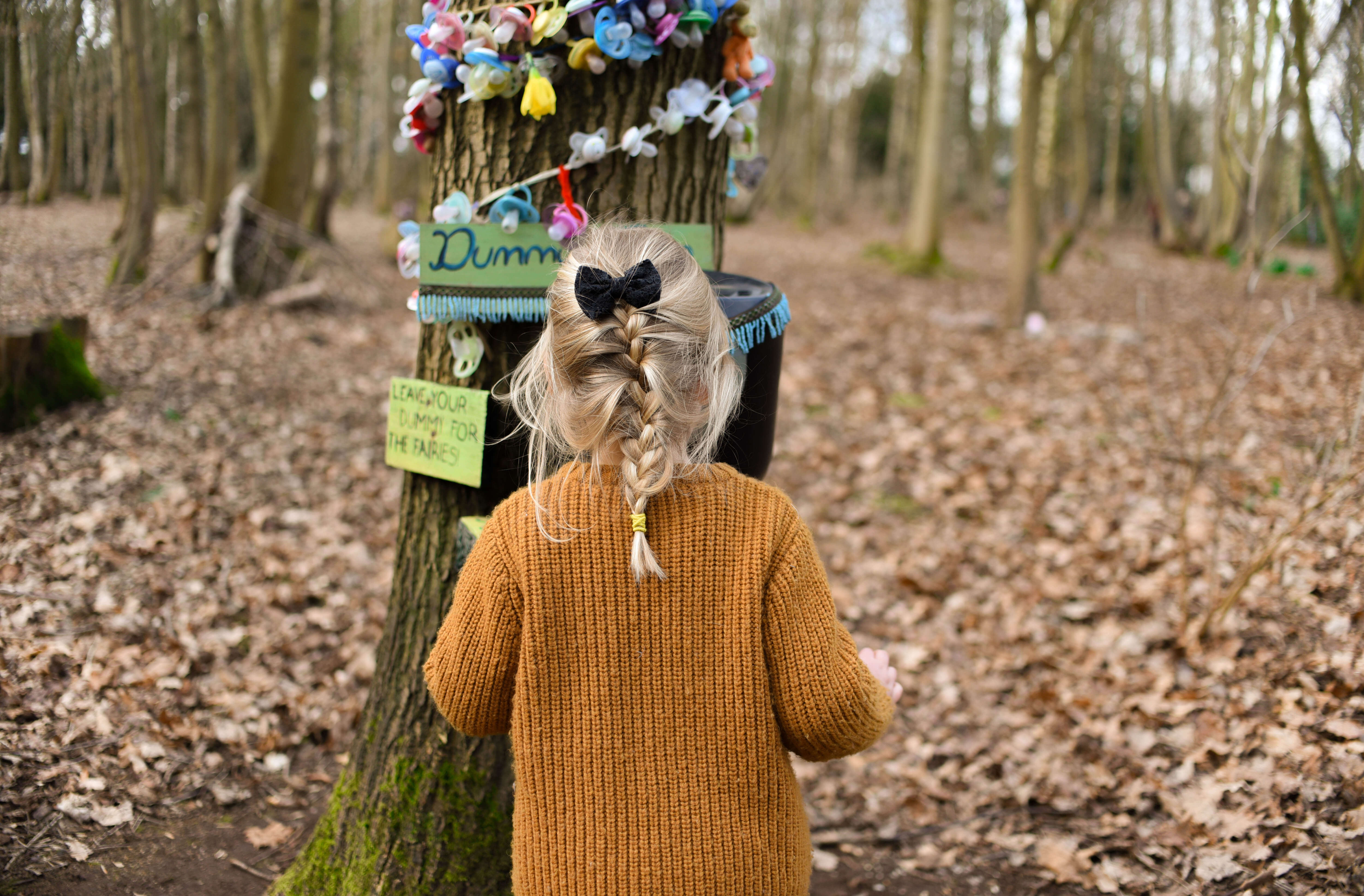 This was a fully free activity as after a walk around the shops, a look in the little community library box (it's so cute and I would definitely like to book swap but I had to walk away quickly when Eva asked what Fifty Shades of Grey was about!!) we headed straight home for a snuggle and a cup of tea. Not before though one of the sweetest in car moments. We were singing our hearts out to the greatest showman, as you do, and Roma told me she cries when she sings. Upon questioning she said it was because her singing was just so beautiful. Yep, she is self assured!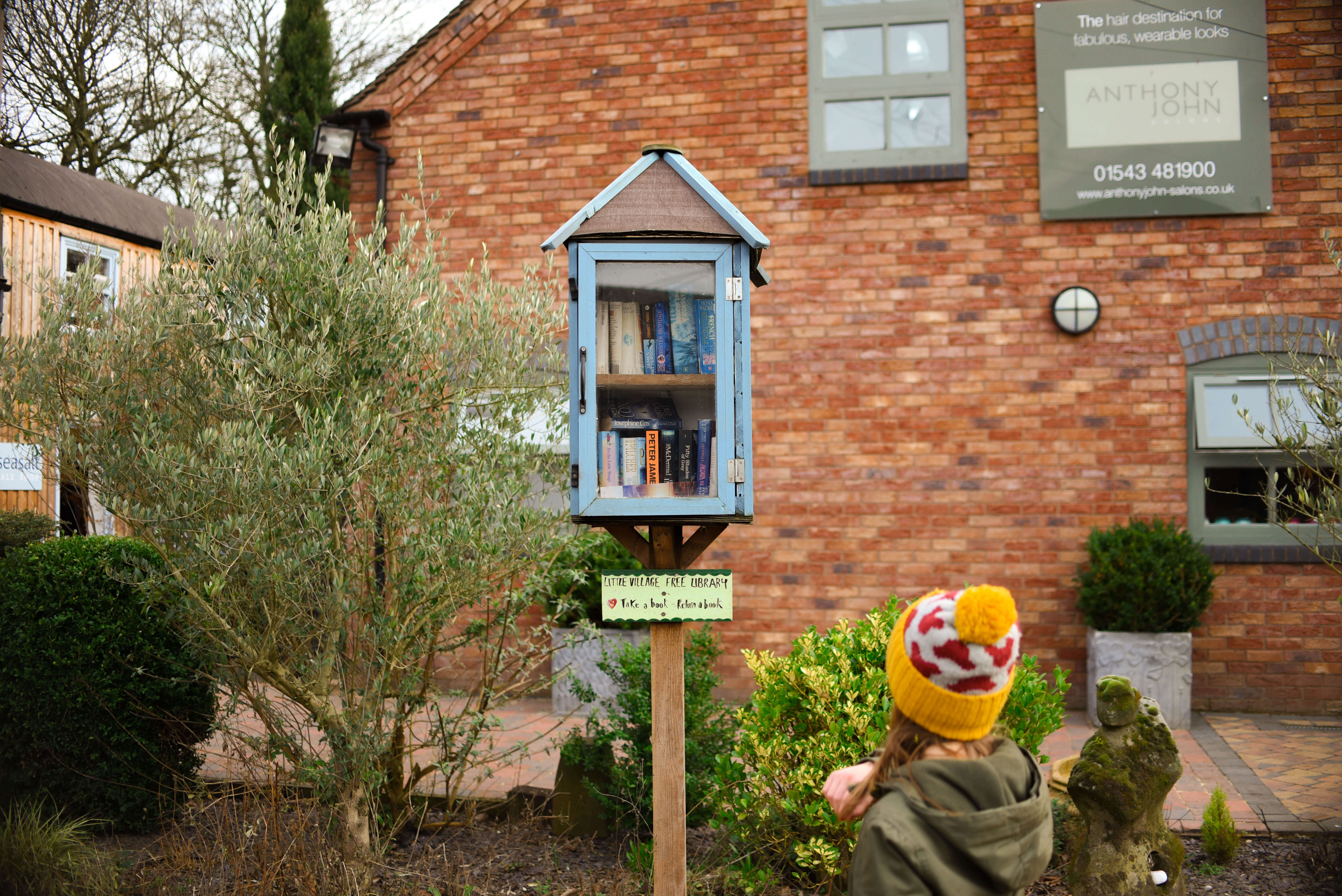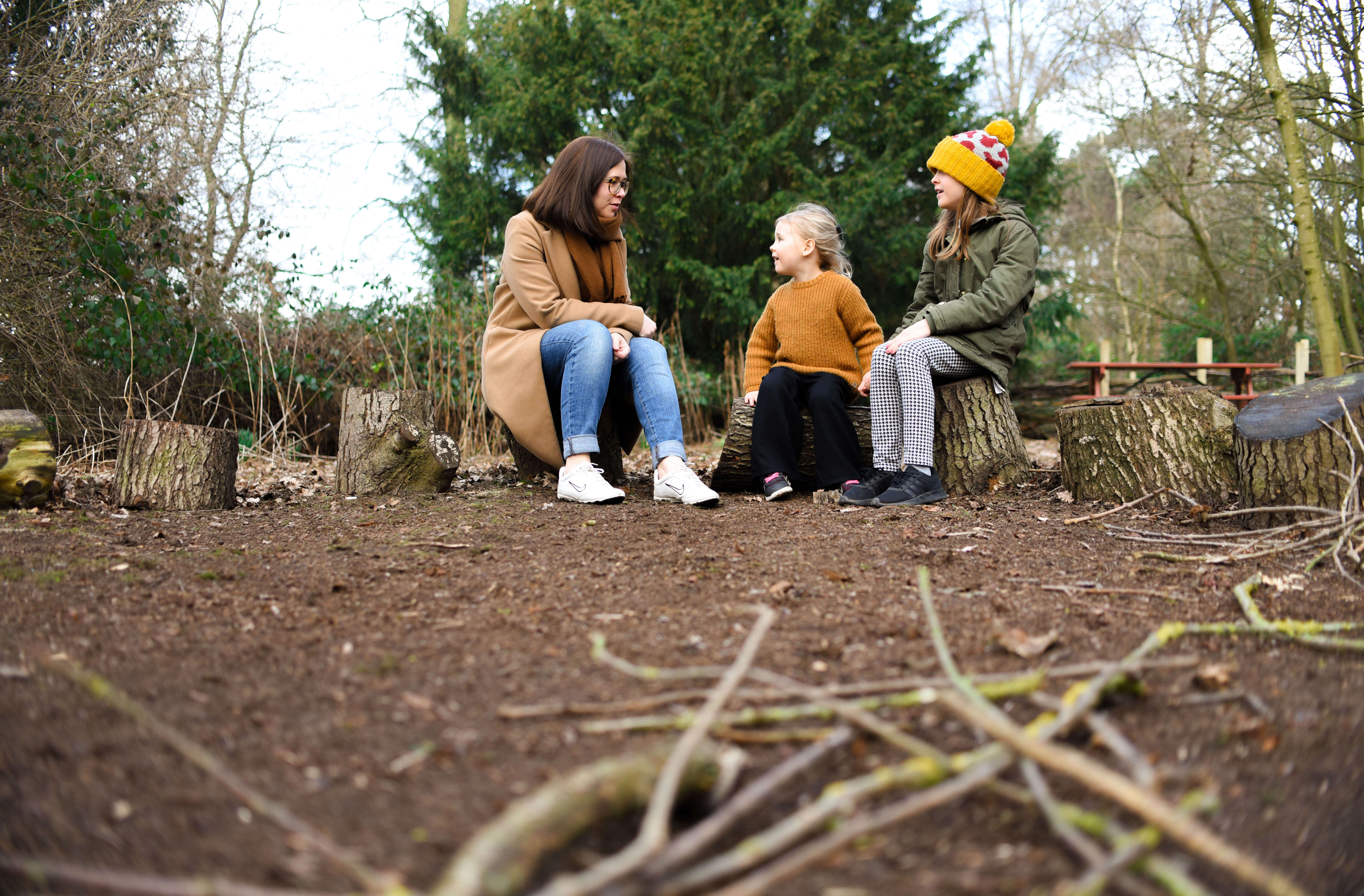 Thursday was the day their Grandparents have them, Eva went to a local Dance camp (that cost us £8) for a bit, they all had fun and I had a bit of peace and quiet!!
Friday was the only day that Eddy took off work so we decided to use some Groupon vouchers we had for Christmas to do an activity. These are both great tips that we do which is to ask for experiences or vouchers at Christmas over things. The girls are fortunate and don't really want for more toys or anything and it is lovely to be able to spread the joy of their birthdays and Christmas, which are so close together, throughout the year. It's like getting gifts all over again…whilst making holidays less expensive for us of course. The other is to look on Groupon for things you might already do or in your area as you can get more for your money or discover activities you might not have thought of. Half term is a really great time to do it aswell as they often have children based activities on offer.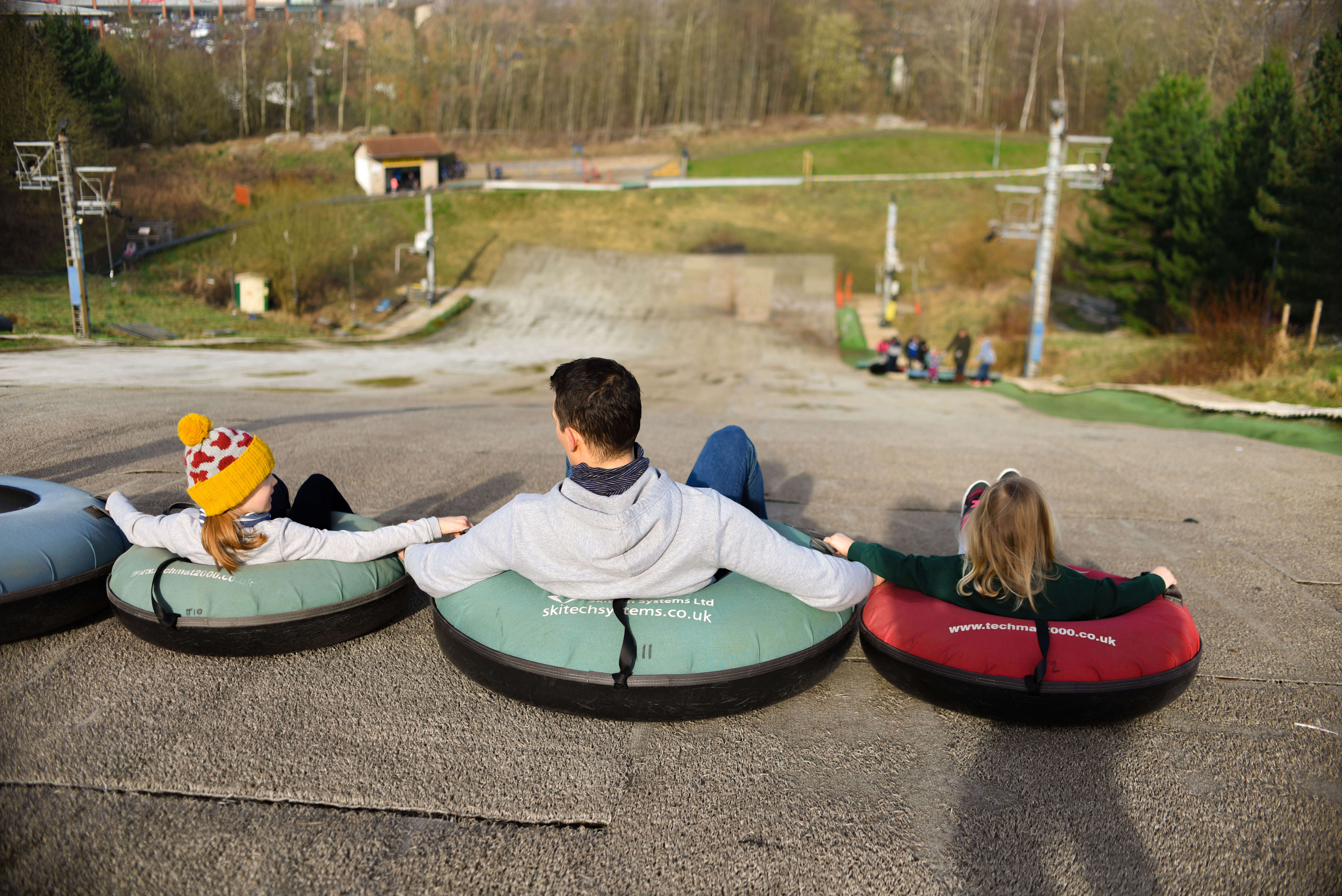 So we went snow tubing and tobogganing which I thought was brilliant but was a bit of a mixed bag with the children (ie Eva had a huge meltdown at the top of the toboggan run and decided she didn't want to do it and Eddy had to bump her down the whole run whilst she braked and cried and they managed to from a queue behind them!) But we all loved the 30 minutes tubing (after Roma got over how fast it was the first time) it was such a lovely treat to be able to all do it together and when we went down as a four we all just smiled the whole way and I think that one moment will stay with me forever. Roma also loved the toboggan, and in fact sat on my knee just asking to go faster, so all was not lost. Plus it was a serious work out for the legs walking back up the hill after the tubing! Goodness me they need a travelator!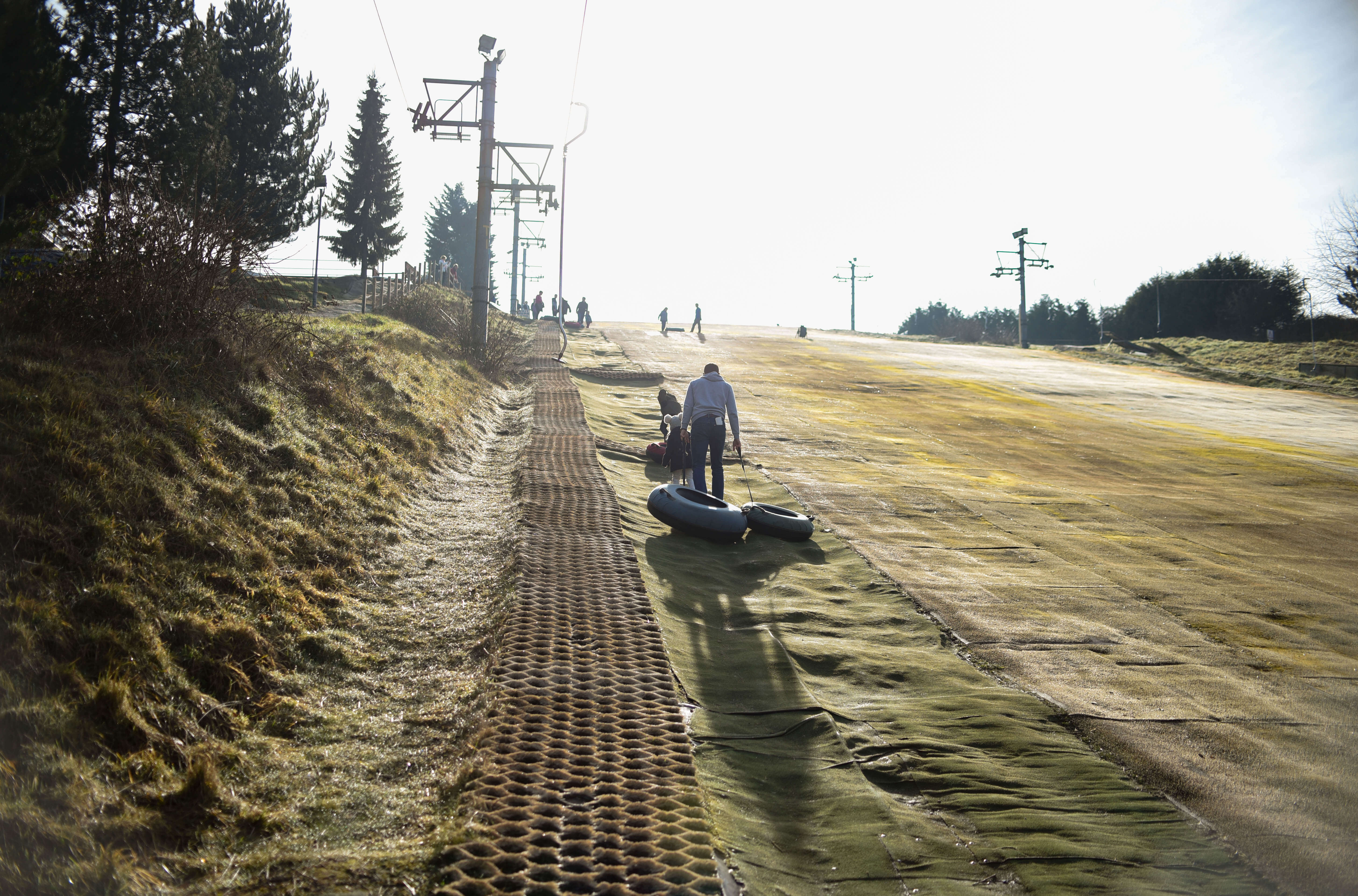 The lady at the top who offered to take our photo (how lovely) clearly didn't think we were having enough fun already and asked us all to put our hands in the air…despite the fact you definitely can't do that going down! Of course we were too British to do anything but do as she said and every time I look at it I smile so I guess she got it right in the end.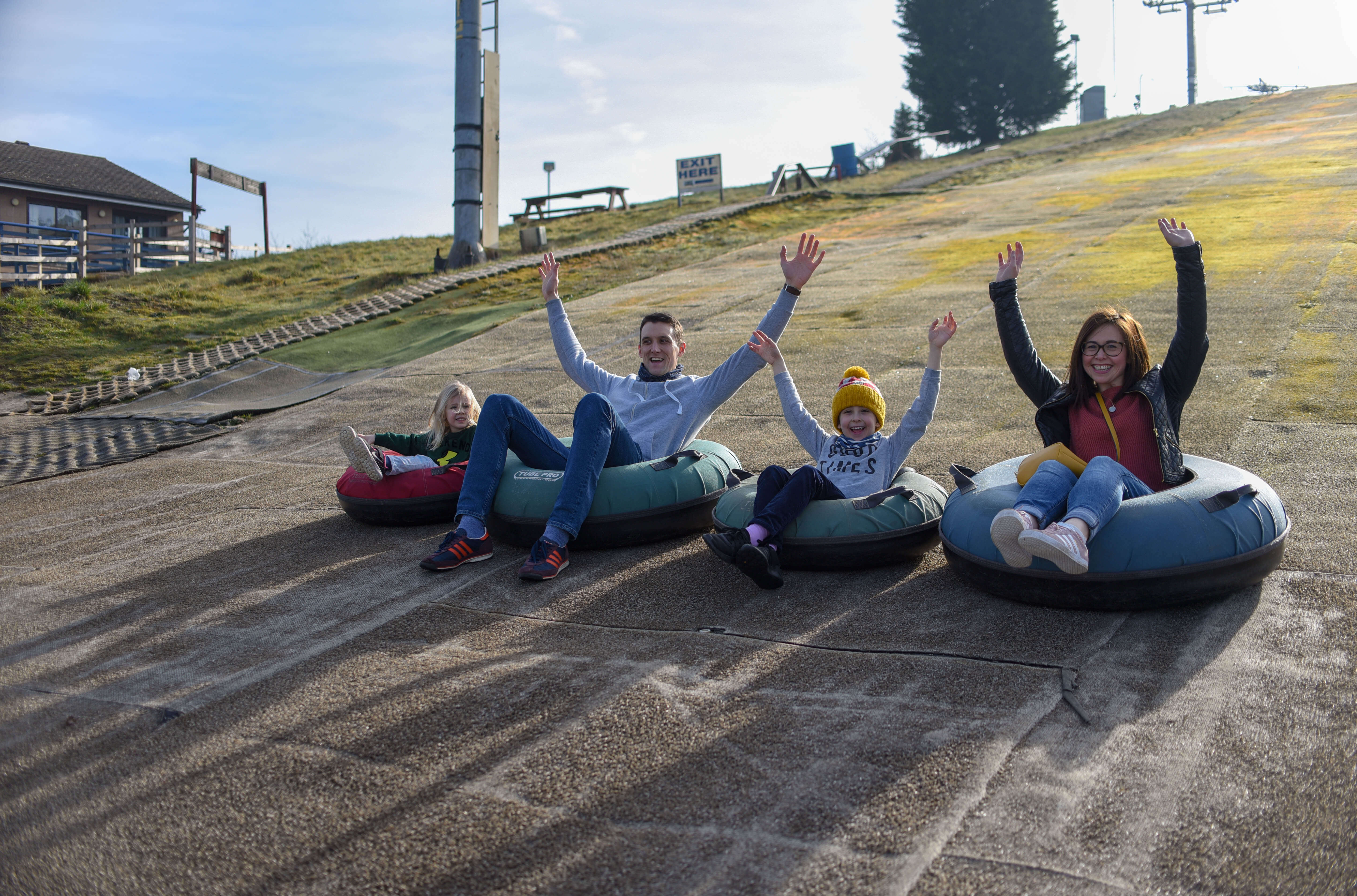 We seemed to fit a lot in to Friday as we spent the afternoon at the forestry centre again with some of our friends and to a local pub for pizza, a lovely relaxed end.
Saturday we were invited by some friends to accompany them on a visit to Belton House another National Trust Property so armed with a picnic and home made millionaire shortbread to share we made the hour and half journey. It is such a gorgeous place we didn't even scratch the surface I don't think but had the best relaxed day in the sunshine. The park is totally amazing and just getting the children away from that was a feat in itself – not to mention the adults, Eddy almost broke his back when he stacked it from a balance beam! He will never grow up, at least I hope not.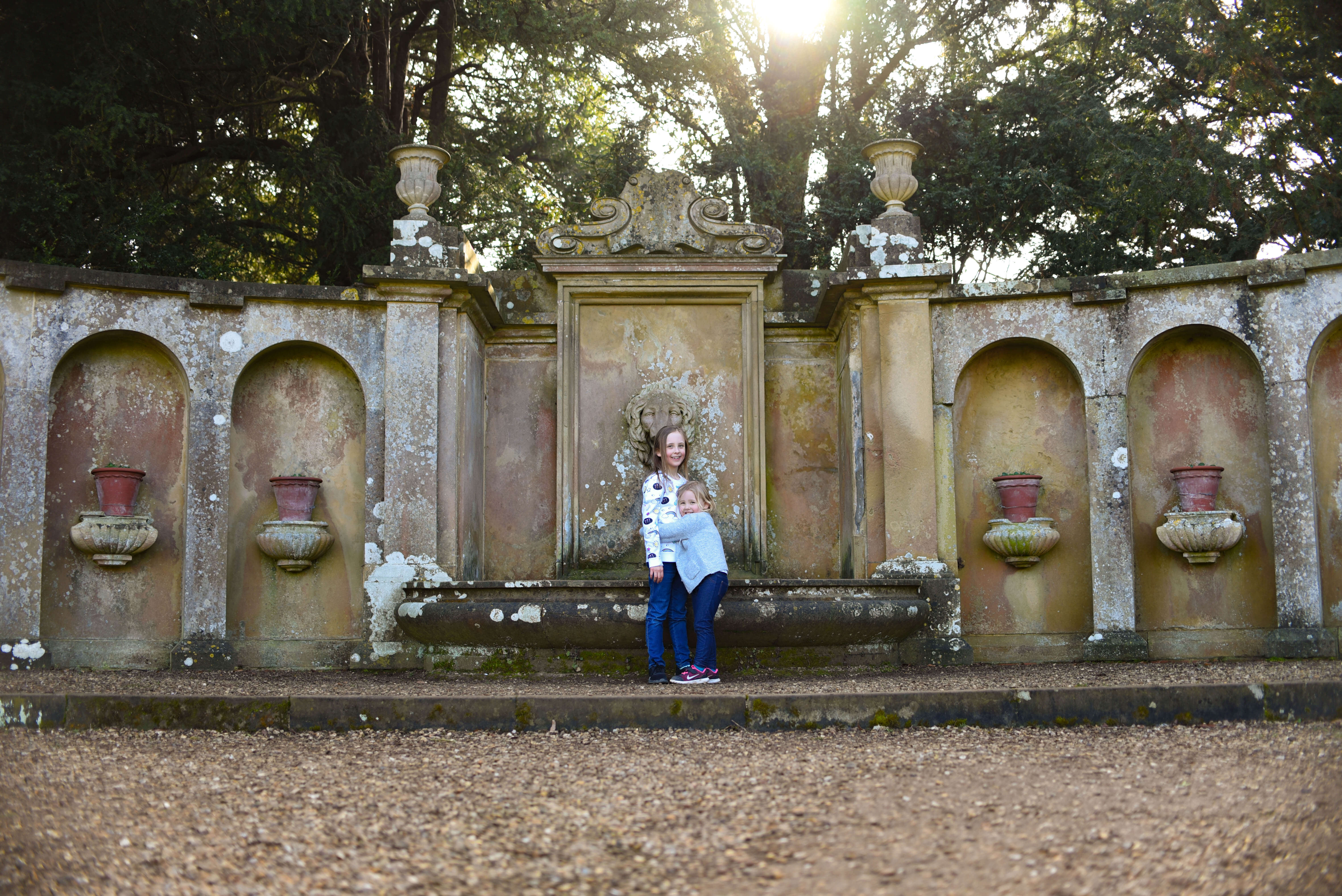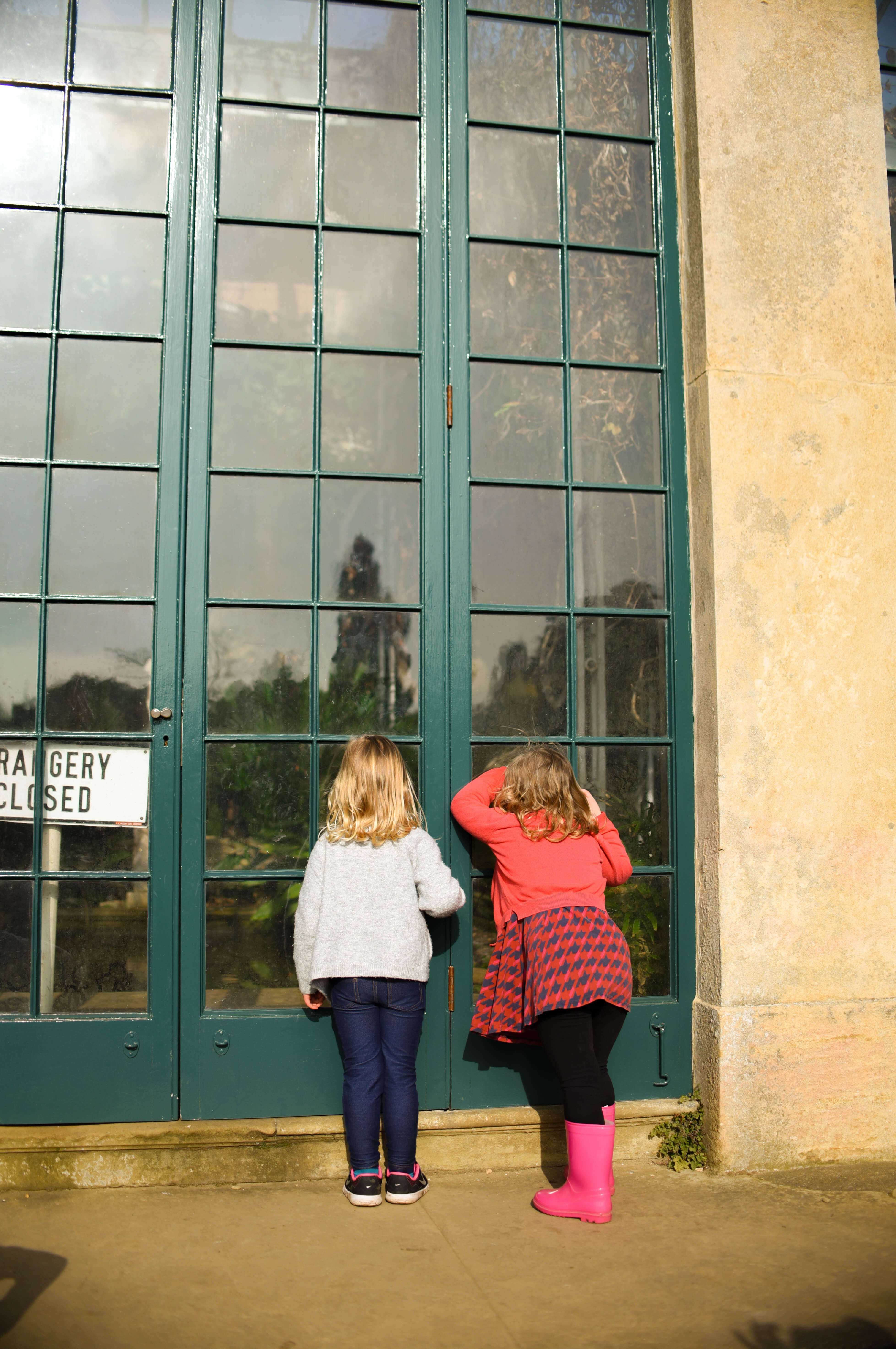 The orangery was closed unfortunately but just makes it worthwhile for another trip.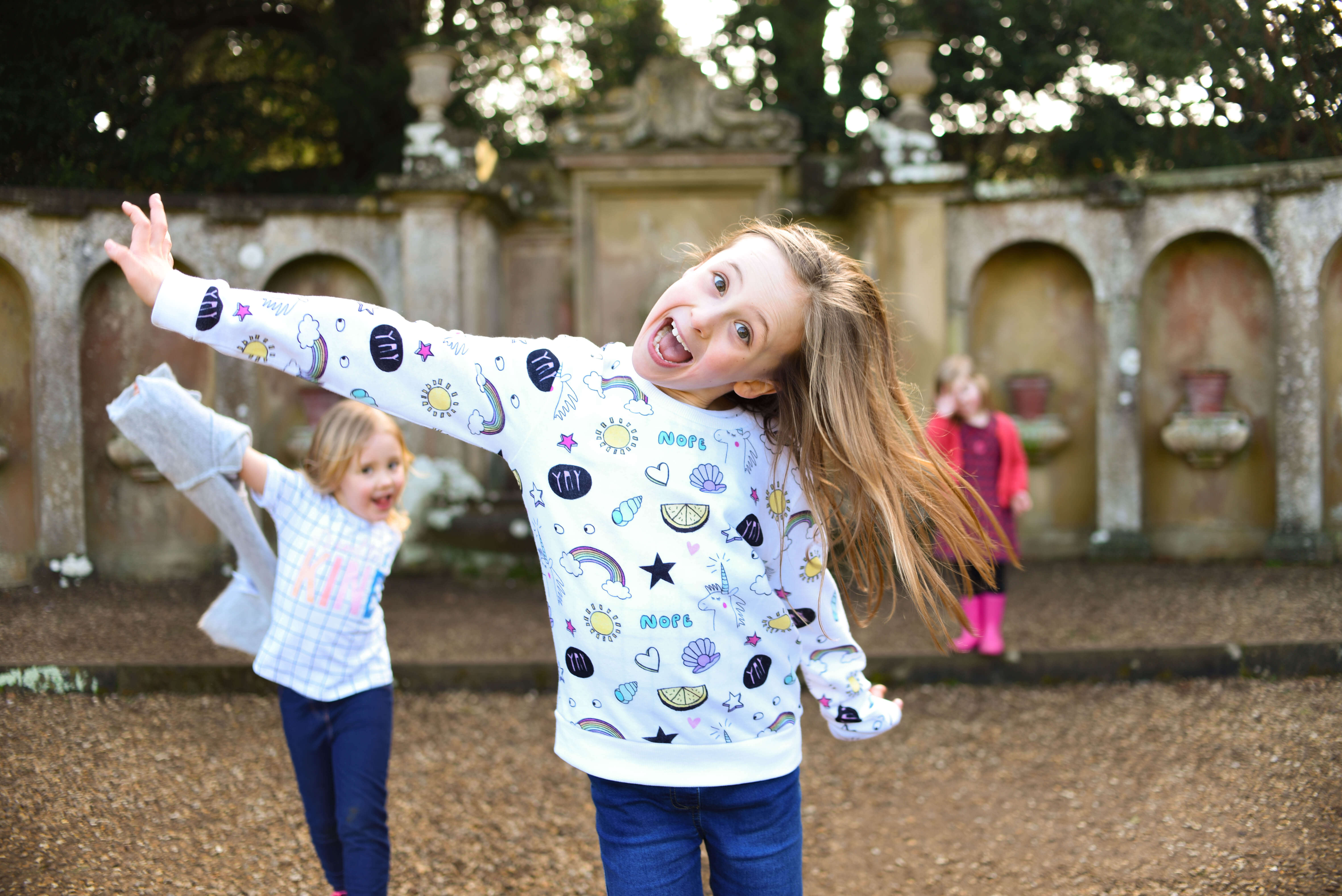 And the children didn't care a bit as they had friends to run around with. The best thing about national trust is the expanse of space, sit was quite busy but in places you feel like the only people around.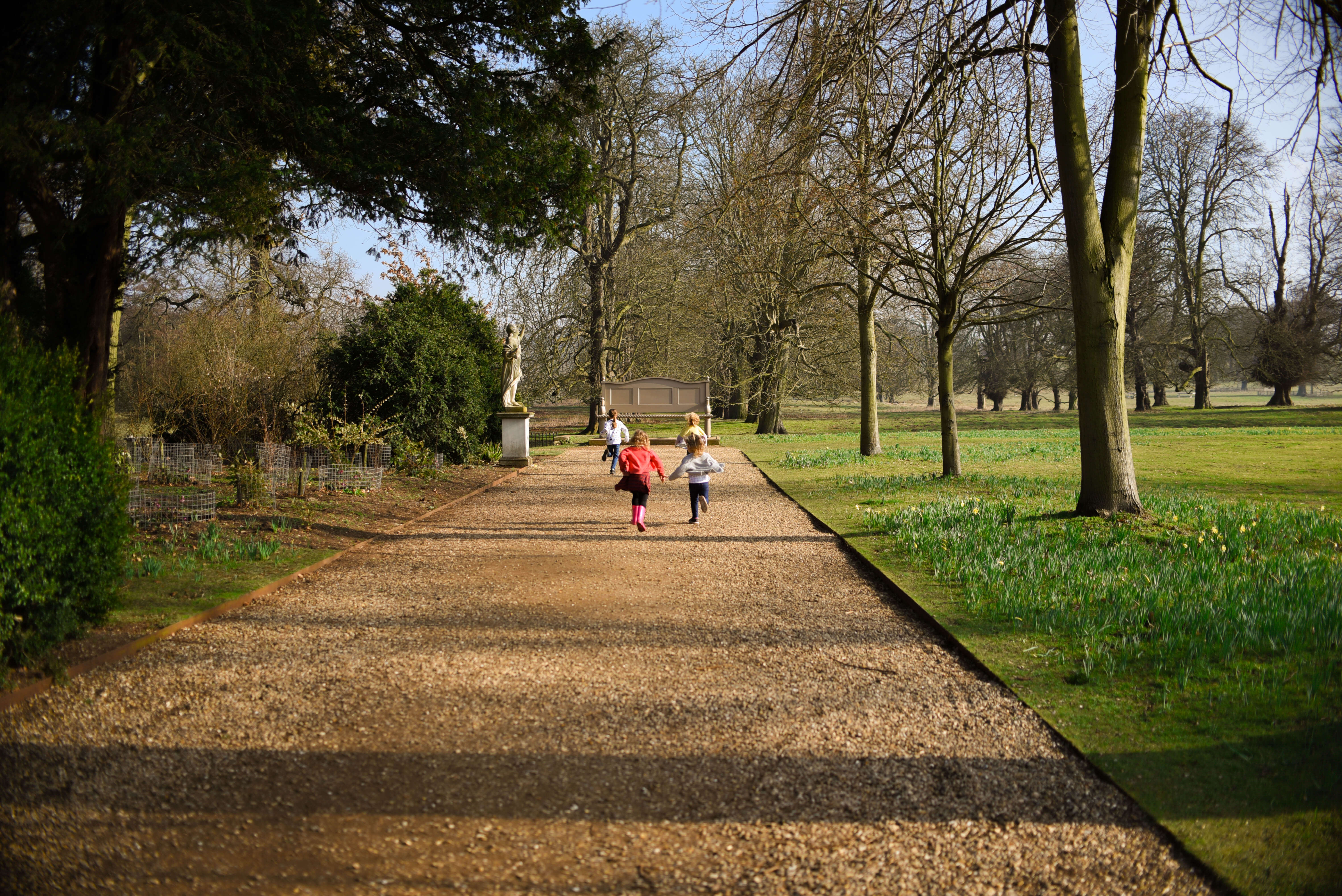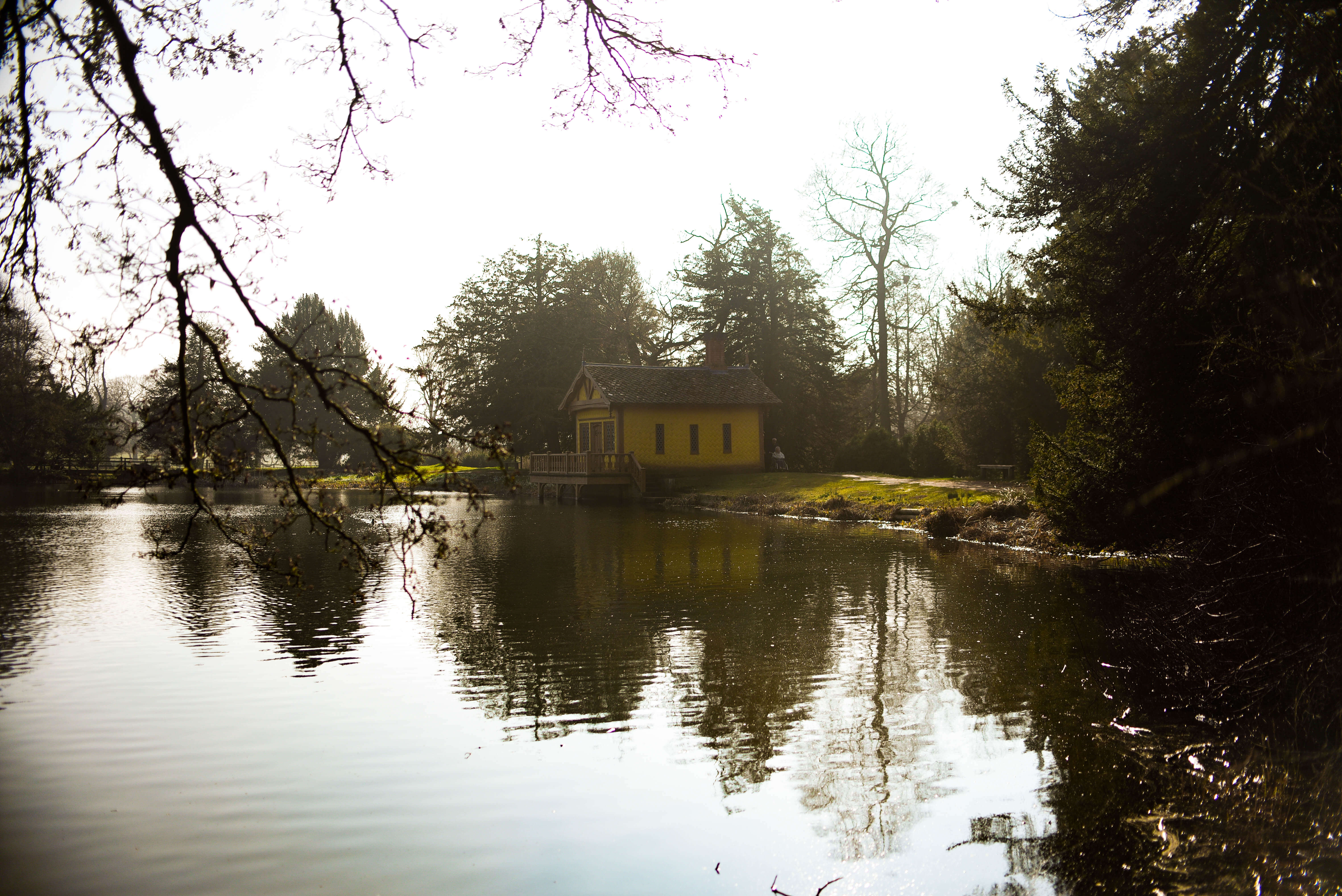 On the way home we dropped Eva off at a beauty birthday party because her social life is way better than ours and she came home on a high from feeling grown up with her friends, she also came home covered in glitter and make up which was both nice to see and scary in itself. How is she old enough for that?
Sunday was spent doing ordinary Sunday things getting ready for the week ahead and trying to relax and rest after a busy week, we had lunch at one of my sisters and watched a nature documentary which kind of gave us time to reflect on a lovely relaxed week.
Good week for me and for them the children have no idea what we spent and just had a jolly good time
So that's it, a simple ordinary but lovely half term and yes it probably could be sponsored by National Trust and the fact that we were lucky with the February weather otherwise it could have been a totally different story but there you go, a week in the life of us at half term spending nothing more than necessary coffee, pizza and a picnic. Food is life people.