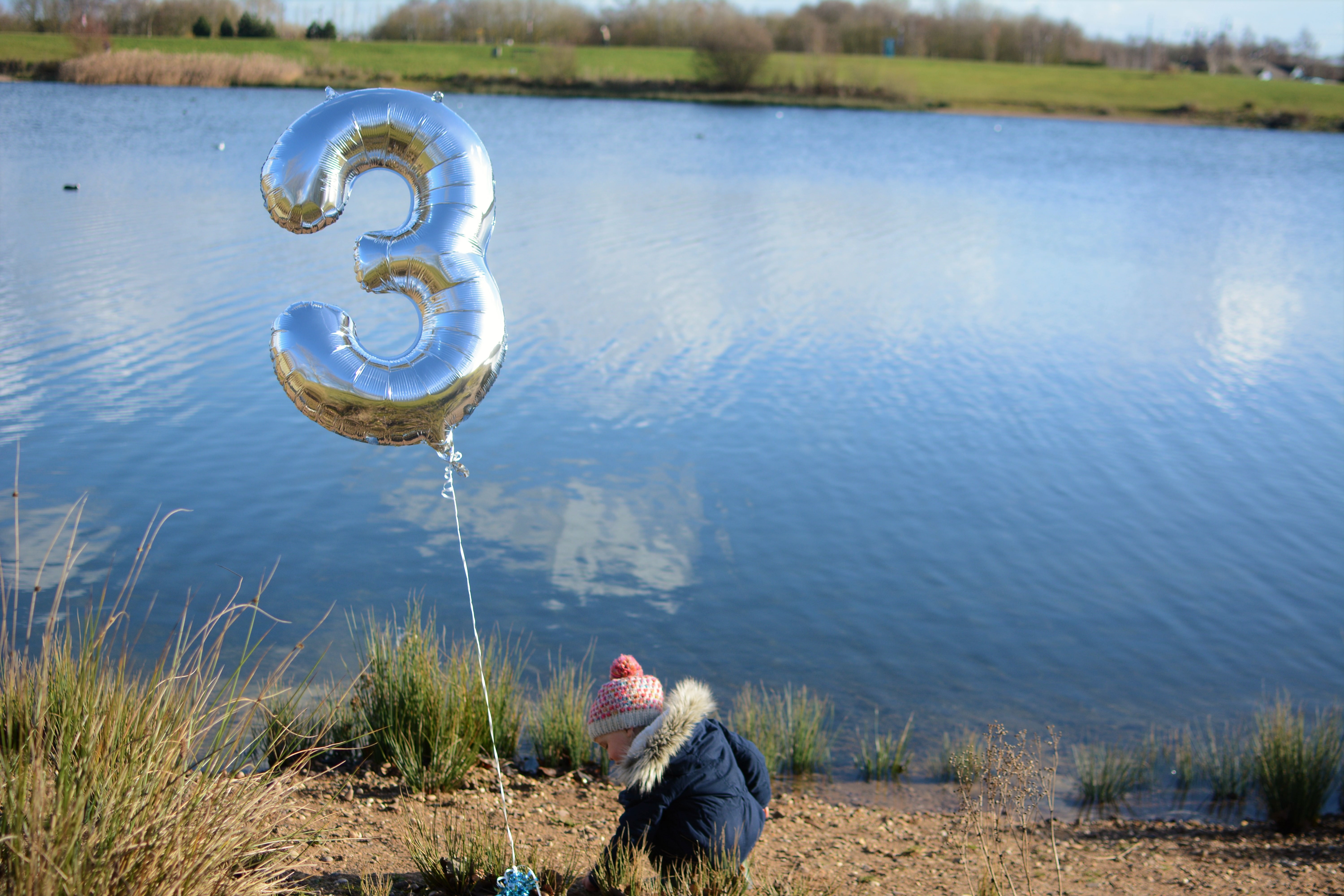 Dear Roma
Today, you turn 3! Three whole years of knowing you, of loving you and seeing that happy face of yours every single day bring more joy to our family than you will ever know. Three years which seems so long, yet so short, and I literally cannot imagine my life without you in it. A time when I didn't know you. I'll be honest as I sit here to write this letter I feel like I don't even know where to start. As I listen to you singing Ed Sheeran in bed in an attempt to put off sleep, I smile. I feel content with who you are yet the words are all stuck in my head. Not because there is nothing to say baby girl, but in fact that maybe there is too much. That my words just won't do justice to the year we have had, to the little person you have become and how very very special you are to me. To us. What an immense privilege it is to even know you.
This past year hasn't seemed that big for you. There have been changes and achievements of course, you decided on a whim two weeks before our summer holiday to potty train, and were pretty much done within those two weeks, you have a love of letters and words and have even started reading and writing which amazes me, but with your sister to guide you it also doesn't surprise me that much at all. Yet so much of it seems ordinary and like the changes are so small, so matter of fact that nothing seems to change at all. You spoke amazingly way before you were two and although have expanded that vocabulary again it doesn't feel that big as we talked so much in conversations already. It may have felt ordinary baby but that is oh so wonderful.
I guess the biggest and most emotional change, at least for me, was that you started nursery school. You had been begging to go for months and months and so finally in March we made that leap. I say leap because Roma; Mummy didn't really want to let go of you. We had spent over two years together, just me and you or with family members and I didn't know if you would settle, if I really wanted you to. If I was ready to let you go.
You cried on your taster session…but not when we arrived. No, when we had to leave as you just wanted to stay! It is fair to say that you loved it and since that day you have been hooked. You love that you have your own friends, you talk about them all the time and are proud when Eva talks about her school, you have something too. I see that bursting out of your face as you talk together at the kitchen table like two old women. When you had your first party invitation it was like a ticket into a whole different world, all of your own. You only attend once a week right now and I am really not sure what the future holds there as balancing spending as much time with you as possible and your desire to be there is something I have not quite wrapped my head around yet.
You are so fiercely independent, so sociable and love nothing more than to be surrounded by people, activity and, well chaos! You just soak it all in and confidently shake it off should you need to. You just love people and generally, people love you too. You seem to make friends anywhere, of children and adults, you are the funniest, cheekiest little thing with eyes that could melt any heart and an innocence that instantly does.
Eva is case in point, as much as you are her biggest fan by far and love nothing more than doing anything she wants to do, she is your biggest fan too. She is the one that laughs at you when really she shouldn't, she is the one that sticks up for you in most scenarios and she is the one that will stop anything to help you. The pride in her eyes when you are around is one of the most beautiful things I have ever seen. Yes you fight, you bicker and sometimes the fact that neither of you can give up on an argument drives me up the wall. Yet somehow within an instant you are friends again and all is forgiven, just like that and I cannot imagine a world where you don't have each other despite the fact that you are so very very different.
I sometimes wonder how you can be such a contraction. You are brave and fearless, defiant and bold, yet so sensible and kind. You are encouraging and thoughtful, will take a soft toy or grey jellycat rabbit everywhere with you yet run right into a muddy puddle no questions asked. You pick up a toy drill like it's instinctive to fix cars and furniture and have a baby in a pushchair right by your side, get you a real baby and you are melted right there and then. I love that about you. In fact there isn't much I don't love about your quirky contradictory personality Roma. Except your inability to sleep, that I could do without!
I am probably not giving you enough credit here, it is not as if you do not sleep, I would say now that 80% of the time you are fine (that is possibly a little optimistic, it is your birthday letter after all), you sleep 12 hours and settle well after 3 stories, a song, grey rabbit and a rabbit nightlight too, yes it is quite a routine you have there and it feels impossible that I won't do that forever! I guess you are just easily disturbed by illness or changes in yourself and in those moments you need someone there. In this past year this has meant Daddy sleeping on your floor, Mummy sleeping in your little toddler bed or indeed you climbing into ours. I love my sleep I do, and if I could wave a magic wand and have you sleep 12 hours every single night I probably (definitely) would. For me and for you. But I have to tell you also, that there is something oh so special about those midnight cuddles in my big bed. They feel like it is just you and me against the world and take me right back to the many night feeds sat in your chair with the sense that we really were the only people in the world right there in that moment snuggled into one another as we literally could not get closer. Yes I do love the chance to cuddle before you awake and are 100 miles an hour once again!
The age you are at right now is so infectious that I want to bottle it up and keep it forever, or let it out once in a while when you are older and you are taking life too seriously. Right now you run with wild abandon, you love with all your heart and you laugh with every fiber of your being, you really do have the most mischievous of laughs. You love dinosaurs, tractors, cars, and babies, you adore books and can recite most of them word for word and laugh hysterically at Oi Frog. You have the most amazing sense of humour and a silly side along with not a care in the world which means you will be the one with your coat on backwards and your shoes on the wrong feet and not care a jot. As long as people laughed. You are without effort exceptional at most things physical and will choose outdoor adventures above anything else. Get you on a bridge with holes in the slats however, and you crumble!
You see you are all of these things without a doubt but you are also sensitive. This year has seen a little more cautiousness creep in, a little more intelligent thinking when it comes to consequences and you are definitely older beyond your years. I have always been complaisant of your robustness, I didn't realise it, but I have and when you had a pulled elbow, followed by another it rocked our world a little bit that maybe we need to watch you closely too. Of course you are fine and adapt amazingly but seeing you vulnerable for the first time was a real shock to me at just how much stability you bring to us.
You continue to teach me so much more than you will ever know, and so much more than I ever teach you, even without trying. You bring more joy than I have ever known and a joy I thought I would never feel again, and you don't even know it, it is just within you. You have a sparkle in your eye not to be rivaled and have such delight in your growing up it is hard not to be overjoyed with you. Every day right now you feel "big enough" whether that is to ice skate, to go on a big swing, to move to the big room in nursery, to follow in Eva's footsteps. The word big doesn't scare you, it doesn't make you run away or feel sad it fills you with excitement and drive to carry on, it shows you there is so much more to come and Roma, you show me that too.
I am not sad that you are 3, I am absolutely elated that I get to the be the person that watches as you grow into quite possibly the most awesome person I have ever known. But you know that baby girl.
At 1.18pm you will officially turn 3, I will hold you as tight as I can for as long as I can get away with and then, I will let you go, go and be awesome, go and be you.
If I could choose any 3 year old, I would always choose you.
Always be yourself. Mummy loves you.
Happy Birthday.
Mummy
xx