In general I would say I am definitely more of a natural wonder sort of girl; more at home in the mountains, by the sea or generally in the middle of nowhere than a busy city girl. Conversely there is something about a city break that both fascinates me and draws me in with a totally different feel, an unknown ripe for exploration, consequently thrusting me suddenly into doubting how I could ever want to choose between the two.
Last week as Eddy was off and we had no plans we decided to jump in the car one day and took a midweek family trip to Liverpool, a new place for all of us. After a smooth 2 hour drive (helped mostly by the first time use of the in car DVD players we purchased for our (now cancelled) France trip, they were a big hit) we arrived at an overnight car park (£15) just a few minutes walk from the last minute StayCity apartment we booked the night before for £80, and Albert Dock with the sight of a slightly rough and foggy River Mersey. A near perfect location for us.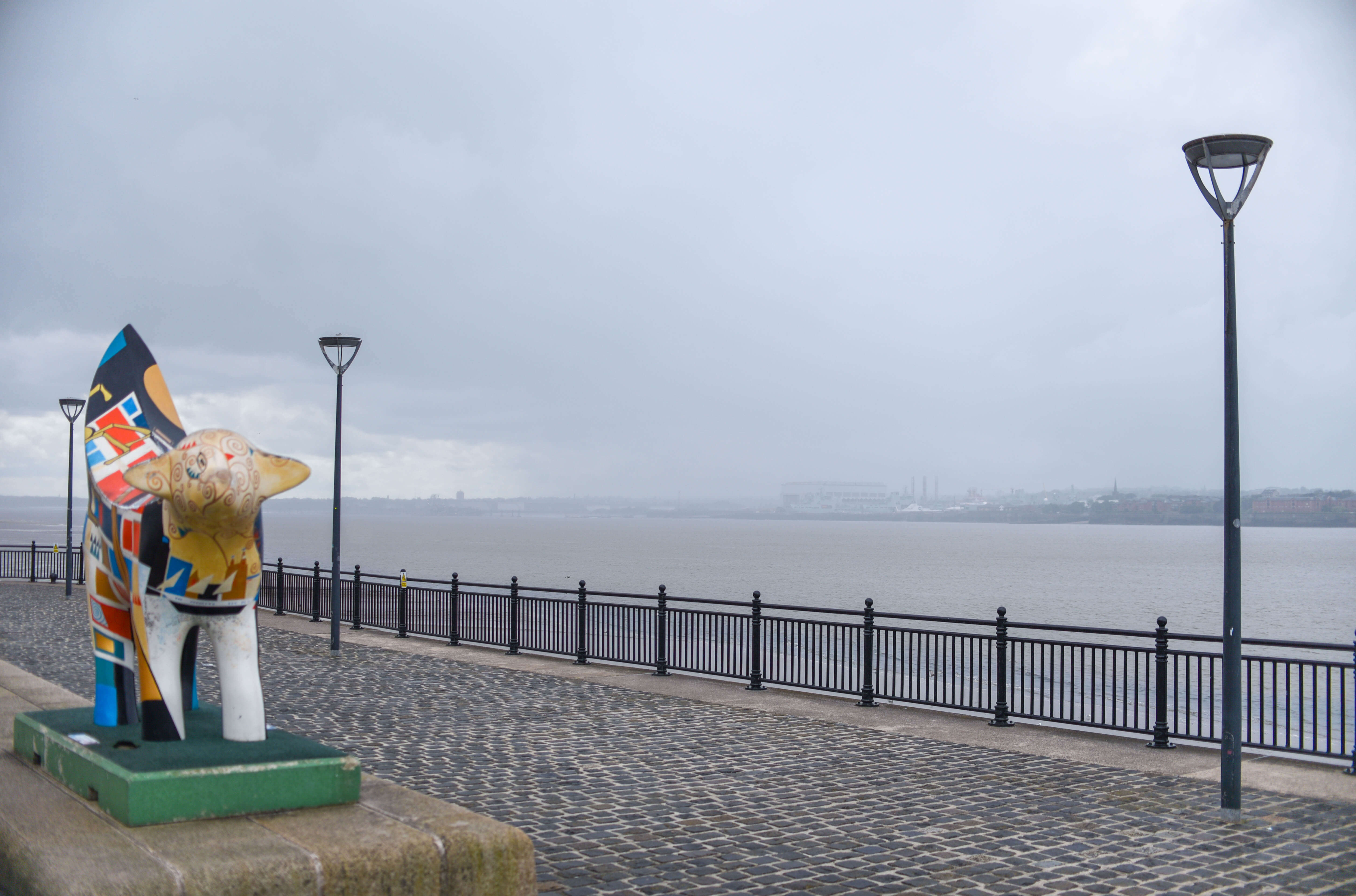 We wasted no time in getting started, unfortunately so did the rain so after a quick pit stop back at the car for the rain coats and a rather wet and windy walk which had us all laughing into the face of the thrashing water and trying to dive into the Royal Liver building for cover (unfortunately the 90 minute 360 tour wasn't suitable for small children but the welcoming faces of the staff encouraged us to look around for shelter!) Naturally a coffee and planning stop was in order teamed with a map picked up from the hotel with equally as friendly staff.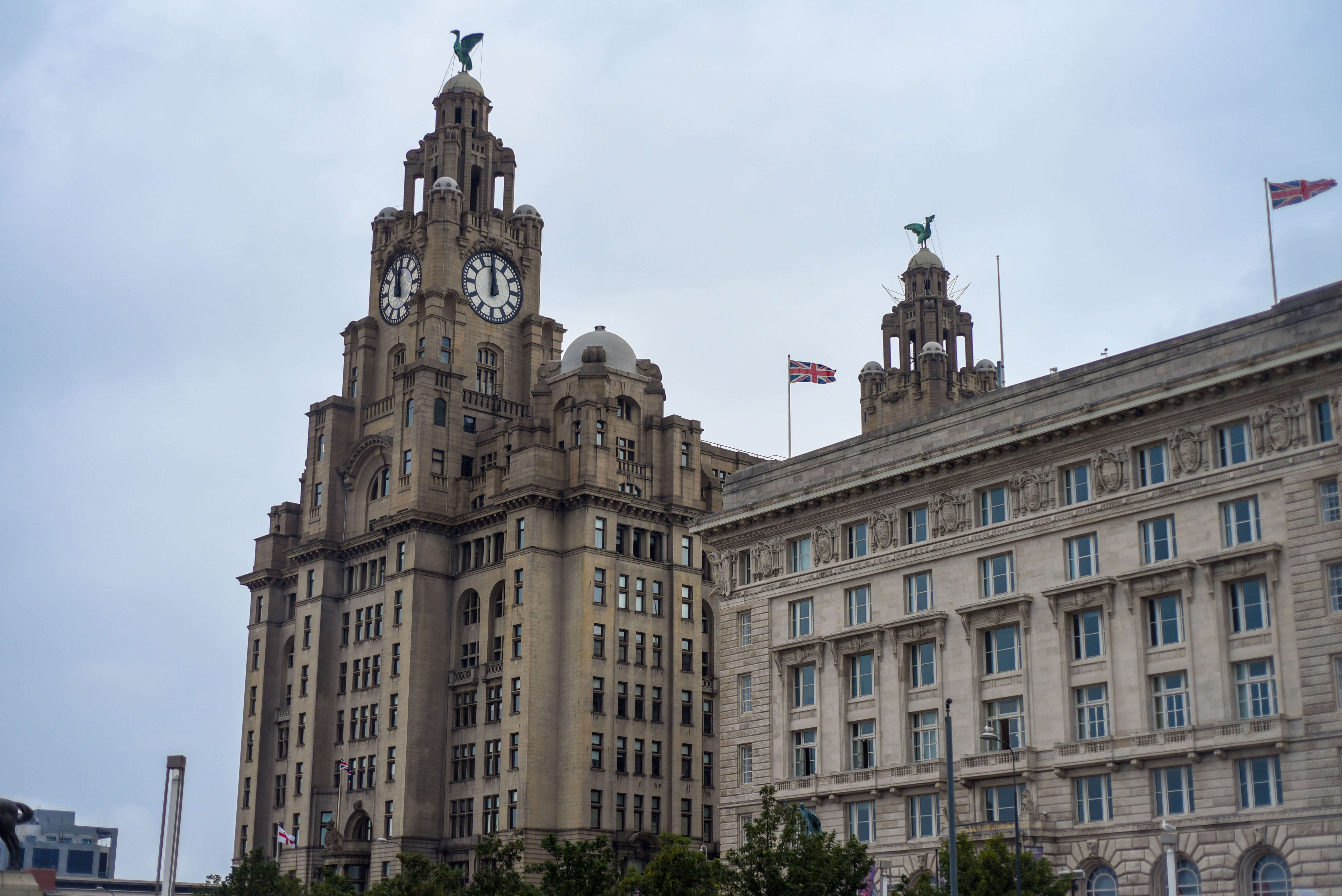 Sat in the cafe, map in hand, rain coats safely deposited on the back of our seats we were surrounded by the undeniable and unapologetic sounds of the city. The hum drum of chatting people with conversations so integral to their lives whirling around your head, mixing with the aroma of coffee, the pounding rain on the vast windows stretching up to the high ceilings of the old renovated building with rubbish collection carts just outside. Hearing it all but listening to none of it.
I had some things in mind I would like to do (thanks to a quick instagram plan. I always find it so helpful to just look at a location tag on there and see where we might like to visit) We also just wanted to take it as it came and we find it much easier with the girls this way without too much of a fixed plan but an idea of what there is to offer.
Lets face it there is nothing worse than wandering aimlessly when the children ask what we are doing next!
So after the rain mainly left and we were all caffeinated and fed on sausage sandwiches we wandered to Albert Docks, past the Beatles statue and the crowds of tourists taking photos, spotted the very jazzy Dazzle Ferry through the thick fog, marvelled at the locks covering the chains lining the riverbank and wondering why there wasn't a lock shop right there. Business opportunity maybe?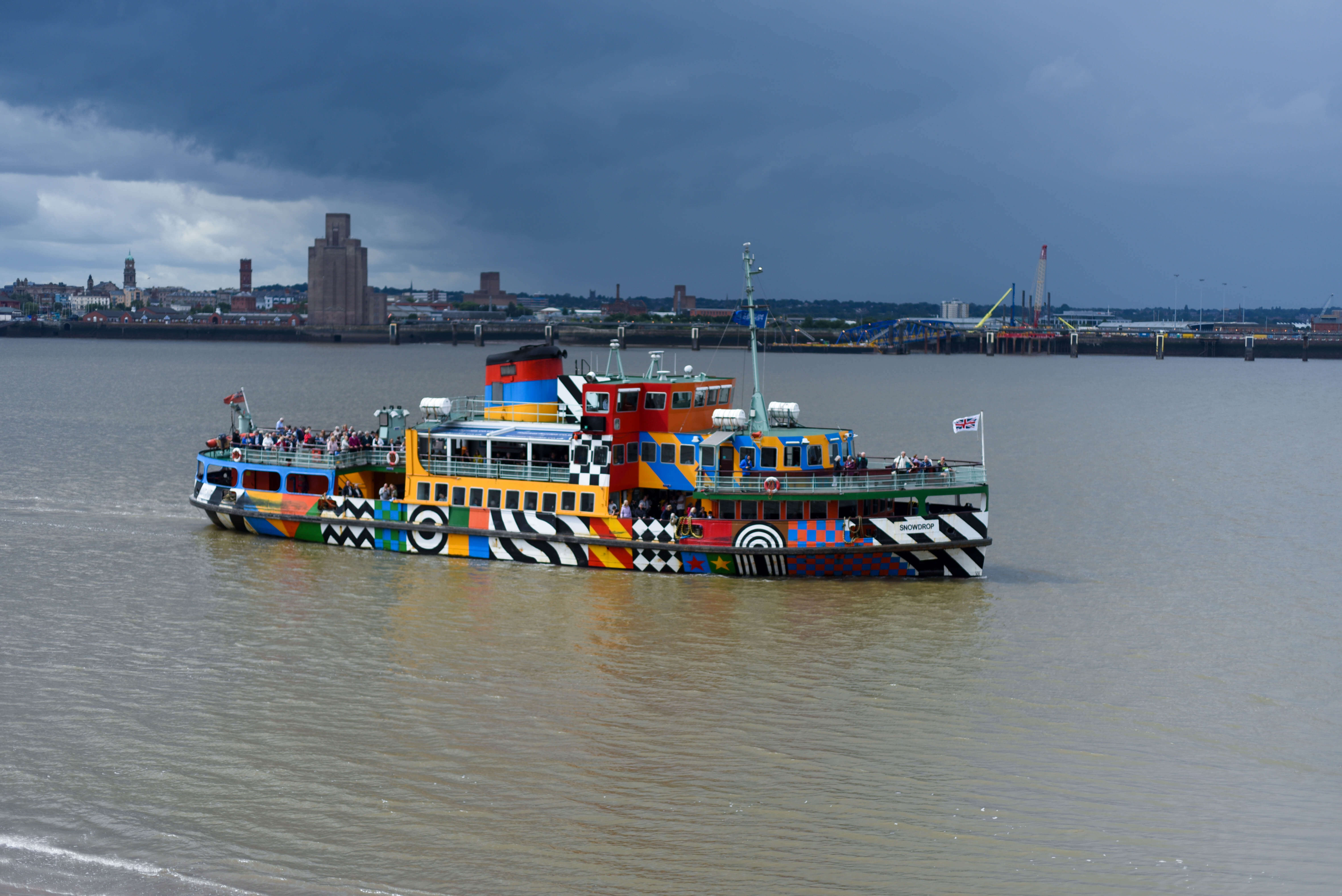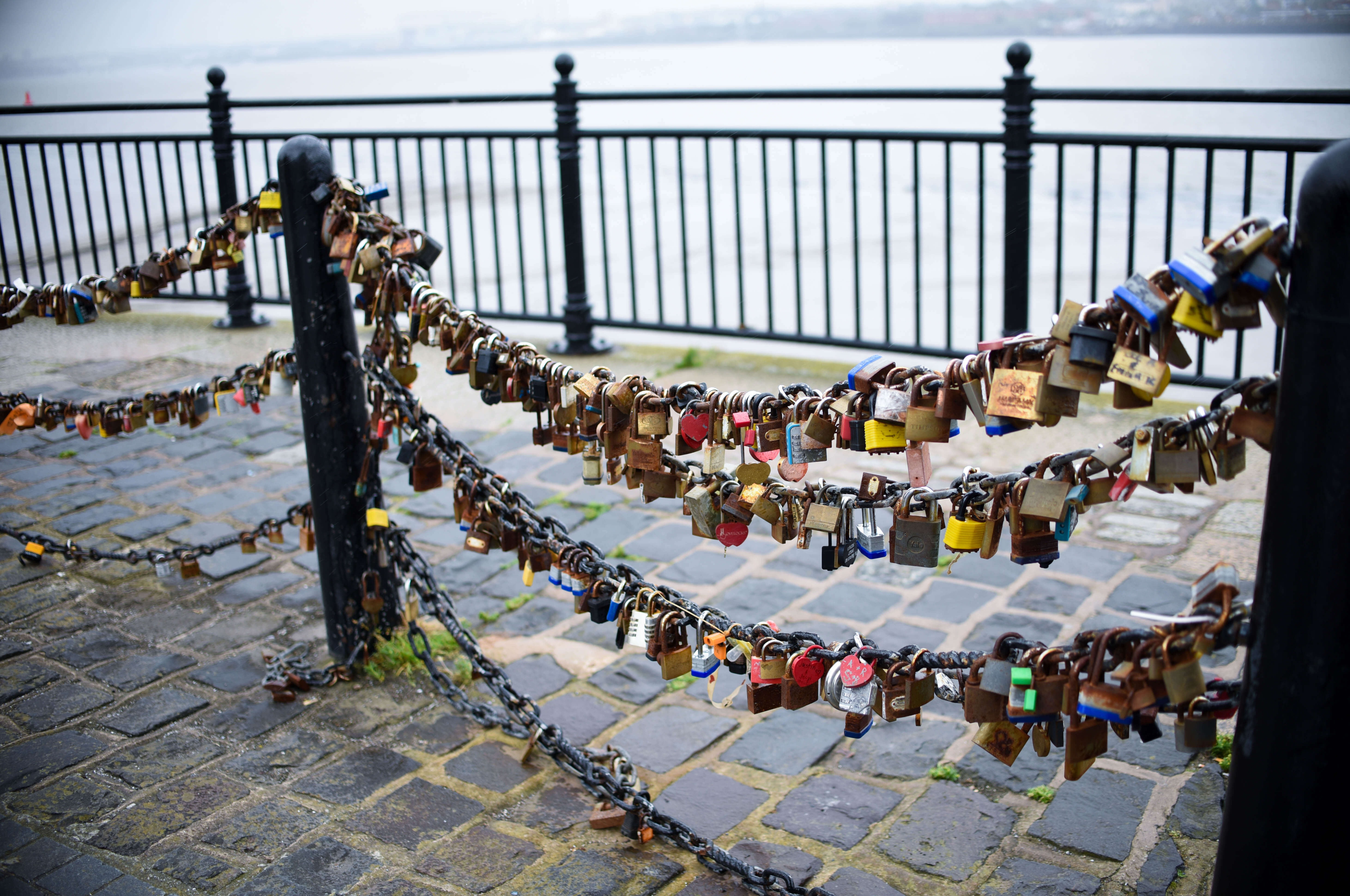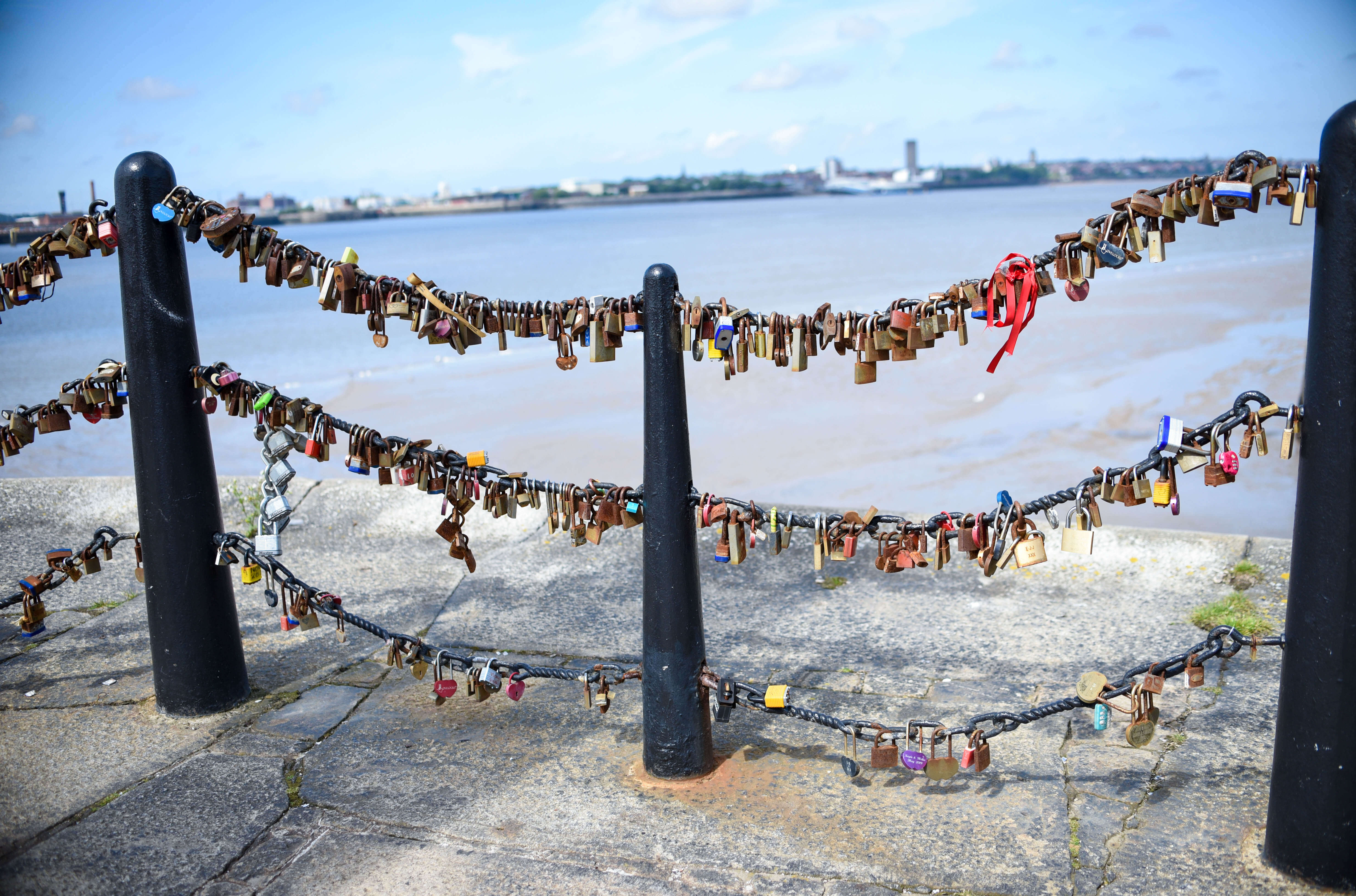 So many locks!
Eddy and Eva went on a magical mystery tour at the Beatles Story (£17 adult, £10 child) where they listened to audio commentary and took in the Beatles mania together. They came out really giddy and it meant I didn't feel too bad about not going myself. I wasn't bothered enough to pay the ticket price I will be honest and I knew Roma wouldn't have been either but they really enjoyed it and it was nice for us each to have some one on one time. Turns out also that Roma is also a lover of Art. Who knew!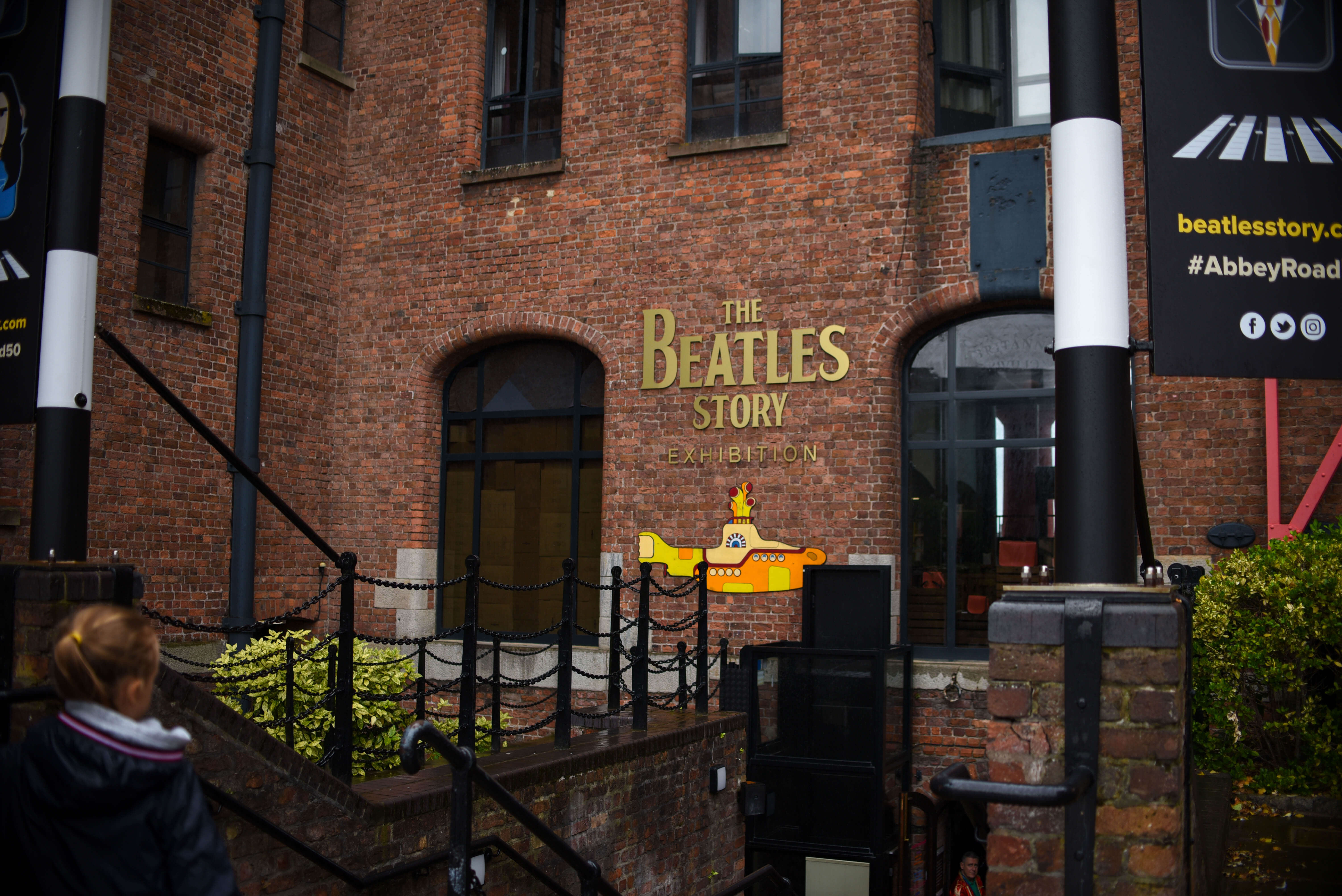 The Tate was just a short walk away which we did hand in hand chatting all the way, something I have missed a little in the holidays with so much noise and busy days. I hadn't even really realised that I had missed it but I held her hand a little tighter thinking about how much I would miss her as she started school in just a few weeks time, and wondering where the time has gone.
I digress.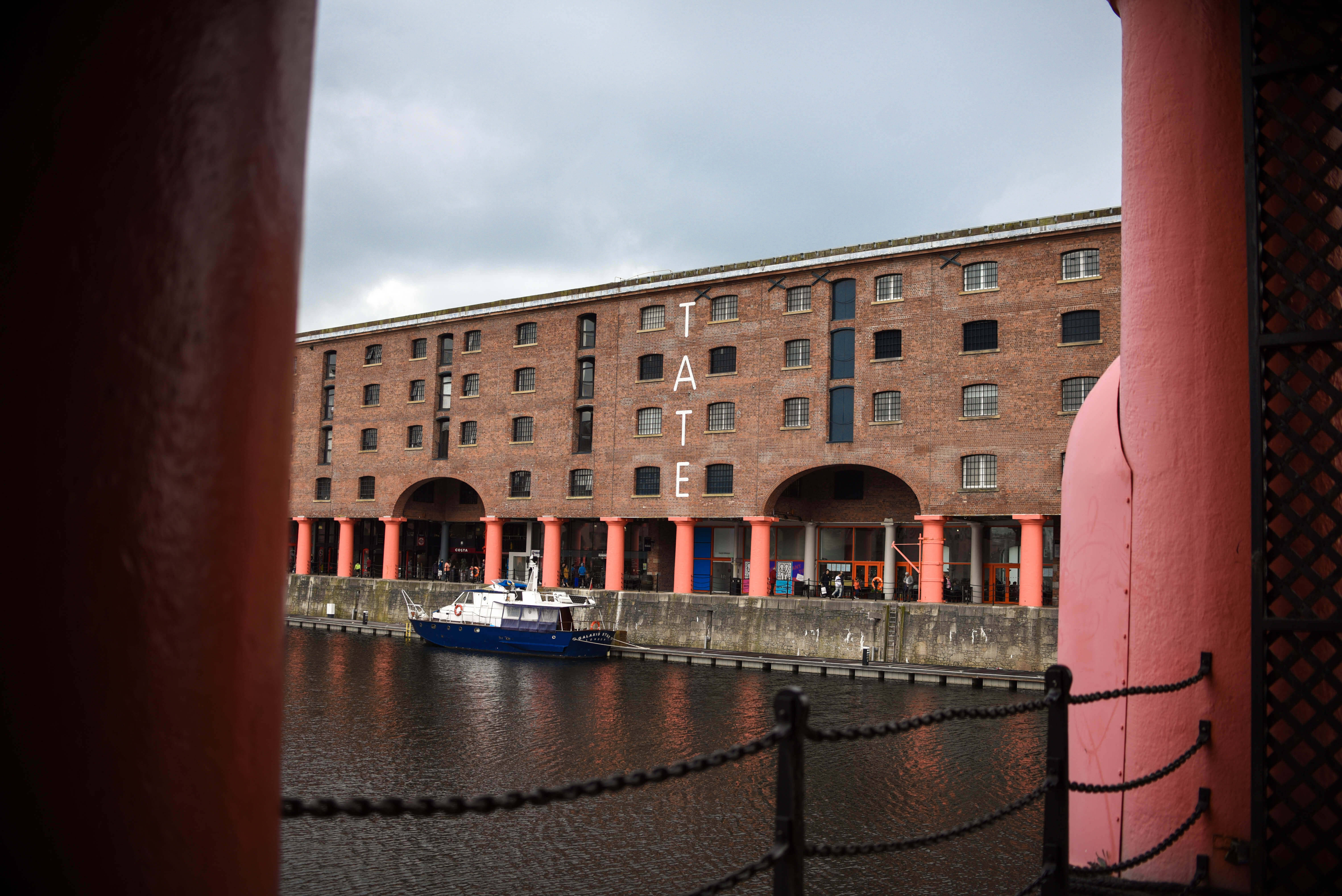 Walking around the Tate having yet more dialogue with Roma about the art and seeing her fascination made me think that maybe this growing up thing isn't so bad after all! It was really special as I saw her immerse herself in it all, 'driving' the huge bus on the ground floor; a commission by artist Sol Calero with the brightest colours of the bus and the murals surrounding it exploring the difference that is a Latin American daily commute versus a tourist attraction. Just goes to show what some people see as ordinary others find extraordinary. A life lesson in itself.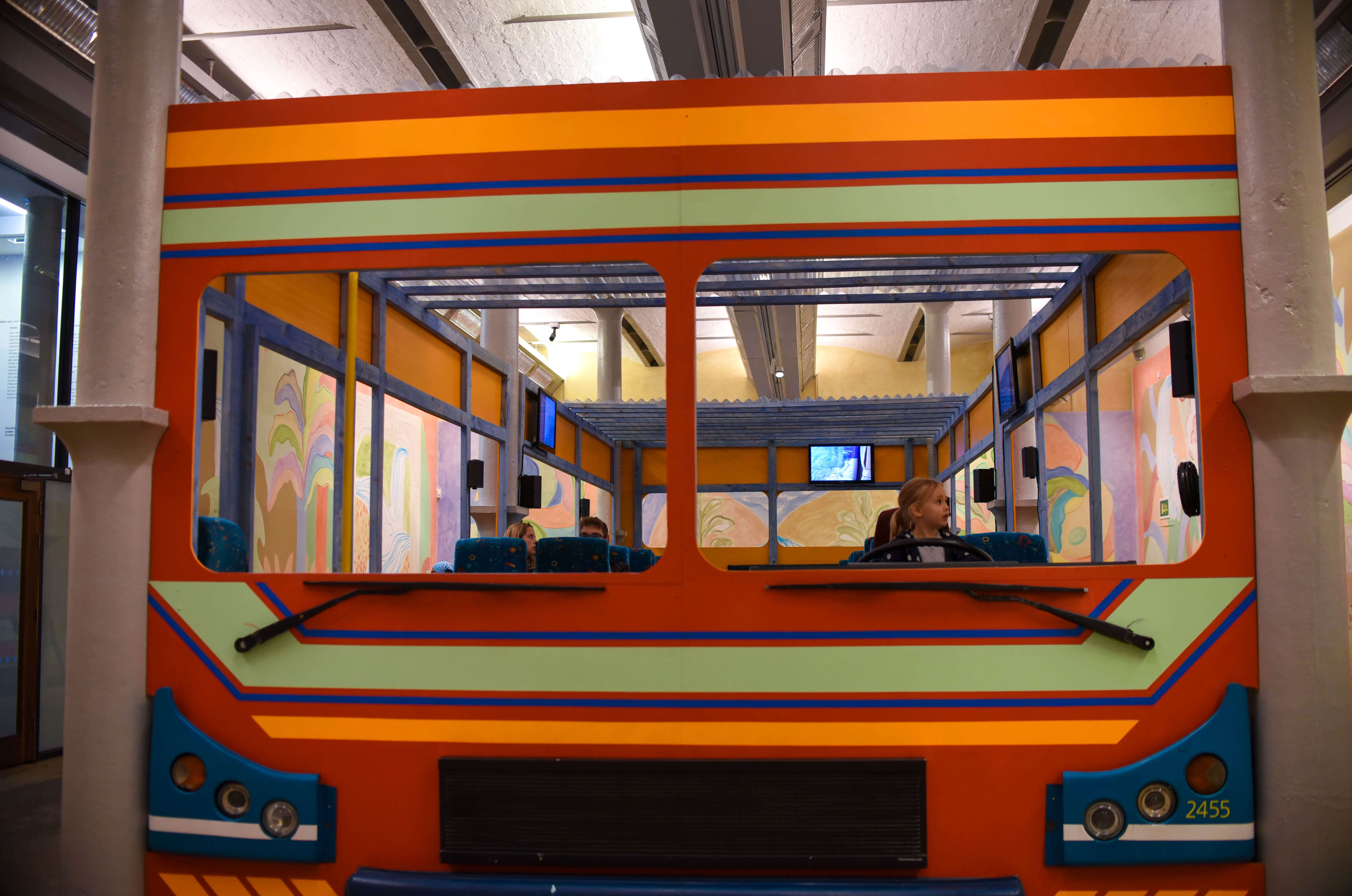 As we explored more of the floors letting the colours wash over us in the slow pace and calm, she talked to me about her interpretation and suddenly it was a totally different experience and I couldn't stop staring at her taking it all in. I realised I was looking at her more than at the display. Also wondering whether maybe this is just the beginning of our new art buddy journey. Eva and Eddy could not be less fussed!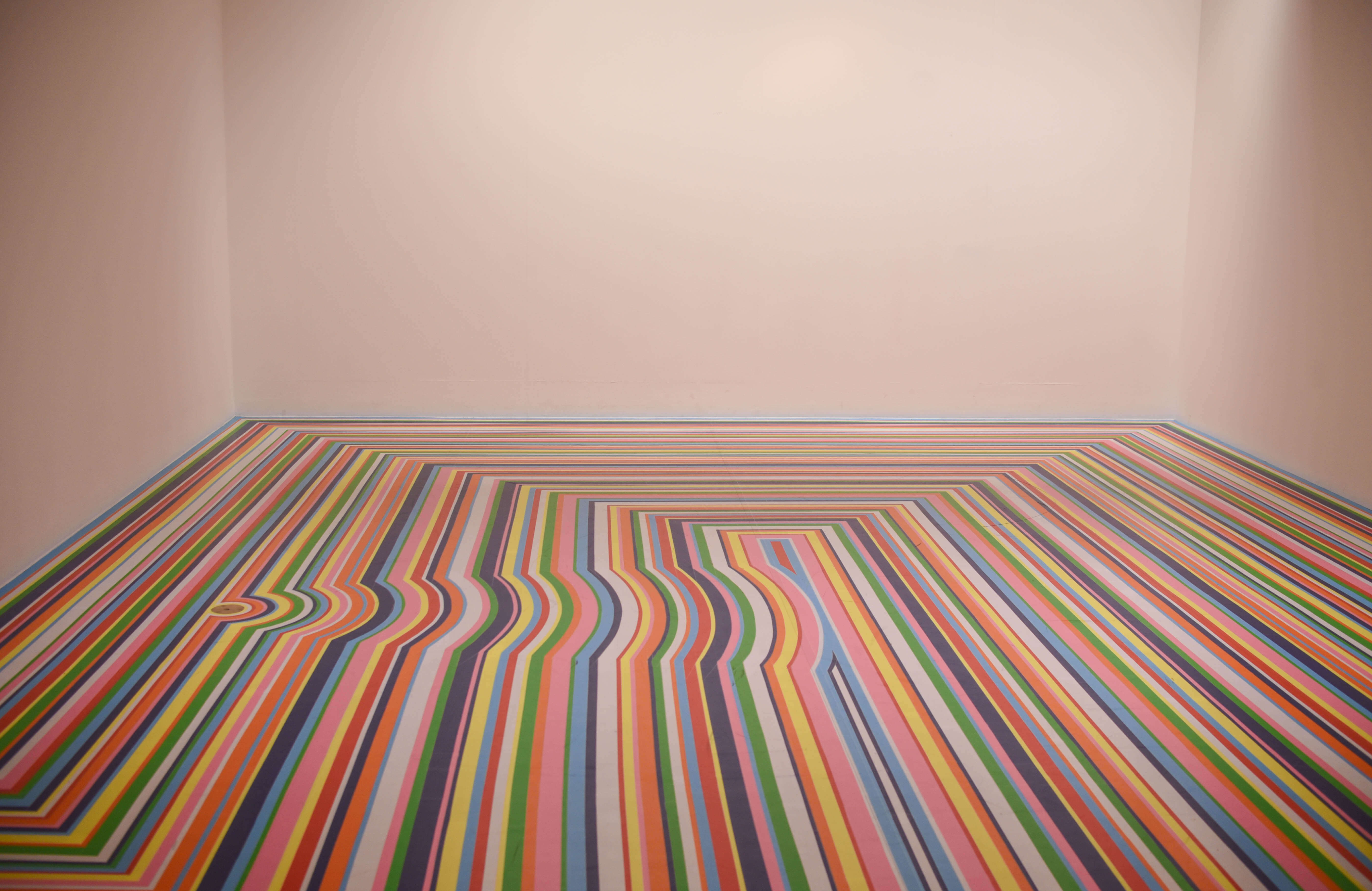 They joined us later though as there were activities in the family room at the Tate making badges and the girls really loved that. I actually thought they catered for children really well which I don't think you would usually expect. It also gave me a bit of a chance to have a solo walk around. This psychedelic 'Op Art' floor is amazing and really messes with your head as all optical illusions should. The huge windows in the Tate also had the best views over the river, even on a misty day.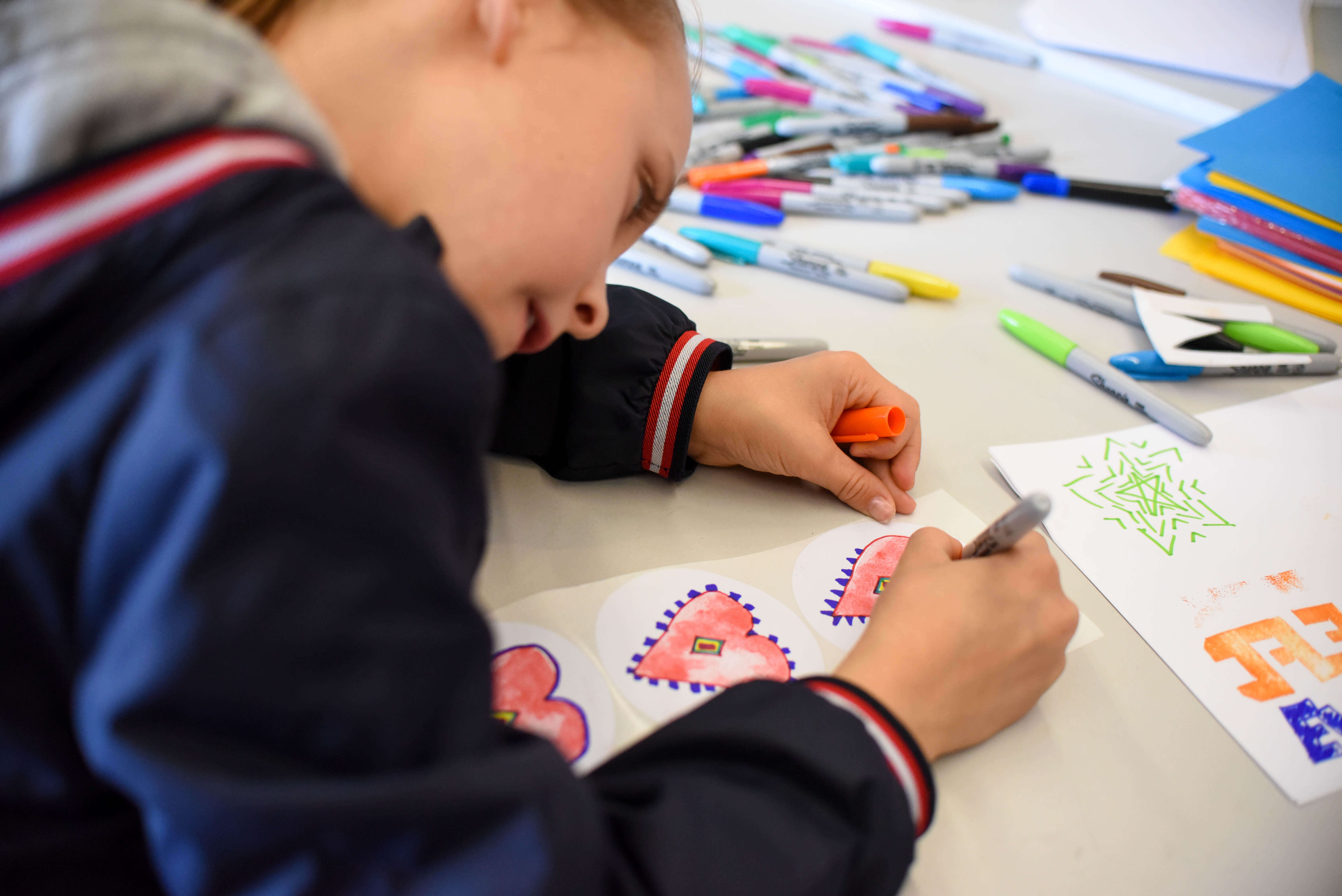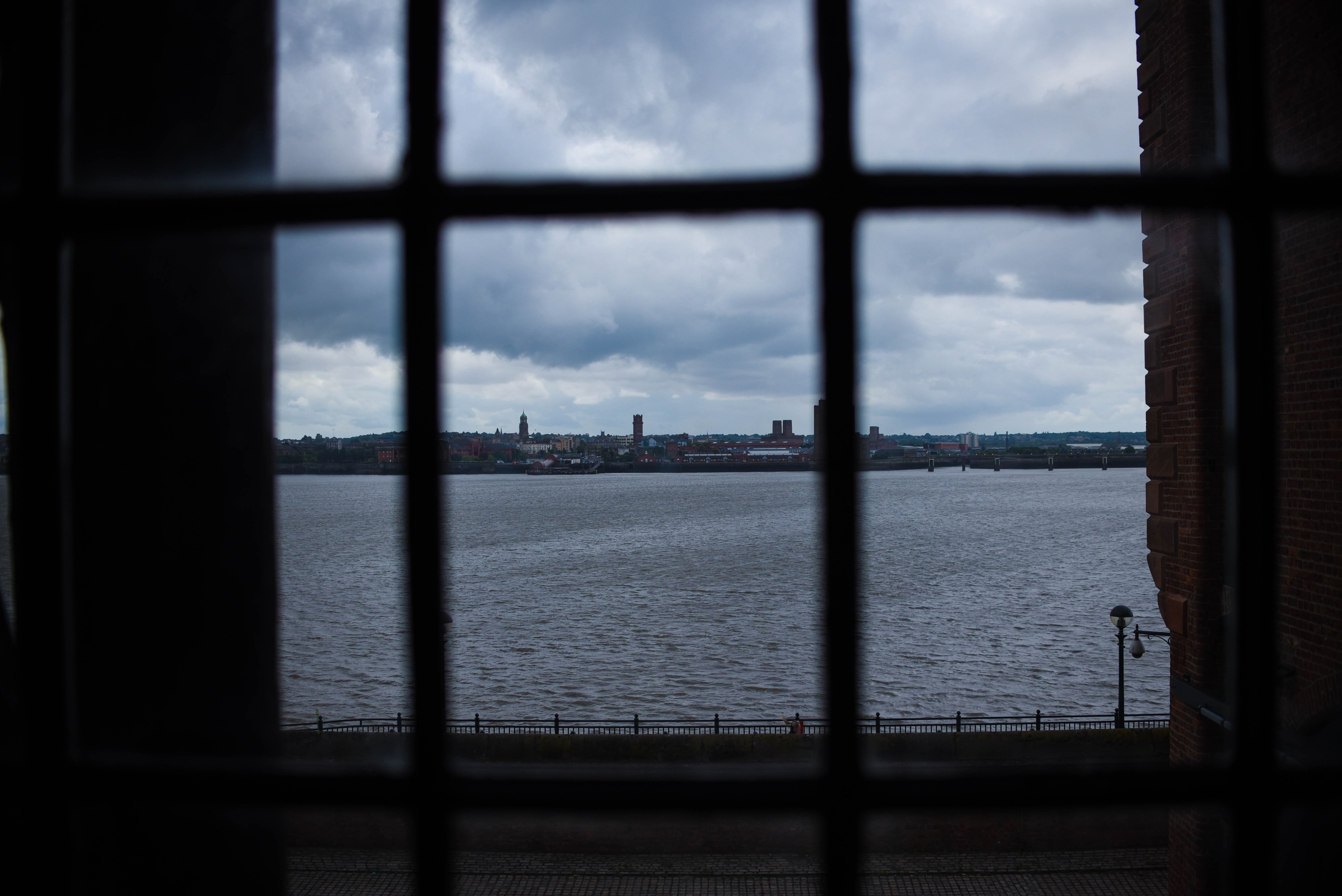 On leaving the Tate it was time for food. I'd had some recommendations from people on instagram and one from Emma (read her blog here, she's a warrior) was to stop at Puffle Waffle. After a quick check that they offered vegan options for Eva we just about made it past the inflatable football game they had outside although I am sure Eddy did not take his eyes off the entire time, and popped in. It was really quiet (apparently no-one needs waffles at 2pm on a rainy Wednesday afternoon) so we had the place to ourselves and (very slowly) ordered three between us.
So, many, choices!
The girls loved theirs having chosen vegan chocolate with banana and strawberries with cream. The one Eddy and I shared was pretty epic too, you can't not have Nutella can you? There was the option to have the 'puff' bit filled too but we went for toppings instead. I was a little gutted it was on a plate rather than rolled up in the way I had seen in pictures I won't lie (note to self, next time – take away) but the staff were really friendly, they chatted to us and the girls both got a Puffle Waffle branded sticker for their summer journals on the way out too.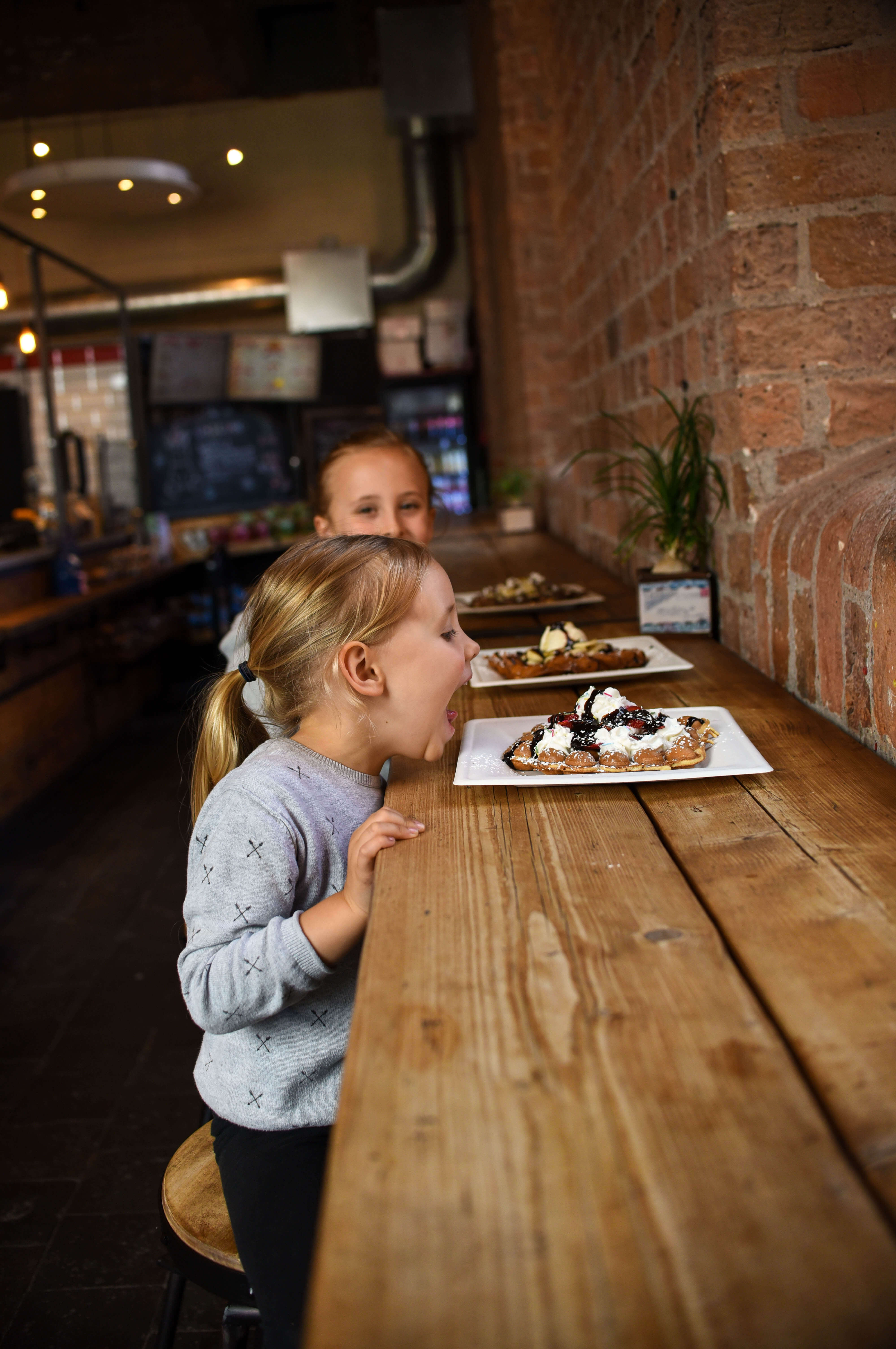 Once everyone was refuelled (again) we watched a group attempt the inflatable obstacle course (that looked SO much fun) on the way to The Wheel of Liverpool for some of the best views over the city (£35 for a family ticket). We were incredibly lucky that the sky had cleared at this point and enjoyed the leisurely ride a few times around. We then took a quick stop at the Museum of Liverpool on the way back to the hotel before it closed, vowing to return tomorrow.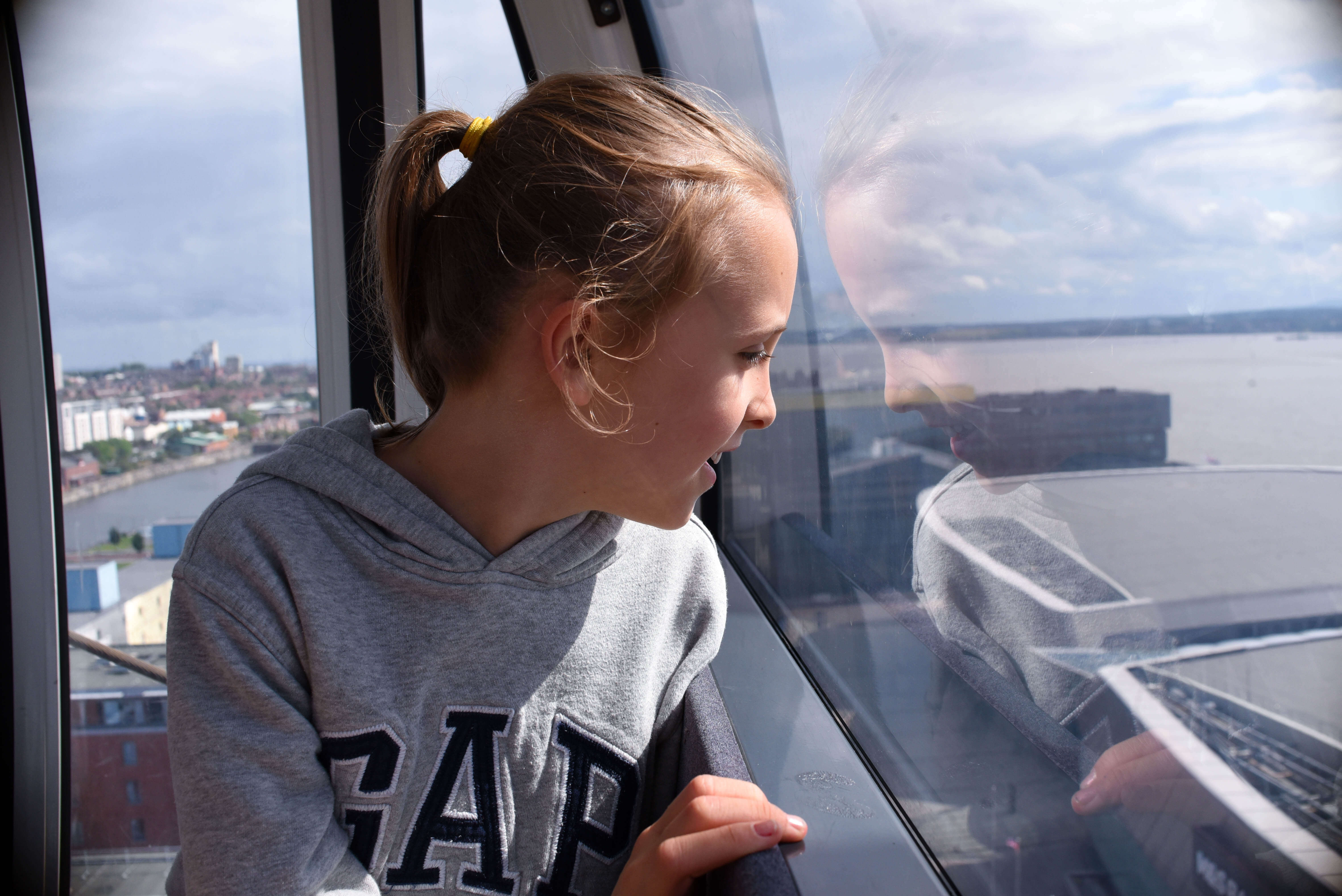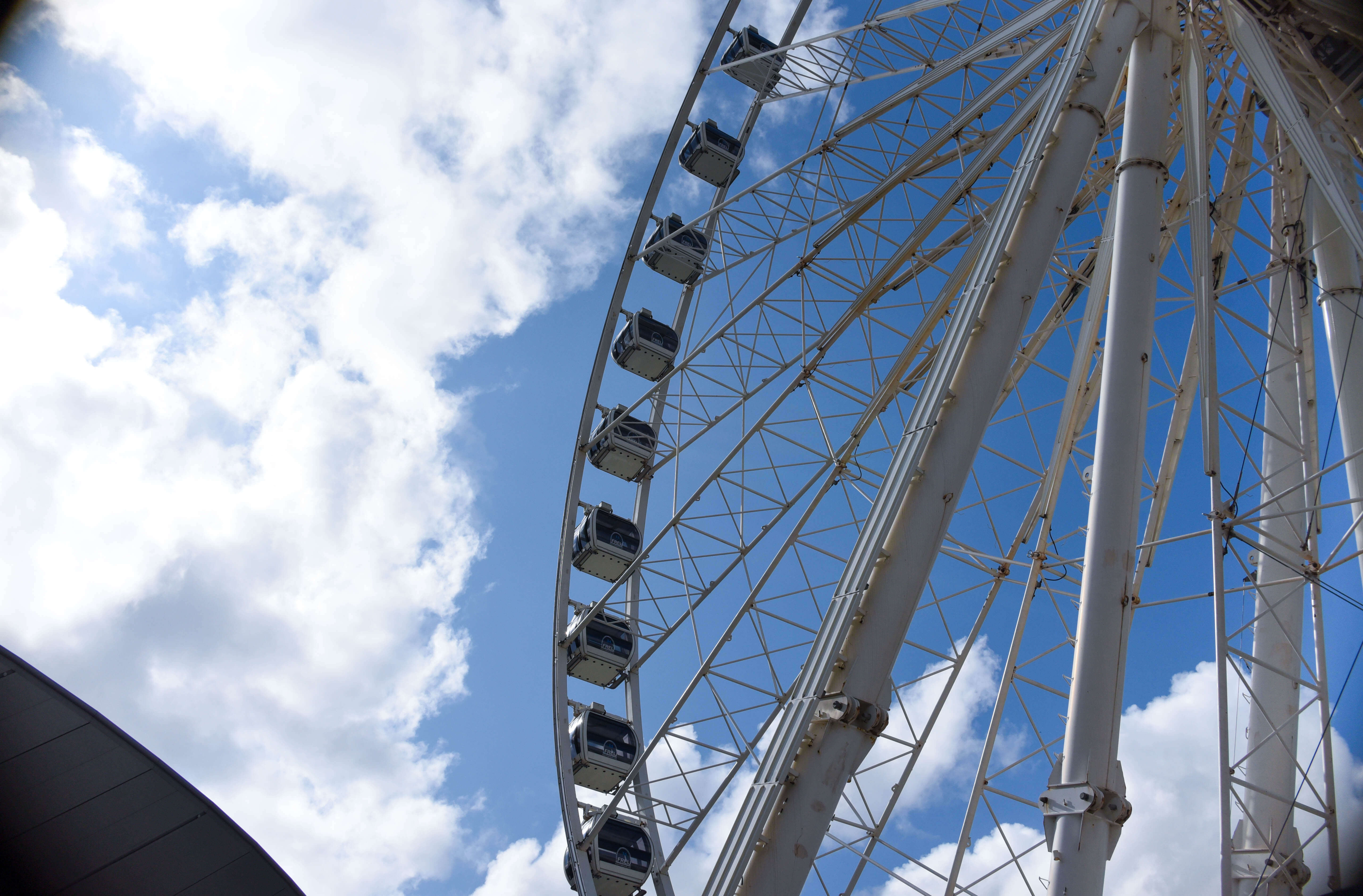 Everyone was a bit tired, cold and bedraggled, therefore grumpy (not least me) so we decided to brave the blustery walk back and have dinner in the apartment with food be brought with us. Perks of booking an apartment right there. Not before stopping to take in the atmosphere around the docks though and some windy photos! I love these.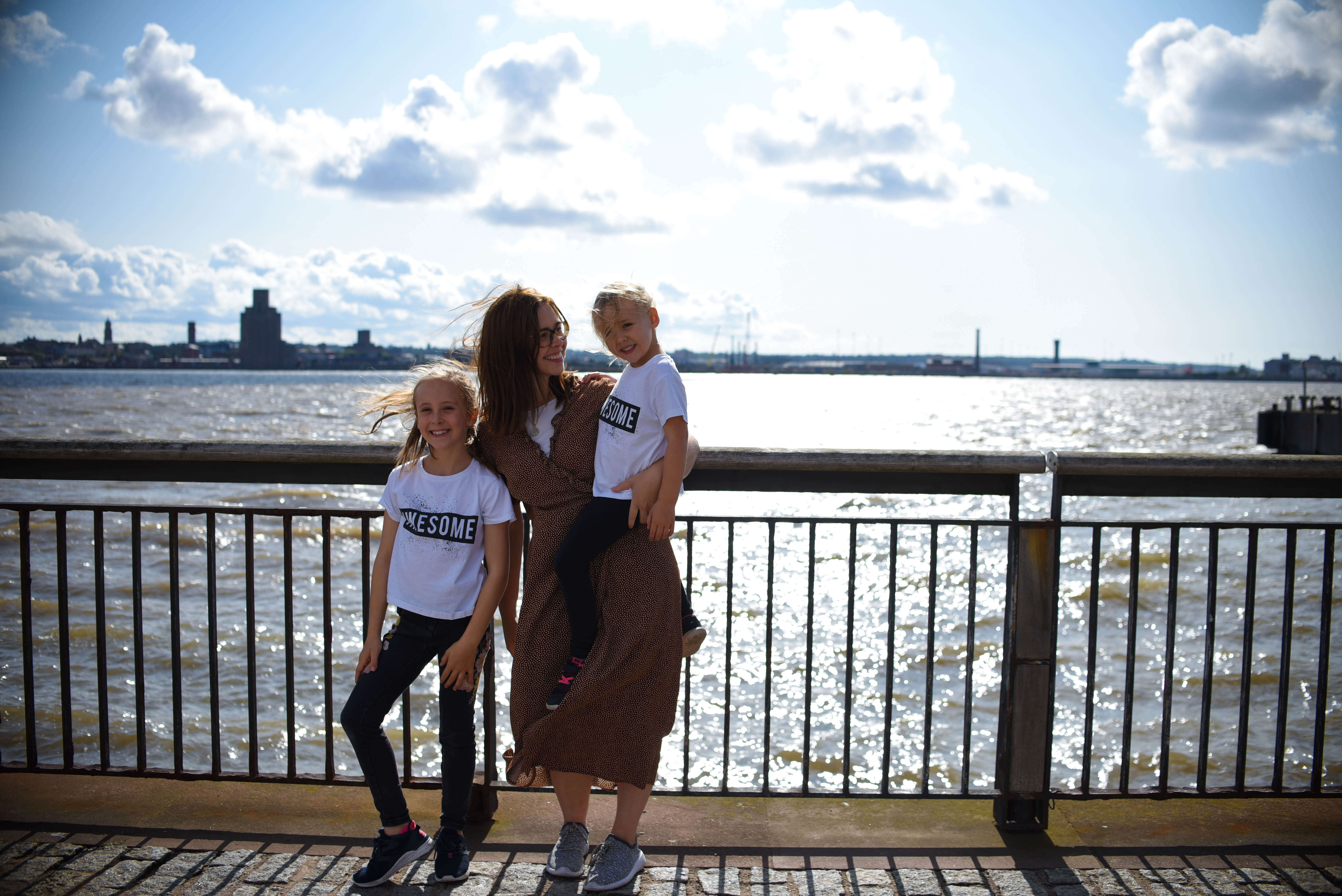 They really will never realise how awesome they are.
We had a 1 bedroom apartment and the girls, after unpacking every single little thing and making themselves at 'home' despite us being there for less than 24 hour, did bicker a little. You know the messing around about covers and generally irritating each other as siblings do that just proves to irritate you as a parent more? That. Thankfully once they were finally asleep we had a glass of red and settled down on the (rather uncomfortable) sofa beds for the night. Who said travelling with children was glamorous!
The next morning after the girls first breakfast in the apartment (again brought from home) and checking out we headed to Moose Coffee which was another instagram recommendation and my goodness a good one! It has to be the best (and possibly biggest) breakfast I have ever had.
Not one to be deterred by most things food related I took a bit of a risk ordering 'grit' which I had no idea what it was with 'floating' eggs and tomatoes and let me tell you it was so good. It was actually polenta and I have to say I possibly would not have ordered it knowing that beforehand but it was absolutely delicious, sort of salty but creamy and with the addition of the eggs and tomato just breakfast perfection right there.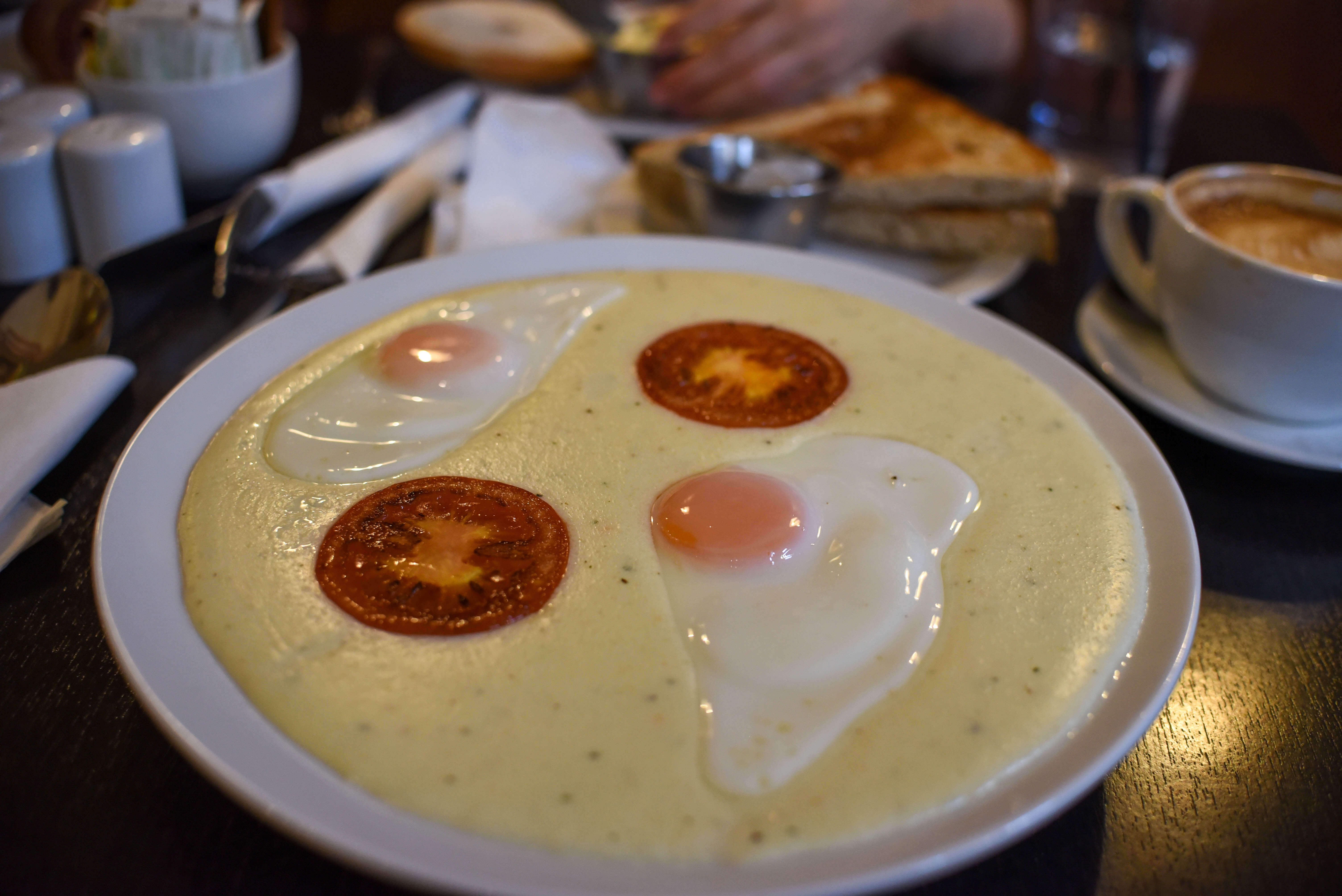 Even if it did look like I had not touched it despite being finished and not able to devour even one more bite. One of my followers suggested the coffee was really good too (I am a sucker for a good flat white) and it was, as was Eddy's breakfast. So awesome in fact I didn't even take a photo of it before he demolished it saying it was the tastiest breakfast he'd ever had. High praise there for us breakfast lovers! Equally the staff were friendly and knowledgeable, despite the fact that it was quite busy, as it is quite a small place, they always had time and you never felt rushed at all. A fab place.
Including on brand Moose details which were really cool and the girls giggled their way through the morning spotting all the details.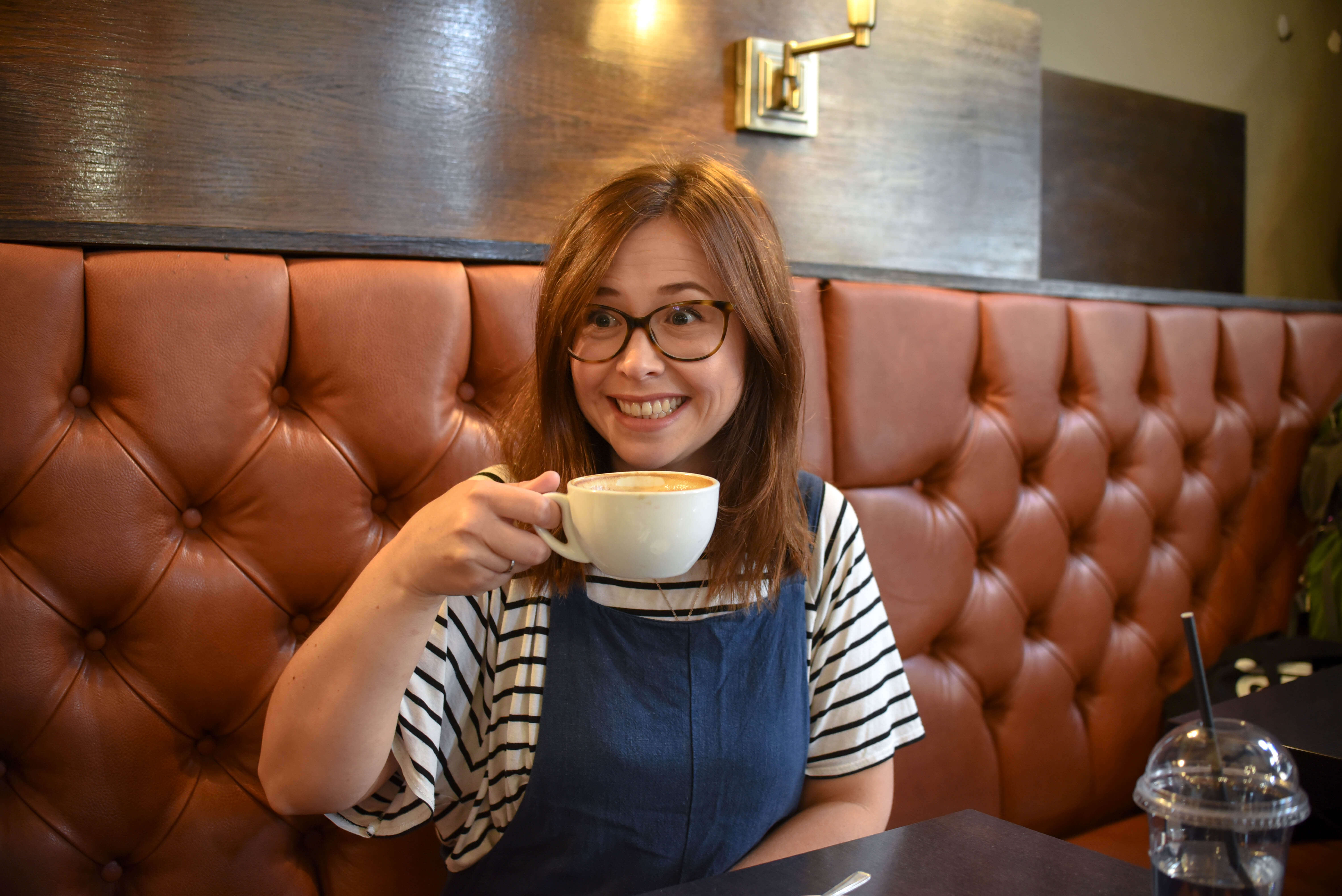 Thankfully we had pretty gorgeous weather the next day so we watched the children run around outside for ages amusing themselves with the steps, walls and different levels surrounded by the traditional architecture such as the Royal Liver building one side and brand new modern on the other. We studied the locks again reading names and dates and wondering about their stories and continued our visit to The Museum of Liverpool (free).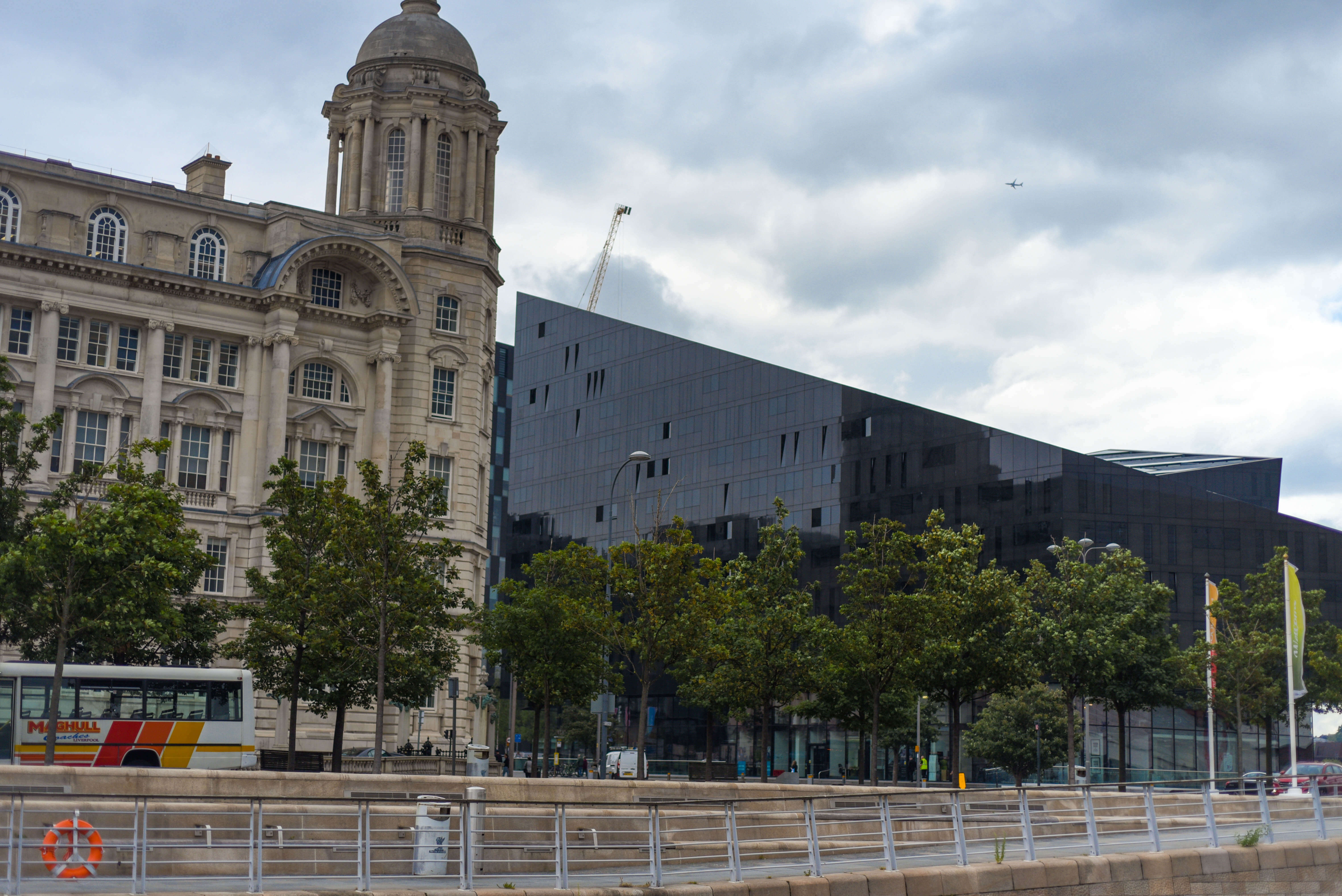 We were in there ages each wandering in our own directions. The view from the top floor is pretty epic too, I loved that from inside you could see the Liver Building and from the outside you could see the same as a reflection. There is something poetic about that and I am positive it is a deliberate design worthy of noting.
There is plenty to see and do in the museum with facts for the history lovers, plenty of culture and inclusive displays set to strike a chord and engage even the youngest of visitors too Liverpool. I particularly liked the Imagine Peace exhibit which leads to the John & Yoko free exhibit which we didn't make it round to visiting. Just standing there reading some of the messages on the trees and reflecting on life and the ability to just stay still for a moment was really powerful.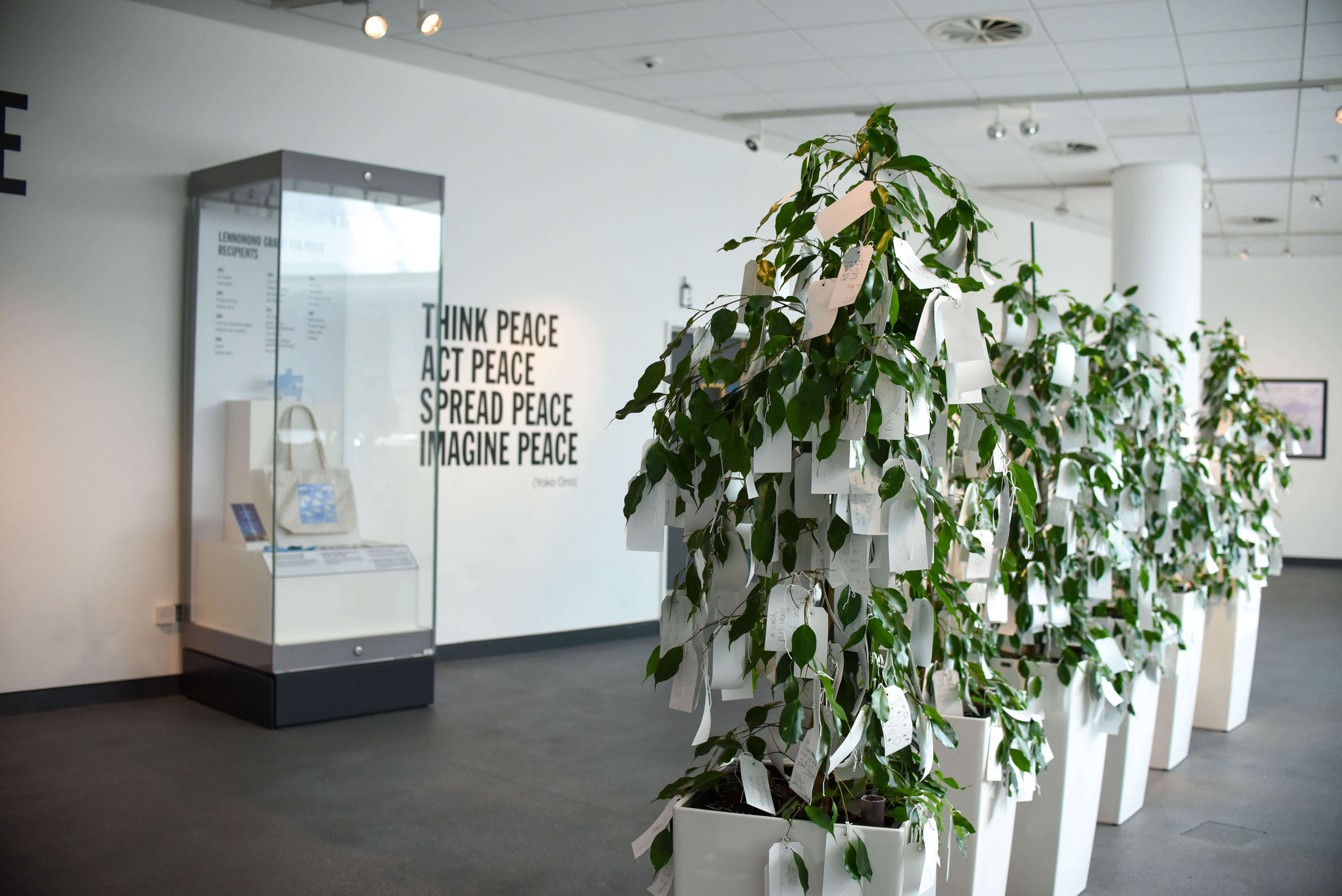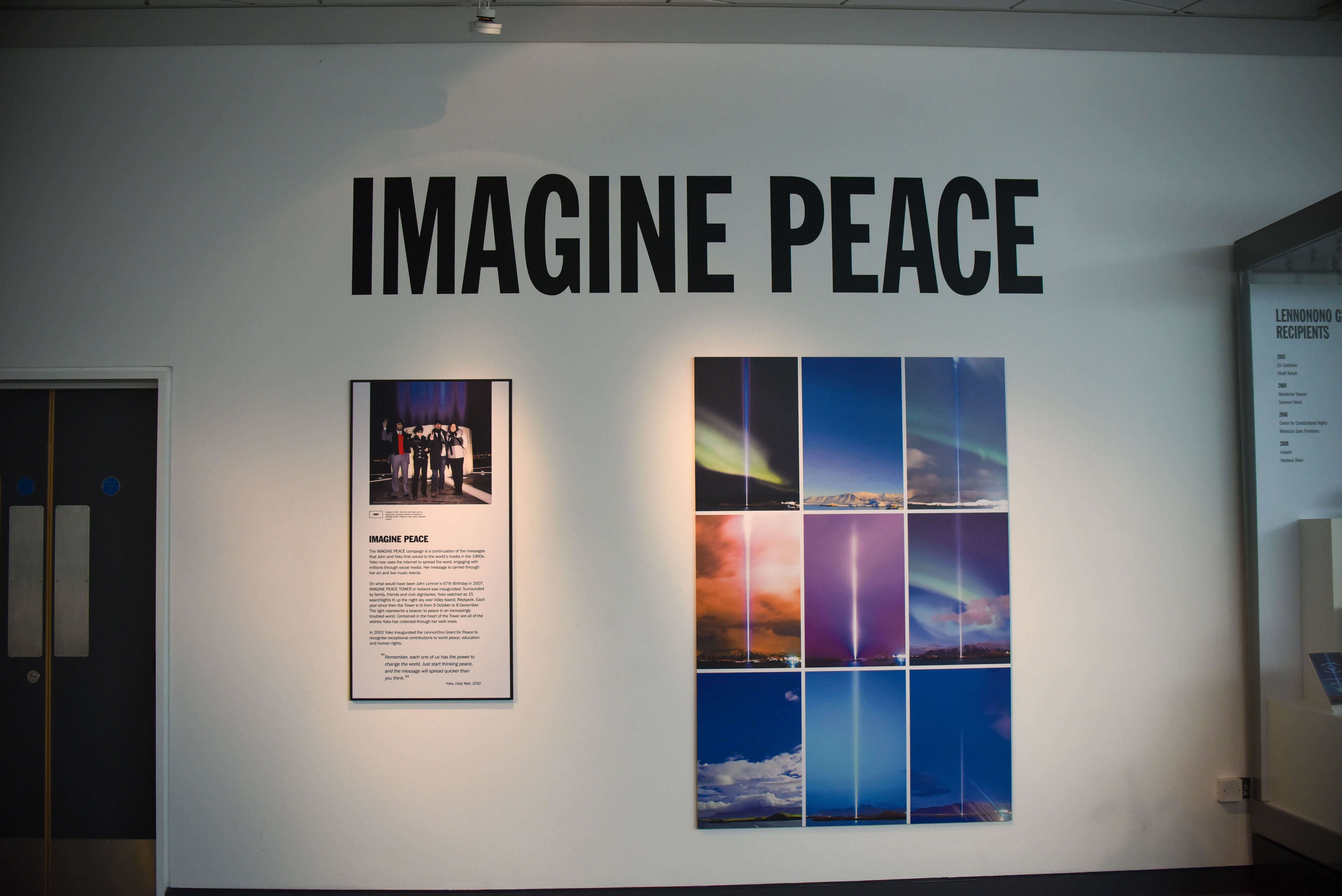 The girls of course loved dressing up – which child doesn't? Seeing us dress up – always good for a laugh, and absorbing knowledge without even realising they were. Always the best way to learn in my opinion. Also the train was a big hit, Eva said it felt like she was in Harry Potter!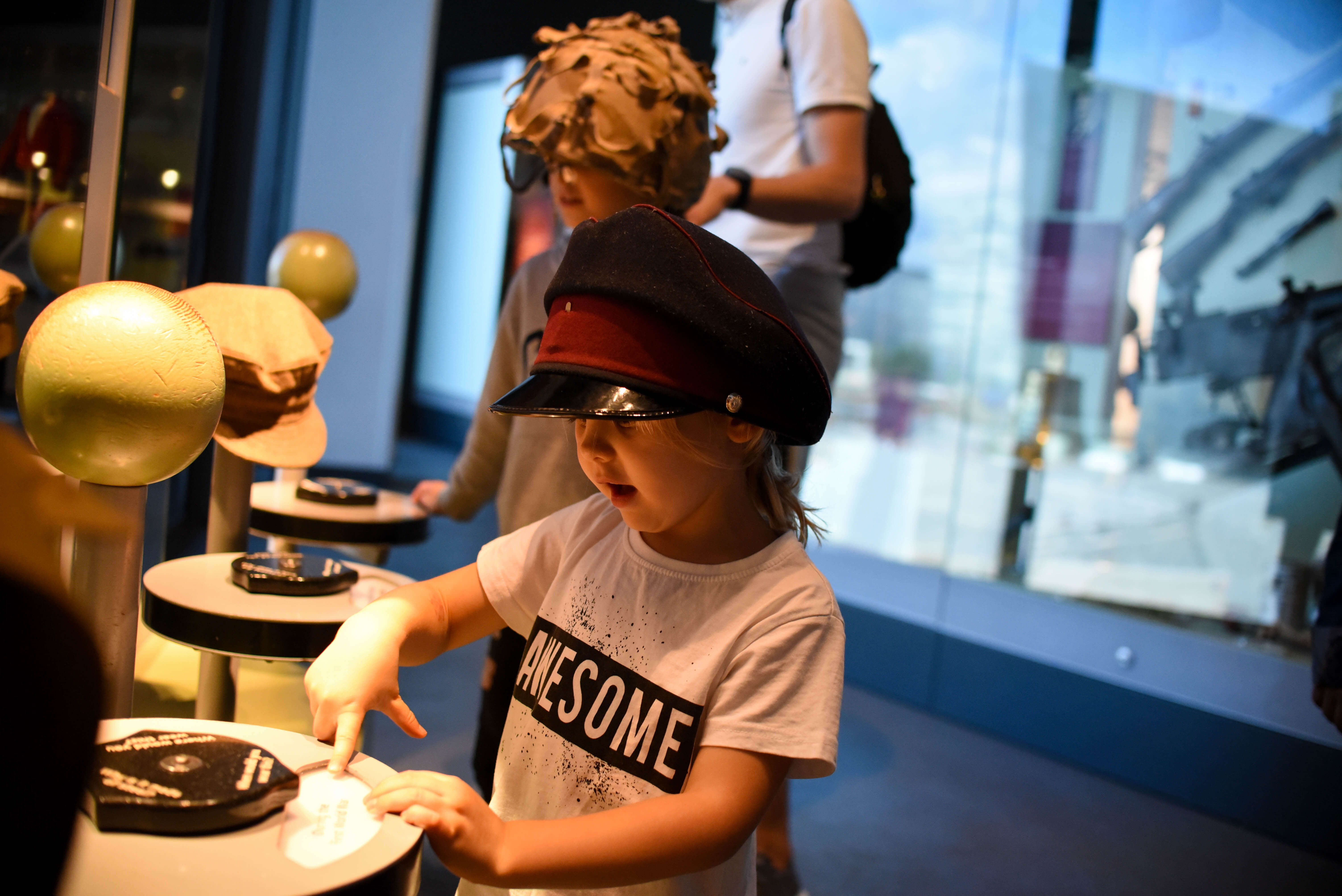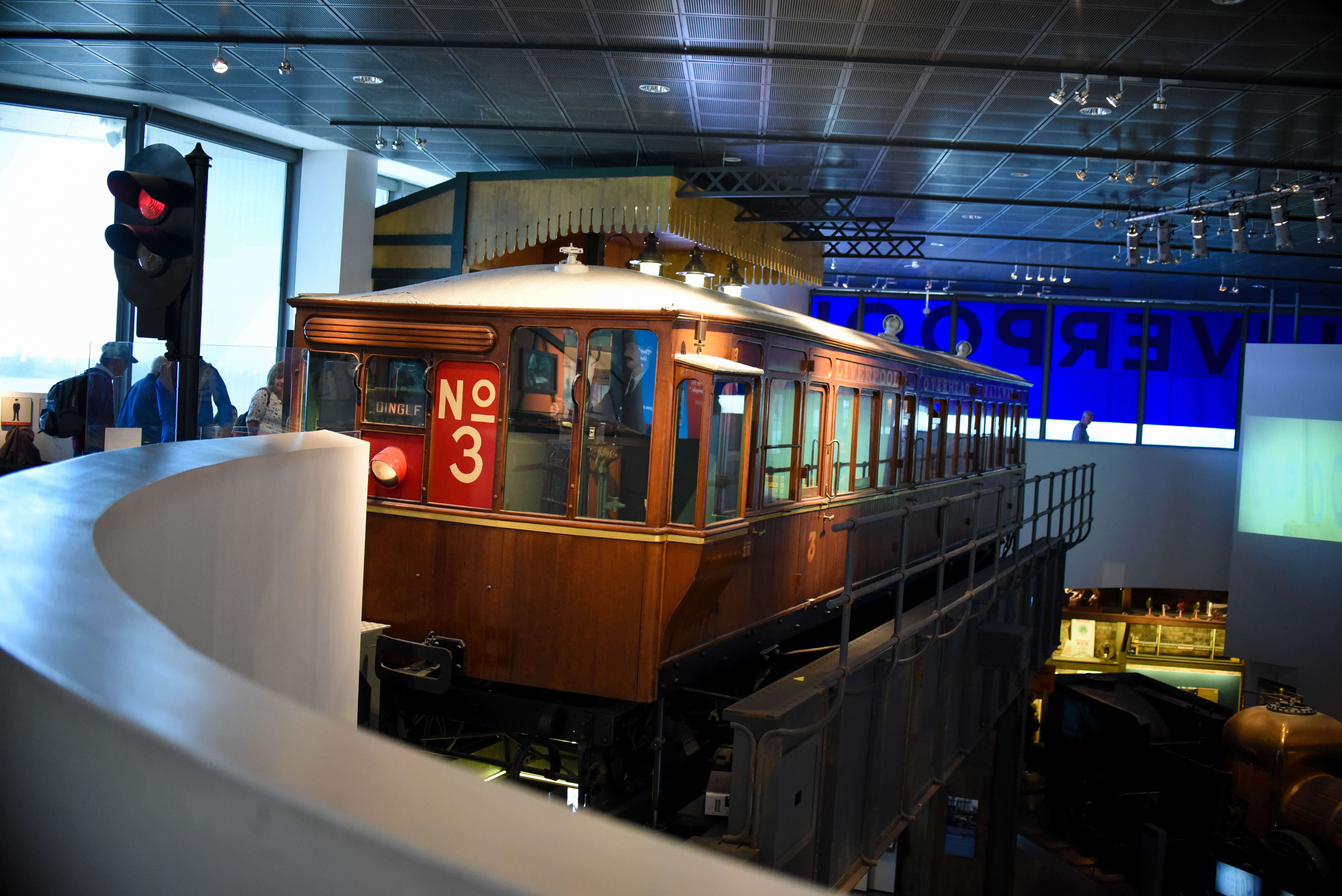 Roma surprised me again being really interested just to look around, she loved listening to the audio and showed me again that we shouldn't underestimate how much children get out of Museums.
I had a great discussion with Eva about the part that women played in Liverpools history and history in general, how times have changed and listened to all she had to say about her interpretation of 'deeds not words' below. It was both eye opening and humbling all rolled into one. She is growing up crazy fast right now and I am excited to hear her opinions really settling and challenge these together.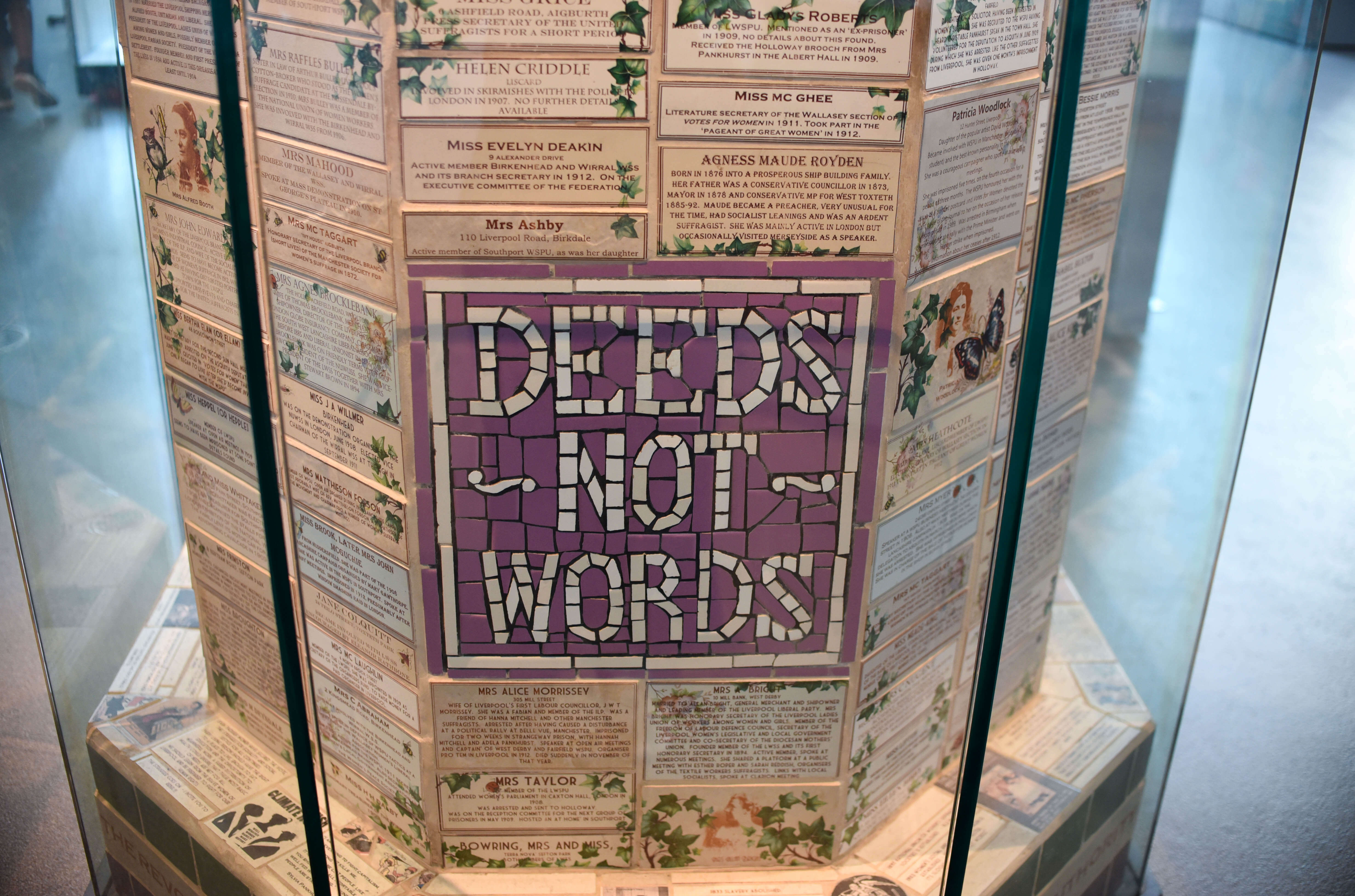 After the Museum we had talked about getting a bus tour but it proved quite pricey and with children you soon learn that you can't do everything. Maybe next time though as people had said it was a good way to see the city with the ability to hop on hop off. We decided after all it was best to call it a day here and drive around 15 minutes to the Liverpool Cathedral.
We ended up street parking around what was the back of the Cathedral not realising that it actually has its own visitor car park (rookie mistake there) but the walk around the side was lovely non the less, we looked through the iron bars at the garden and peeked at the details of the building through the overgrown trees as the sun shone towards us.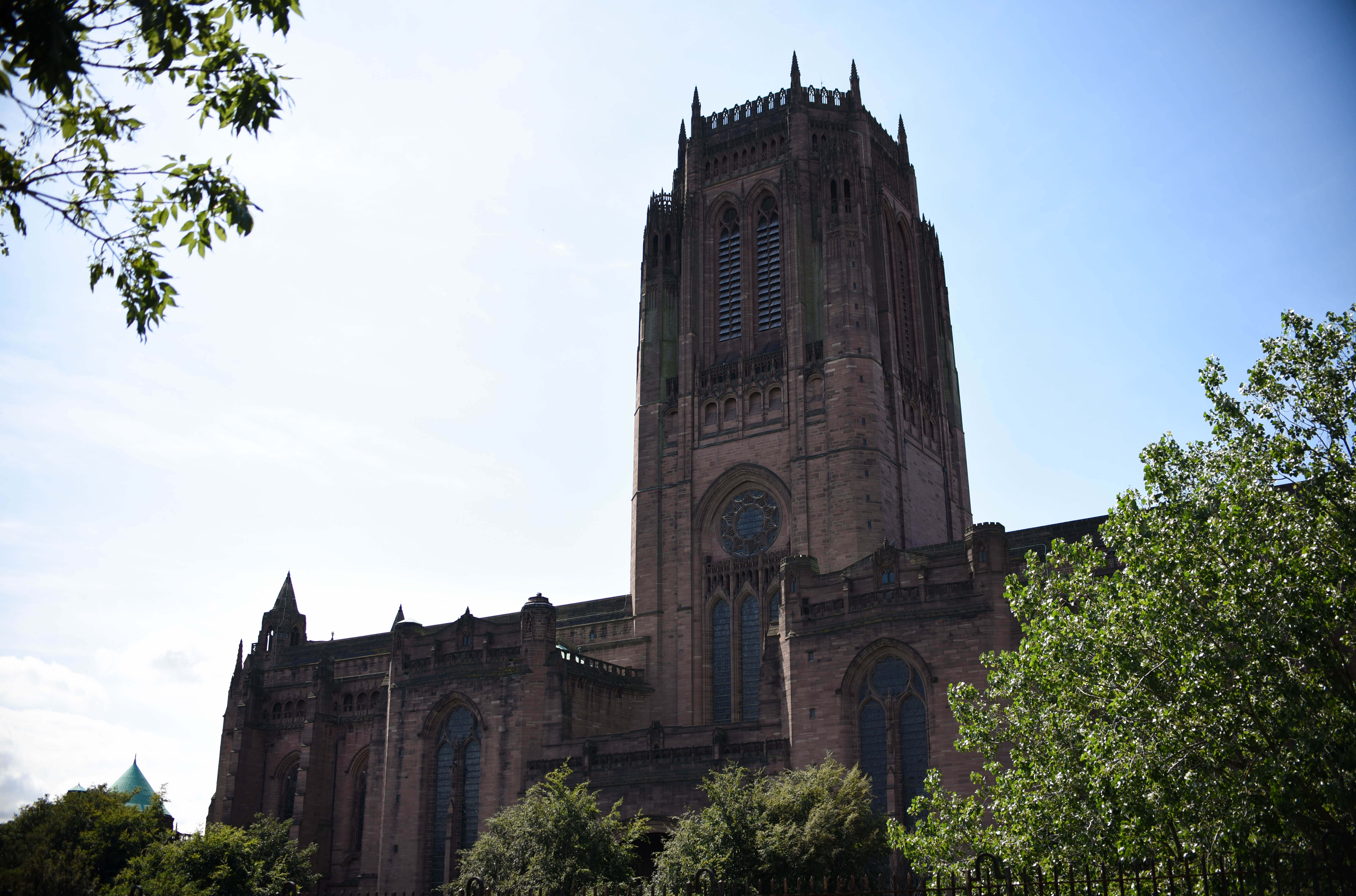 The pure magnitude and beauty of the Cathedral hits you as soon as you pass through the towering solid wood doors and you are greeted with an immediate sense of welcoming peace. We wandered and studied, sat and reflected, and the girls found the whispering bench which made their eyes open so wide I thought they might pop out of their head! The stained glass windows as always are a thing of amazing beauty and awe and the little rooms around to explore is like a childhood dream. I am thankful the girls are used to visiting places like this from such an early age and are always allowed to explore with respect which they make me feel proud every day that they do so naturally.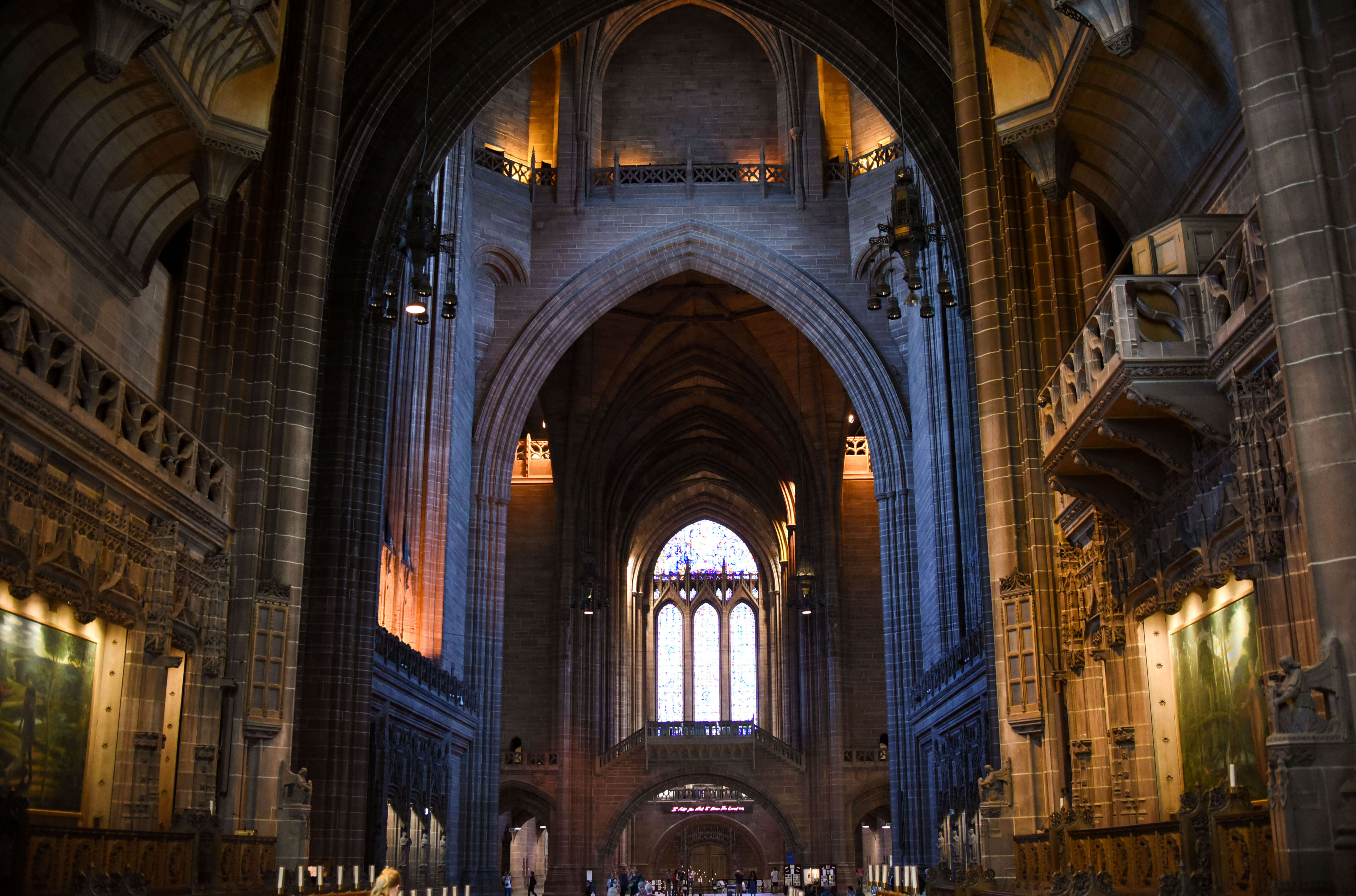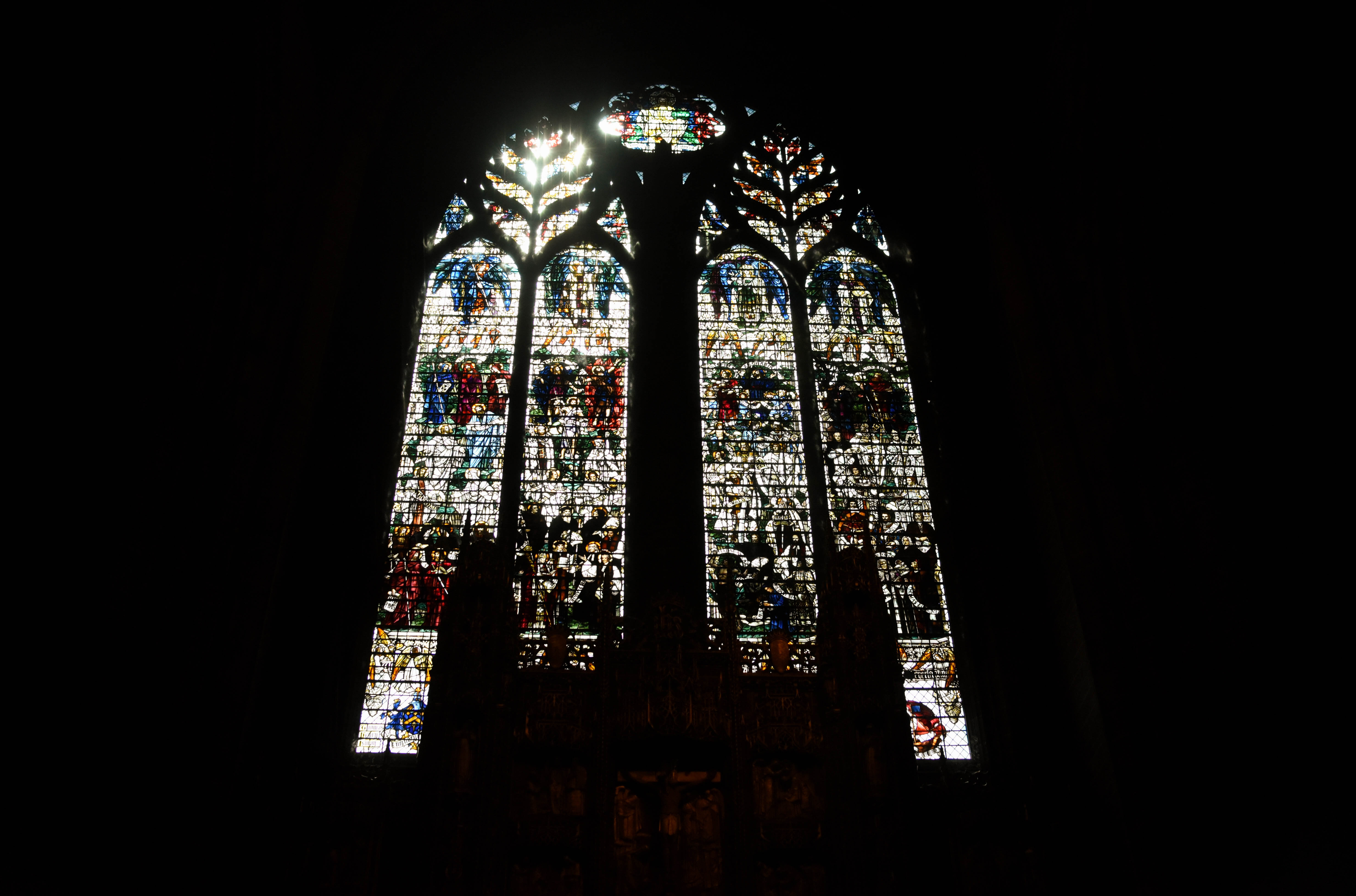 The Cathedral itself is free to enter however as we were leaving we decided last minute to go up the Cathedral Tower (£15 for a family ticket) which offers amazing panoramic views across the city, it is in fact the only open air rooftop view over Liverpool and my goodness what a view. It is an impressive 108 stairs and 2 small lifts up nevertheless the girls managed it like pros (Eva isn't a fan of lifts but the promise of amazing views swung it for her).
Not only can you see the views but also get to experience the bell tower where you can look over the staircase to the impressive bells in the centre and realise their size, and also talk to the member of staff at the top who had all the knowledge we could ask for about the city and what we should visit. Seriously I think he could have done all my trip research right there. Or maybe he is just extra chatty as I can't imagine he gets to talk to a lot of people at the top of the tower all day.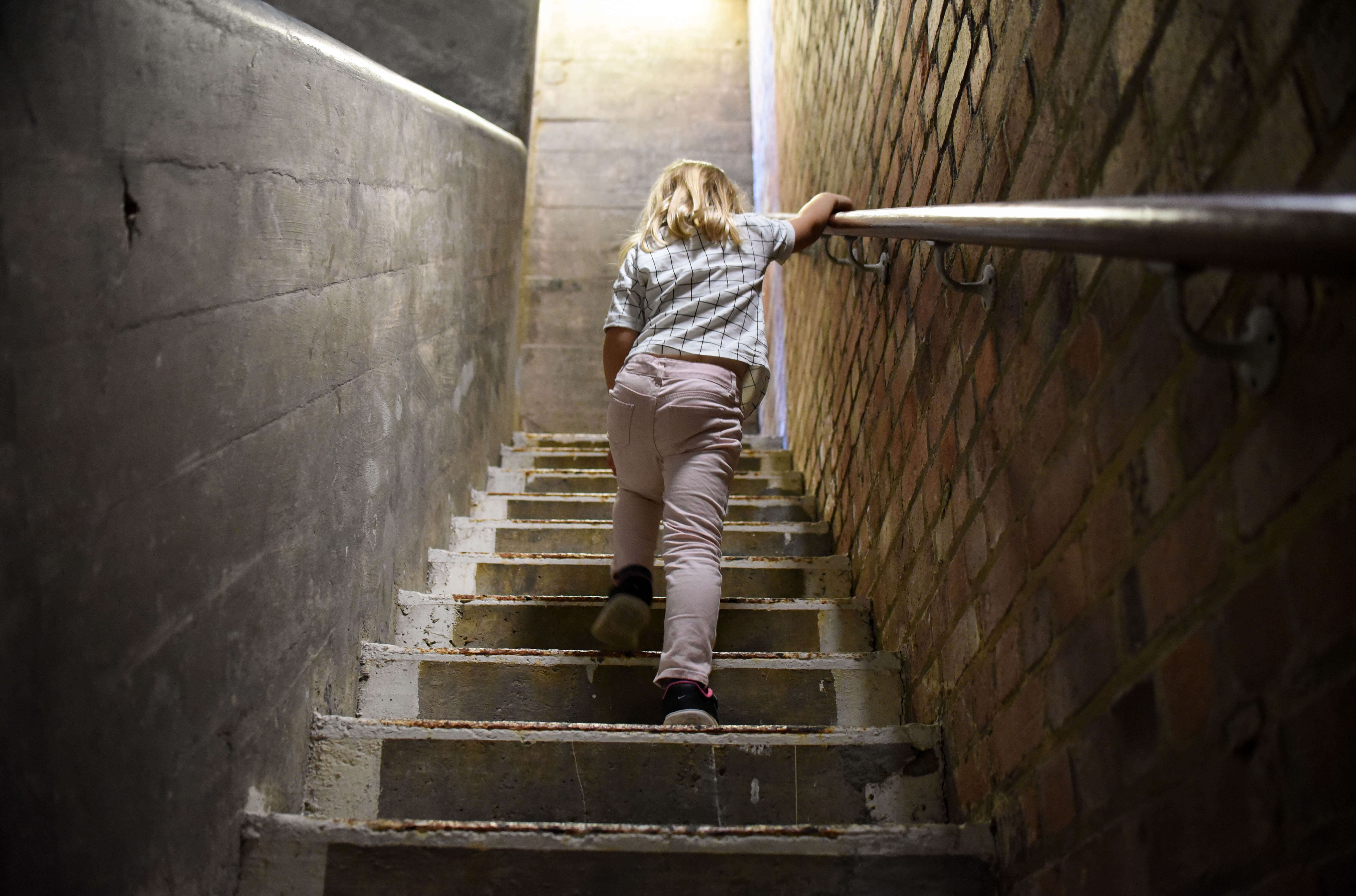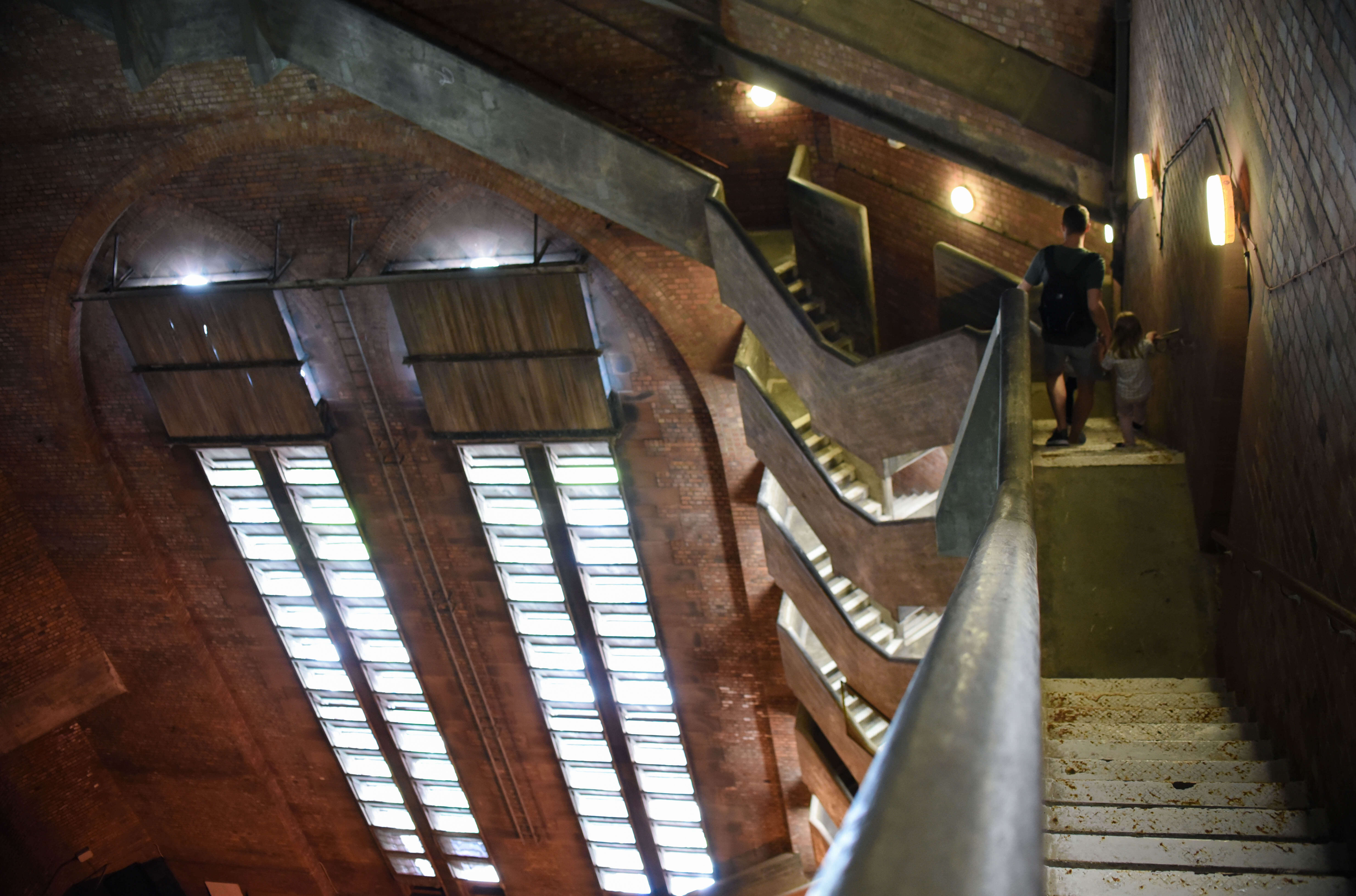 That view! It really was breathtakingly beautiful.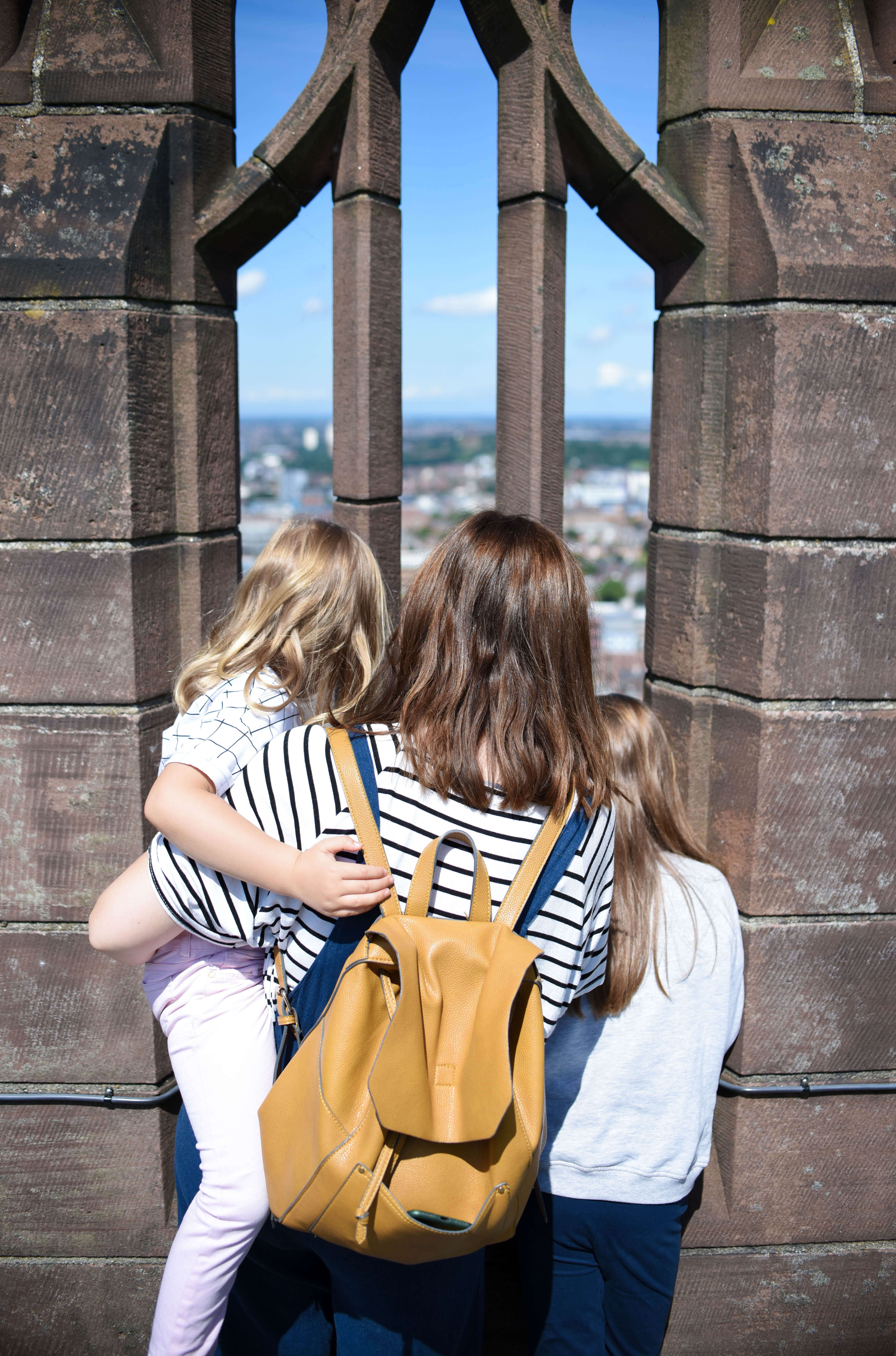 My world.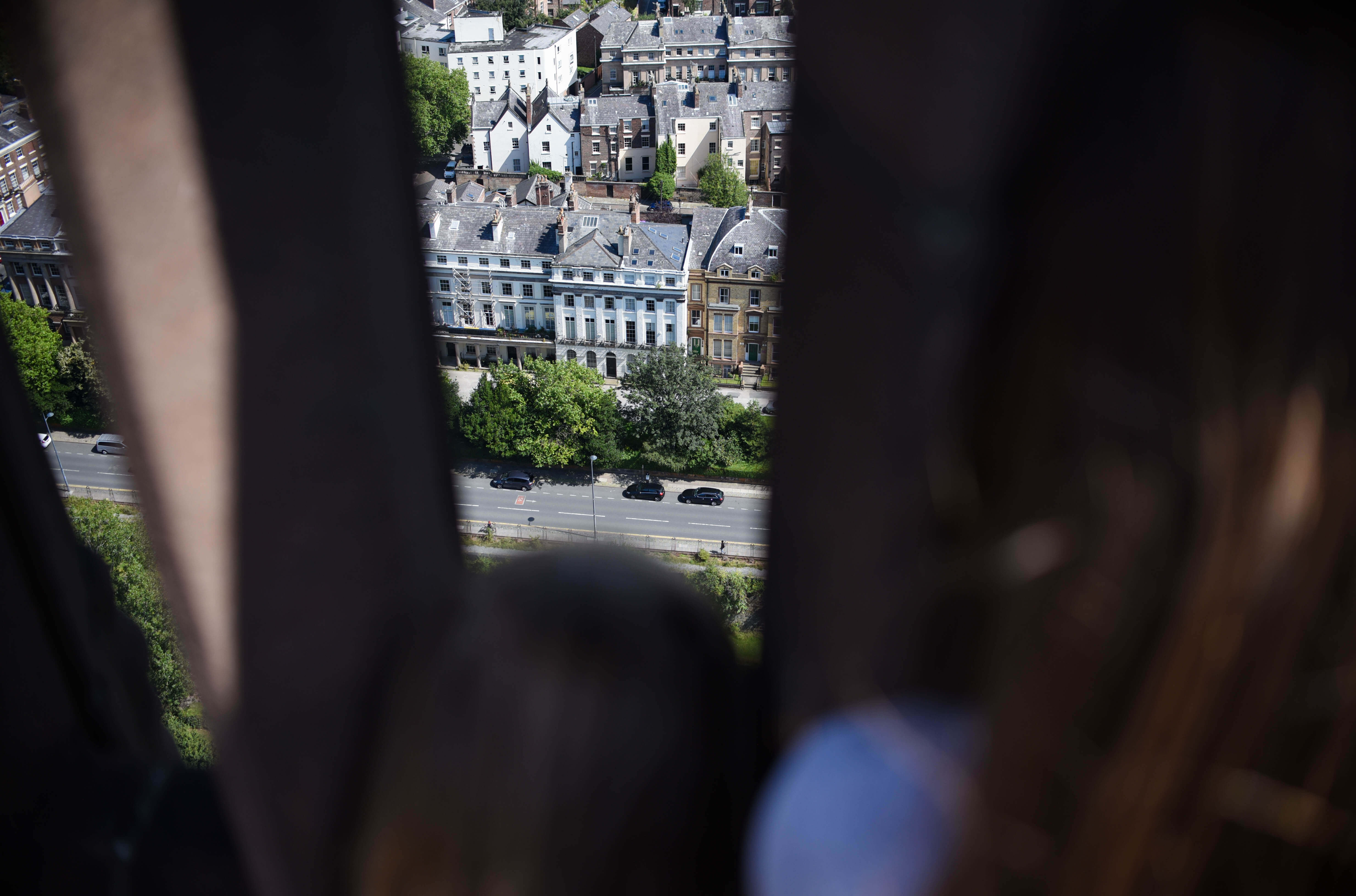 The girls even spotted our car in the street below!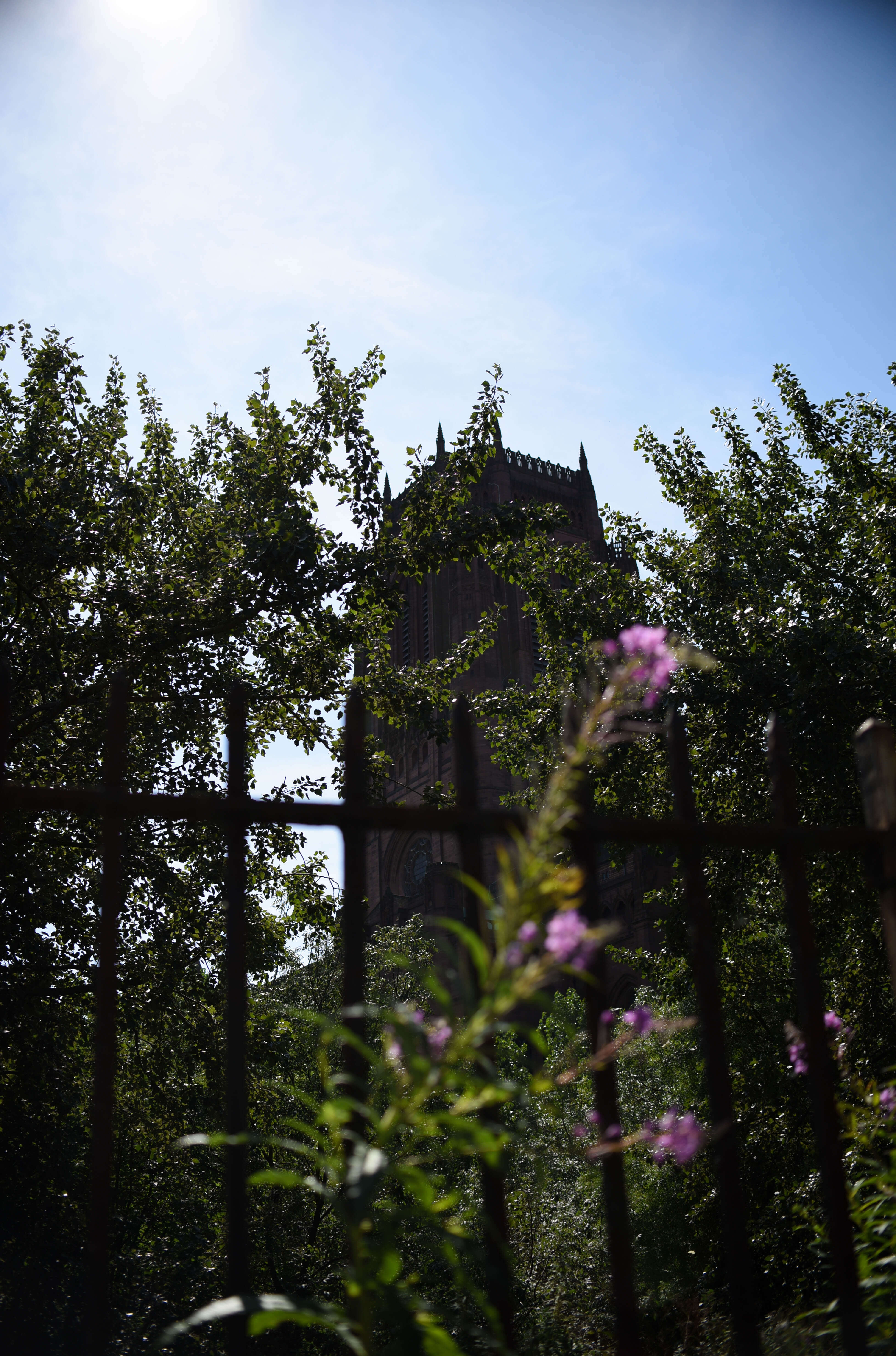 There lies the end of our Liverpool exploring, however, with an absolutely huge Everton fan of a husband we couldn't come to Liverpool and not visit arguably his one true spirit home Goodison Park.
As much as I could not care less about football or about being 'shown' the ground, I also know just how much it means to Eddy to take us and let us soak in a bit of what he finds such an incredibly amazing and emotional experience. No really, his sports watch is a physical reminder of his passion as his usually crazy low heart rate increased with every step. As much as travel is my thing, football, and particularly Everton, is his and who wouldn't want to share in that?
I think it is also important for the children to see Eddy so passionate about something that is just for him separate from me or from them, even if they are as yet not showing signs of the same football talent or enthusiasm as their Dad. We parked in the club car park as it wasn't a match day which was a joy in itself, walked around with his face beaming with pride like he built the place, and even encouraged Eva to hug the stadium walls, although this picture looks slightly like they have just been arrested, I promise that wasn't the look I was going for!
It was nice to see the place, to wander the shop and at least I will be able to picture it when he next goes to a place he most feels like home, or takes the girls. I on the other hand won't be adorning the streets on match day. We really couldn't go without visiting and Eddy even noticed more details than he usually would on match day and that makes me happy.
In his absolute element.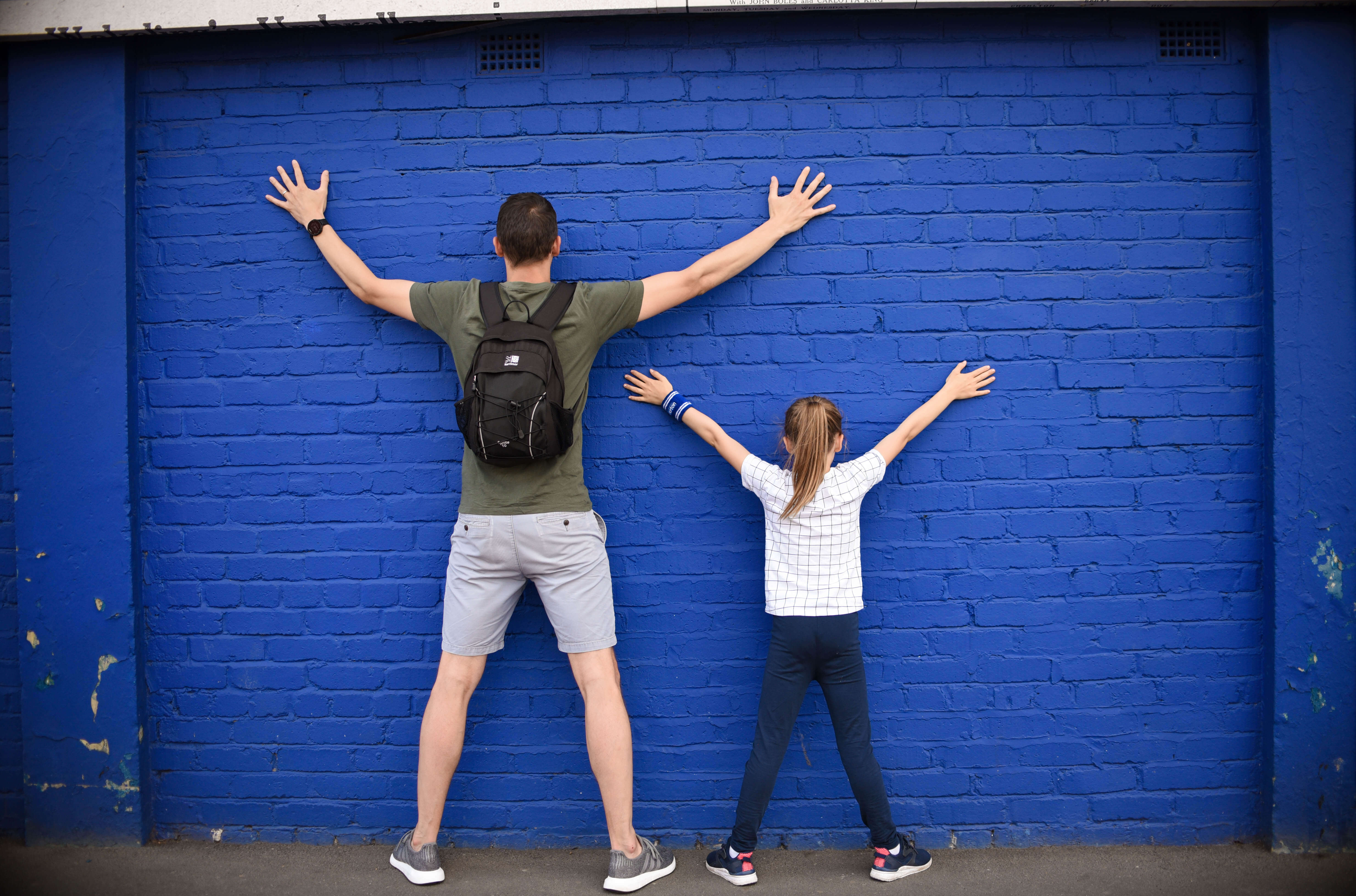 Overall we absolutely loved Liverpool. It was a city with so many different vibes all in one place. Of course with children it is a very different thing than wandering the streets with no fixed plans but all in all it was a really good break, another city visited and I would always much rather leave with a passion to revisit but have enjoyed ourselves than to have rushed and not took time to really soak it all in. The culture that is rather than the rain, although we did do plenty of that too! We didn't even manage to scratch the surface I know that and is definitely a place I would love to come back and explore another time. Maybe even without the children which I think would give it a different feel entirely.
The places we didn't get around to visiting but would like to visit include the maritime museum, central library, Cavern club, the Florist and Philharminic Hall, to name but a few. If you are a local, a regular or just know your Liverpool stuff I would love for you to let me know where we should visit next time, because there definitely will, be a next time.
For now thank you Liverpool, thanks for the memories.