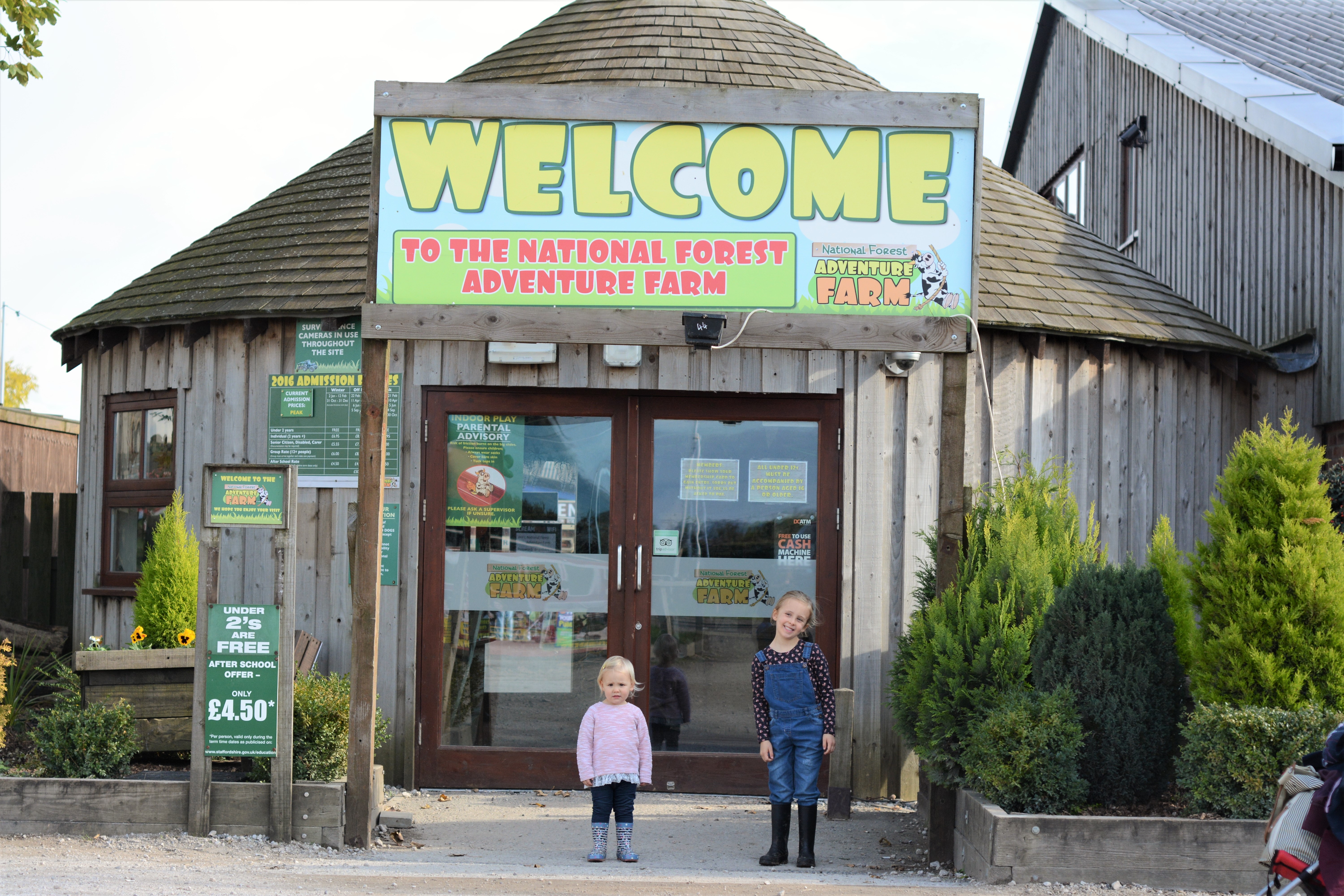 Autumn is definitely the time of year where I feel like I want to get outdoors and enjoy the milder weather before the frost hits and going outside entails a multitude of layers, hats, scarves and gloves and even then the steering wheel on the school run still makes your fingers go numb. Since Eva started school last year October half term seems so exciting as we get to spend that whole week together and this year we sure did fit alot in. Eddy took the week off, the weather was glorious and we spent lots of time together.
My instagram feed was littered with beautiful photos of pumpkin picking and so we decided to get in on that tradition and headed to National Forest Adventure Farm where they have a pumpkin patch this year alongside all the other farm activities they offer. We have been before and used to go quite regularly when Eva was little as they have a huge softplay area with slides inside too. We had yearly passes then and would meet with friends – before the days of school runs and peak times – and I have so many fond memories of those days that do not feel that long ago, yet our 'babies' are all now nearly 6!
As it was Halloween week there were lots of activities going on, characters walking around chatting to the children and a stage where throughout the day there were shows and witches teaching children how to ride on broomsticks. It was relatively quiet when we arrived so we decided to had a walk around, as soon as we approached the 'Fossil Pit' though they were both so excited to go in. It is a huge area full of sand with diggers and a little wooden playhouse type building with all sand play. As Eva was digging she found that there was in fact a dinosaur skeleton buried so her, Roma and Eddy set about uncovering the fossils with spades and the brushes that hung up on the cutest little shelf.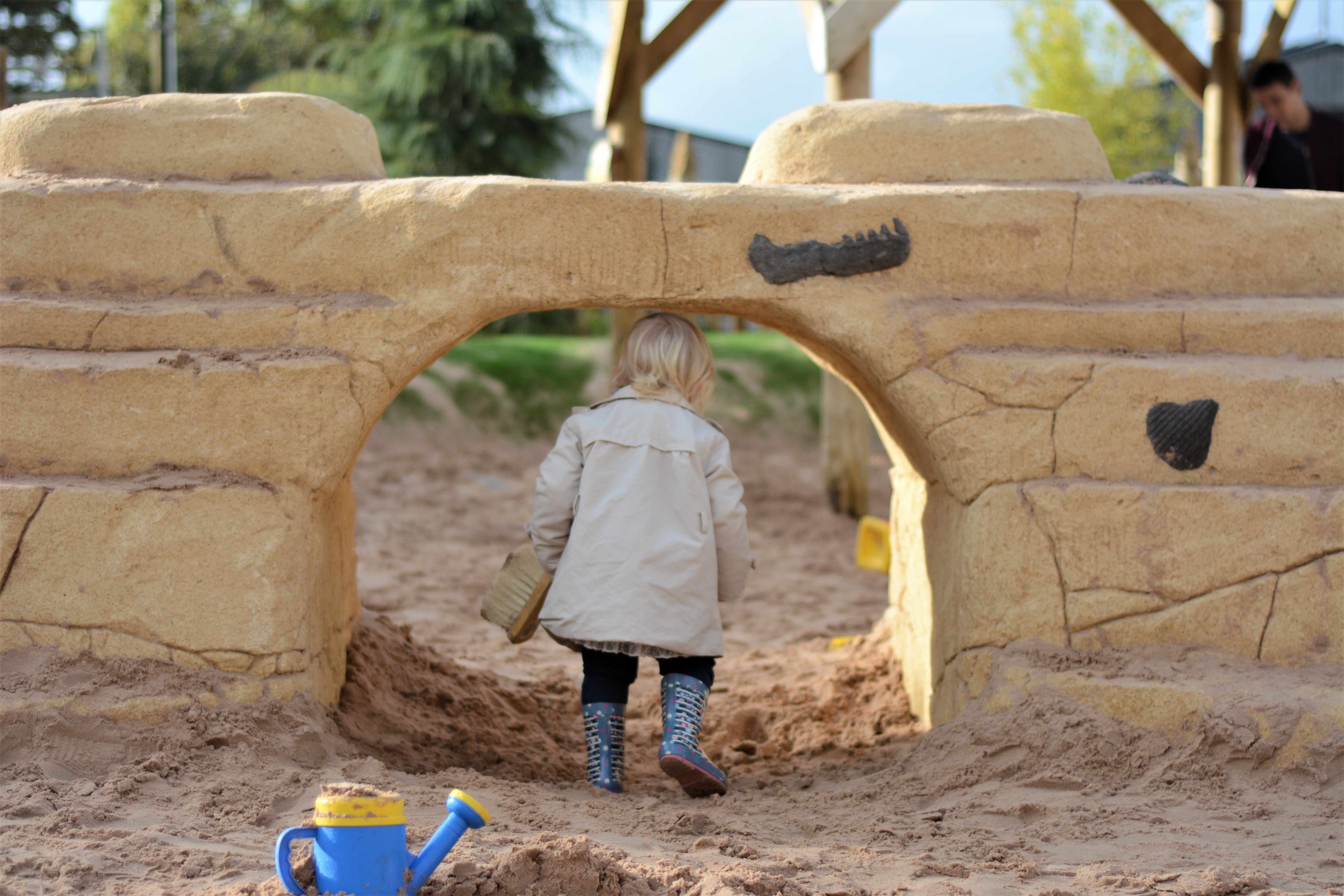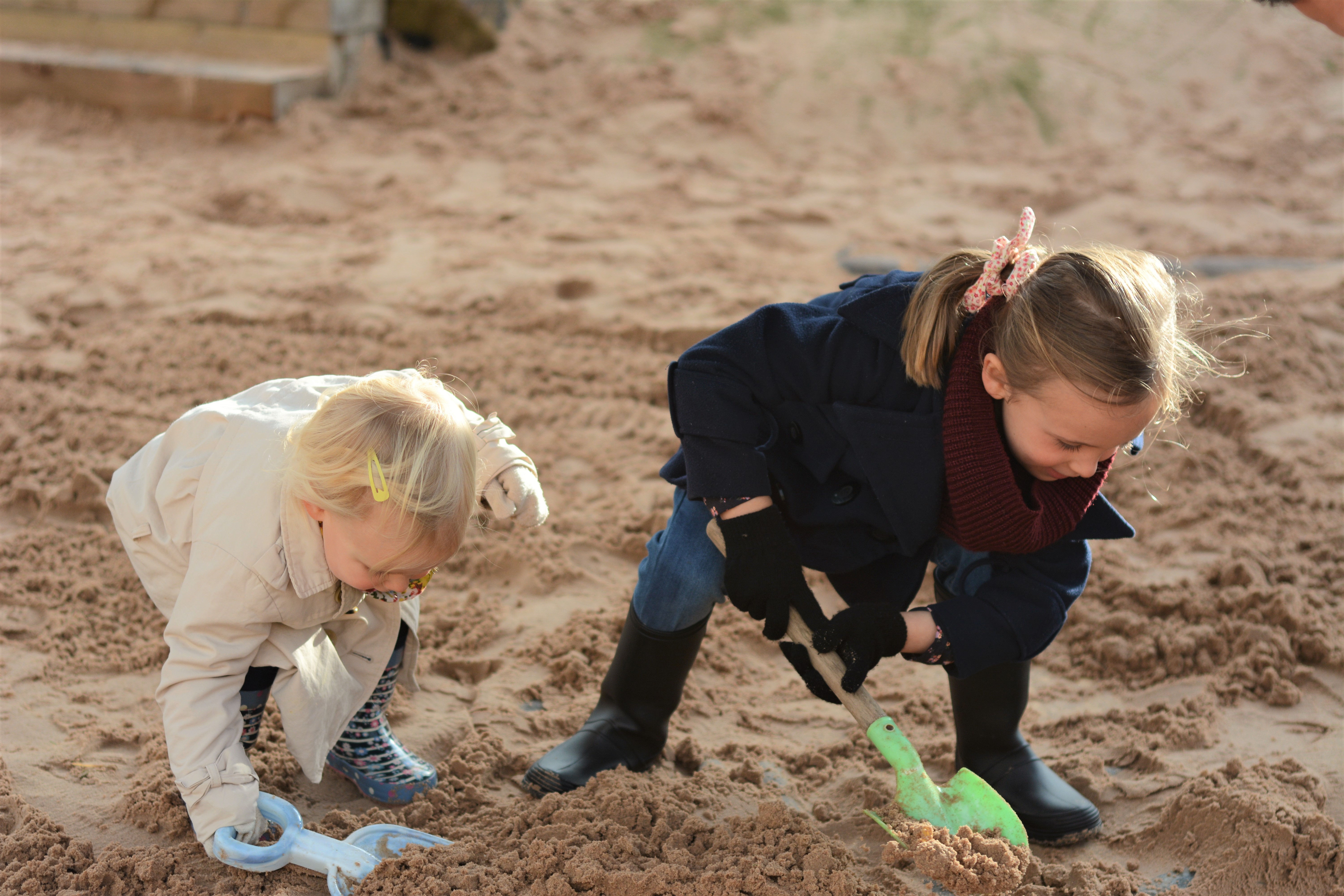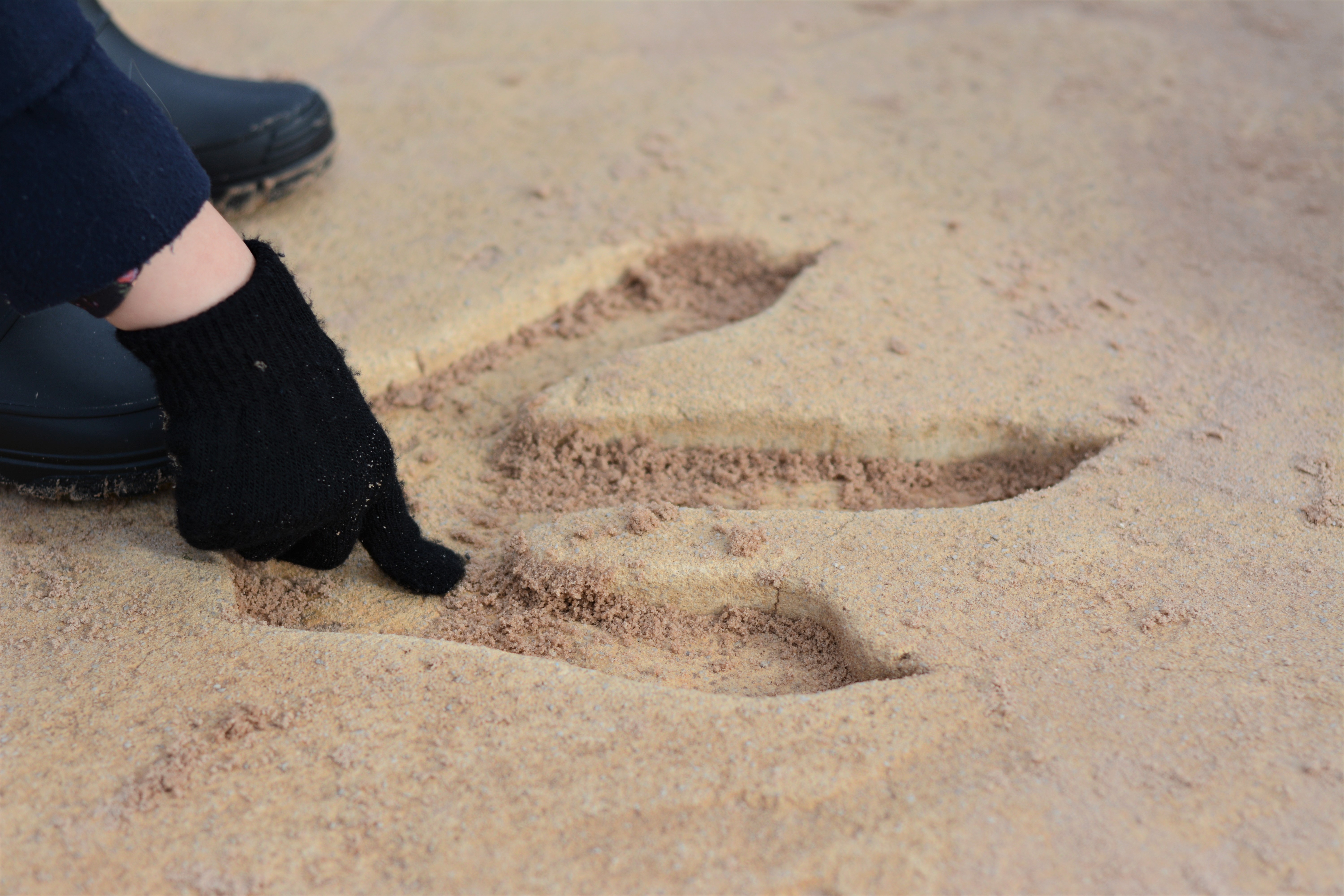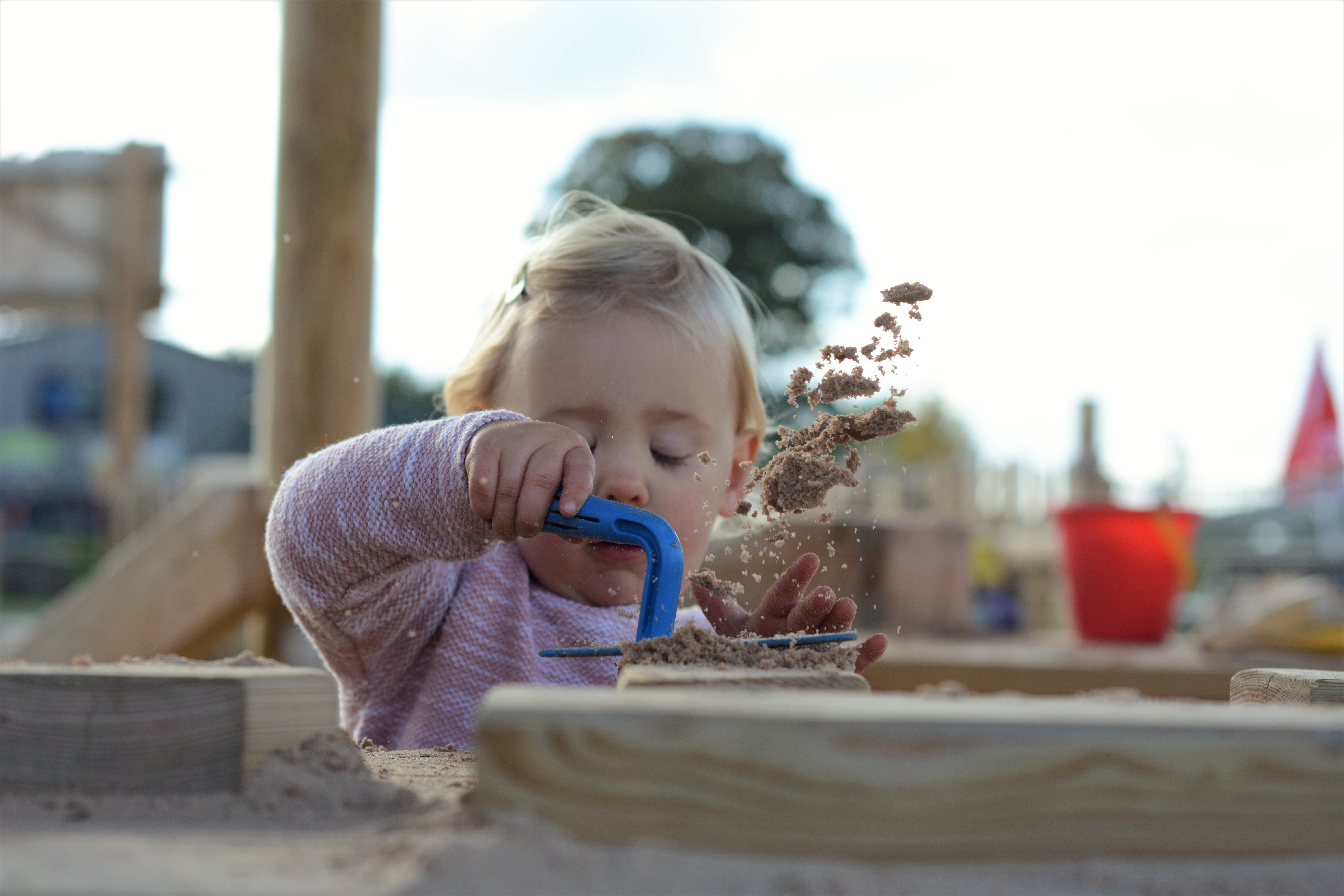 I seriously think they would have spent all day there if I hadn't have encouraged them to explore some more.
They managed to be persuaded by the lure of a pumpkin patch. You could queue and get the 'Pumpkin Wagon' which was a tractor and trailer but of course you couldn't take pushchairs, this wasn't a problem but still as the queue was quite long we decided to take the short walk instead. As we approached there was a sign to advise that many of the pumpkins were still green due to the weather and a late planting season but that they were still in fact perfect for picking and would turn orange just the same at home. Of course after explaining that to Eva though she still decided in her excited state to choose the biggest most orange one she could find.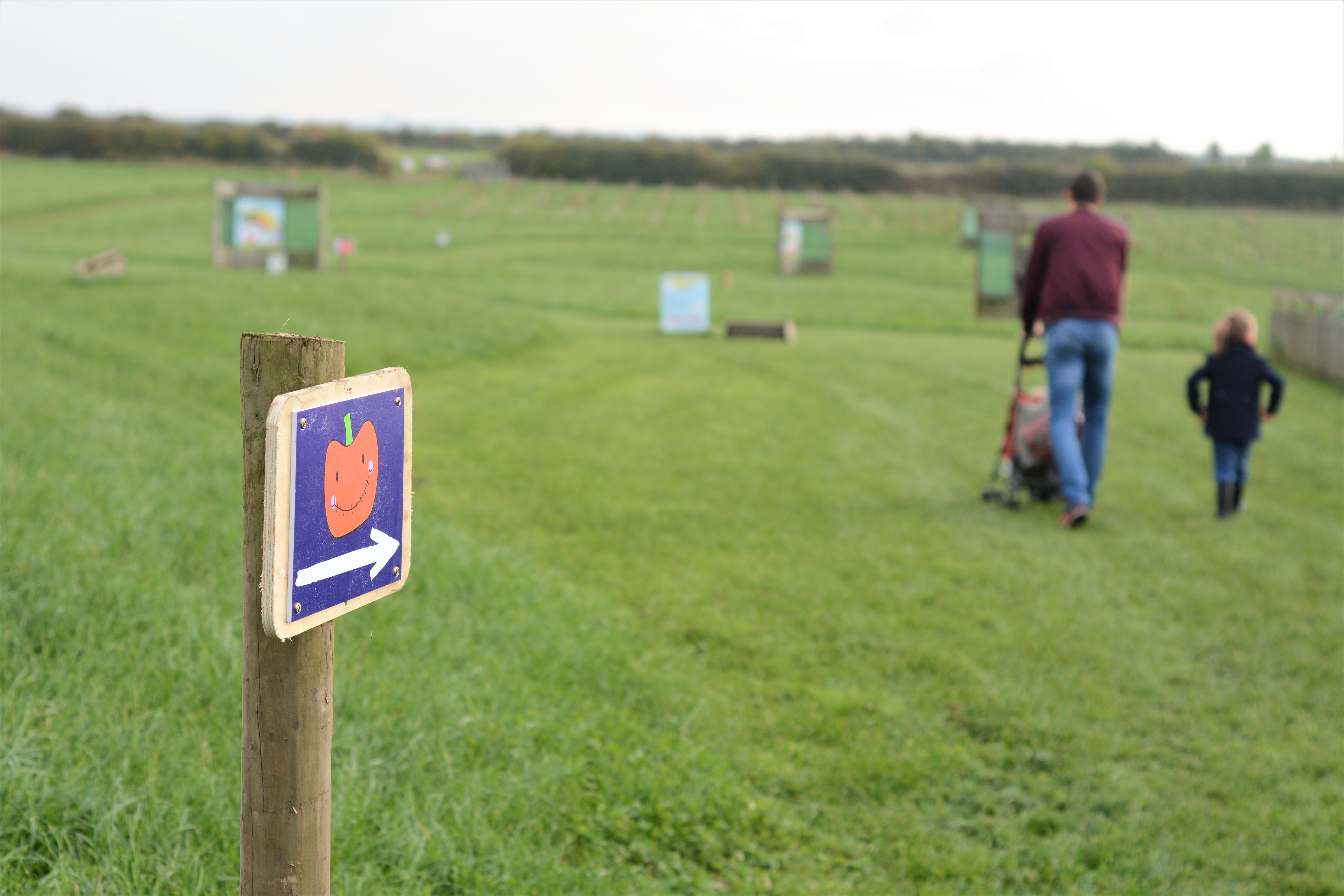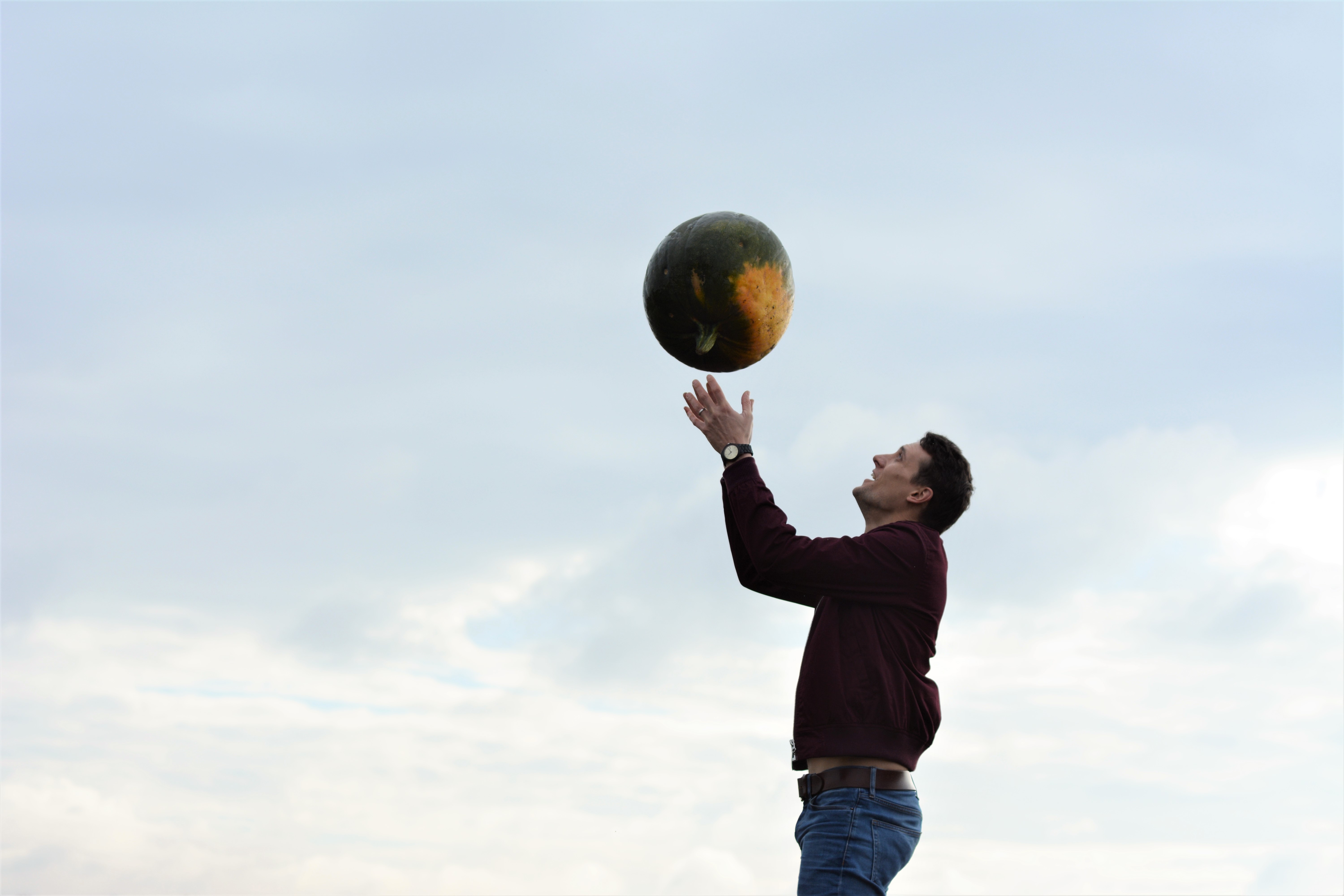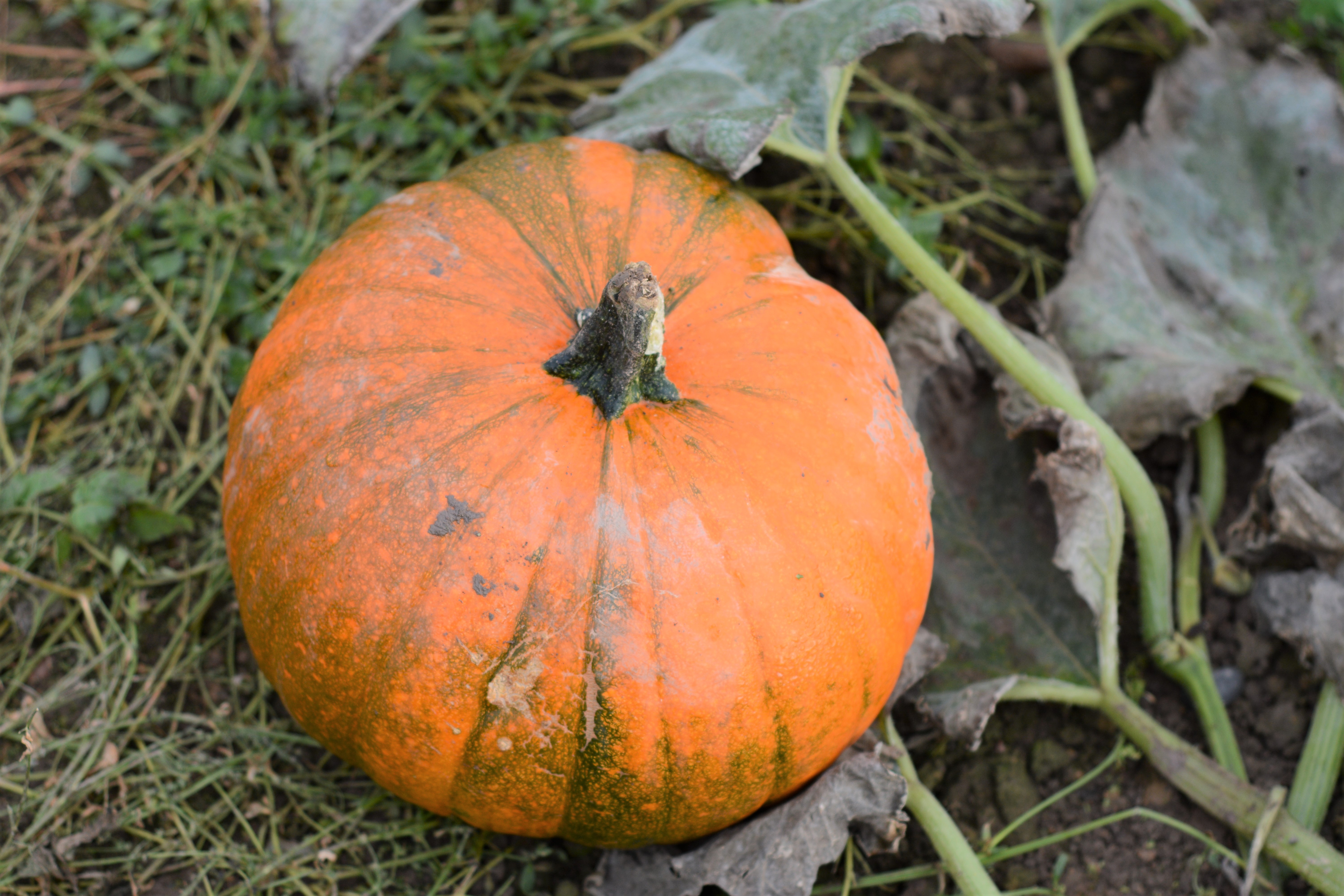 I have to admit there were alot of green ones and I definitely didn't manage to get the instagram worthy shot of the pumkin patches with the vibrant orange colour that I would have liked but Eva loved it and spent so long choosing just the right one. No sooner had she thought she had found it than she spotted another on and announced that no, this one was better!
"But not this one mum, look it's exploded. Mmmmmm delicious" – as she pretends to eat said pumpkins insides!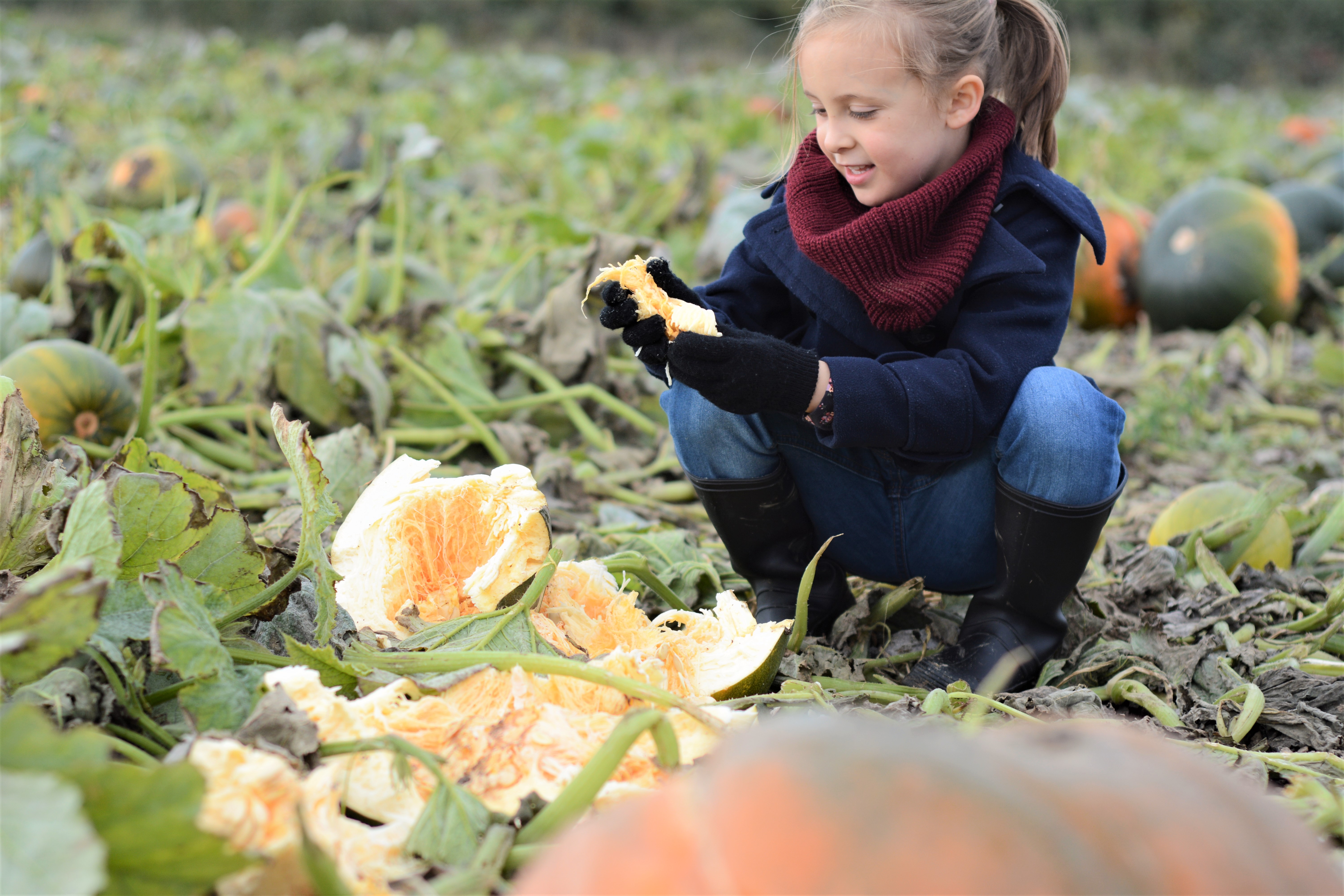 Roma on the other hand wasn't quite so keen. Because it is an actual pumpkin patch where they are growing rather than being lined up perfectly on a field to choose (which the 'part ocd part photographer' in me would have loved!) it did mean it was tricky to navigate around and therefore Roma was carried by Eddy for most of the time. The pumpkin was free as part of a childrens ticket but as Roma wasn't payable (under 2's go free) we couldn't get a pumpkin for her…..nothing that a trip to Sainsburys on the way home couldn't fix.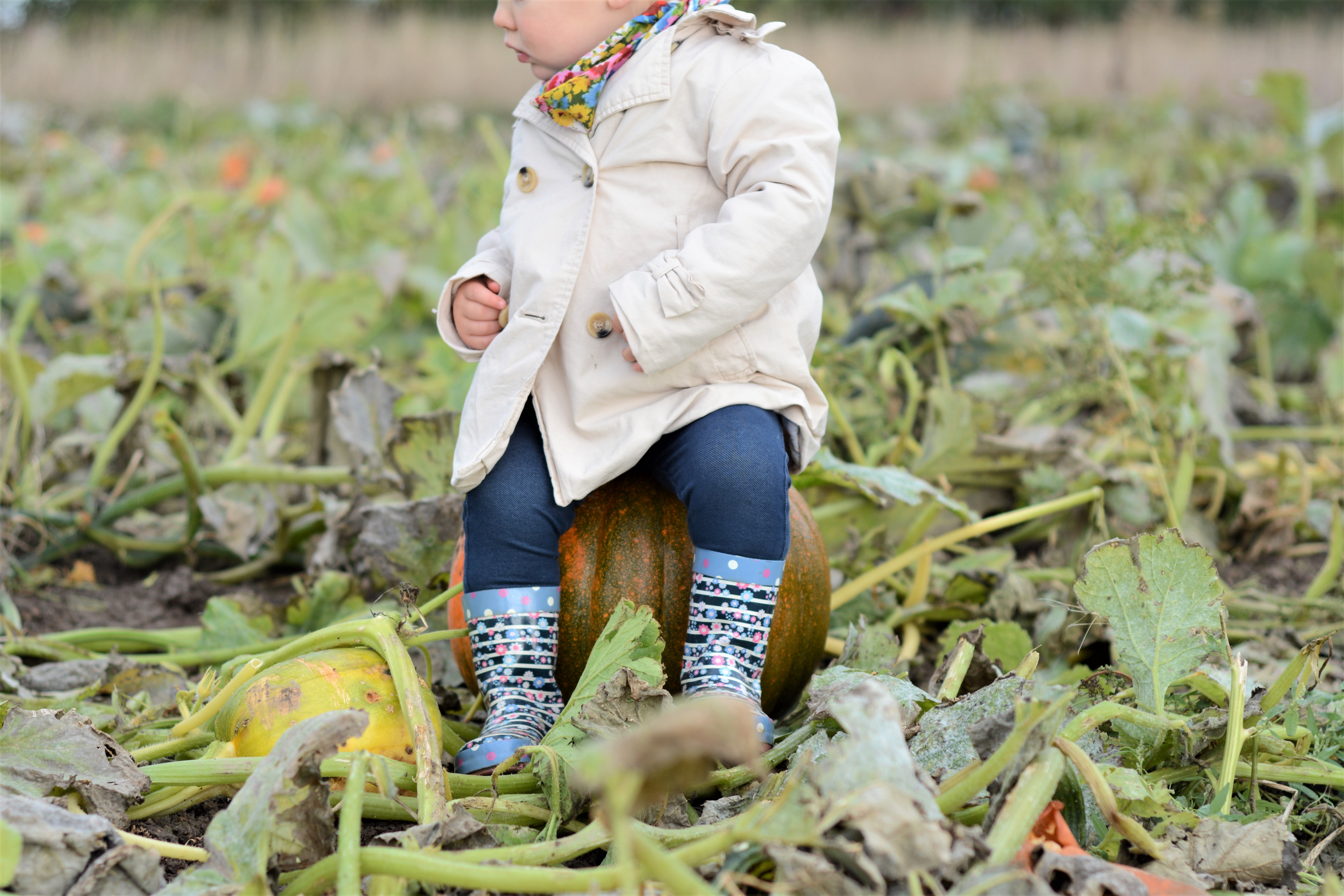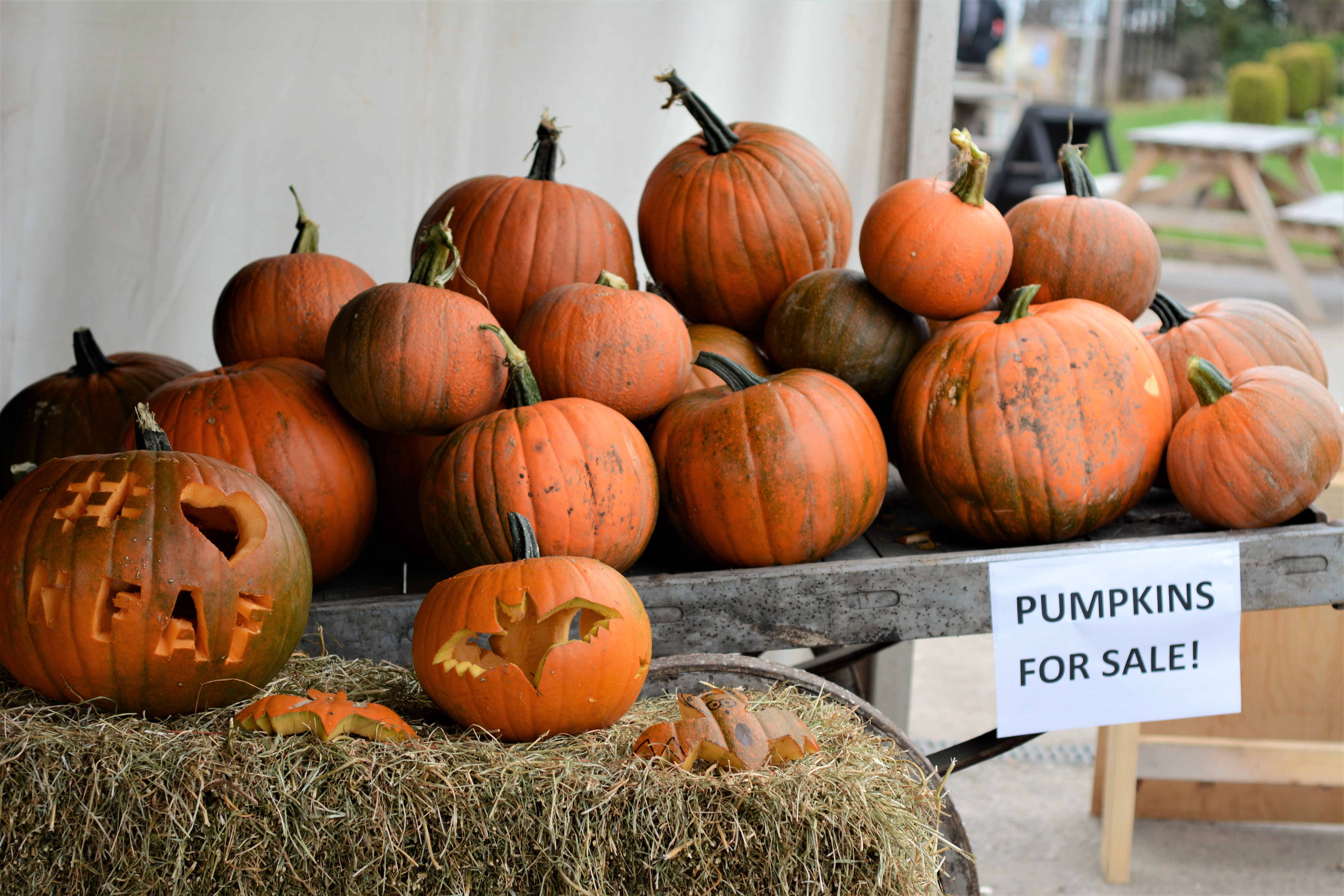 Me and the girls then took the pumpkin wagon back while Eddy used the pushchair to carry Eva's giant pumpkin! It took us all around the farm fields and played Old Macdonald which tractor mad Roma absolutely loved.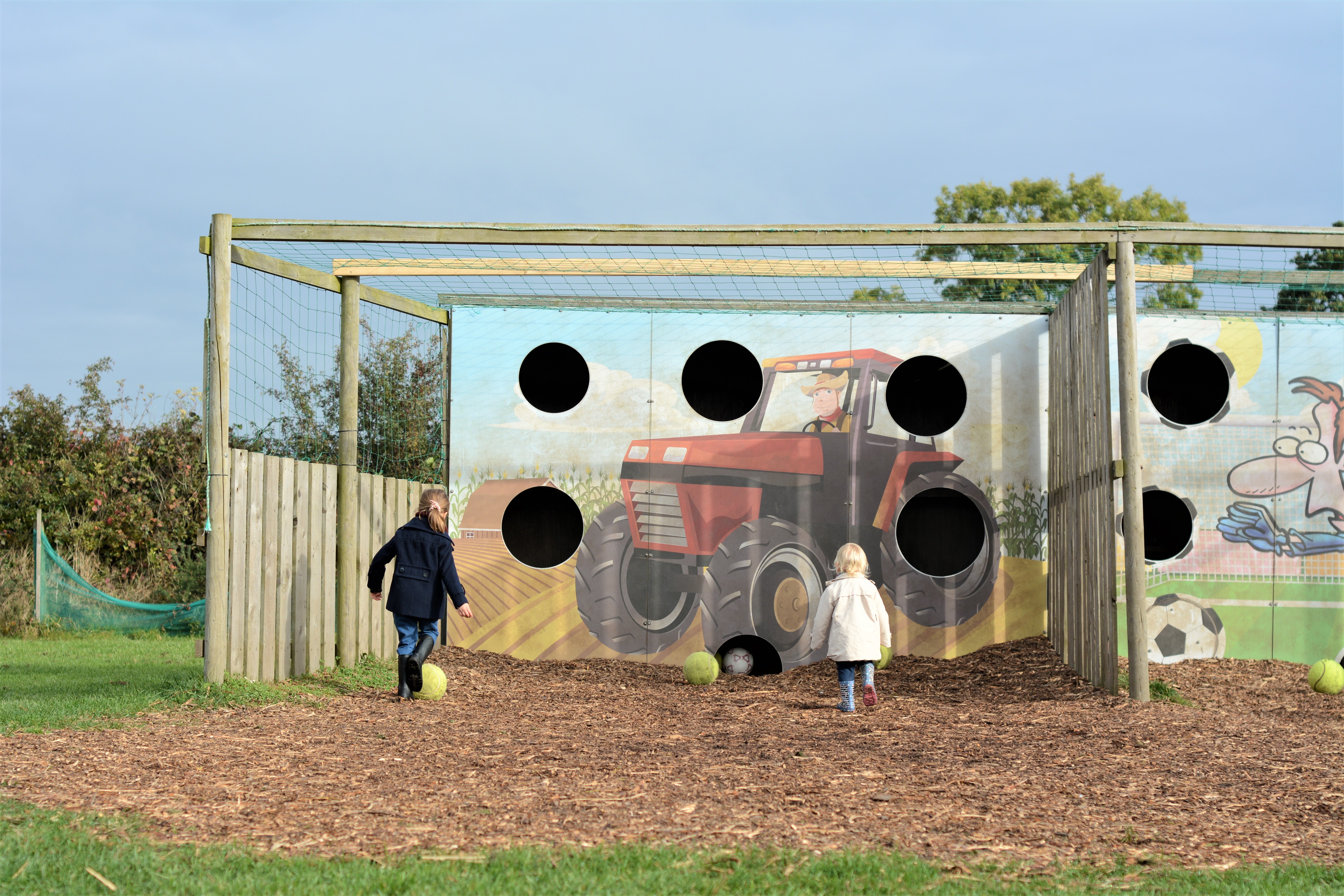 There is literally so much to do, Eva and I enjoyed the obstacle course, the under 7's play area and naturally this here was the favourite for football mad Daddy. He was so pleased with himself when he scored a goal and ran around celebrating, much to the girls amusement. He may be getting on a bit with dodgy knees but he's still got it!
After a picnic lunch we headed over to see the animals inside and out. Eva isn't an animal fan, she loves nature documentaries and learning all about them but pets, she is both allergic to and scared of. While she stood at the back Roma was right at the front and got stuck in to petting the guinea pigs. It's moments like this that I realise they are so different. You can try to give them the same experiences and sometimes put their traits down to parenting but truthfully my two are just so very different no matter where that comes from and it's nice to be able to embrace them for it.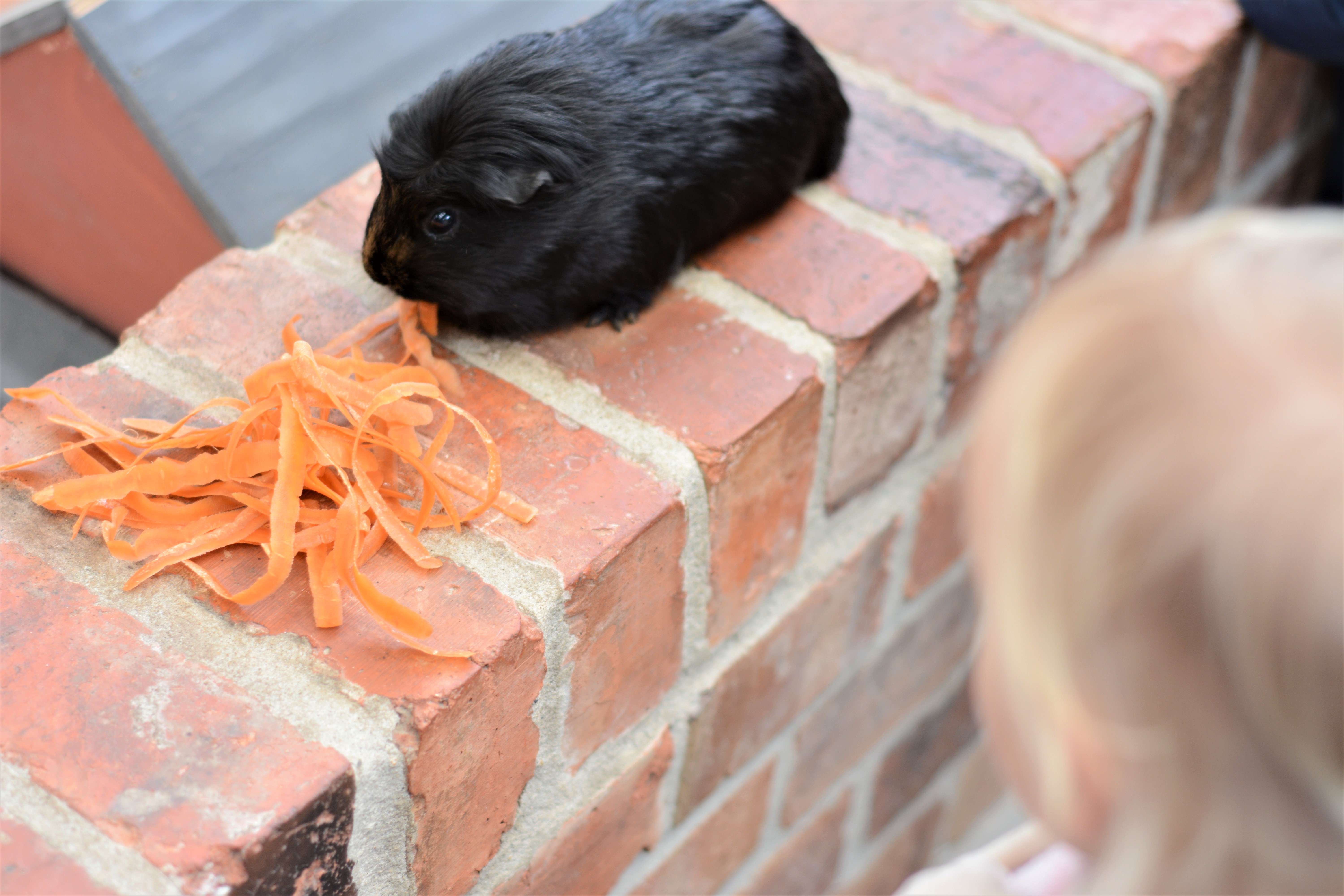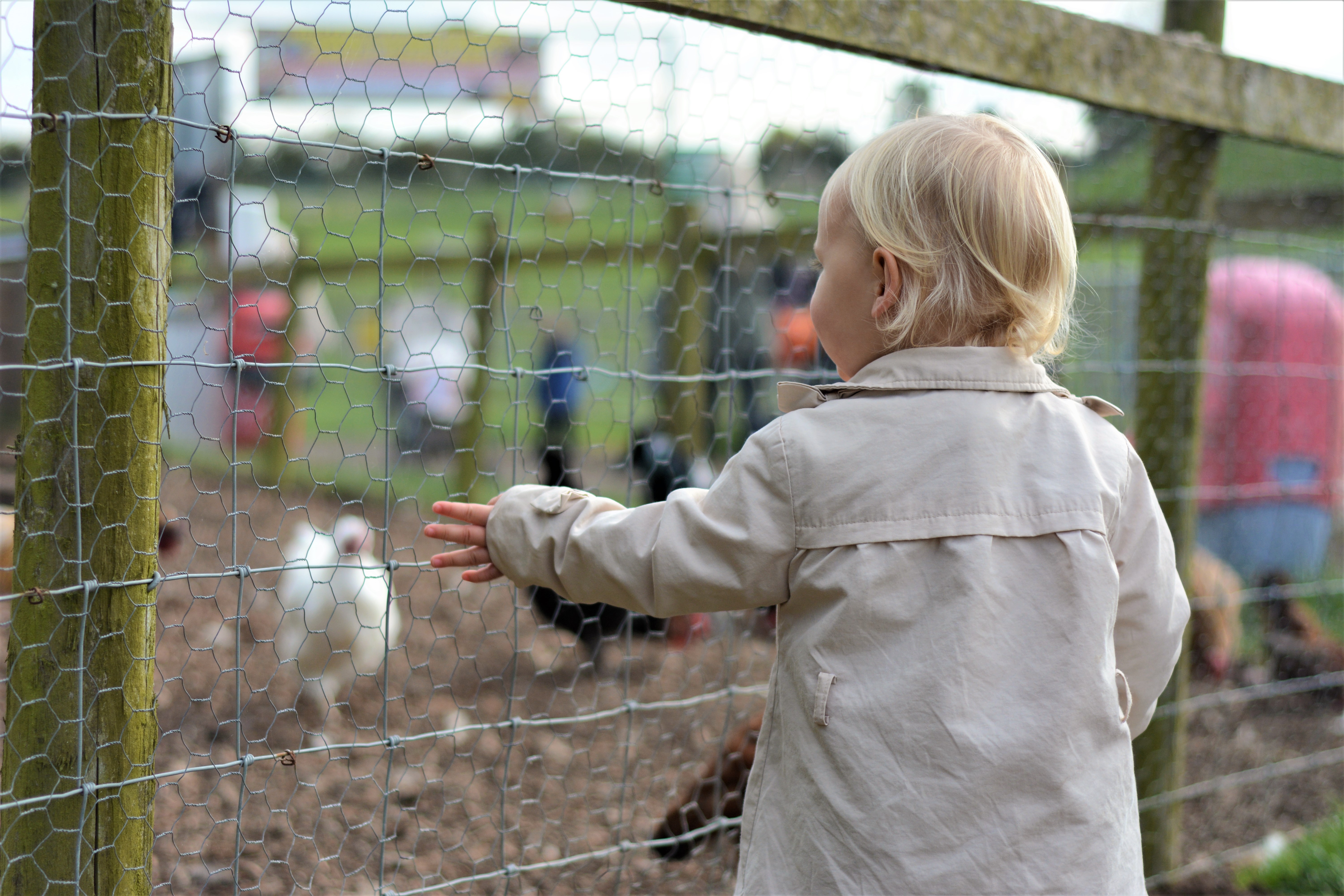 Since we used to have chickens at home this little lady absolutely loves them and stood for ages shouting "Chickens Chickens"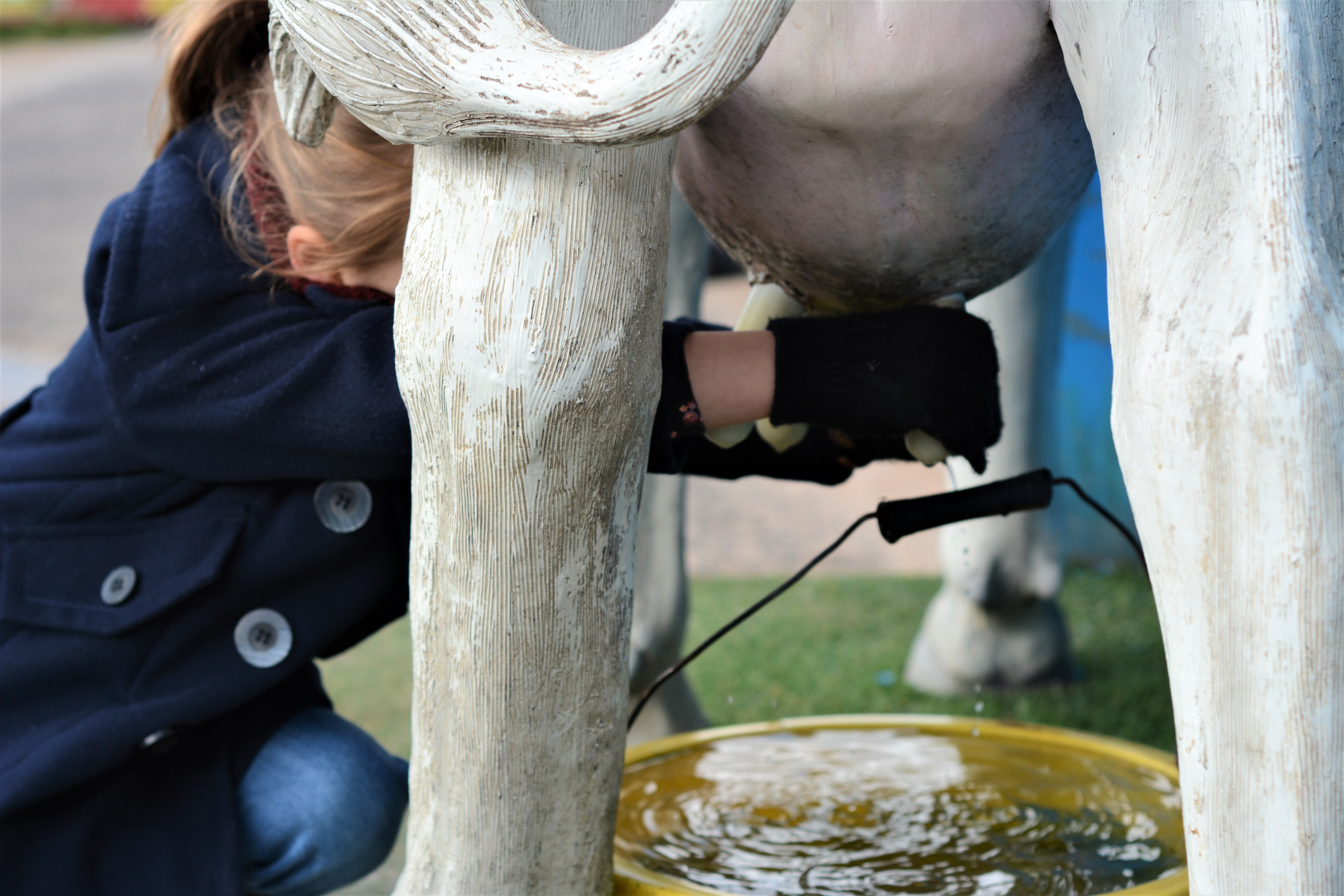 She may not like the actual cows but she had fun pretending to milk one.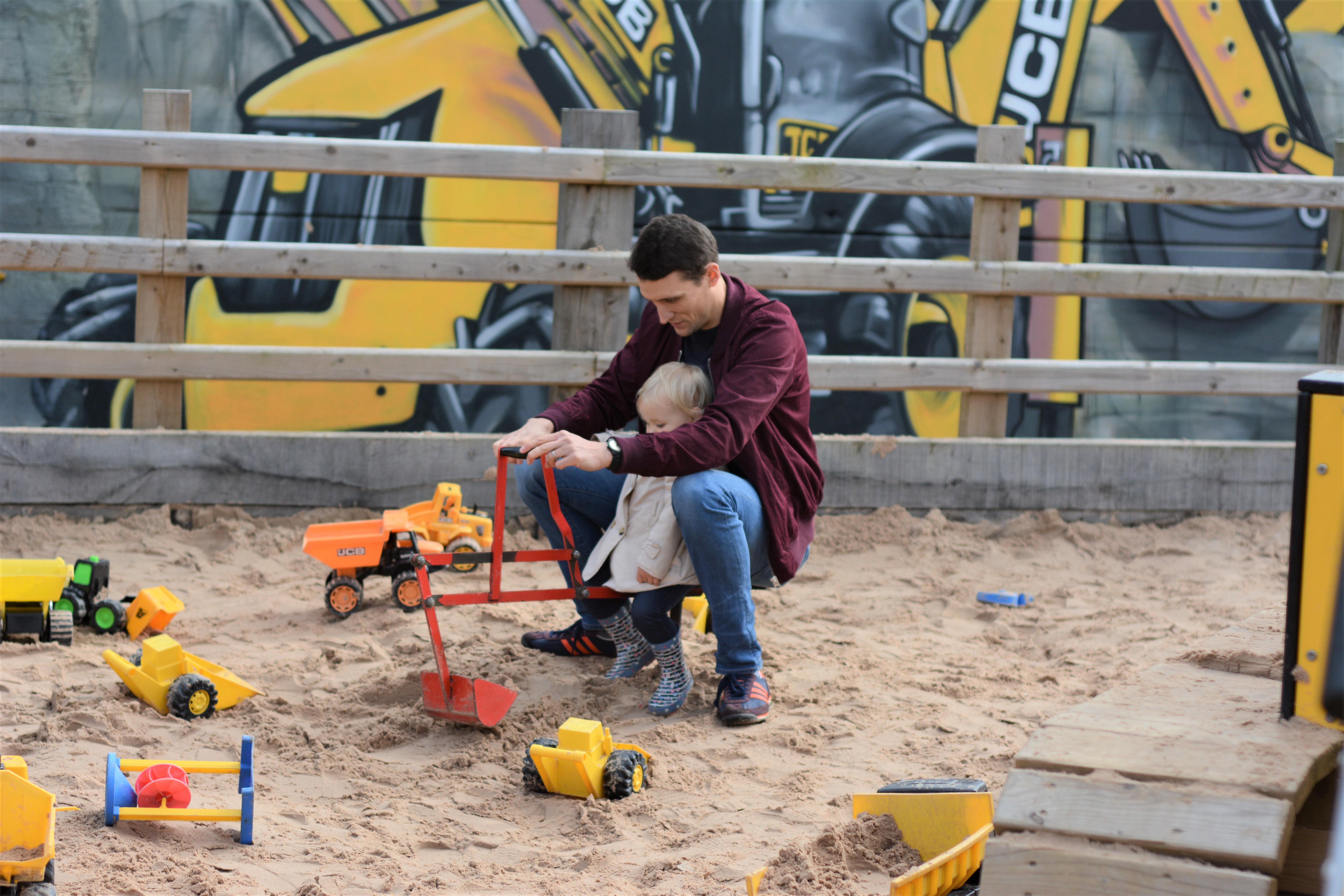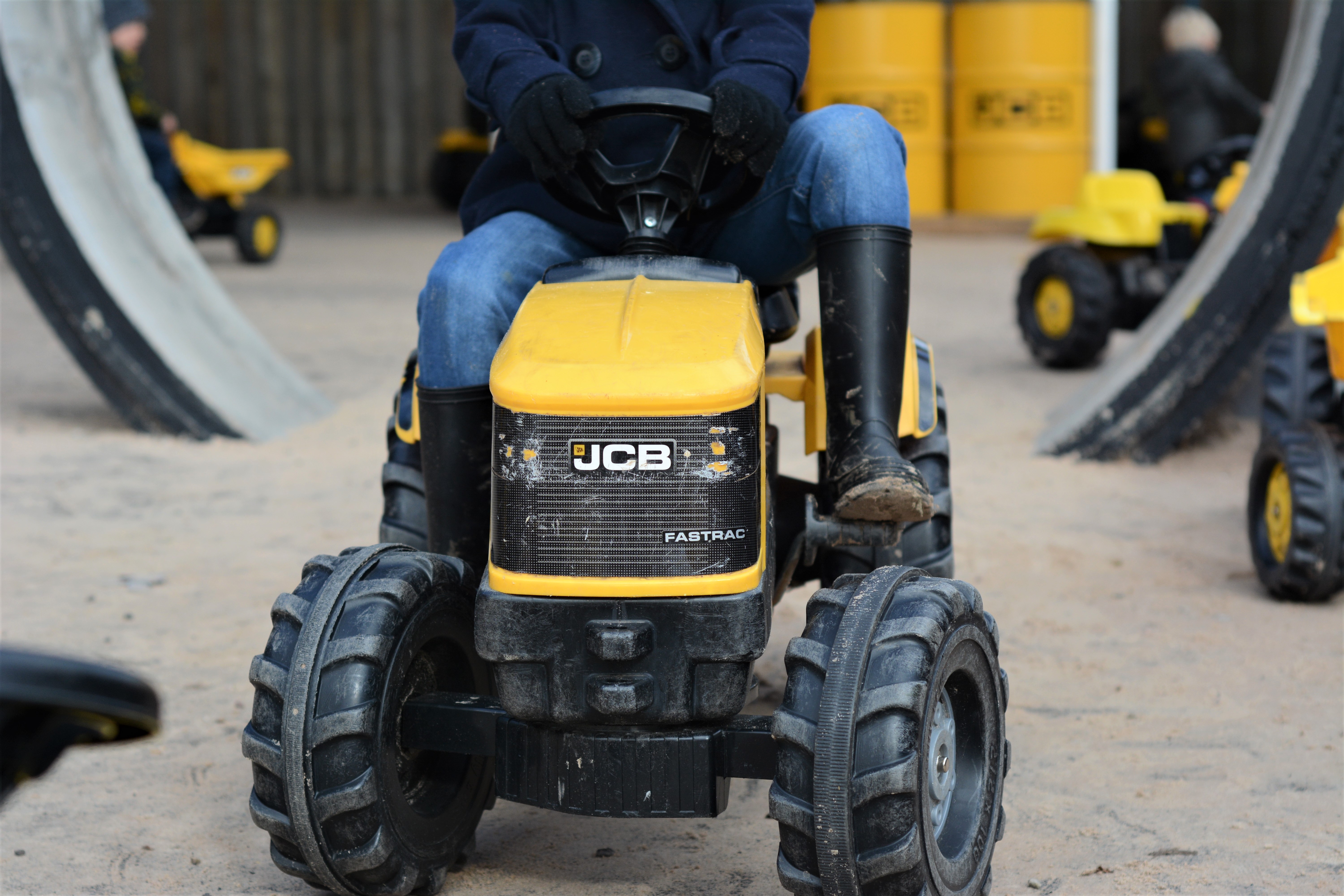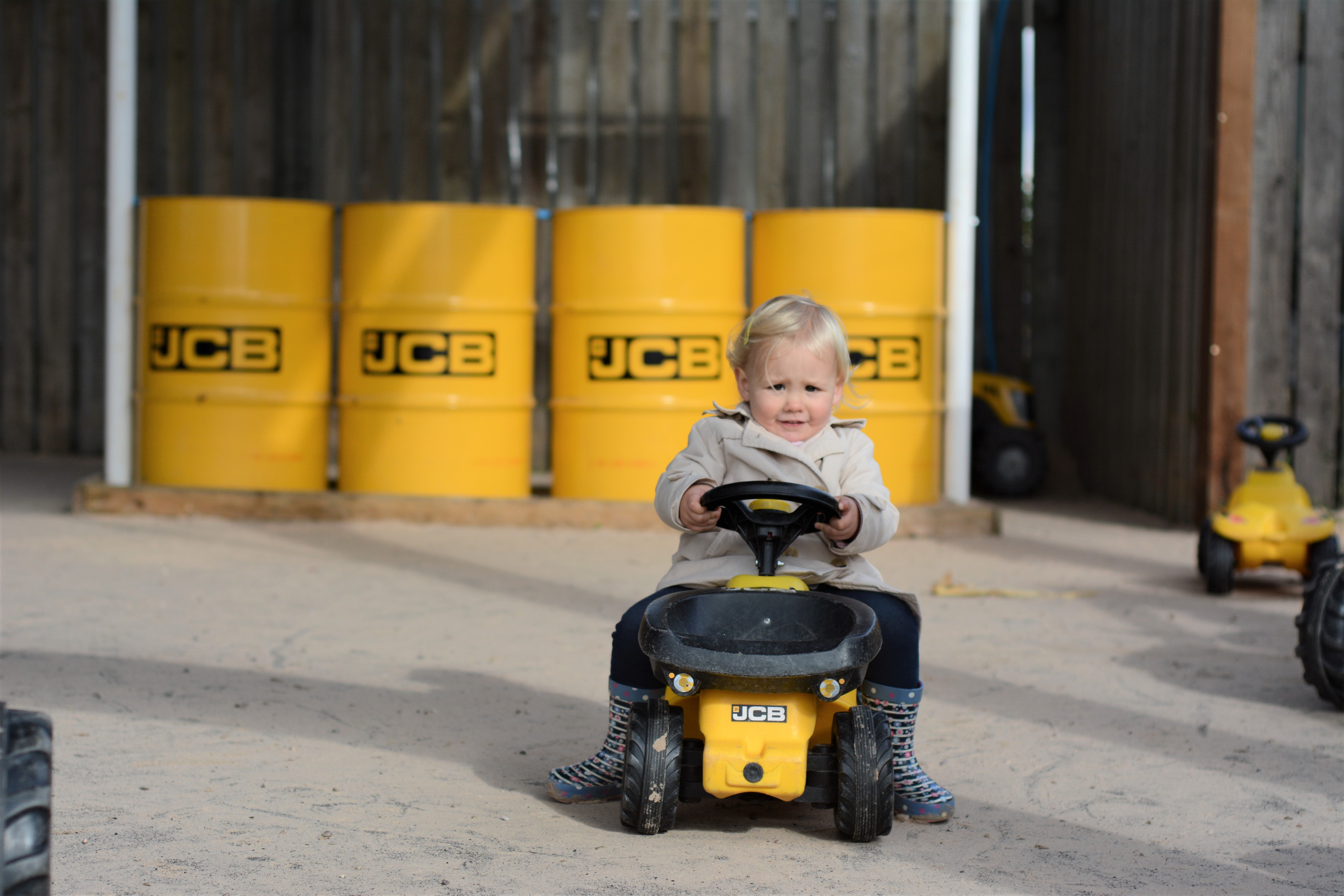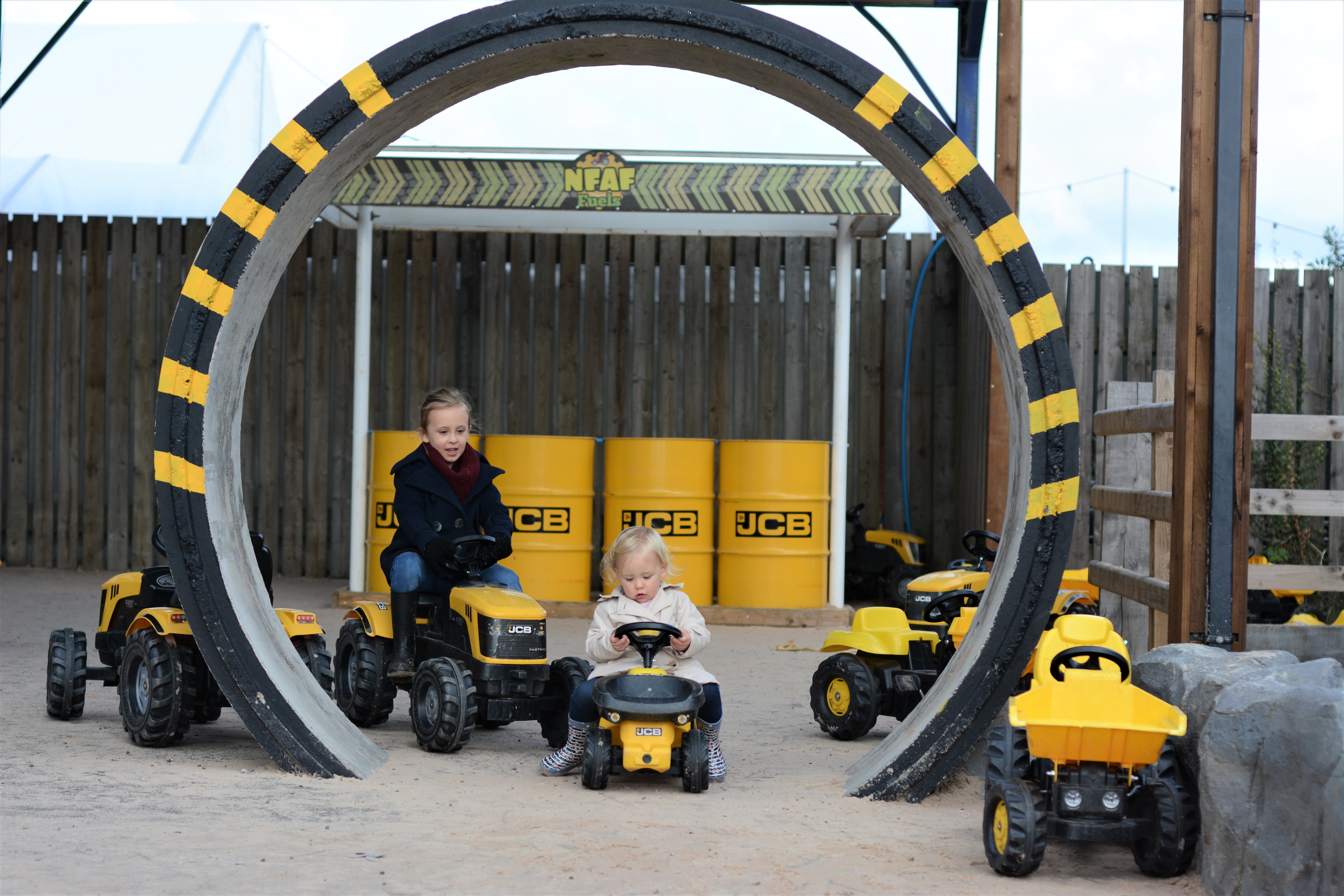 Just outside the barn is the JCB Big Dig Zone. Now if you have digger mad children this is for you, the painted digger on the wall which also happens to be a climbing wall leads into a digger sand pit and these ride ons. Yet another area that I think they would have stayed in all day if they could. It was lovely that even given the 4 year age gap they both could get so much from it and still be together.
Finally we went onto the one thing that we did know was here. A fair few years ago now, before children, we came here for the evening in the Maize Maze (which they have in the summer) with some friends. We got lost in the maze, gave up half way through after a much needed hot chocolate stop and ended up jumping on these air pillows. Which incidentally is where those dodgy knees I talked about earlier came from, the Mr is nothing if not enthusiastic! Yet still we all had a go and the children absolutely loved it. That and the huge inflatable JCB slide that they ran around each time to climb up for another turn.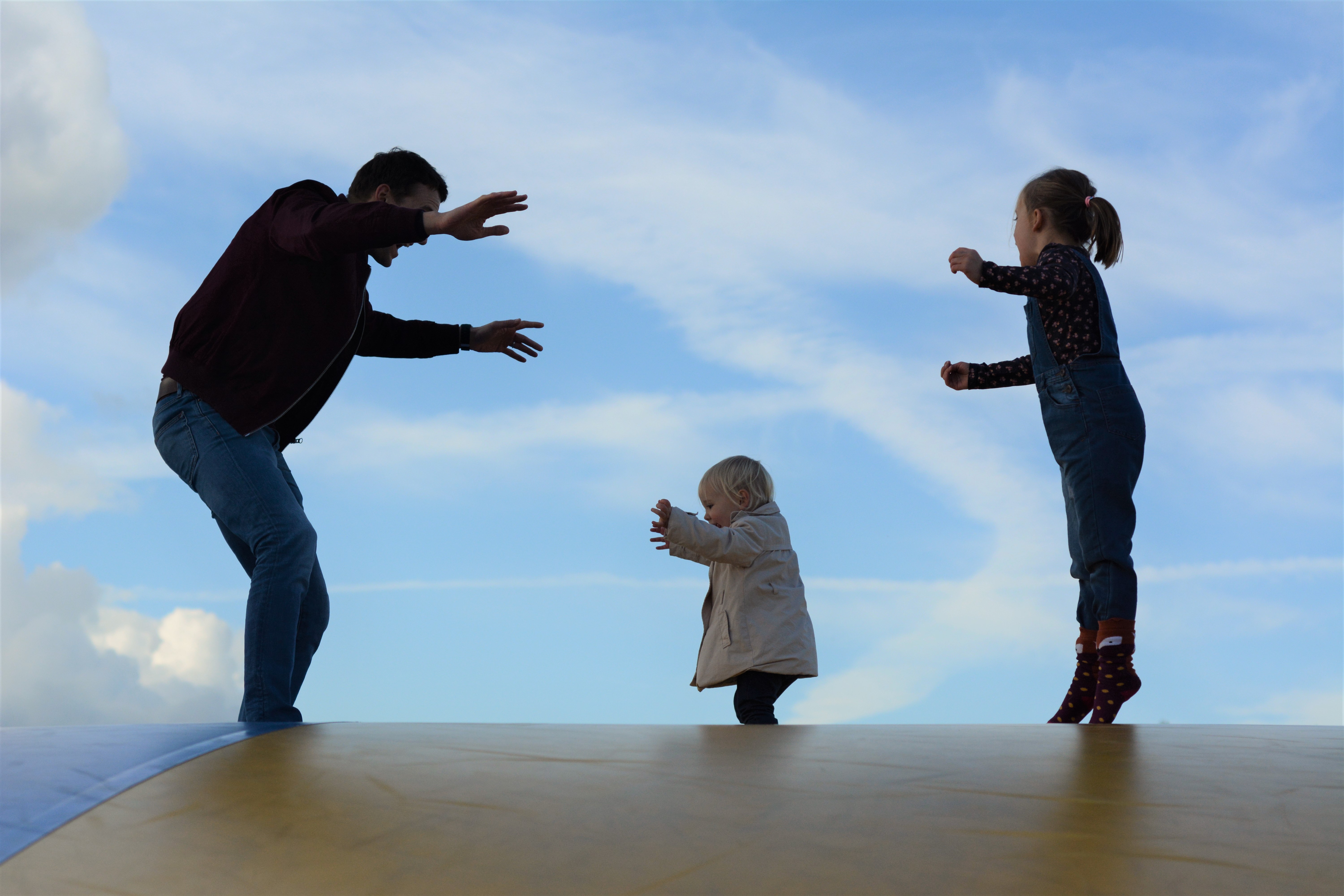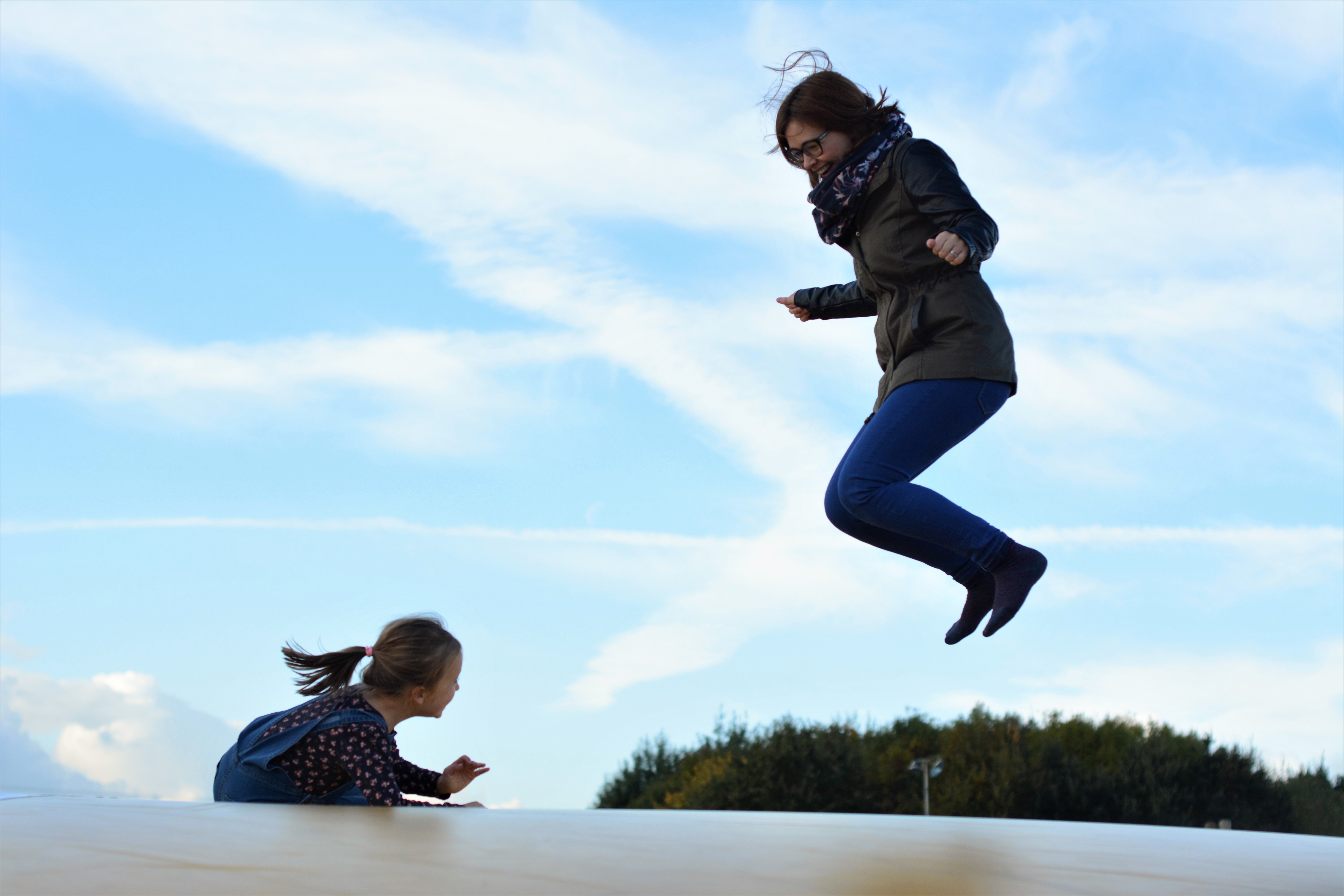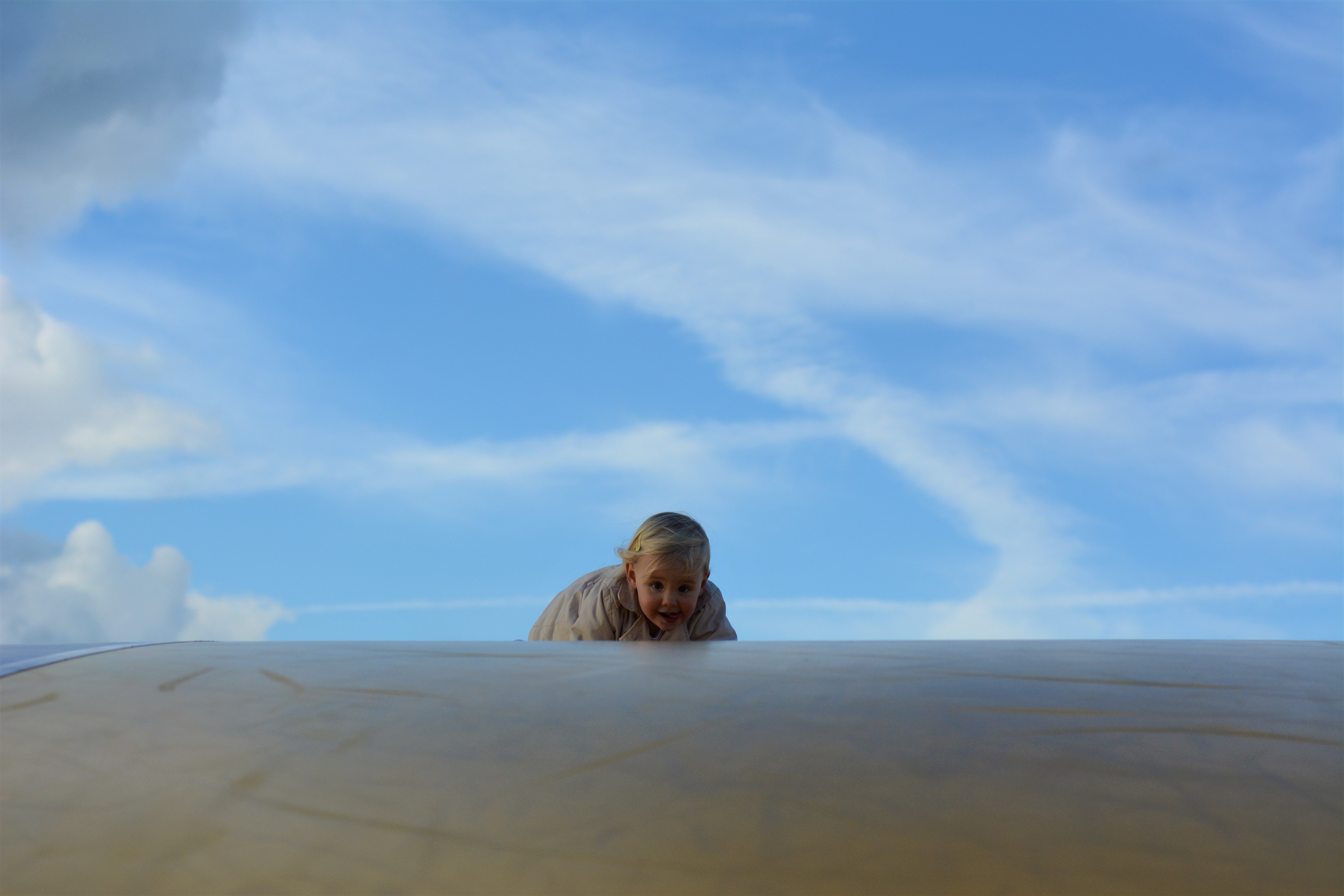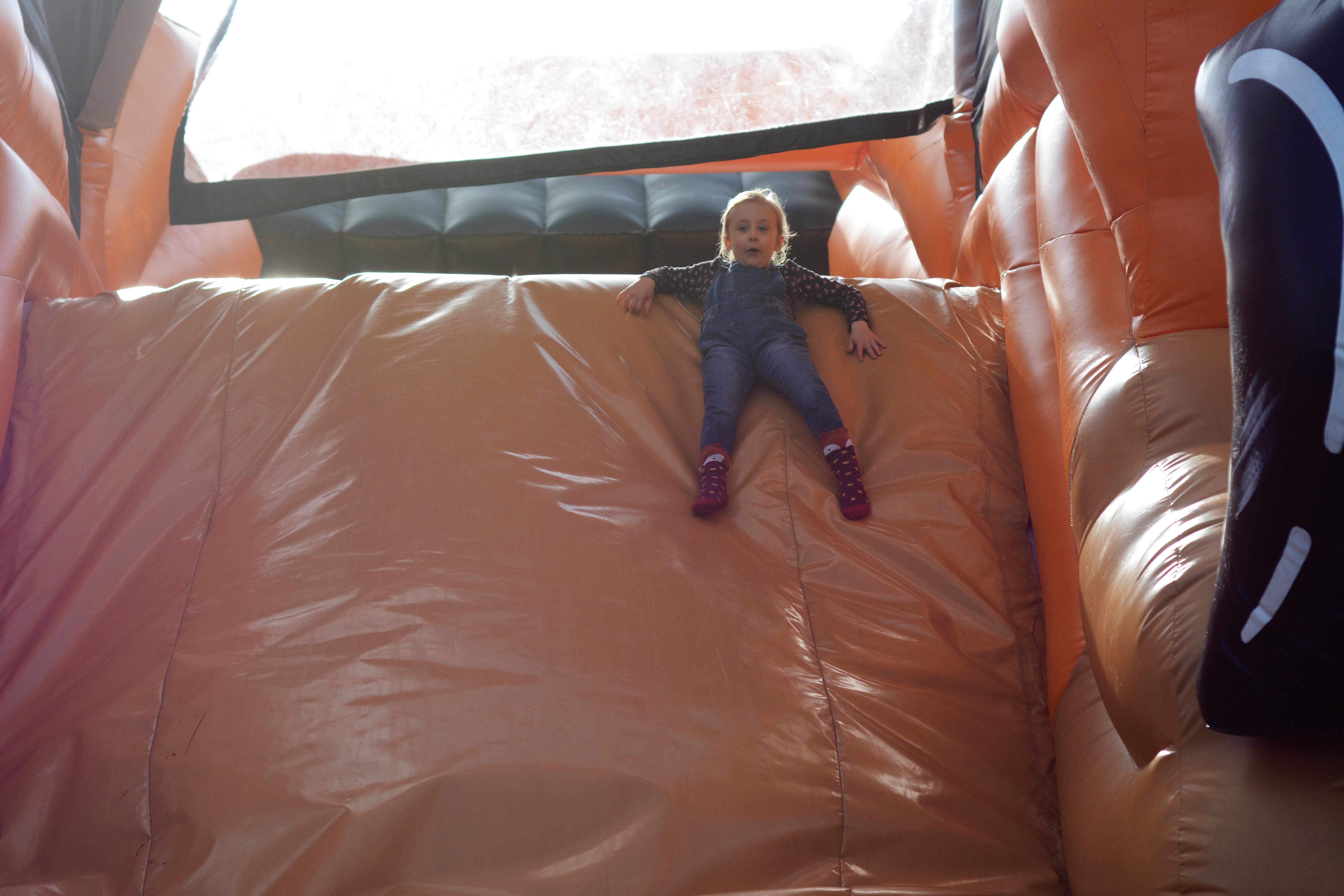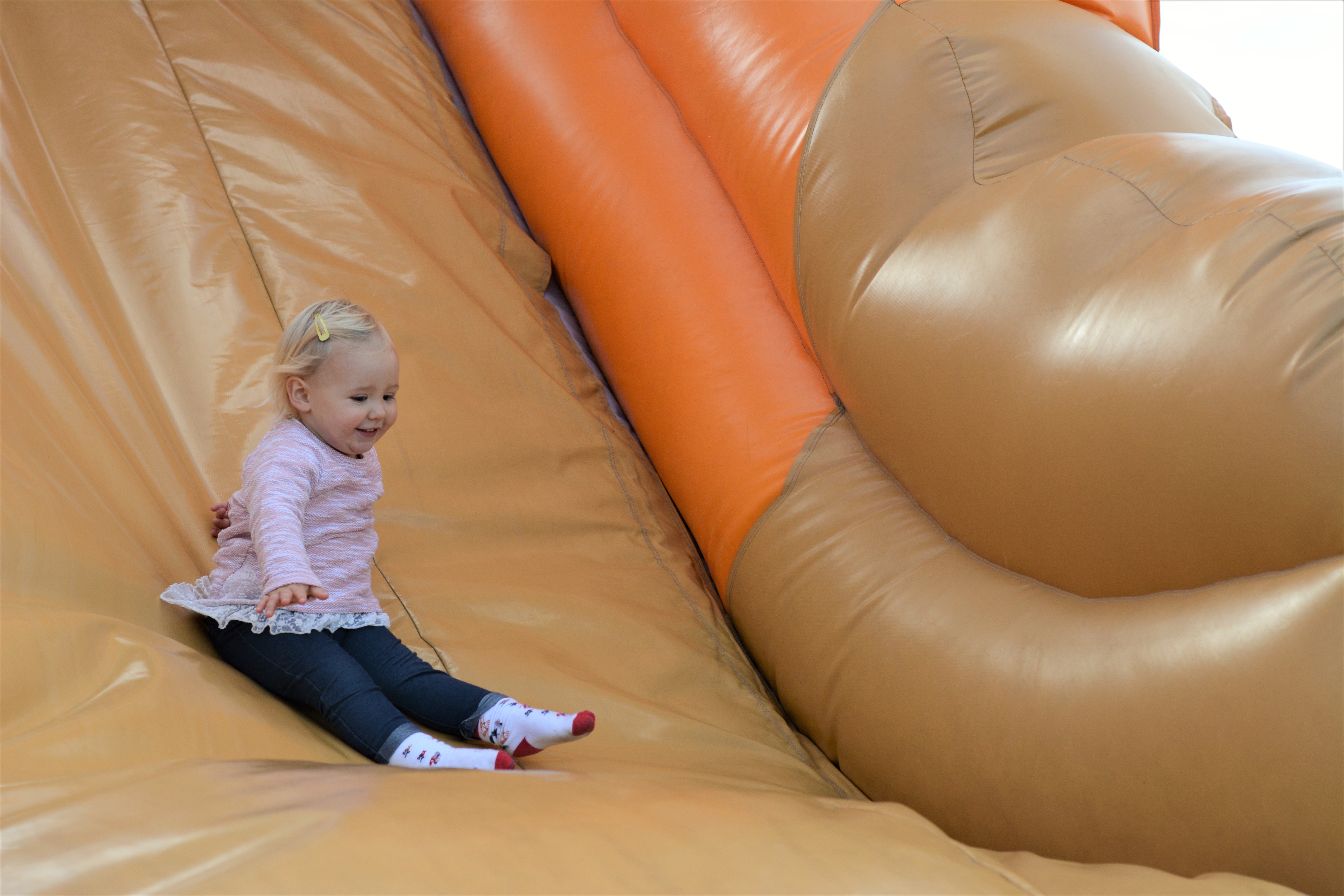 I was amazed at how adventurous both my little ladies were. It really shows that having a sibling can bring out the confidence and they bring so much more to each other than they even know.
We had such a lovely day and feel like we have just scratched the surface of what we could do. We didn't even step foot inside and only glanced past their new kitchen garden. We will definitely be back to explore again and I am sure when we do Roma will be very receptive to the lamb feeding and the egg collecting in spring and I know in the summer Eva will love to get soaked in the Water splash out. The crazy golf and go karts though, maybe we'll wait for Daddy.
xx