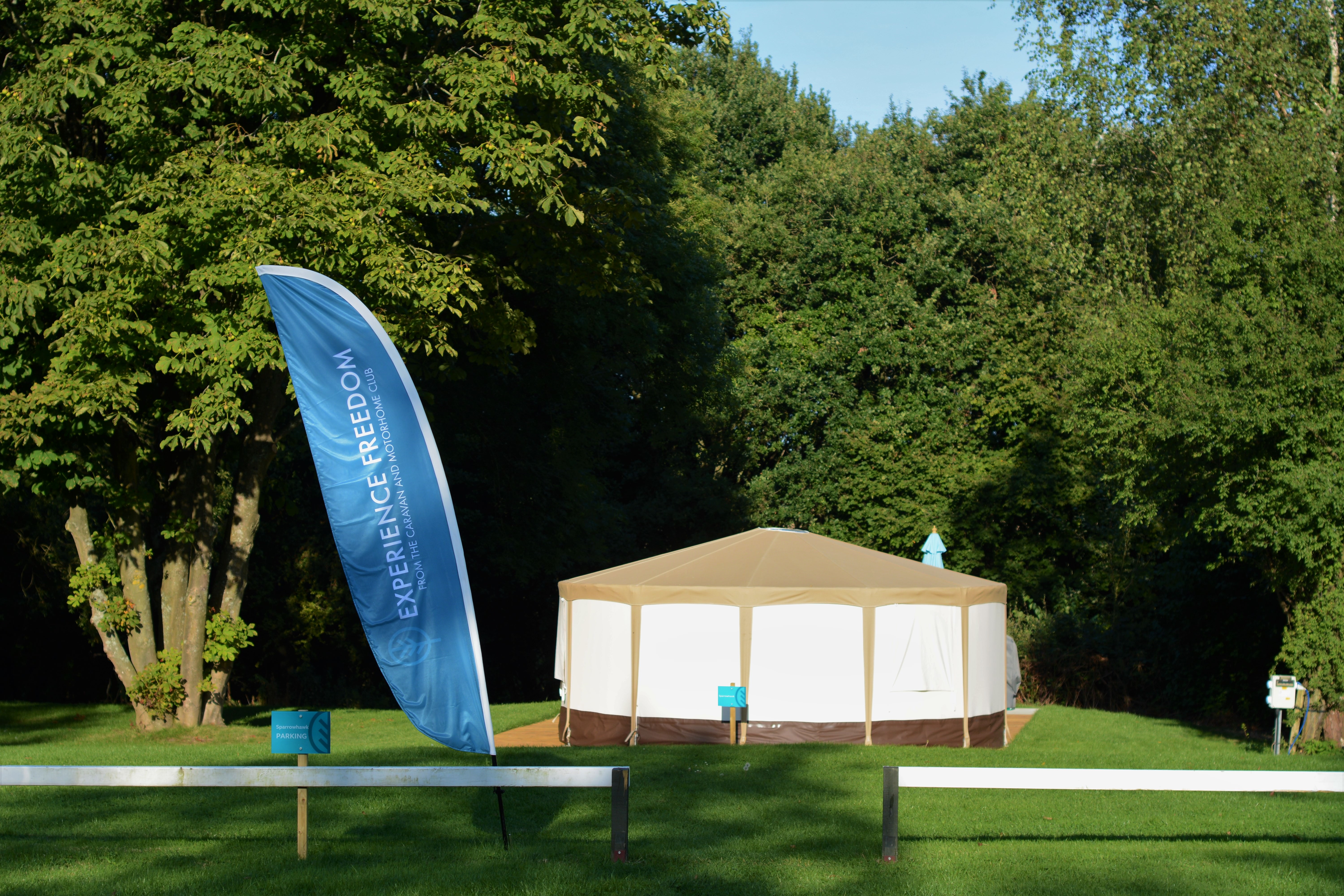 When it comes to holidays I have to admit, I'm a hotel person. Or an apartment, a house, or maybe a villa! Basically I usually like four walls and a little bit of luxury thrown in which is something that hasn't changed since having children. Don't get me wrong I am not adverse to cooking on holiday, happy to go self catering and make my own bed. It's that bed that certainly is non negotiable though, a comfy bed. I am also however an adventure kind of a person, despite having joint issues I like to think I would try anything once and I love any opportunity to show this to the girls and maybe to pass that feeling on, I actually think having children has made me more willing to try different things and to expose them to as many experiences as we can. Therefore when Experience Freedom got in touch to ask if we would like to stay in one of their new yurts for a weekend, glamping, with real beds, lights, and electricity. I was delighted.
The four of us, in a yurt, the same room, for three nights, what's the worst that could happen right? It was like camping, but with luxuries.
We were staying at their Alderstead Heath site in Redhill Surrey and arrived on a beautifully sunny Friday afternoon after a 3 1/2 hour drive ready to stretch our legs and settle down. We were greeted by the friendliest of staff who guided us to the yurts and told us all we needed to know about the site, they even came down a little bit later to tell us about the baby and toddler wash facilities in case we wanted to use it for the littlest, it might seem like a really small thing but it's those little touches that make a difference isn't it? Although this 2 year old does love a good shower so we were set there!
The yurt itself was so beautiful, as you open the zip to walk in you are greeted with fluffy white bed linen, comfy blankets, chunky wood and the most gorgeous lamps and fairy lights, seriously how I resisted taking those bedside lamps home I will never know! At the end of the bed were an array of books for both children and adults, cards and a game of jenga too. It slept four with a double and then a trundle bed which could also be the sofa too, the girls very quickly claimed which one was theirs and I was relieved that Roma chose the one closest to the floor!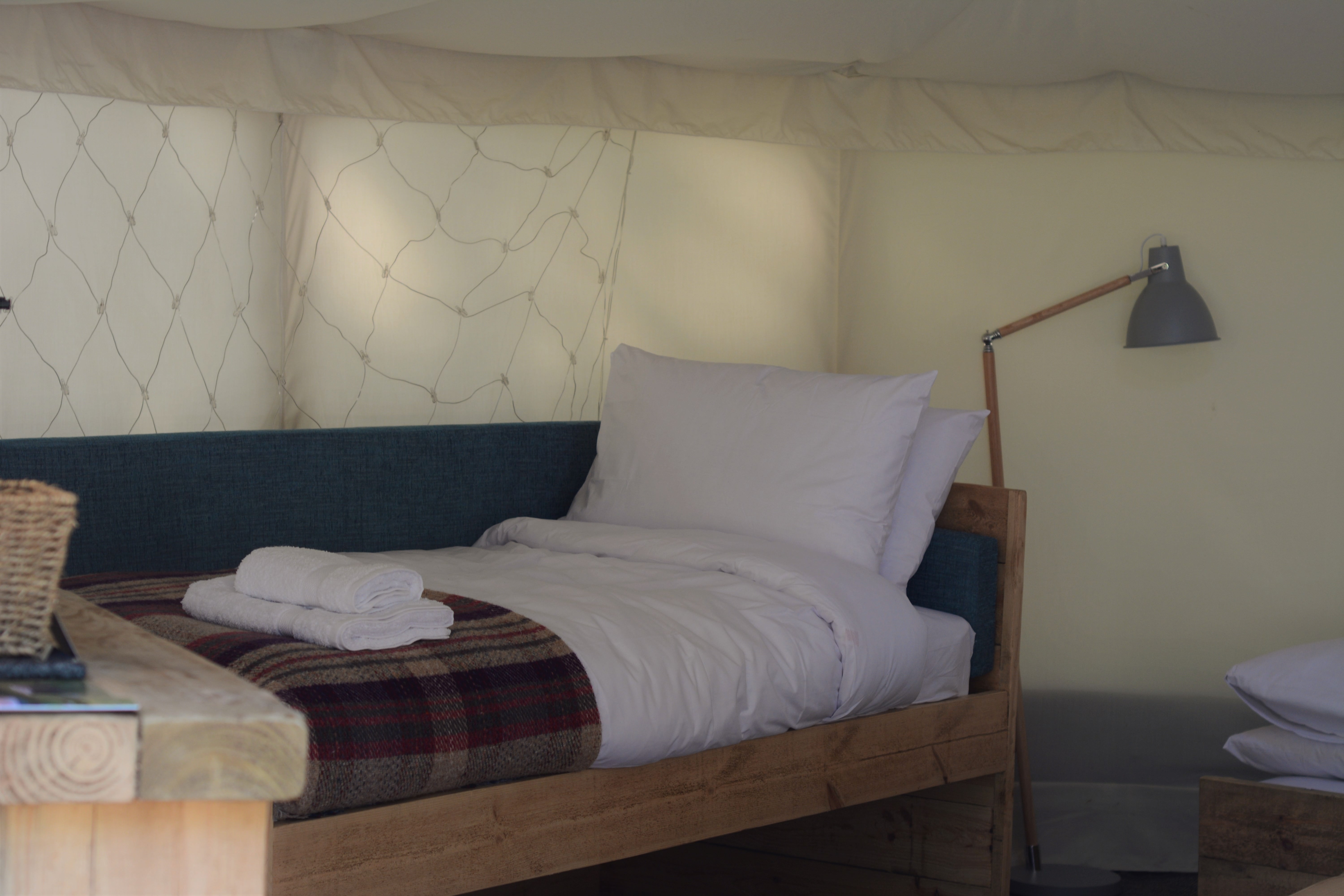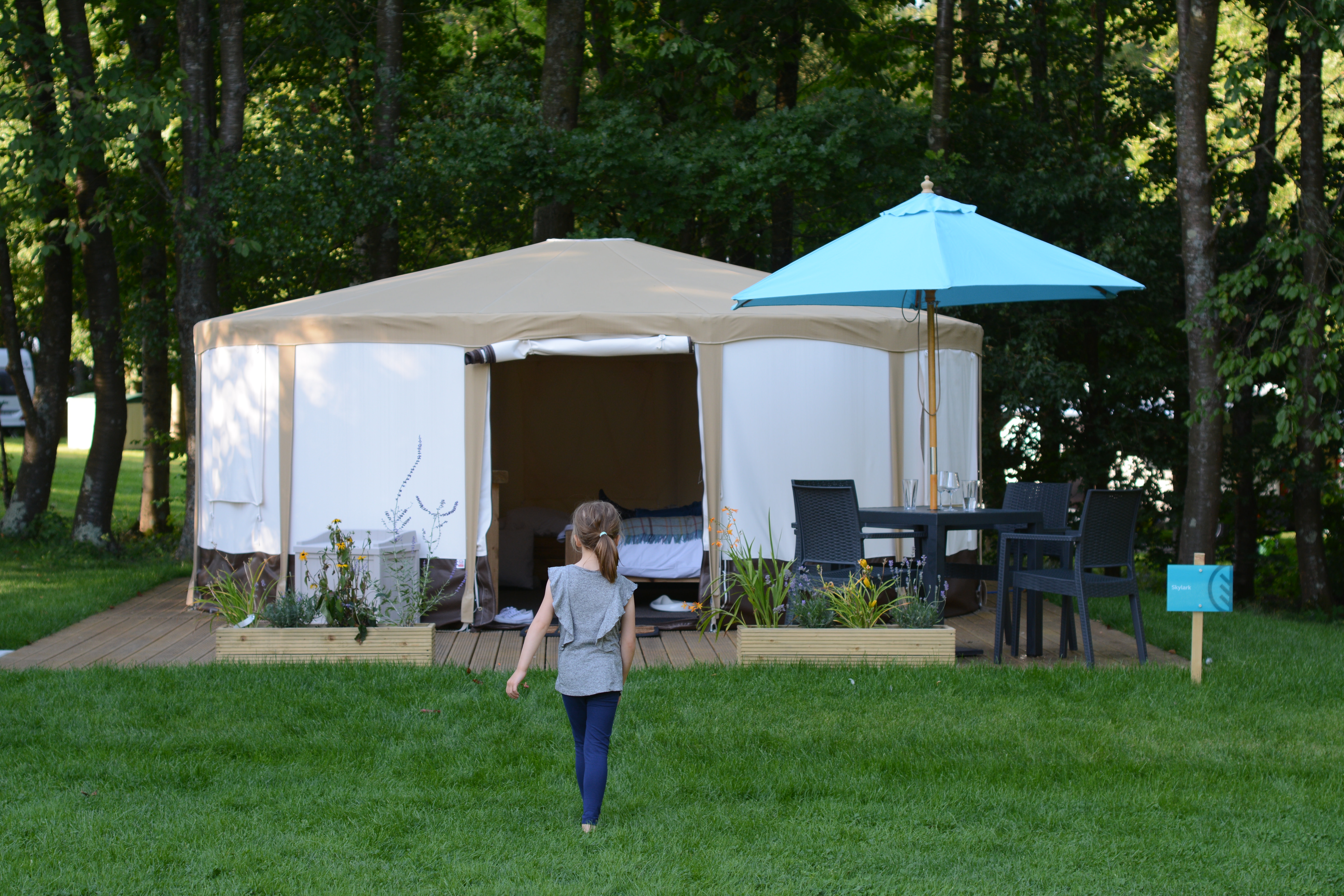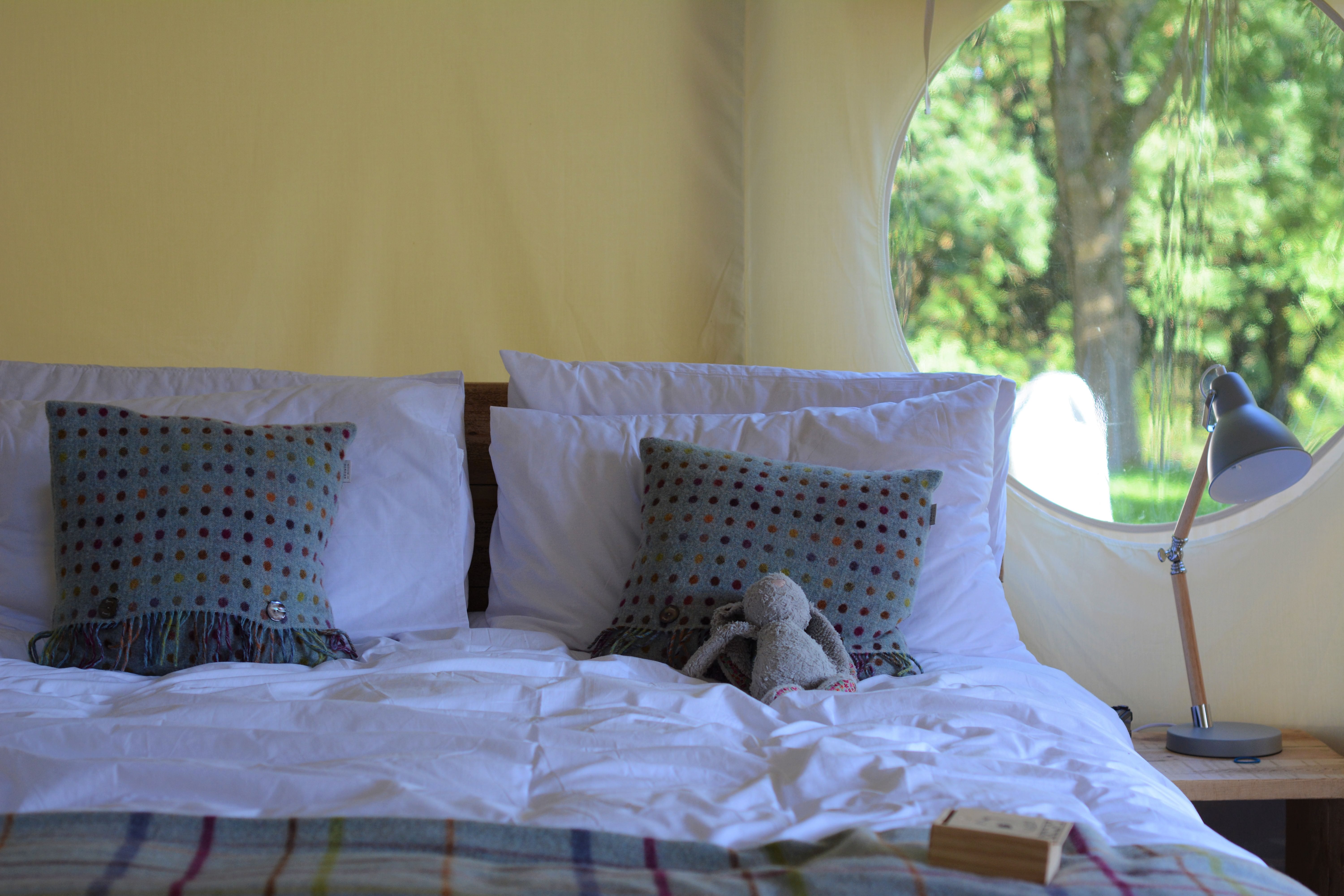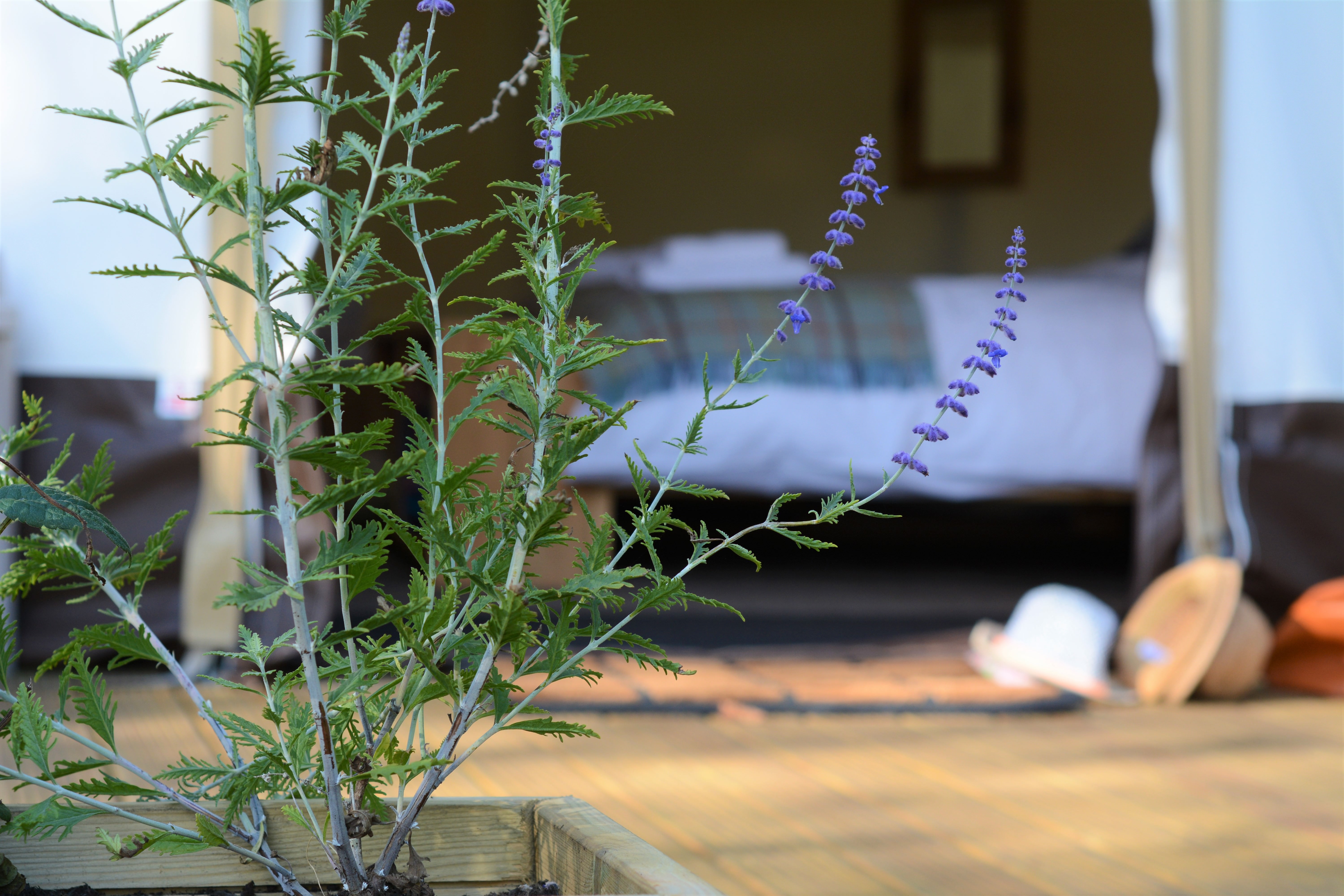 Aswell as the towels we had provided for us we were really pleased to find a welcome pack sat on the little kitchen type unit with essentials like tea and coffee, washing up liquid, a cloth and then extra treats like some biscuits and Belvoir drinks.
We had planned ahead and packed food and drink for us for the weekend and there was a fridge to store it with a little freezer for our picnic ice packs, a microwave which is essential for little miss who likes her milk warm, all the crockery you would need including the most gorgeous rose gold knife set, pans, and the obligatory kettle. I must have had it on within about 5 minutes of arriving, for a tea and coffee lover like me this is a huge bonus.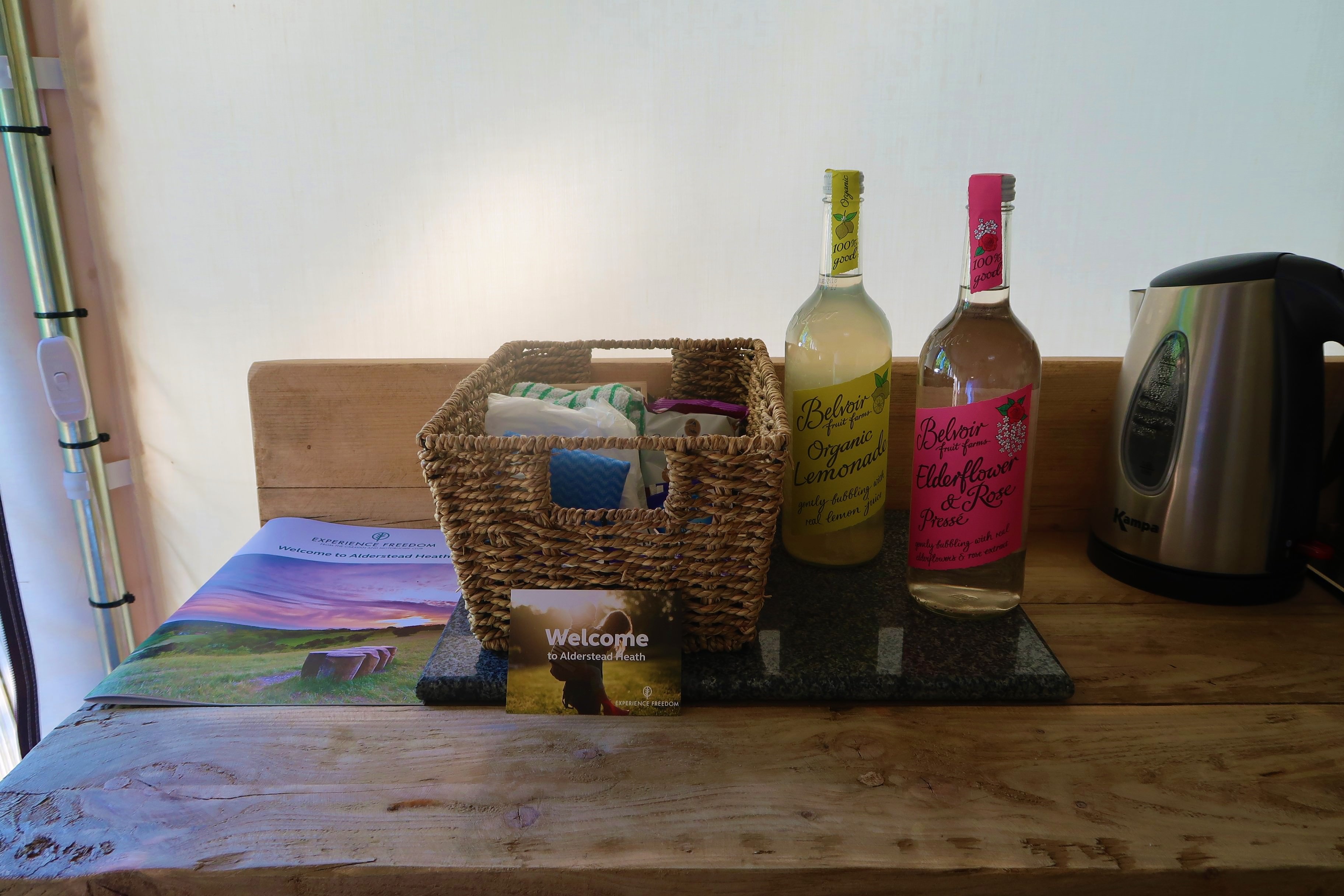 Eddy however was completely in love with the gas BBQ and no sooner had he cooked potatoes on it and toasted marshmallows he was searching amazon to add one to his wishlist, I'm still not sure whether one is going to arrive anytime soon!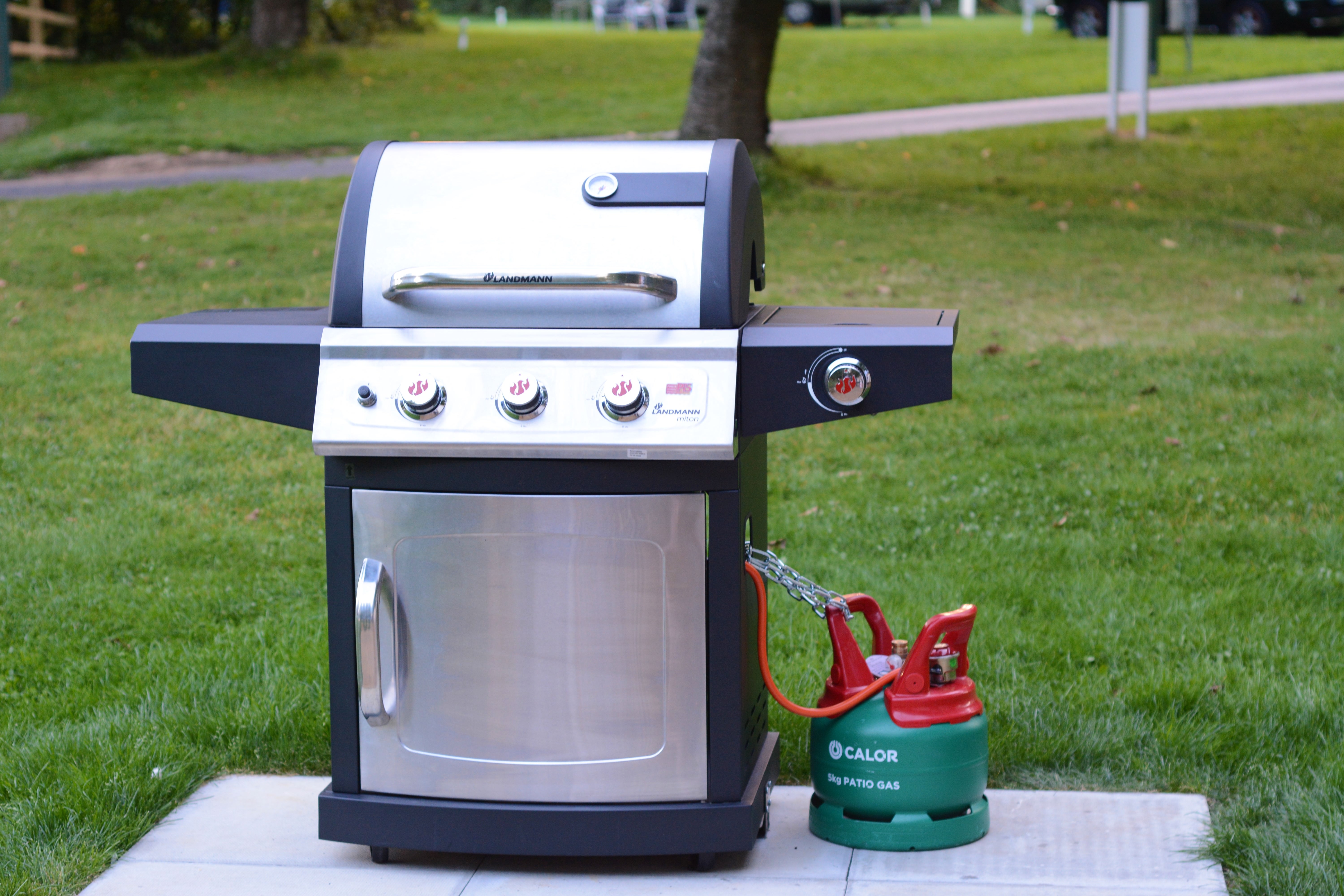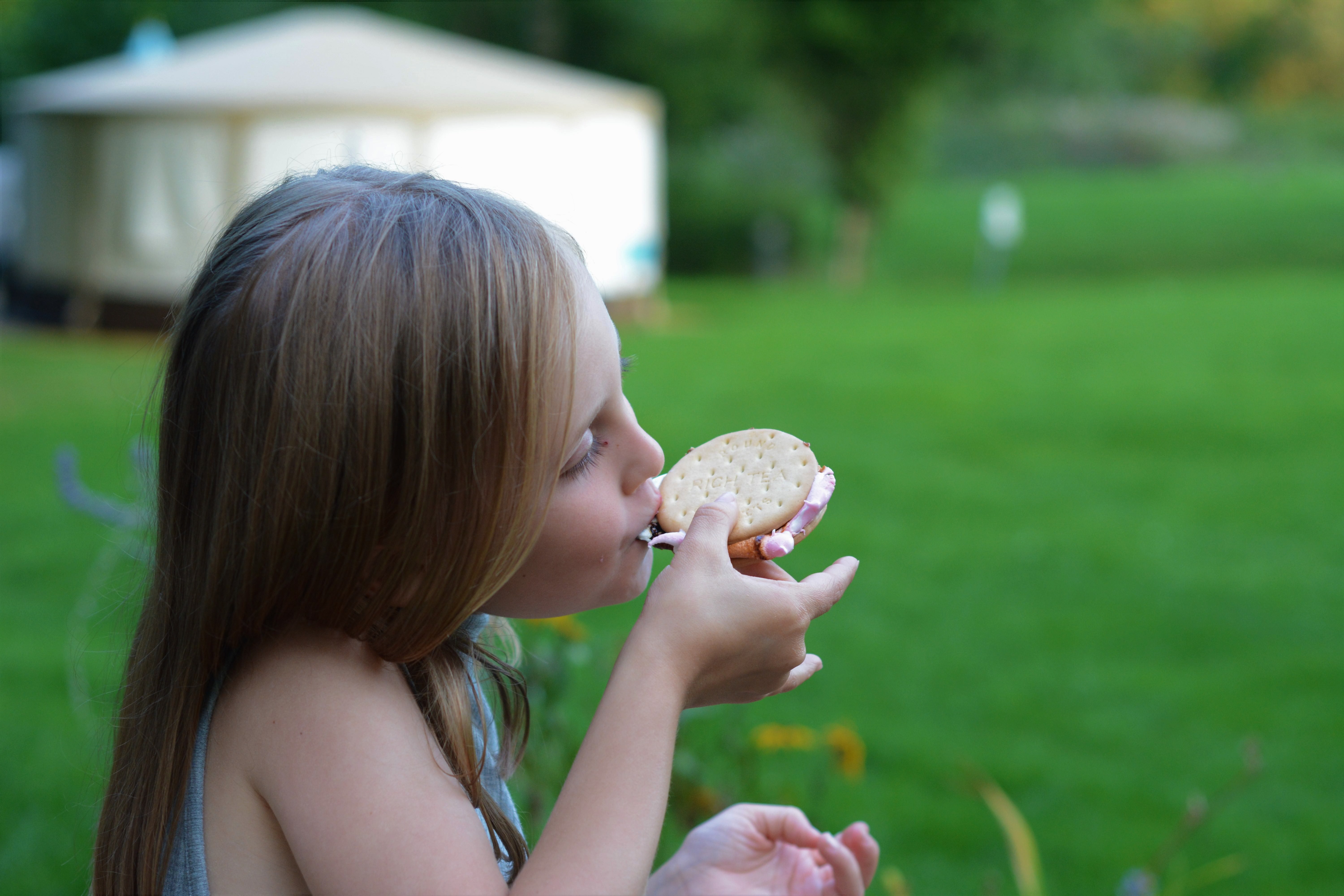 The girls however just loved the marshmallows and I genuinely had to go and shower them in the wash block which was just opposite the yurts to get the sticky sugar out of their hair! Whilst having the toilet and shower blocks right opposite the yurts meant it could be busy at times especially in the evenings when people were getting ready for bed it was pretty convenient when you have a 6 year old with new found confidence of doing things by herself and a 2 year old recently potty training. So for us it was probably a godsend really.
Although you could of course stay on the site, the location also lends itself to even more adventures, whilst we were there we drove the 45 minutes for a day trip to Brighton where we had never been before, visited the British Wildlife Centre, a place that the girls loved and on our return journey home we had so much fun at Chessington world of adventures. All of which I will write about in separate posts soon.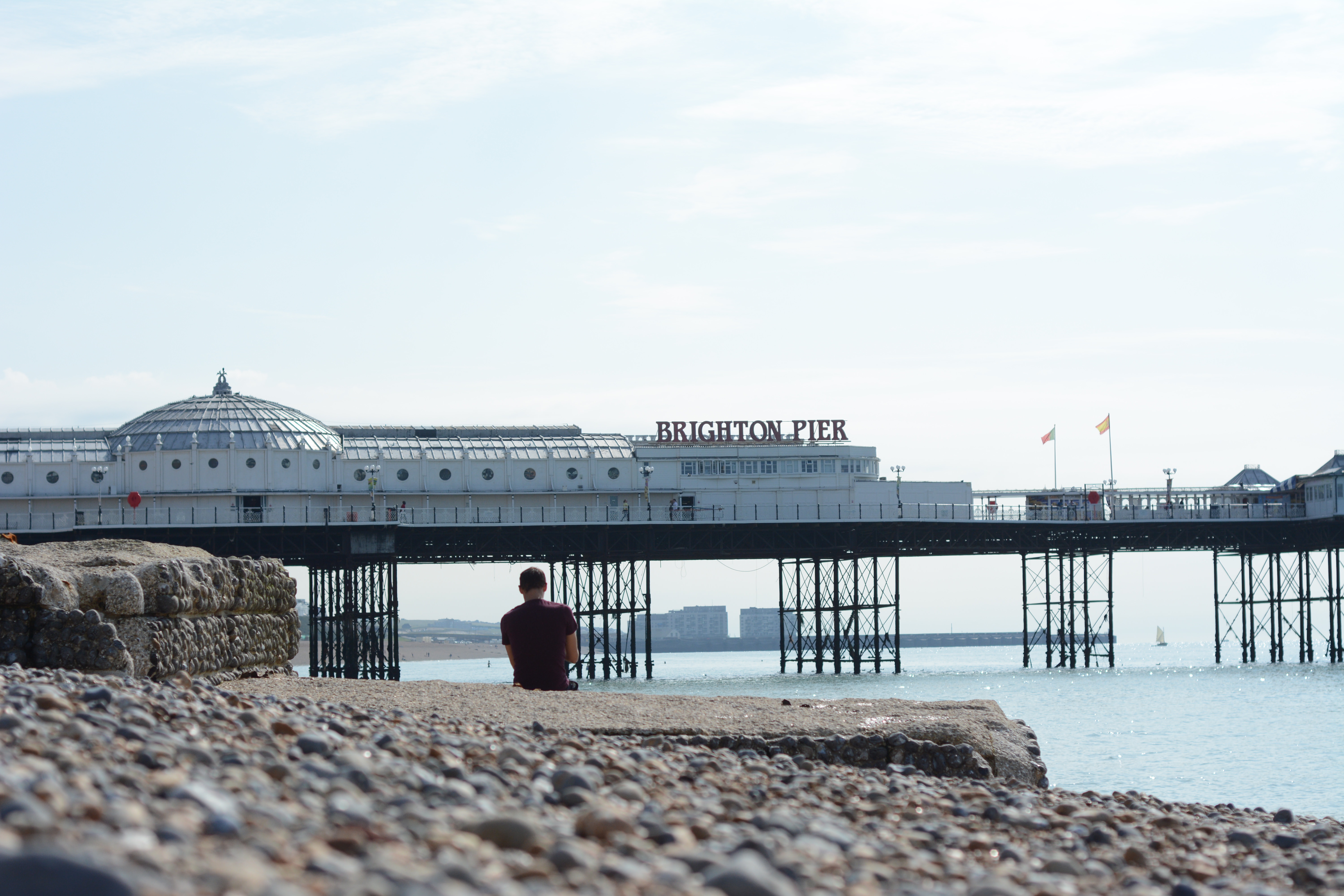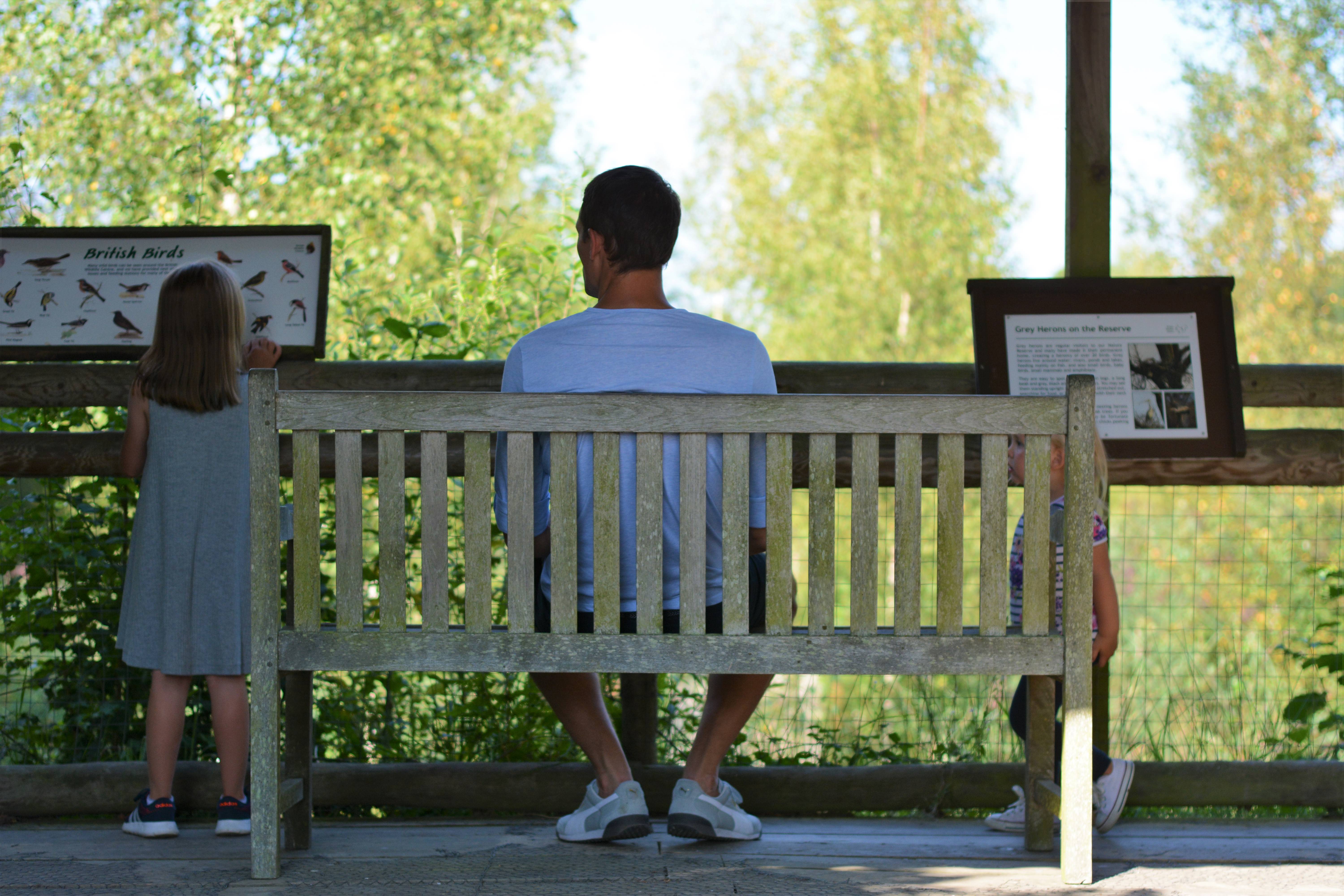 I must admit though that my most favourite part was relaxing around the site, we would sit and watch as the girls ran around on the dewy grass, see them pick flowers and have races back to us or sit together at the table and play cards. This will always be the place we taught Roma how to play snap! There is something so magical about sipping on coffee outside early in the morning, breathing deeply, listening to the silence, before hearing the echo of your children's laughter. Or similarly drinking wine at the end of the day and seeing their little pyjama clad bodies teamed with slipper socks and trainers to eek the last of the evening light. There wasn't anyone in the other two yurts whilst we were there but as the girls played hide and seek around them I could imagine sharing it with friends or family, how wonderful it would be. There was also two parks, the one with all the climbing and obstacle equipment was a big hit with both the girls and there was so much beautiful space to explore around there, it was quite a big site but could feel so peaceful and secluded too.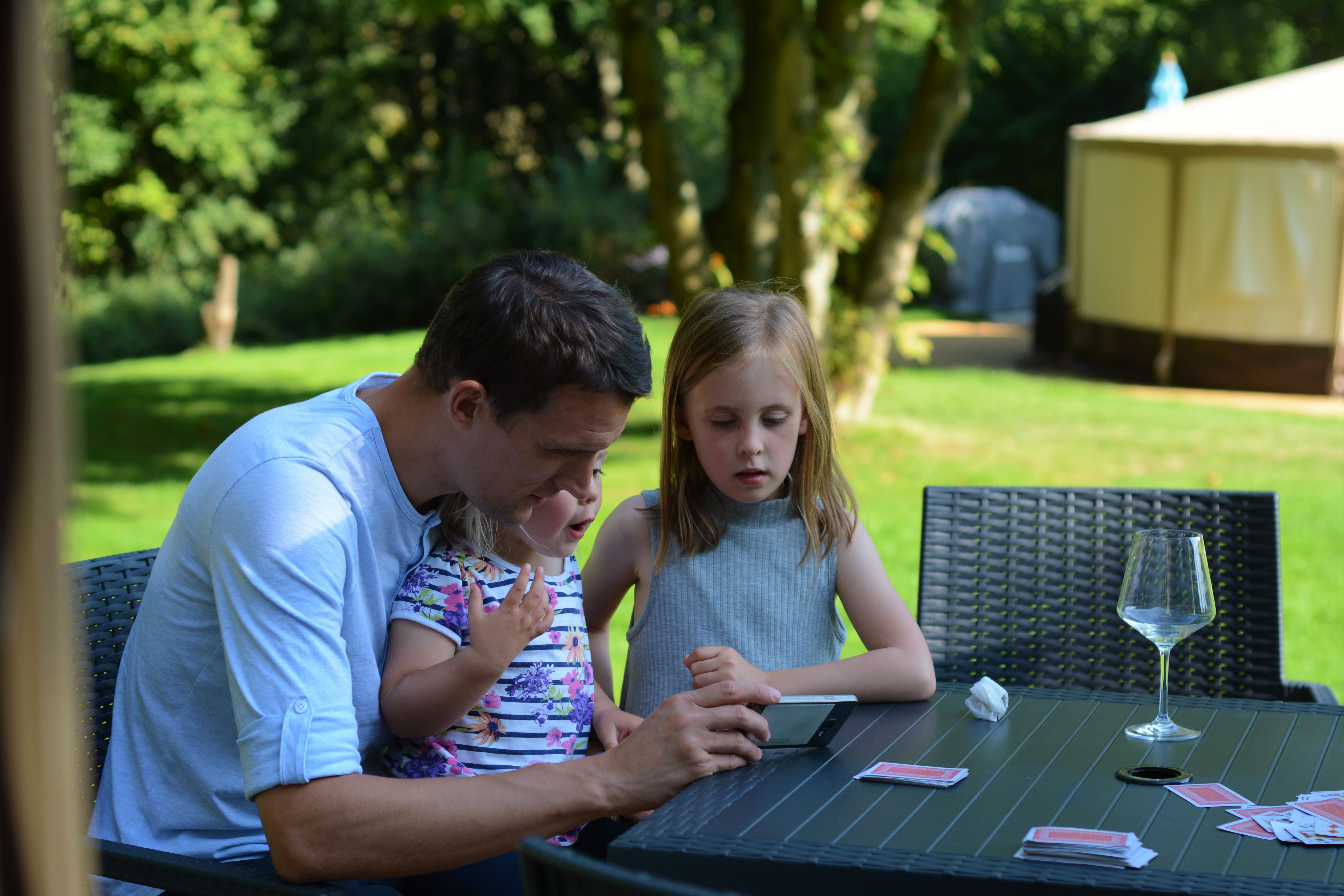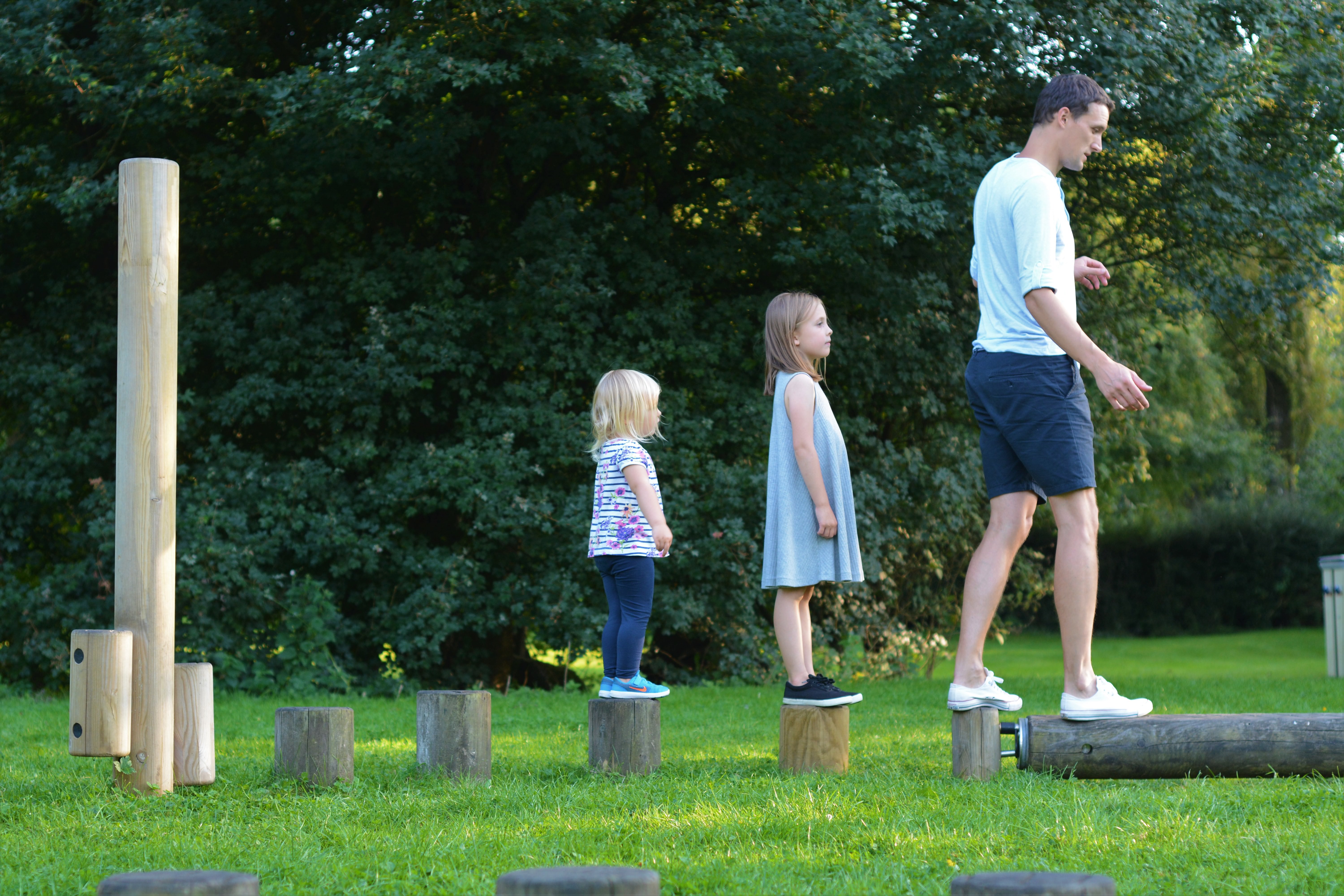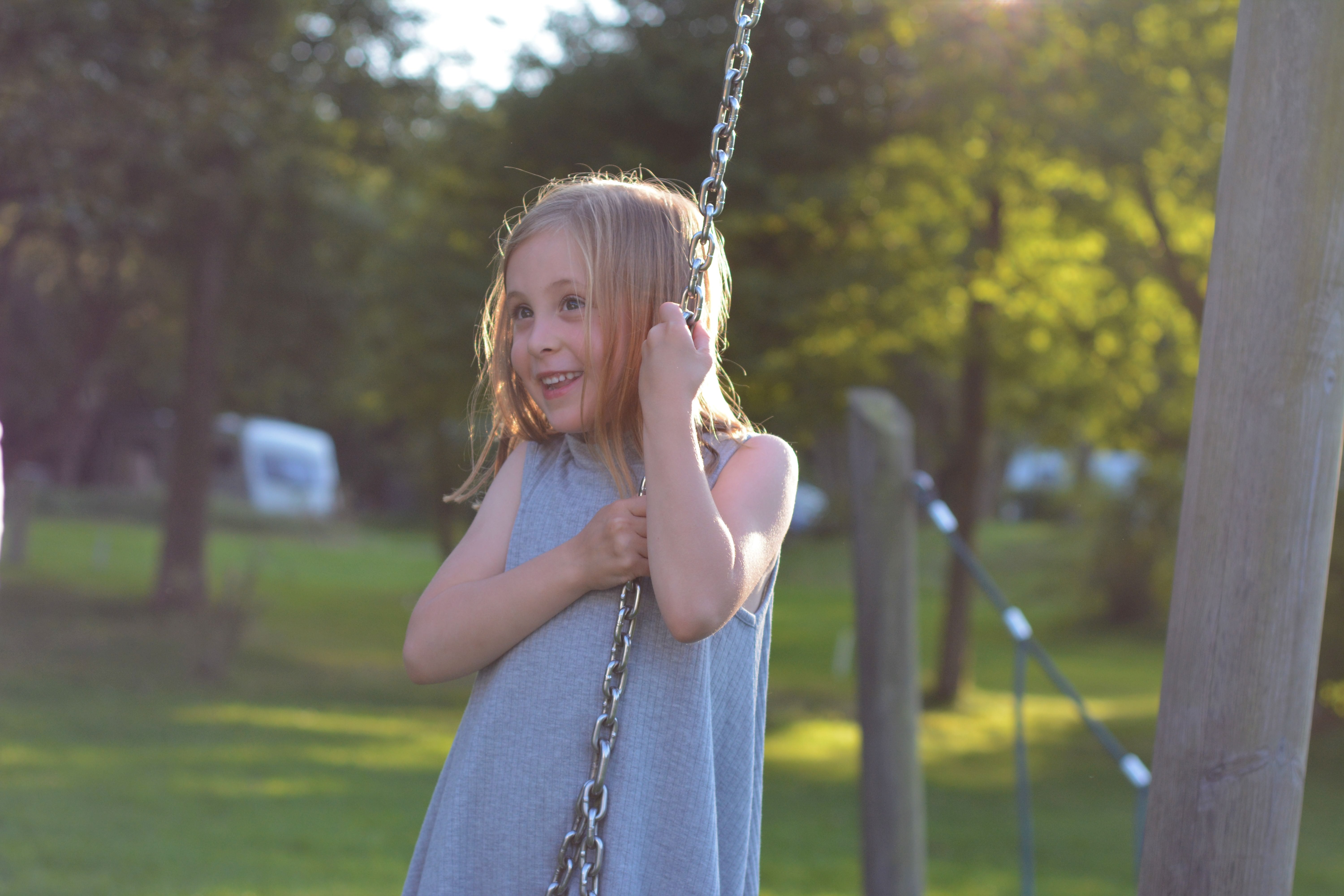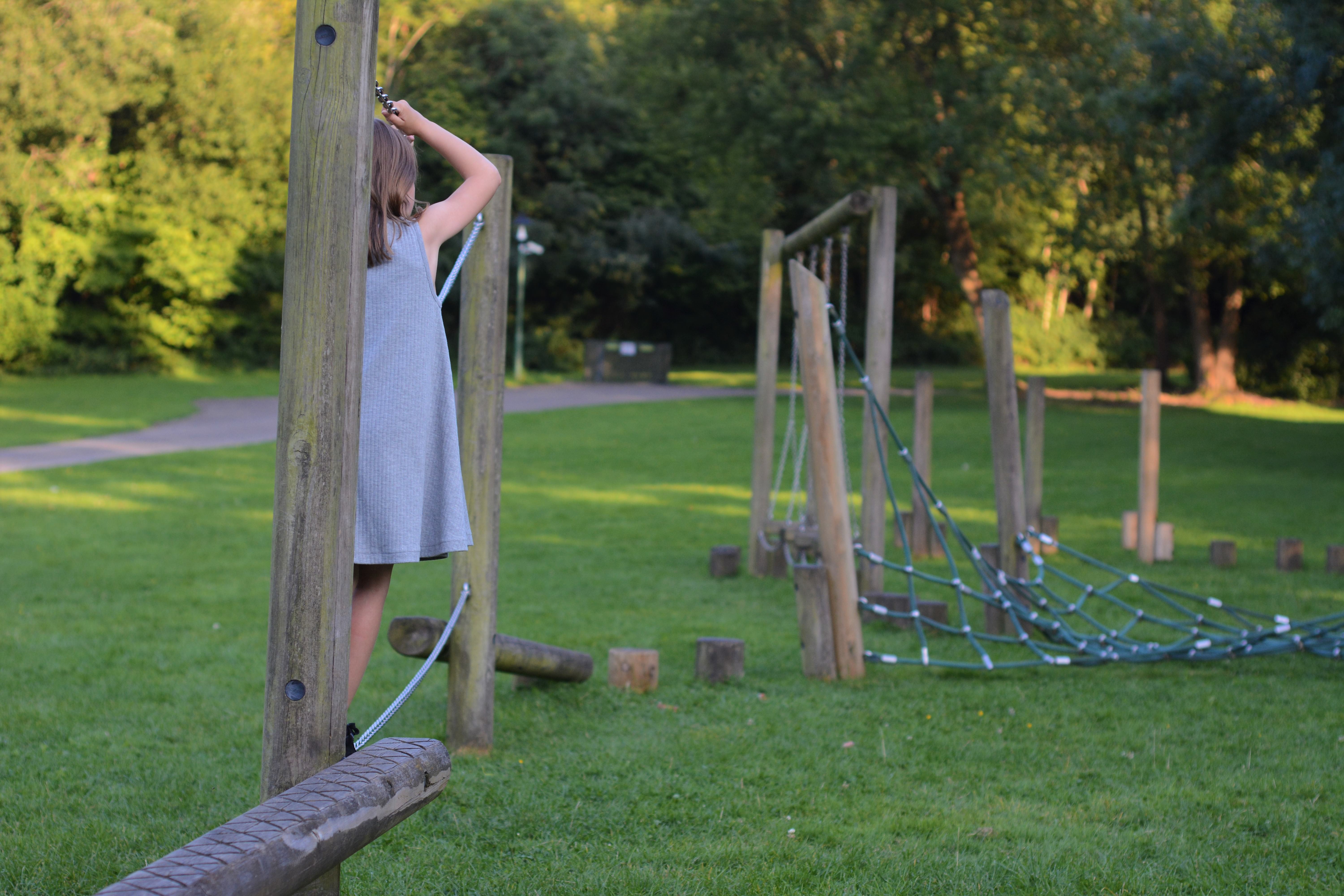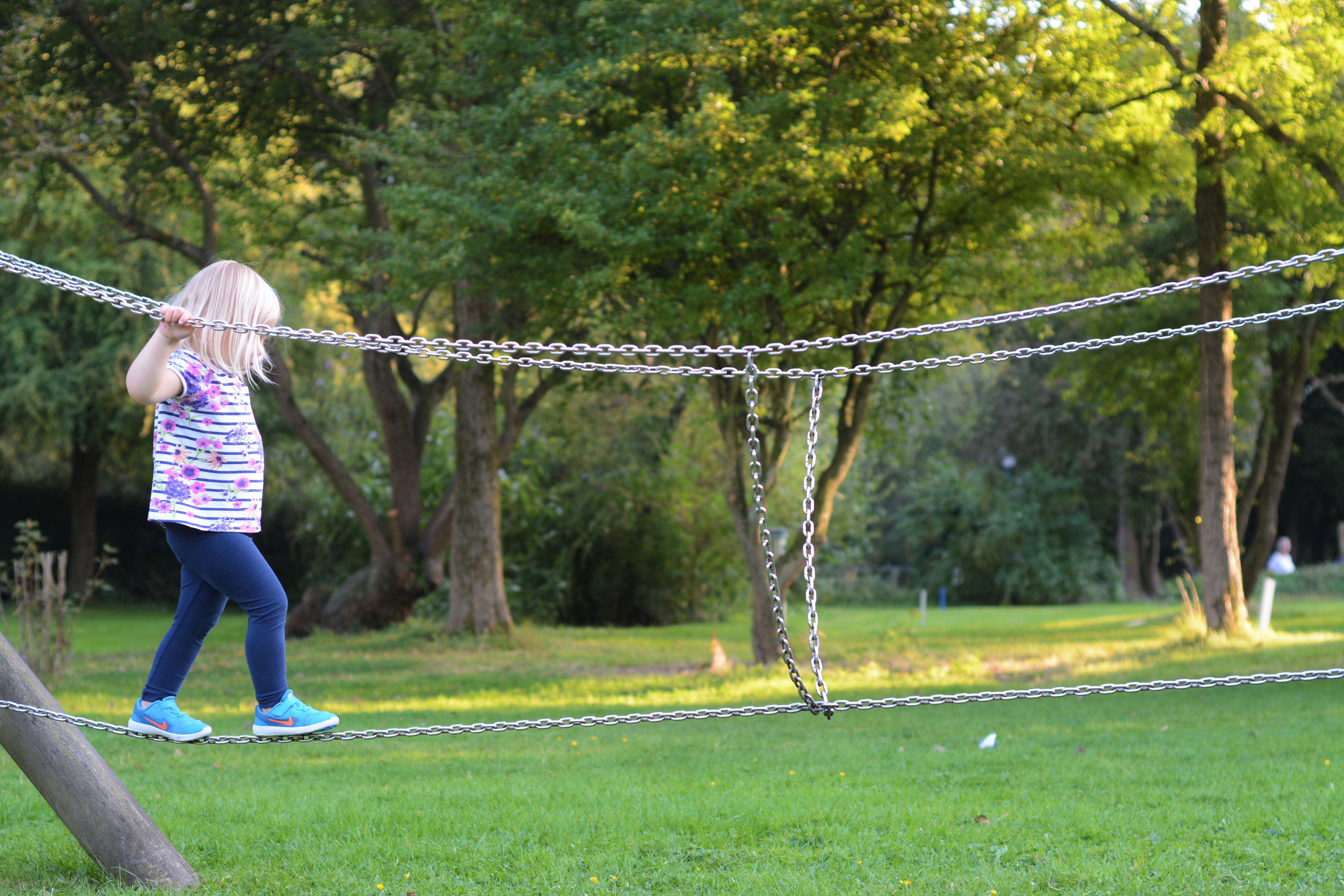 I love these photos we took as the sun was setting and we just had fun together. I remarked to Eddy a few times about how relaxed I had felt. Probably more relaxed than in a long time actually which may have been to do with the end of the summer, the weather and definitely helped by the fact that my phone signal was quite bad! I really think it gave me time to switch off a bit though and enjoy the moment, the simple life…..but with luxuries thrown in!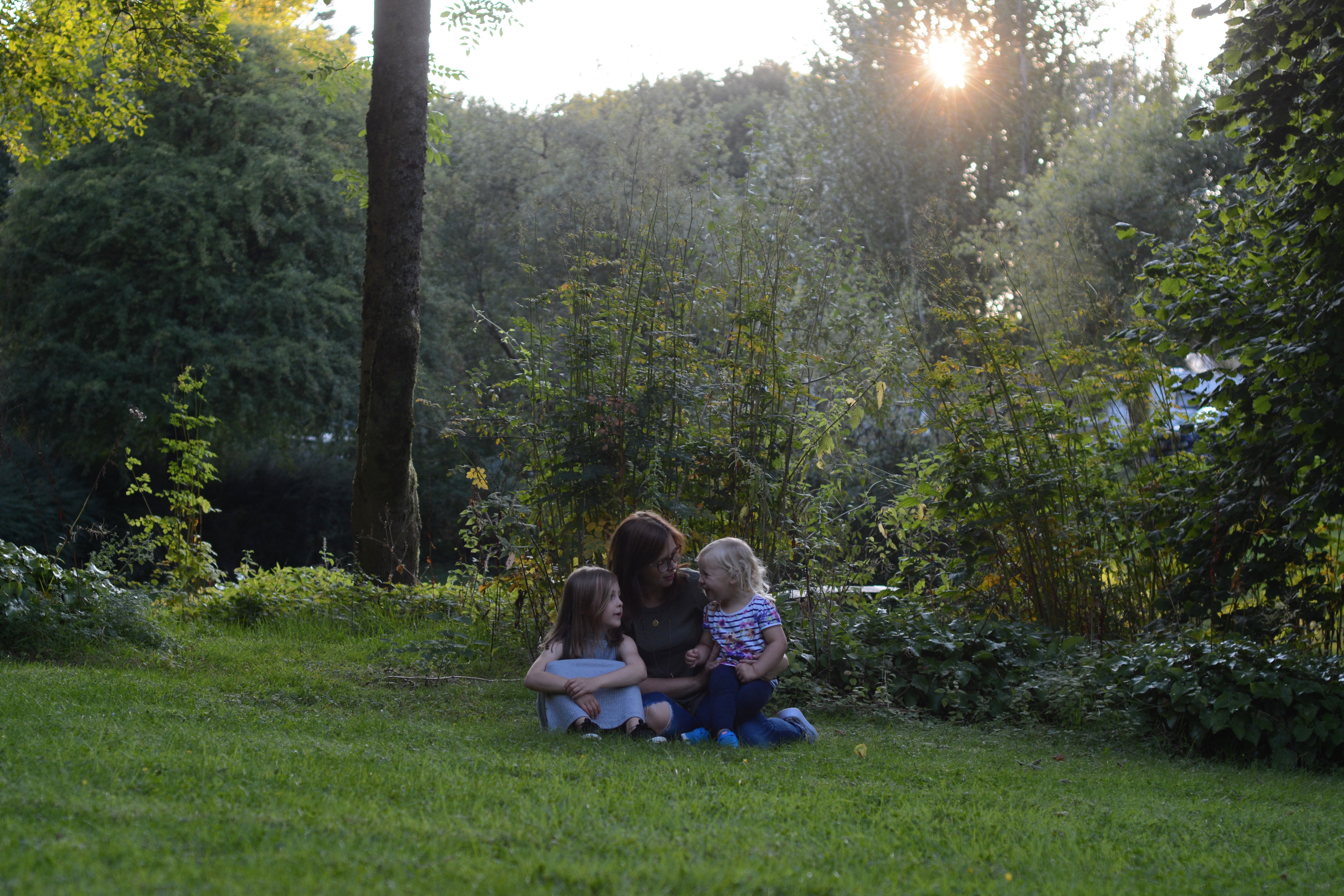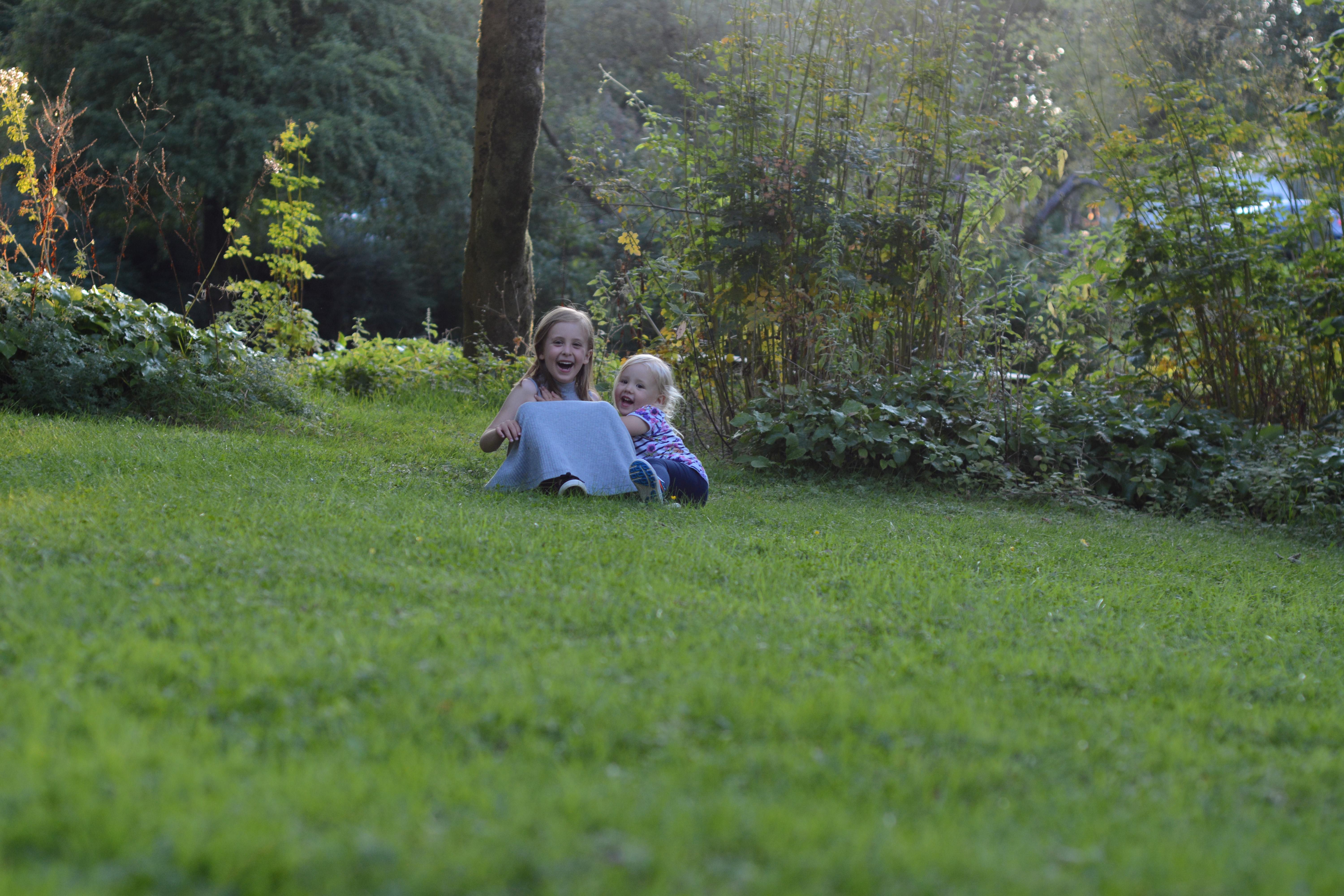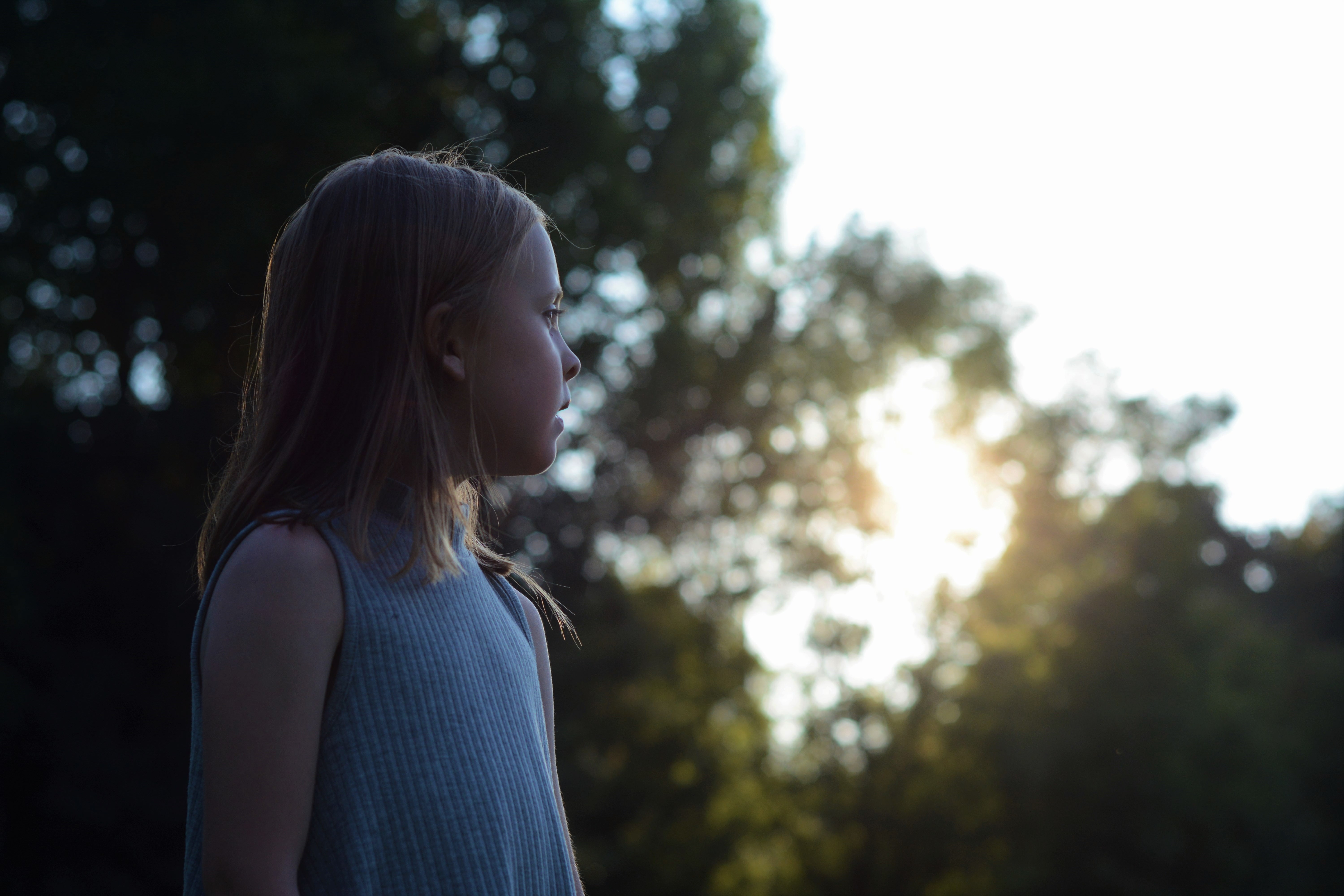 Sleep was the one thing that I was apprehensive about before we went as with having small children sharing is never easy, or at least not for us. At 6 and 2 we have never successfully all slept in the same room and I of course was aware it would not be the black out that they currently have in their separate rooms at home either. I was right, to a point, we did have a few late nights, we did have two very early starts, and yes Eddy did go for a drive one night to get Roma to sleep in the car and save everyone the pain of an overtired toddler shouting her sisters name over and over again. However, we were thankful she didn't wake her sister who slept till 7 every day, we were joyous that last morning when everyone (except me) slept in and no matter what, we made it work, and we were all happy. I can't explain how happy and settled I felt when I would sit in the comfiest bed (oh my gosh it was comfy!) either at night as we settled down to sleep or in the morning when I woke up before the children to be able to look around and see their peaceful faces and know that they were mine. You never love your children more than when they are sleeping do you and as cheesy as it sounds I did lie there and think what a lucky Mummy I am.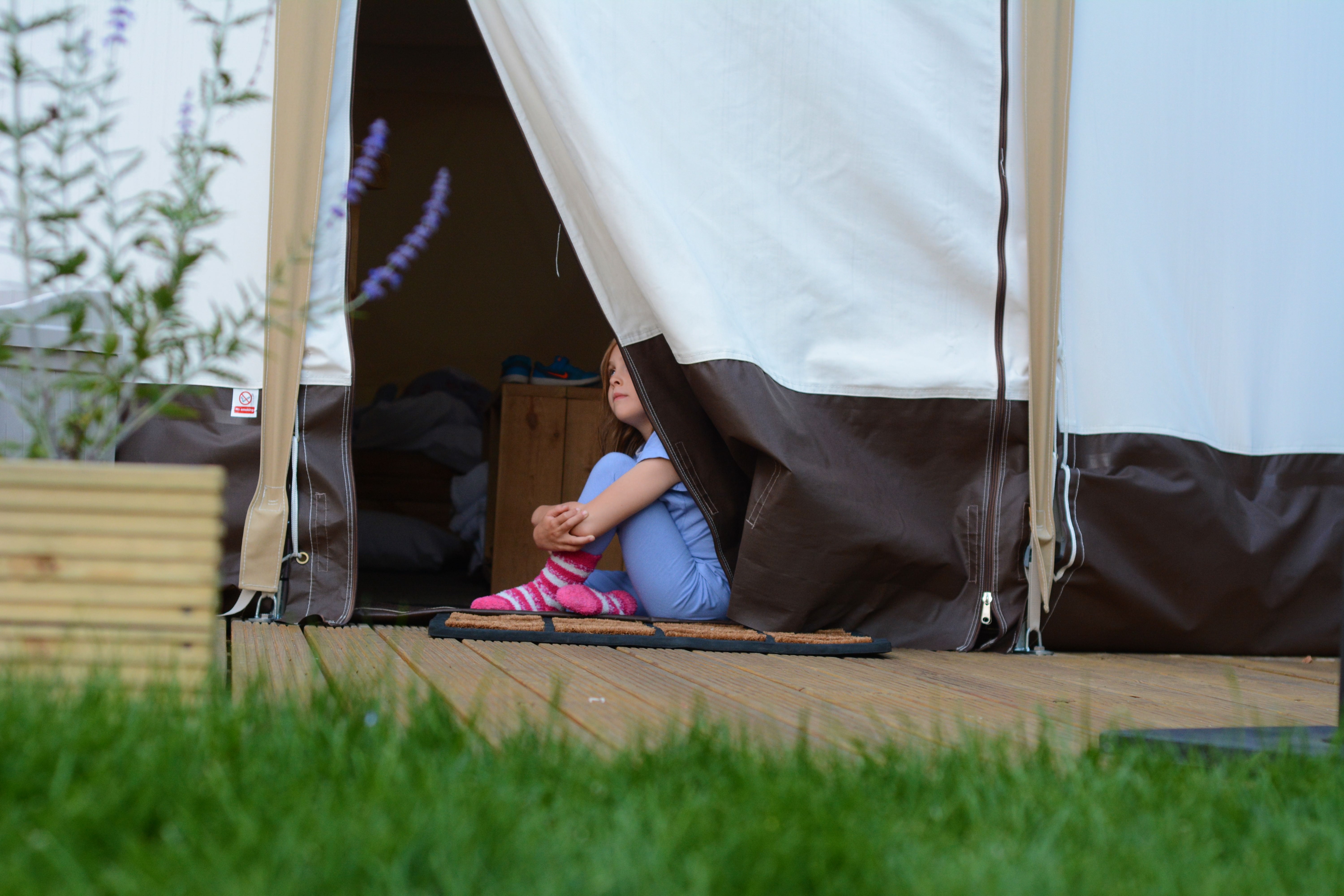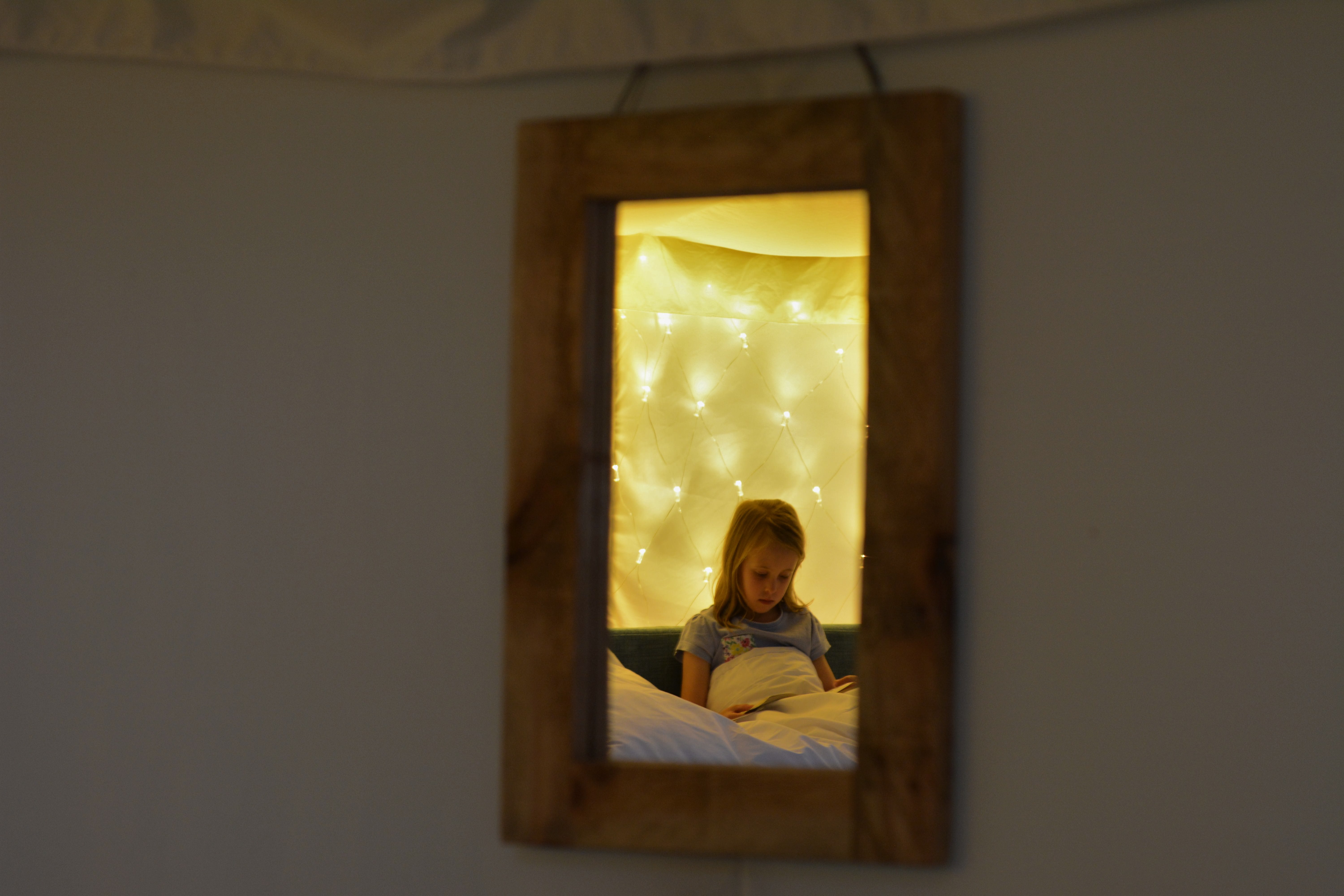 Our time was without doubt helped by the weather, it meant we could relax outside in the evening whilst the children slept and allowed us time together (although a heater and lighting outside would be the ultimate of luxuries here) it was a trip of connecting, being simply together and even though we did fit in a lot into the weekend I came away with the relaxed feeling I will now always associate with glamping, and despite the grumpy face here from Roma I think everyone did have the best time in our Skylark Yurt.
**Thank you to Experience Freedom and The Caravan and Motorhome Club for working with us and inviting us to stay in their new yurts, it was a wonderful experience, a chance to further our adventures and thank you most of all for the glamping bug. I have called this our first glamping trip because I am almost certain it will not be our last! All words, pictures and content are my own.
I also filmed a little day in the life on the sunday whilst we were there for my youtube channel which features the yurt and the site so I have linked it here if you fancy a watch.