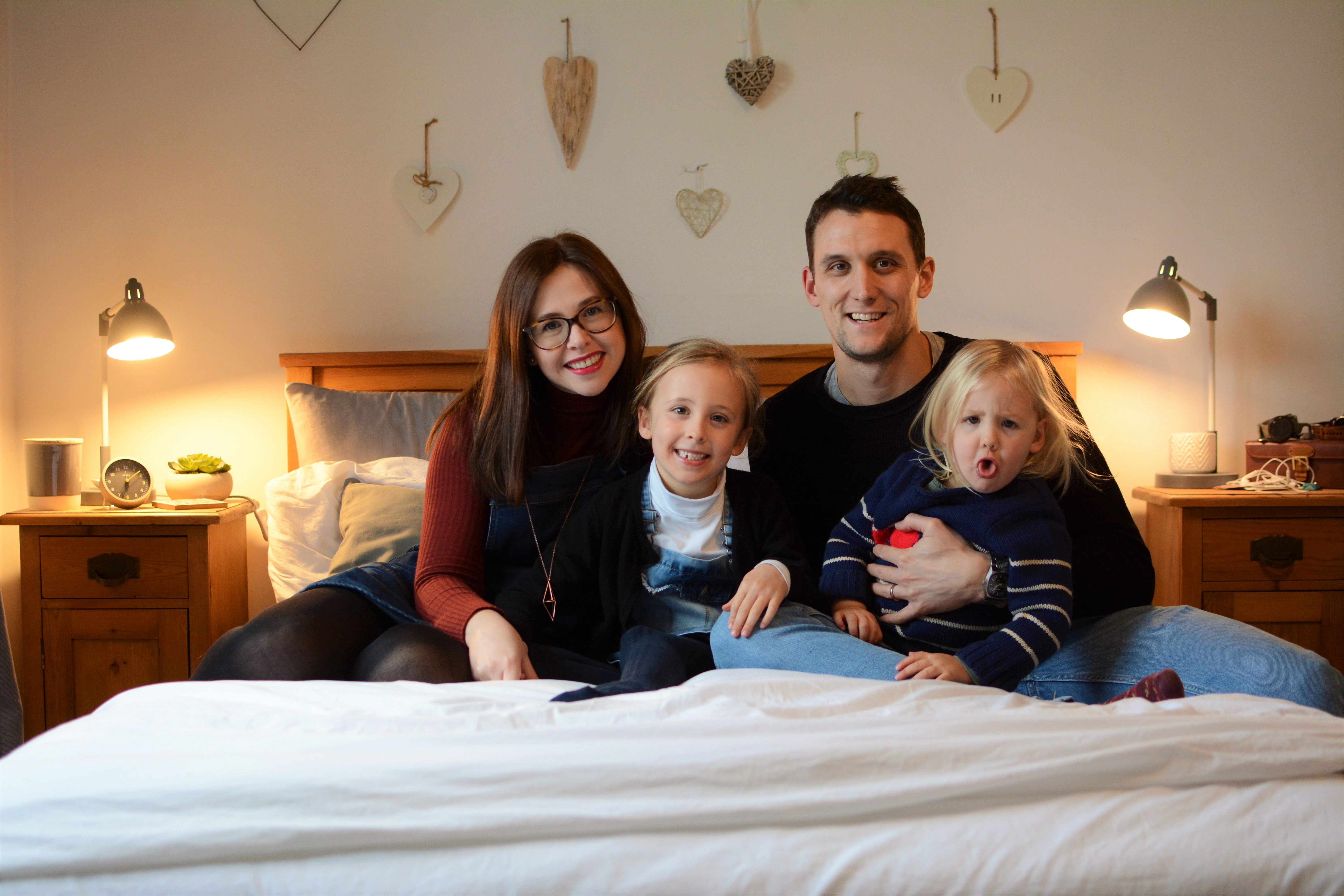 Every single month we take a family photo, the Me and Mine. I absolutely adore this project started by Lucy at Dear Beautiful purely because otherwise we would probably not have many family photos at all. Realistically though, no-one ever wants to have them taken, no matter what we are doing whether that is big plans, or no plans, the minute I say lets just take some family photos at least one person is less than fully on board. One is sulking, one runs off and the other is just not paying attention to anything I say as I try and keep my calm happy cool when that self timer goes off. Yet we do them and I am always super grateful each time I come to write the post and indeed look back on the photos to know that no matter what life looks like in the future we have the here and the now, captured in one frame…or rather 100 frames.
Because that's the thing. It is rarely easy and never ever simple. In fact more often than not there are more outtakes than there are smiling happy faces and I have started adding a few outtakes to the bottom of my posts each month, I love that. There seems to be so much of a story, so much personality wrapped up in the outtakes that even though I will still always strive for that money shot, you know the one where everyone is happy, smiling and looking right into the camera lens, at the same time, I will never discard the outtakes.
This month there seemed to be even more outtakes than usual with one child being more mischievous than ever….if that is even possible. So I thought I would share them in a whole different post and talk about the dynamics of life that is a little less than the perfect money shot and a chance to share the many, many outtakes I have!
So here you have it, spot the trouble maker and the one with the fake smile that never moves! I am always positive when I leave their side to look at the tiny picture on the back of my camera that I am going to see everyone actually smiling back at me. But more often than not these days I let out a sigh and a giggle at what I am greeted with. A funny face, a weird smile, an irritated look, I have captured them all, and they are usually all Roma! There is always one, and it is usually Roma. Bless her I don't mean to make her out to be the ruiner of all family photos, but you have to call a spade a spade I guess and at the moment, just 2 months shy of 3 years old, she is definitely the one that likes to make a scene, or rule the roost should I say.
I literally cannot help but laugh at the faces she pulls even though I know this makes her worse, in fact we all do it. We all laugh at her and Eva in particular rolls around the bed in fits of giggles as I say 'look at the camera then' in my best upbeat children's entertainer voice and suddenly the one shot where Roma is smiling nicely is the one where Eva is lying face down on the bed trying not to laugh…or indeed joining in with the craziness and waving at a non existent person behind the camera! Roma feeds off this and then does it more and Eddy tries to be stern to bring it all in order and it just descends into chaos every single time! I truly think she was born to entertain us this one.
We have learnt alot along the way with family photos and that is, you have to just embrace the crazy. When sitting and smiling clearly was not going to work Eddy tried the tickle instead, now of course this is not a fool proof method, think banged heads and people kicking their long legs in the air without a thought of other peoples faces (I'm looking at you Eva Dee) but it is enough to move on from the mixture of grumpy faces and funny ones and reset ourselves without anyone getting cross. There is no doubt though that afterwards, we all need a lie down and those 10 mins can feel like hours!!
It might be an irritation of the month every month but do you know what? We always remember it. I remember the ones where Eddy and I are not exactly on the best terms and yet we smile our best smiles when the camera timer flashes at speed. I remember the times we stood in the rain in the poppy fields and the children laughed at how wet we were getting. I remember the time we had to take family selfies in black and white because I was too poorly to get out of bed. I remember that we were all there. Ok so it's not the part of the month that everyone looks forward to and behind the photos there is usually a crossed word or two (or ten). But I look forward to them because I have these memories to take away and these photos to look back on in the future when I know that they won't remember those details. They will see what we looked like and attach their own emotions into the photo for themselves, and hey maybe Roma really will still be the trouble maker in years to come and we can all laugh about the fact that she was like that even at 2. Or Eva will need to be reminded in her teenage years of how much they made each other laugh and wanted to 'pile on'. Either way I know that they might not have thanked me on this cold Sunday afternoon but I also know that they will thank me in years to come when they see all these smiling and funny faces looking right back at them, and if nothing else it will give us all a laugh and the dynamics of our little family, just us.
xx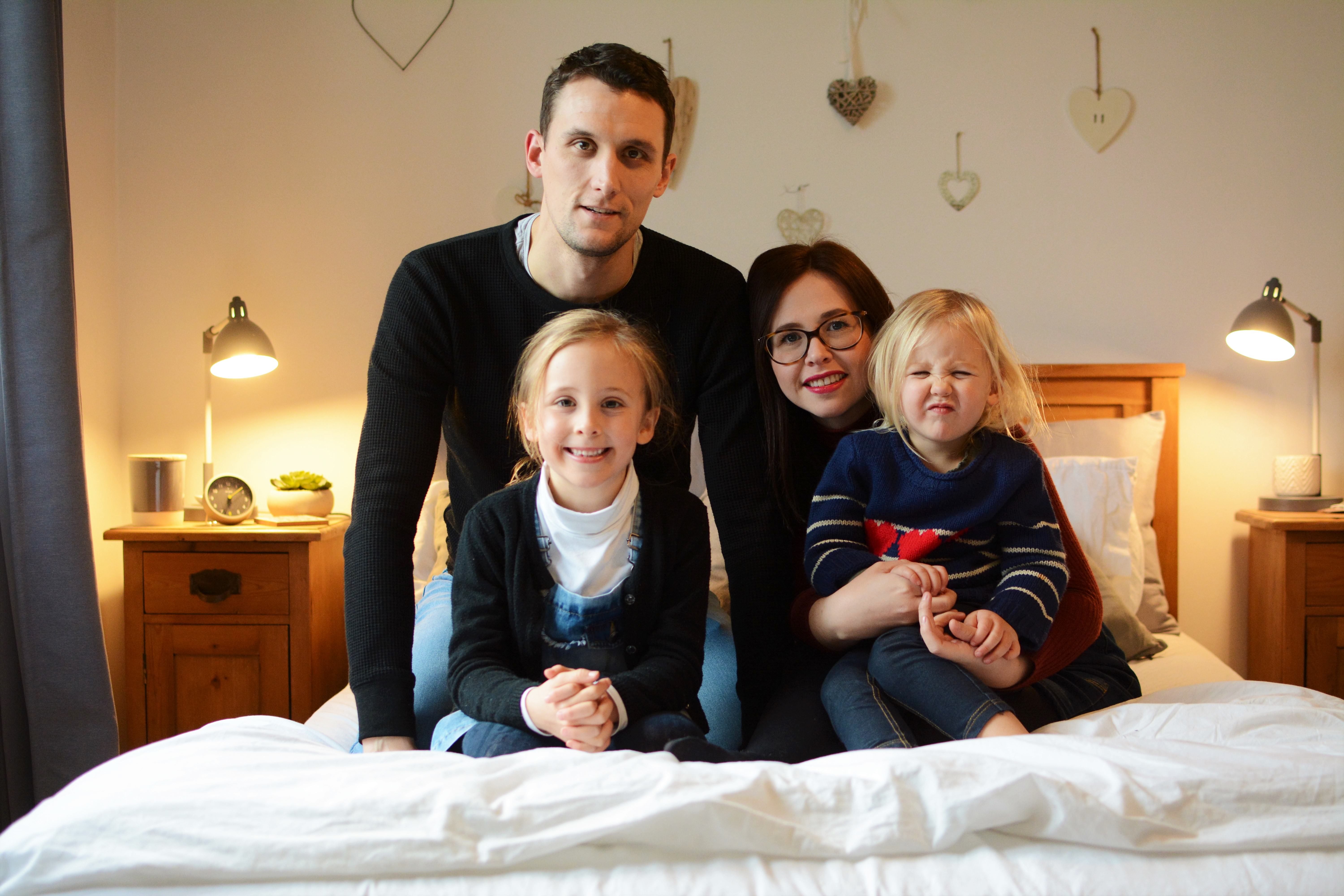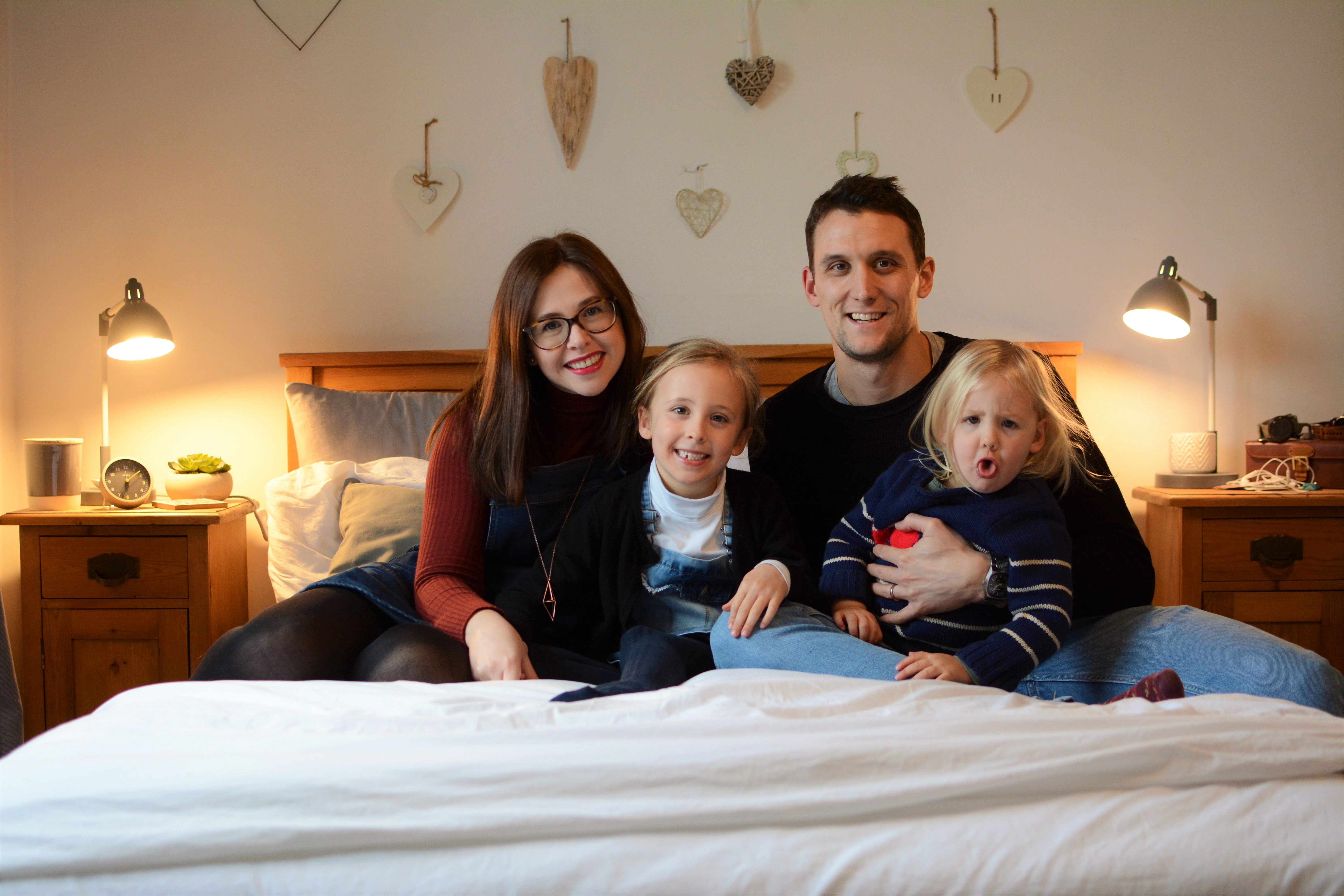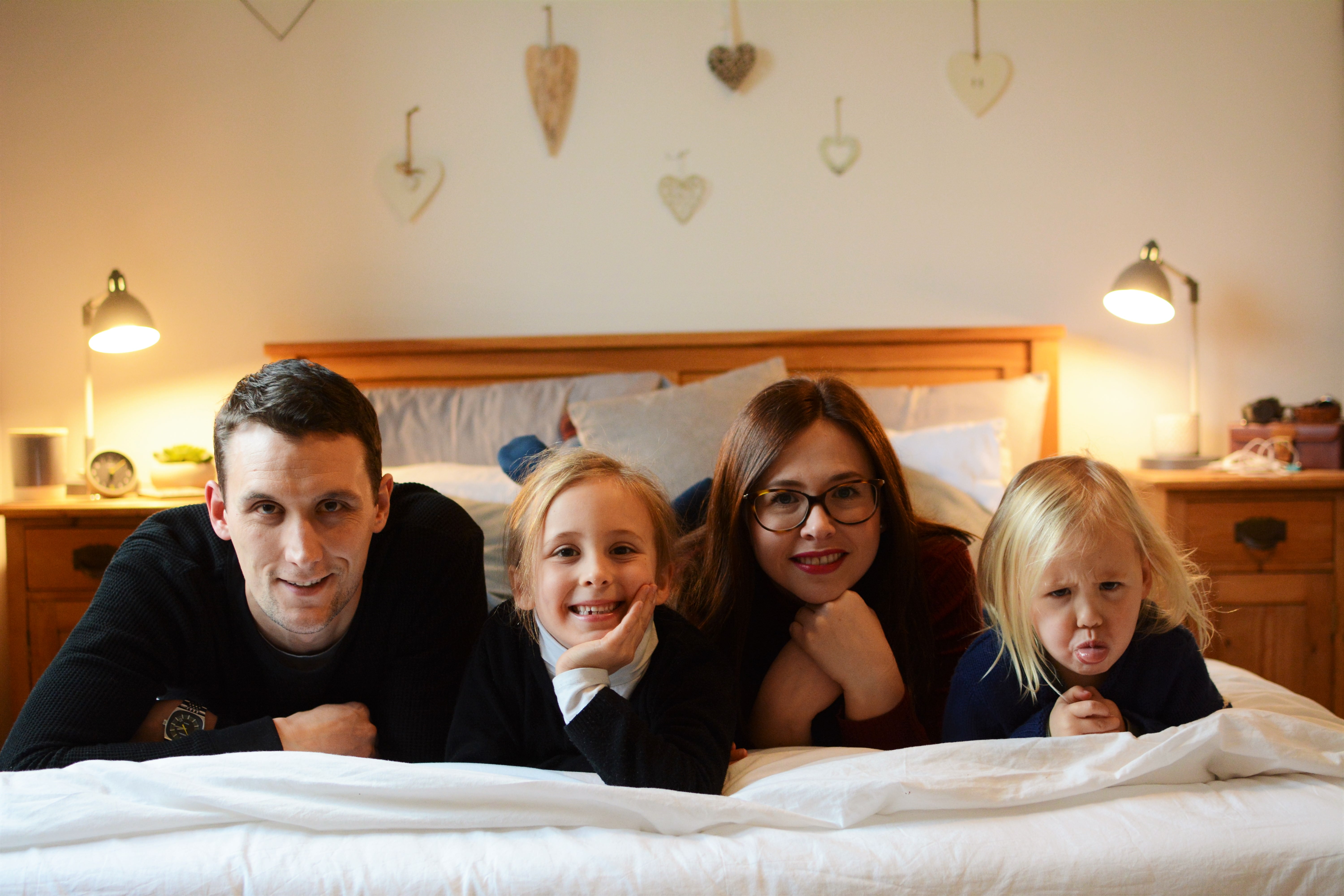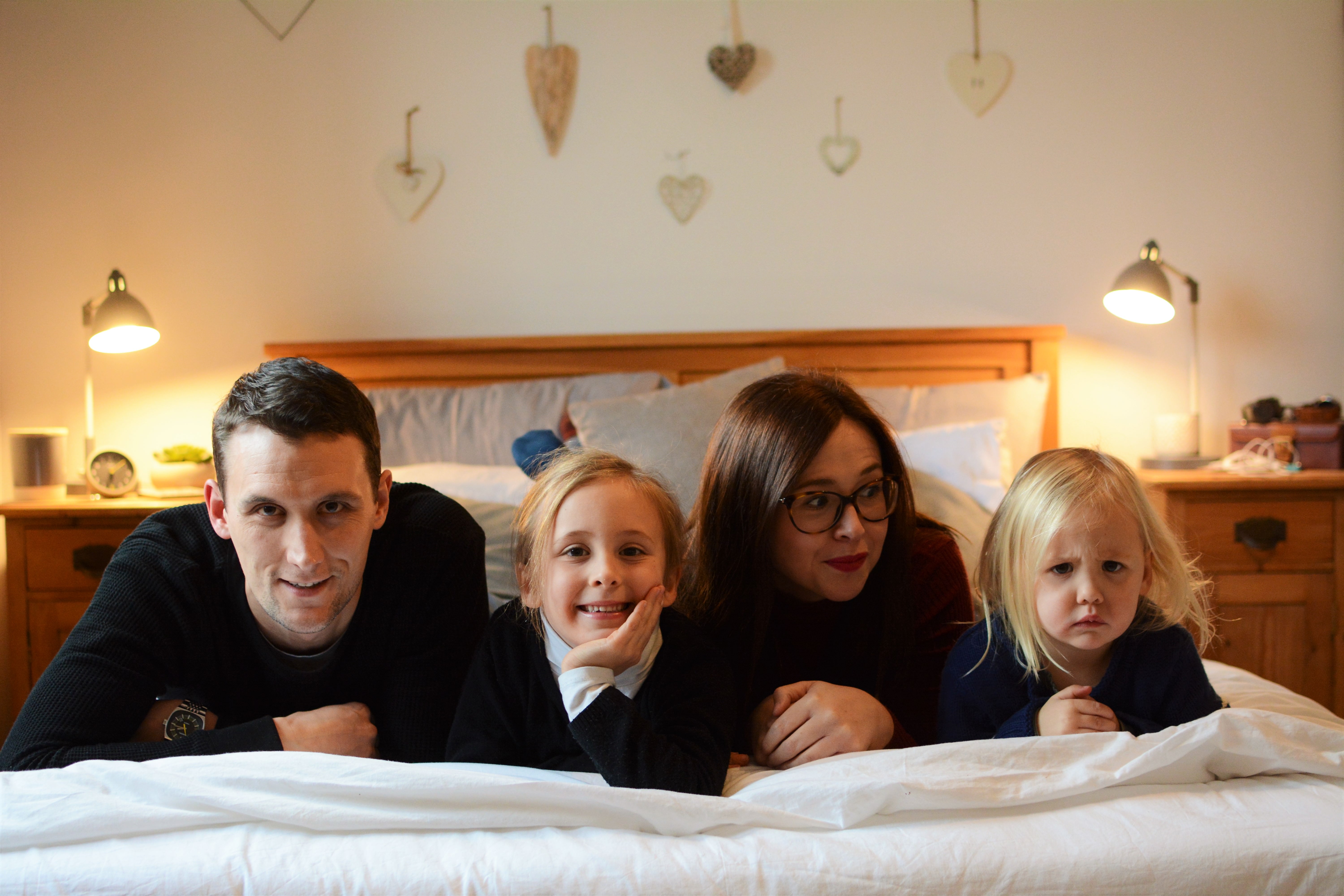 This is the kind of things that I encounter when setting up the camera. I like to call it the herding of Roma, or attempted herding of Roma should I say!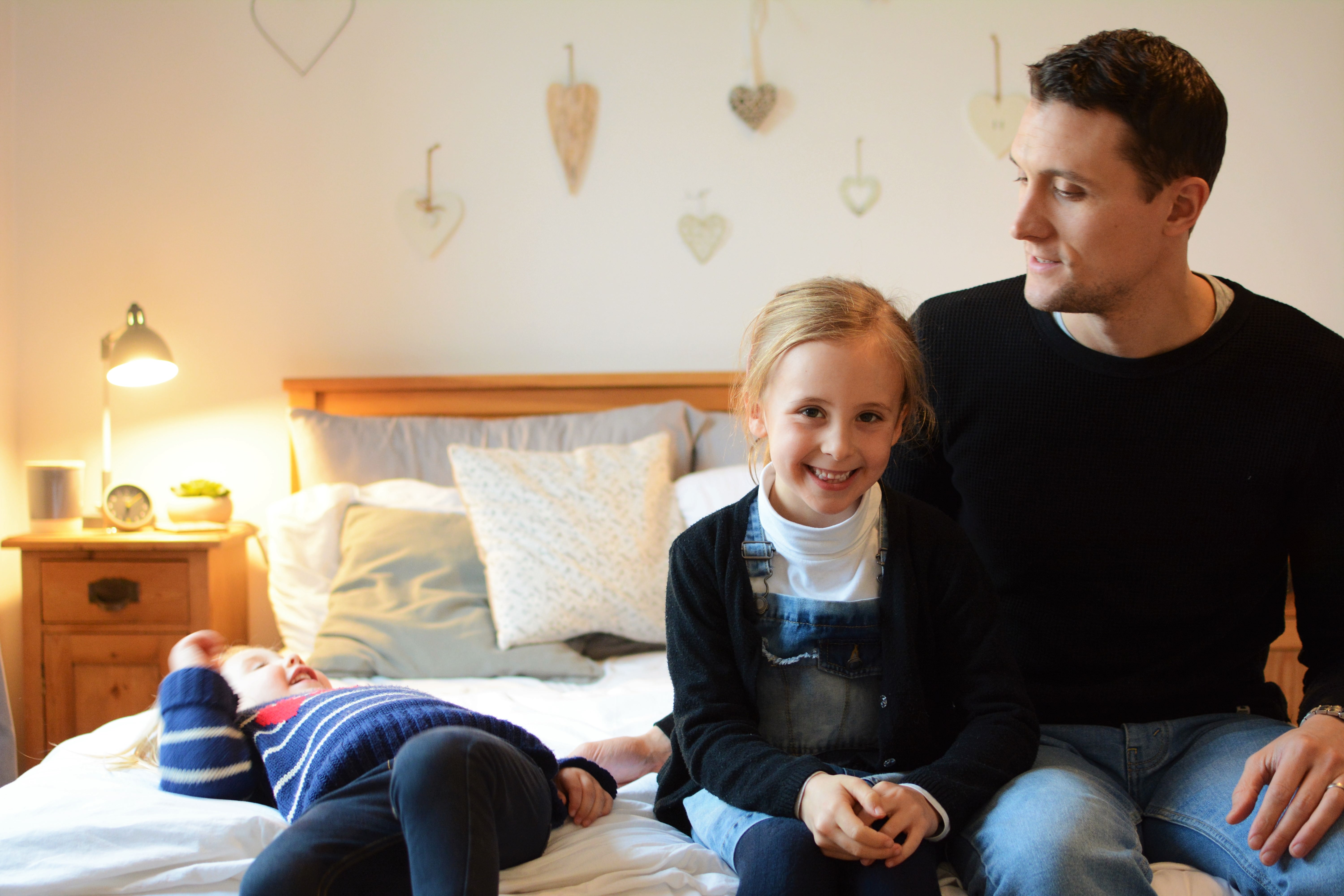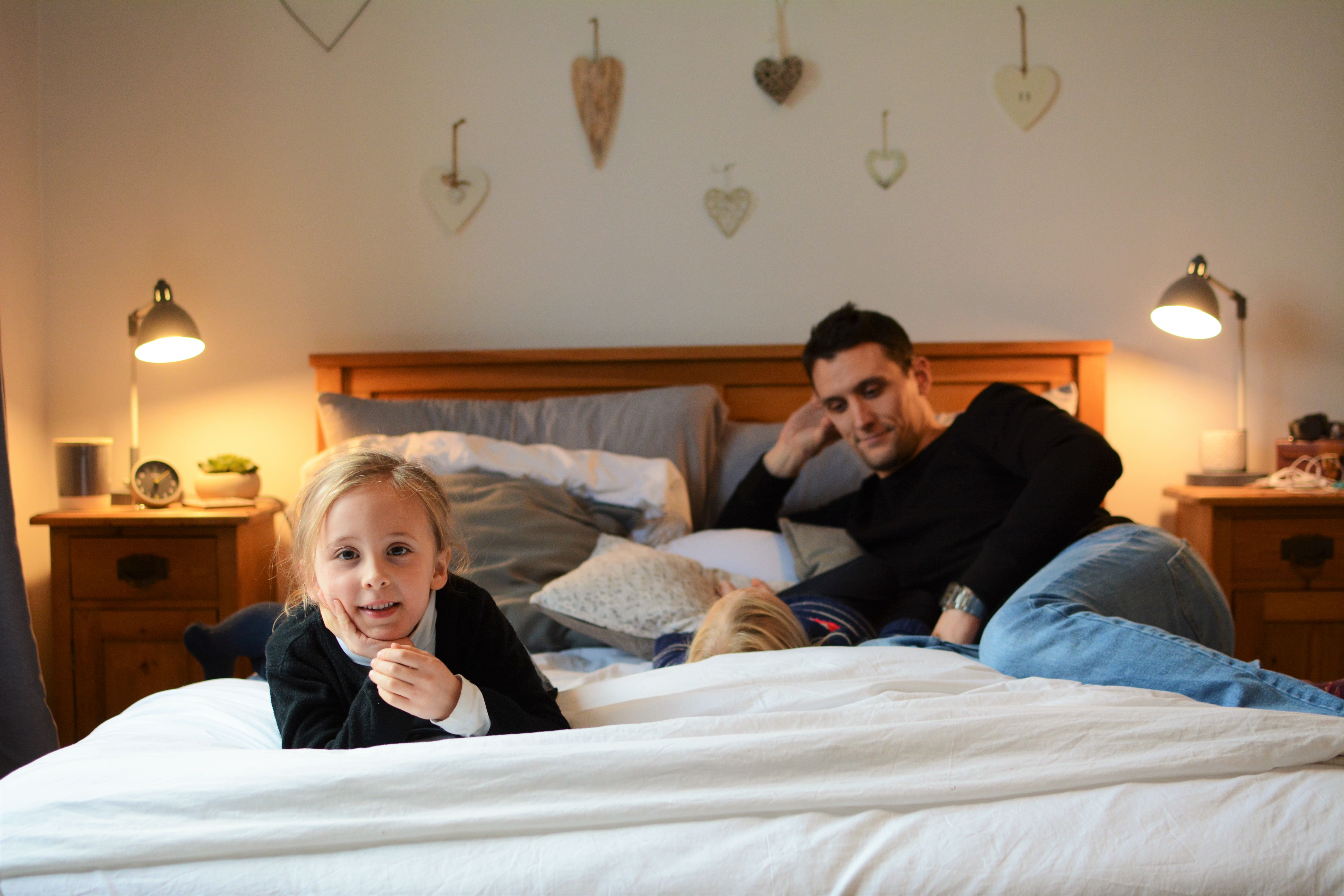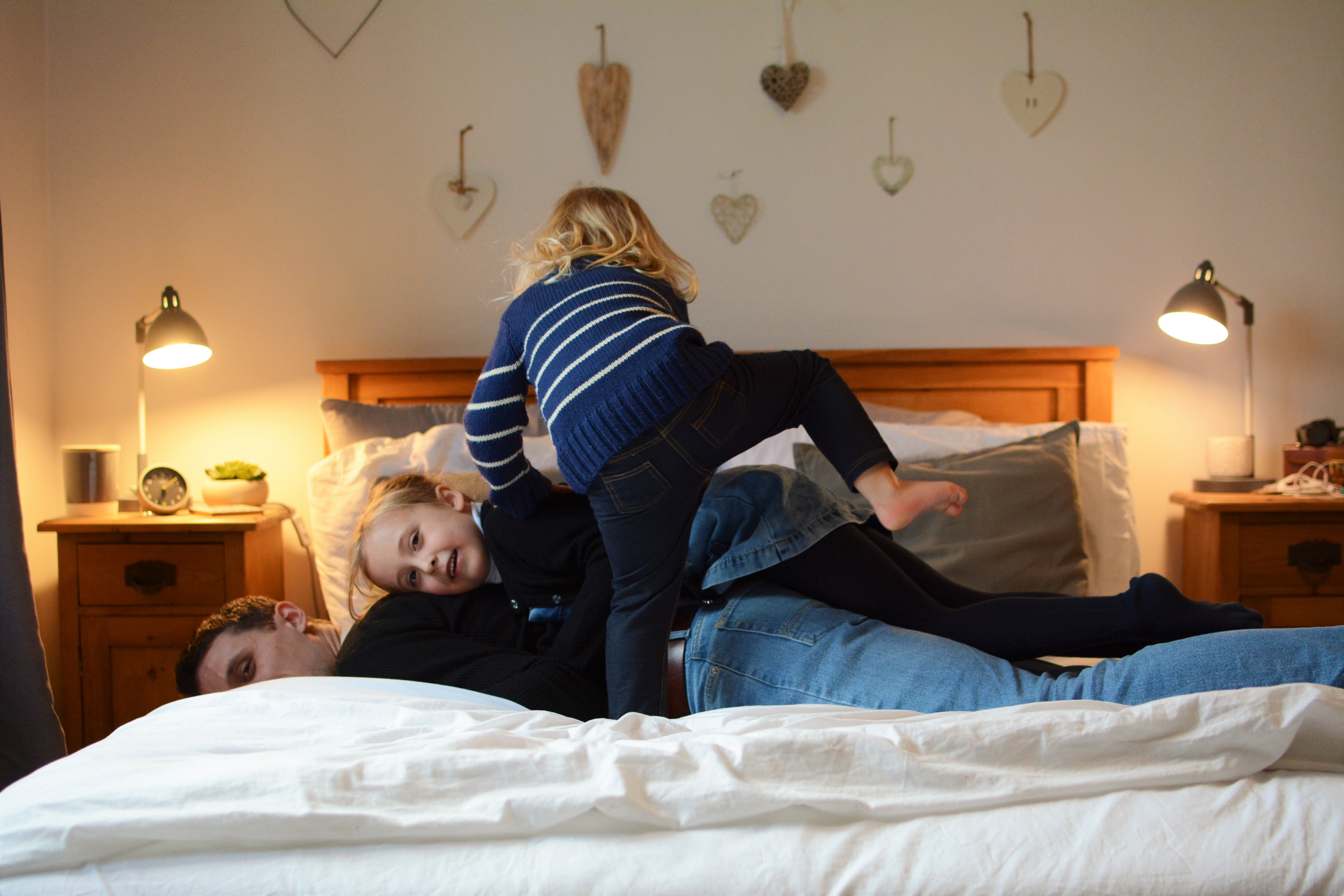 This is the face of a man who is thinking 'are we done yet?' Just as a child almost knocks over the tripod!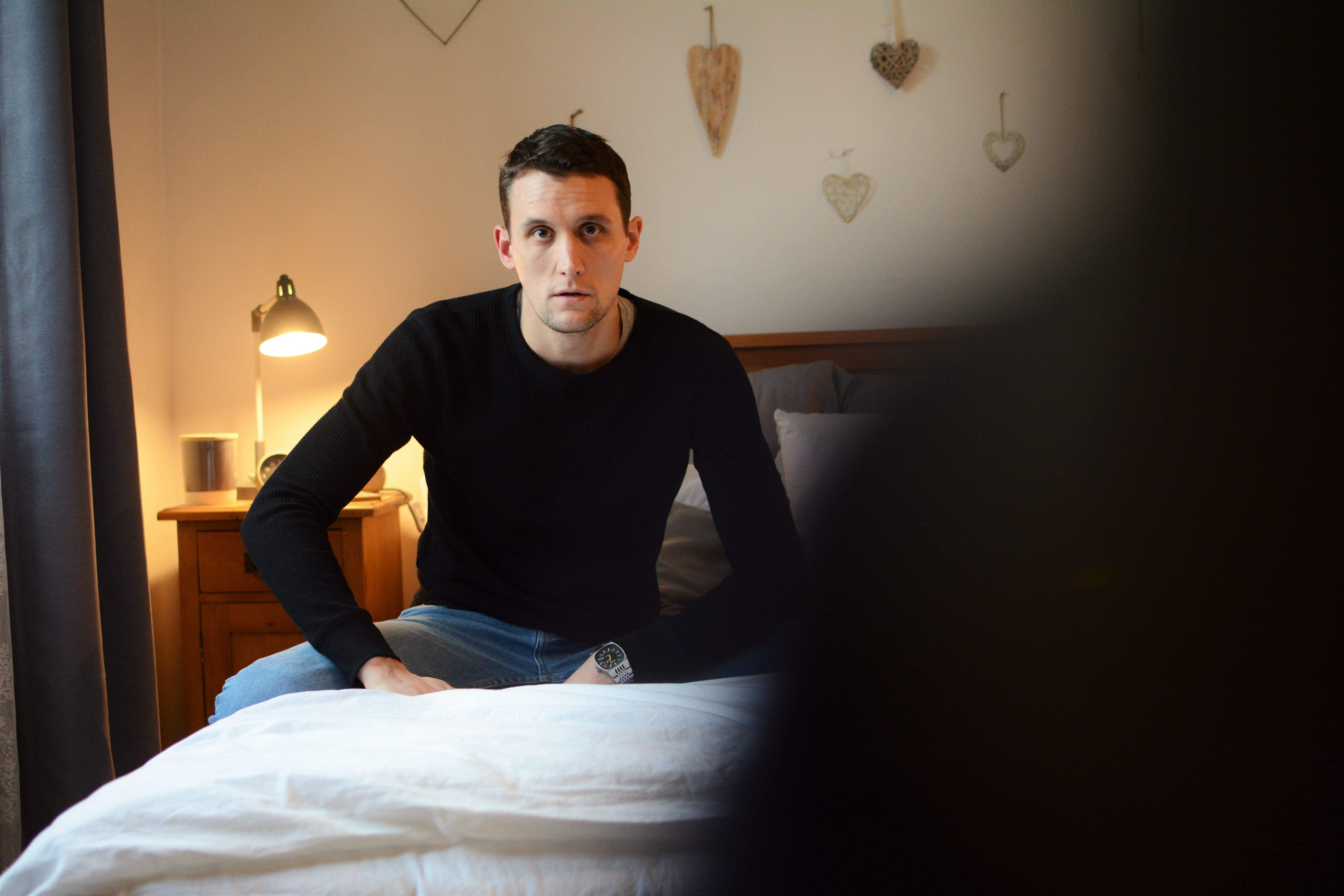 Thankfully Eva mostly takes it in her stride and laughs it off, even when Roma is trying to shove her face out of the way with her hand!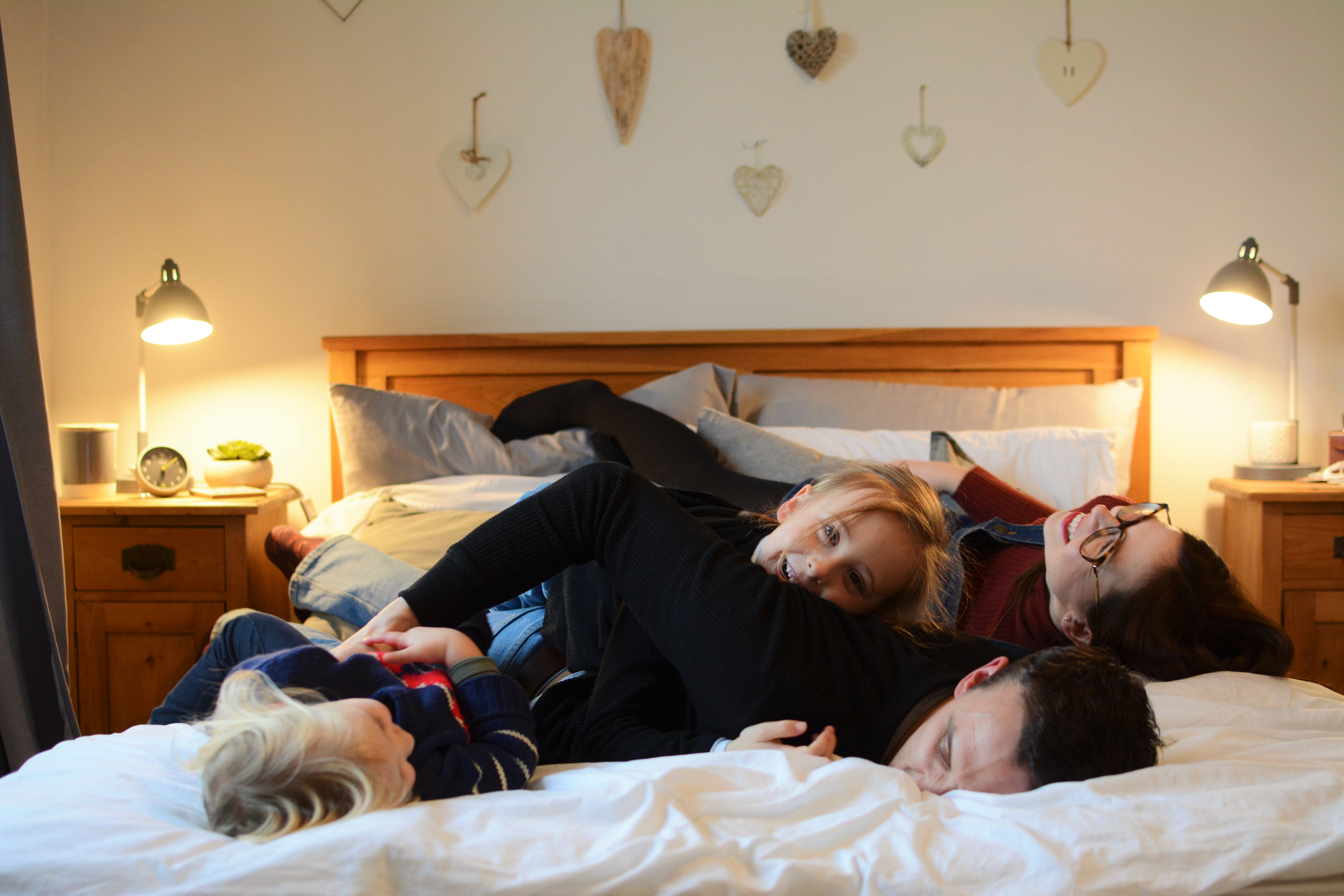 This is how we end up every time, exhausted and happy that its over, for another month at least and with all the optimism in the world that next month will be different…right?