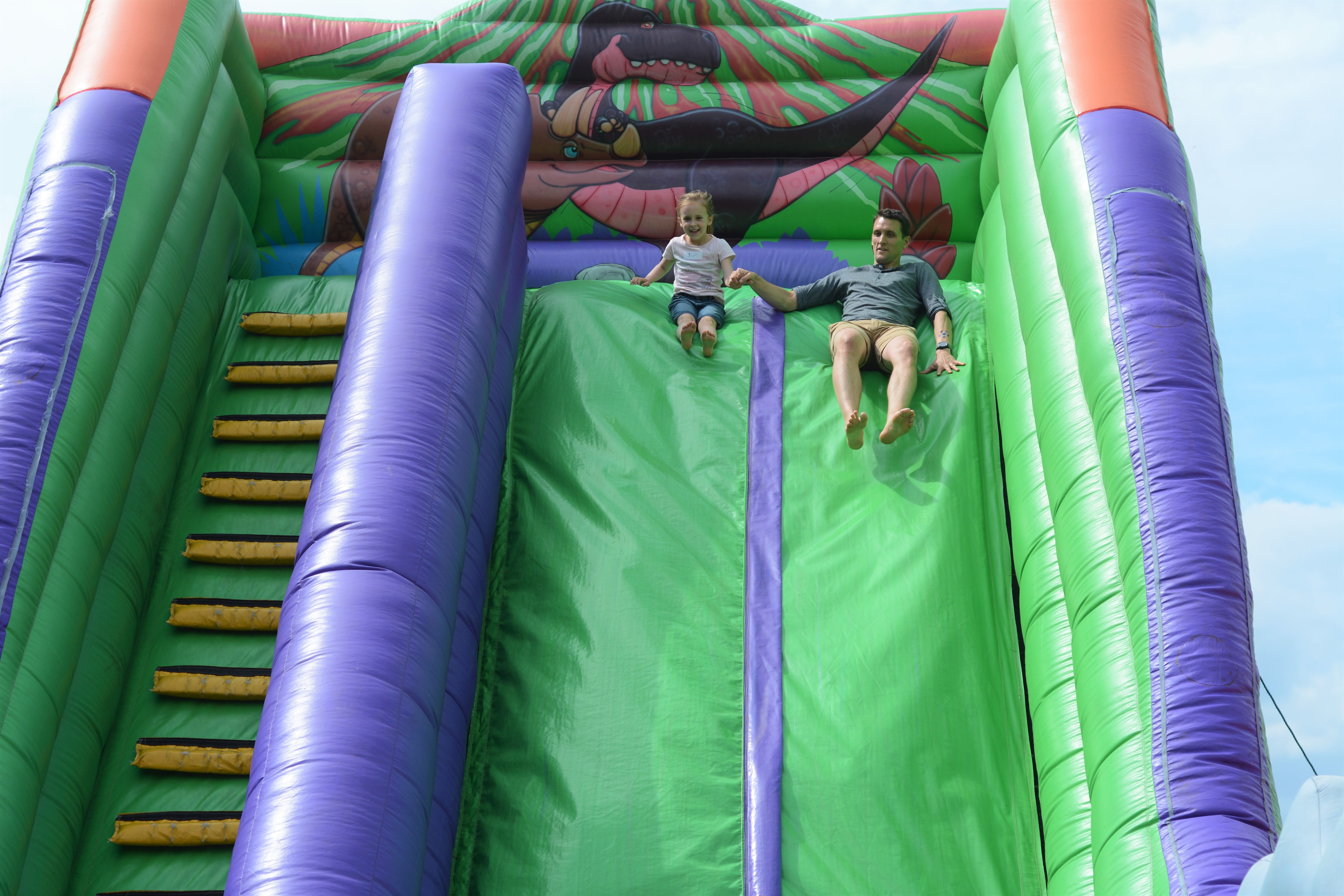 I love this time of year for so many reasons, it is almost like the excitement before Christmas or the anticipation of a holiday where everything is fun and giddy yet there is a little bit of panic setting in about not being ready! The end of the school year is in sight and full on summer is literally just around the corner so at the moment life is full of local places to go and things to do with festivals and events to lure us all into the open air of summer (or rain as what seems to happen to us at festivals!) The last few weekends we have been to various towns around us as they hold food festivals, local markets, fetes and regattas. It has been really lovely to soak in all the different atmospheres with each one having their own mix of delicious foods, stalls and brilliant entertainment. What they also have of course though is things for the children.
In previous years with Eva we have naturally steered clear of any rides, games or bouncy castles as she just isn't interested or especially confident and we have learnt as parents that there is no persuading her and that she is mostly happy to watch or do something else. It is definitely not worth the stress to attempt to change that. Except this year was a little bit different, as we approached the local regatta in the boiling sunshine ready to have a sit down and an ice cream in the shade and watch the boats go by, Roma spotted the biggest bouncy castle and inflatable slide ever. She would not stop talking about it, then we happened to sit right opposite it in a quiet spot and boy was that a mistake! She went on and on about wanting a turn and it isn't that I said no, just that we had to wait for Daddy to come back and go with her but you would think that the 10 minute wait was forever as she excitedly told him she was going on pretty much as soon as she set eyes on him.
So off she went without hesitation to the huge slide climbing up all by herself and like I said last week in my ordinary moments post it is just so different to Eva, it does feel strange and so wonderful too that I can appreciate each of them for their own individual quirks. The smile on her face and laughter was so adorable, no sooner had she got to the bottom than she was stood back in the line jiggling her legs in anticipation of her next turn and her eyes just lit up with pure joy.
My sister and I were watching and as I took a few photos I felt a little tap on my waist. Eva wanted a turn too. I had to hold in my utter shock and excitement and moved probably the fastest I ever have to get the £3 she needed before she changed her mind! She walked hesitantly and responsibly in her shoes so as not to walk on the grass barefoot and asked Dad if he could go with her too. Her ascent was slower, more deliberate and I felt myself holding my breath and watching her face intently at the top for the fear that so often consumes her and the back track as she doubts herself. She held onto her Daddy's hand so tight as they did this together and I almost burst with pride as she erupted in giggles and smiles as big as she could manage.
We made eye contact as her pace slowed and she made her way, not to me, but to the back of the line to go again! I know that for so many parents this isn't a big thing and especially for parents of a 6 year old whom are learning to climb walls and ride bikes but for me, for her, this is such a big thing and one that I am sure she wouldn't have done without her sister. There was no competition or animosity in it (I am not sure Eva has a competitive bone in her body right now) but she gained confidence from her, a feeling that she knows she would be ok and it makes my heart melt that they can do that for each other, and be happy for each other in the process.
For 15 minutes the girls, and Eddy, took it in turns to squeal at each others joy from the bottom waiting patiently for the other and although I think the slide was hotter than the sun and Eddy was quite glad when it was over, they all had a really good simple time, an ordinary moment that like so many others, means so very much. Here's to next time when the slides and rides might not seem so scary, and maybe to making peace with the fact that these events are going to cost us twice as much now too!
xx
I took a few photo's but as there were a few people around the best ones with the best expressions including the one where Eva face planted the (inflatable) floor as she came down so fast will be reserved for laughing at in albums in years to come, but I still love these and to me those smiles are worth a thousand words.