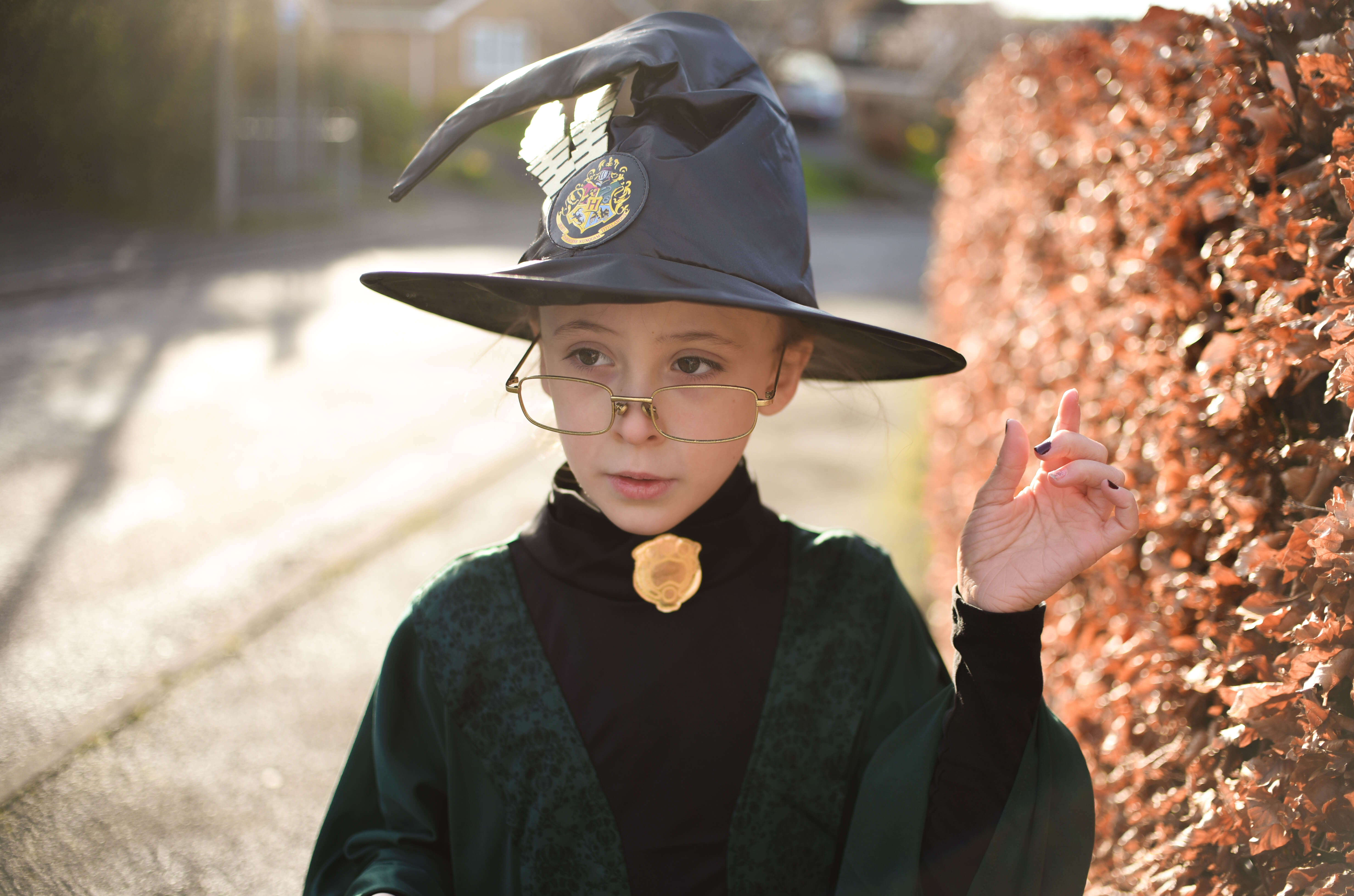 When the Harry Potter obsession continues but you did not have the time to commit to the Pinterest worthy hand made hedwig costume that was requested due to an ear operation gone wrong and a couple of weeks of poorly girl at home recovering…you just have to improvise. Professor McGonagall it is.
World Book Day is almost upon us once again so I thought it was time to share last years offerings. Mostly because I am just not organised enough to share at the time and I almost always think that I'll be better. I rarely ever am and that's something I am learning to accept.
Eva was as Harry Potter mad as she has always been (read about her party here) and still is to this day. After a close call with the aforementioned Hedwig costume (imagine the feathers). I was saved by the fact she hadn't been well in the weeks leading up to it which gave me a free pass to press simplify. Something lets face it we all need to do from time to time especially where school is involved. This year I have two of them in school. I don't think my head has ever felt so fried!
Instead we settled on Professor McGonagall (never not googling how to spell that). I picked up a cloak and hat set from Asda if I remember rightly. We accessorised it with some reading glasses you can pick up in lots of shops; quite inexpensive. These ones actually came from an emergency call to the grandparents who had a spare pair. I popped out the glass before spray painting them gold and she placed them on the end of her nose making her instantly look the part.
She has a wand gifted by her Auntie (all the way from Harry Potter World in Florida no less) so used that, box and all. With her hair scraped back into a high set bun she set the whole outfit off with alternating black and gold nail varnish. Just as the stern but fair head of arguably the best house there is (Eva's words not mine) Gryffindor would have done herself.
We think.
No sooner had that hat fit snugly on top of the perfect bun had she got into character. Look at that face.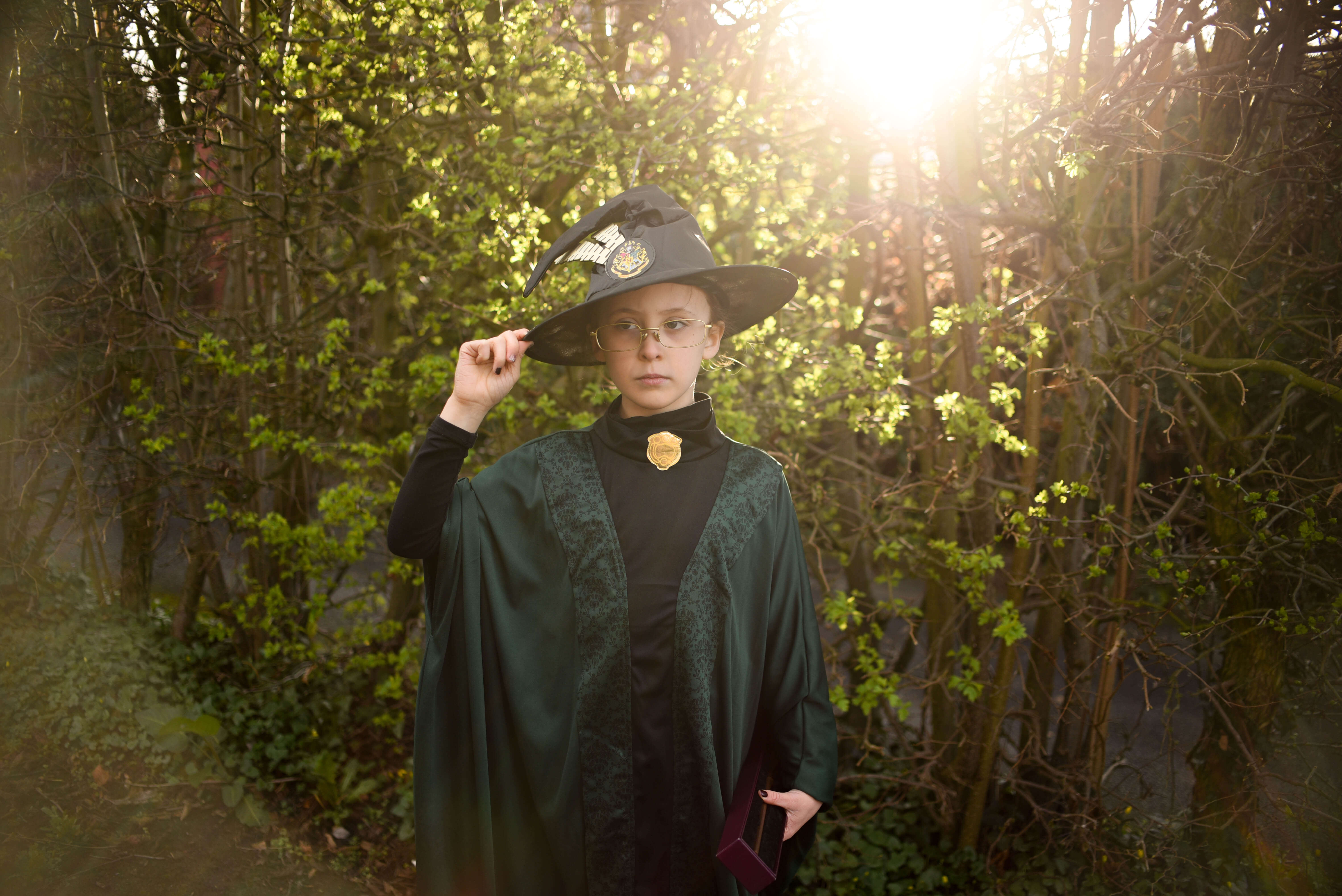 What A Difference A Year Makes
I feel like the difference a year makes from the sweet old Miss Honey of last year is perfectly epitomised within this picture alone. A visual representation and reminder of the innocence within. Or maybe what happens when your baby is no longer a baby anymore and a glimpse of the sassy opinionated teenage years come peeking through earlier than anyone wants to see them! I'll be the one weeping in the corner that she is still 'only' 8 years old.
The Costume
She simply wore black clothes underneath along with her school shoes. The ease of a cloak was definitely a cause for parental celebration.
The pride that never fails to raise a smile shone out of her face as she exited the car eagerly. It was her first day back at school from illness after all. What a day to return.
The Day
The excitement not only to see what all the other students were dressed as. Playing the game of guess the character as we walked the 50 yards to the school gates; but mostly looking out for the teachers too. As the double doors open like the wardrobe to Narnia at exactly 8.40am there is an air of mystery around. Almost like it should be shrouded with a smoke machine and dramatic music. Or maybe a comedy theme tune as out of those doors emerged the head teacher and other members of staff dressed as…..Mr Men and Little Miss.
I know World Book Day seems to get a bit of a bad rap sometimes. No it isn't about consumerism or the 'big guys' making a pretty penny or one-upmanship of parents and of course you do it your way.
But it IS about instilling a love of books and reading any which way we can and for our school at least it certainly does that. Teaching a love of reading, of books, is one of the best and most important things we can do FOR and WITH our children and whatever we can do to encourage that I am totally on board with. Whether that is raiding the over flowing dressing up box, fashioning something out of a pillow case, nipping to the shop or a late night online order or sewing up your own delicately planned creation. It's about one thing and that is celebrating a world, full, of books.
Eva would happily share her thoughts on books with anyone that cares to listen and her worldly desire is to have her own Belle esque library with a ladder and the balcony. I can already imagine her there choosing book after book like she does now and there still being piles by her bed every single night.
This day I remember she couldn't read too much as she was dizzy (ear operation and infection problems) but it didn't stop her sharing her love with anyone who would listen whilst showing an interest in everyone elses choices too.
The sense of community and camaraderie at our school is brilliant and we just love World Book Day. This year, as much as it IS a pain sometimes, I am excited to see how both of the girls take it on together. Maybe I can even get them to match, coordinate their outfits like a real life Pinterest Mum! How cool would that be? (I am aware my cool and your cool might be totally different things, humour me). I very much doubt that I will be able to pull off that feat of persuasion. One can but try. Now just to find a way to make them think it was their idea!?
Now here she is. She could raise a smile after all. You can't stay in character all the time when you are this happy about books can you?
That's my girl.
My little book worm.
My Professor McGonagall.
World Book Day 2019. Completed.
x