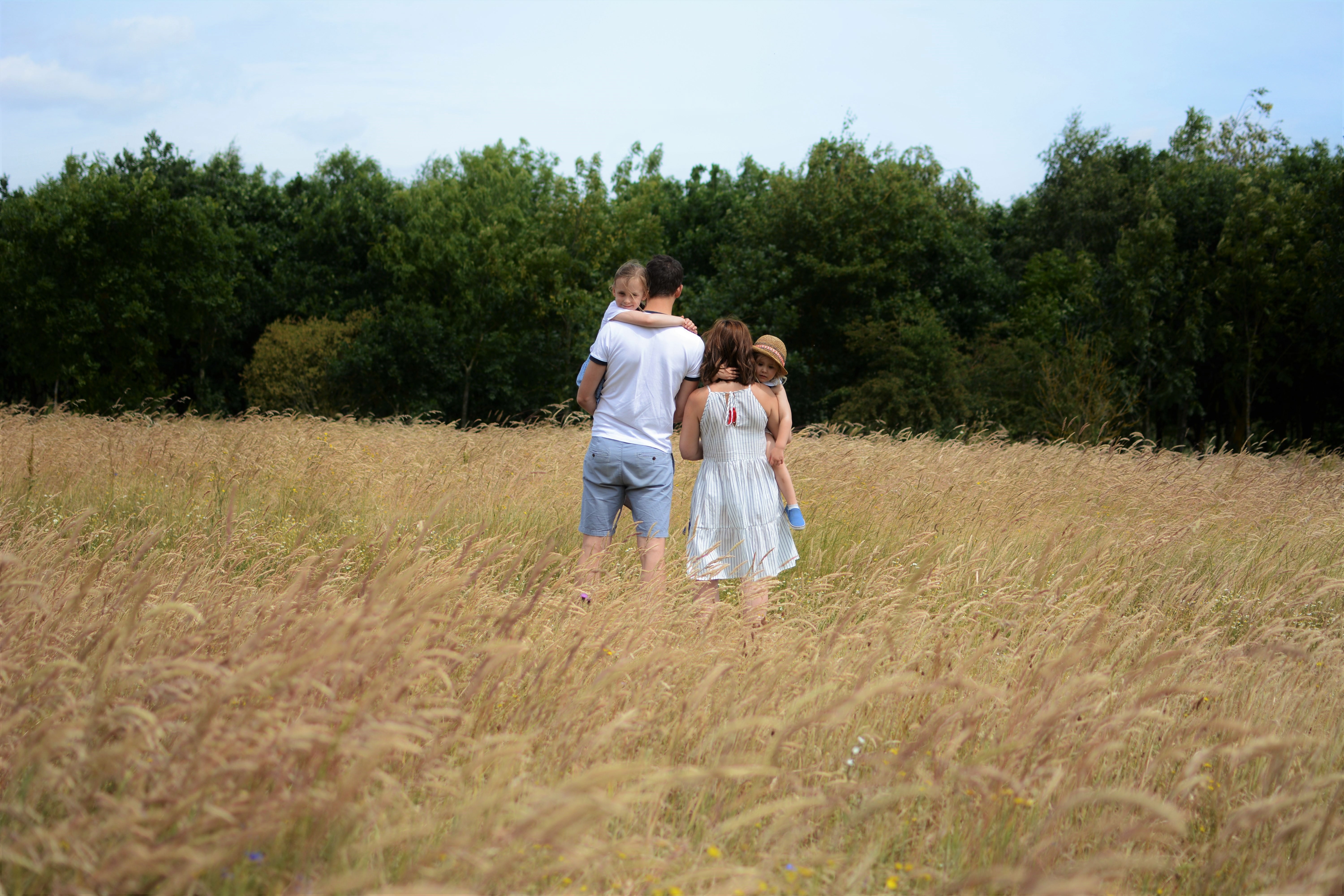 What a gorgeous month weather wise it has been. The sunshine brings so much yearning for adventure and freedom and we have been taking all of that whenever we possibly can, between illnesses and Eddy working away that is.
The one place I was desperate to visit this month was the huge Poppy and wildflower fields that we found and took our photos in last year . It was stunningly beautiful and this time we would hopefully manage to avoid the torrential rain we had then…. (I still made everyone stand in it and take photos though obviously, something to talk about in the future ey!) As we got there I was all excited and giddy walking up to it. The girls even wanted to play in the woodland park so I walked along ahead to catch a glimpse, too eager to capture the beauty. Only to find as I stood there blankly, that there were no poppies to be found, barely even a flower, just a token sprinkling of wildflowers scattered around for good measure but mostly just a vast expanse of faded golden colour glistening in the bright sunshine. I almost had a little cry until I pulled myself together and cursed at the same time that maybe we had missed them and we're just too late despite it being the exact same time as last year. It has been hot after all.
I put my disappointment to one side (who am I kidding I'll probably still hold onto this disappointment when I go seeking for them next year every week from May onwards and I'm betting it doesn't go unmentioned, watch out Me and Mine June 2019!!) Ok so I tried to park my disappointment and rallied the troops for some lovely family shots anyway in the dry grass. Can you tell I am not green fingered in the slightest? I mean I love the photo opportunities but a horticulturalist I am most definitely not. Let's be honest I can only just keep a house plant alive…and even that is debatable. Anyway I digress.
Not one to be undeterred and throw away the day I made the most of it and I actually love the whimsical effect the pictures have. I could have stayed there all day snapping away and the girls were loving picking at them and blowing them through the air.
Naturally though with my family after a while they just got too itchy for lunch, always about food with us! Especially Eva and as you can probably tell she is not in the mood! She is at an age and a stage where she likes to make her feelings known and is all too aware that I can't see her face when these are being taken! Cheeky little thing, she loves to look back at them and is always grateful but the act of having them done that is seemingly keeping her away from a nice birthday lunch for Eddy and she has smiles for no one. Then you have Roma who is generally just always doing something daft or off doing her own thing.
But that's us, that's real and these photos will still always be special. Eddy like I said has been working away a lot and had been to France for a week which is the longest he has ever been away from the children and this day was his first day back. They ran in on a sunny Saturday morning as fast as their little feet would carry them to greet him with the biggest hug ever, excited squeals and all and it was just the most loveliest of days. They were stuck to him like glue which was heartwarming to watch and also after a week of solo parenting it was nice to relish the relative freedom! There is nothing quite like the feeling of an extra pair of hands when you've been on your own.
We then went for a belated birthday lunch with his parents (and for me half of the joy of these photos isn't just capturing how we look right now but how we feel and how the whole day can flash back at you from just one photo, even a slightly grumpy one!
Special thanks to my father in law for actually taking the photos too as i left the tripod in the car, turns out I am about as good a blogger/photographer as I am a horticulturalist ey.
Its not always easy and everyone isnt always happy, in fact getting everyone simultaneously happy is one mean feat but we keep trying, in real life and in photos and really that is all we can ever do.