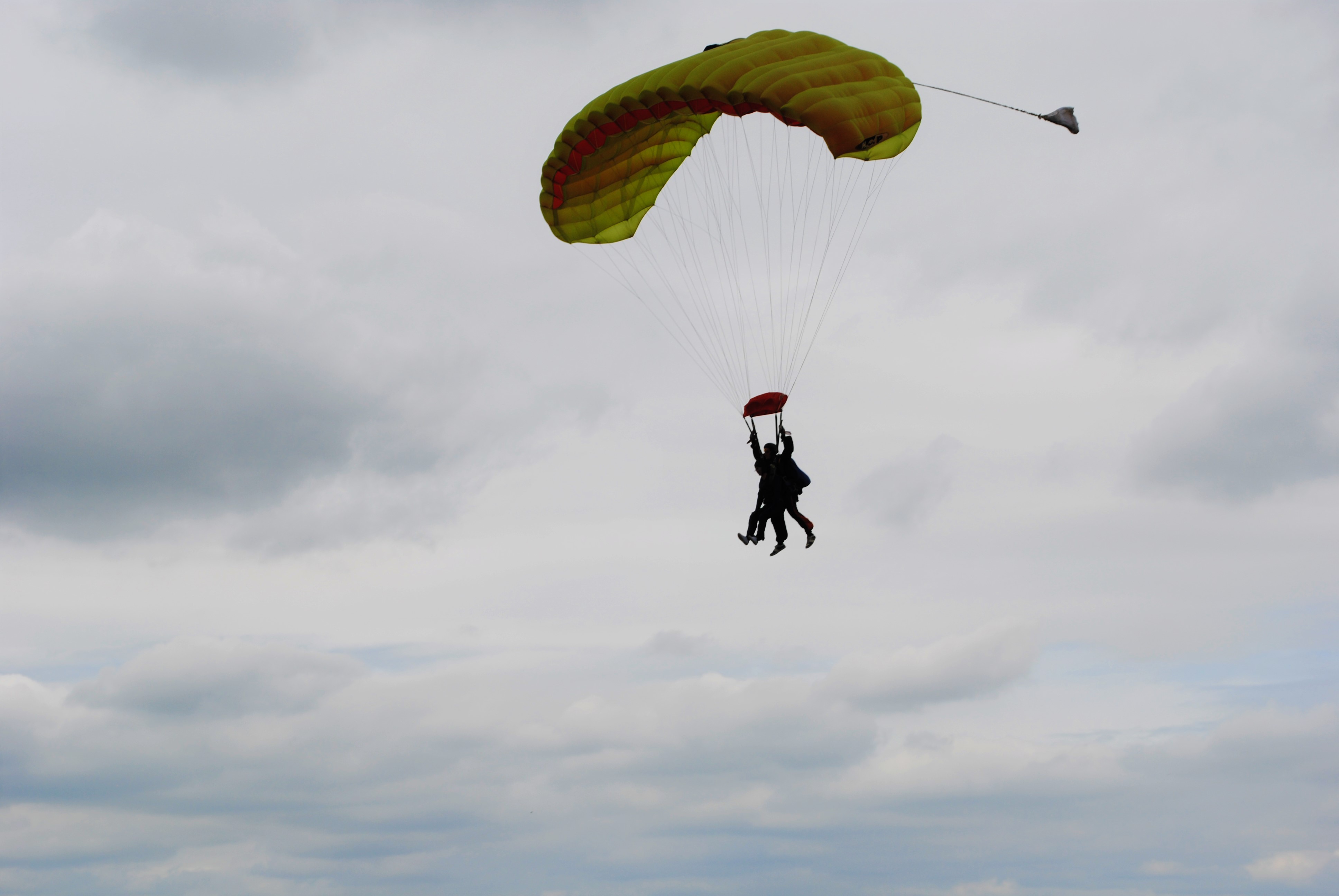 Before we had a family Eddy and I were ones for giving really good gifts, really thoughtful and sometimes slightly extravagant maybe, but almost always experiences to be had whether that was driving on a racetrack, theatre tickets or exclusive roof top drinks at a fancy London restaurant. This one Christmas morning in 2009 as I sat in my pyjamas drinking prosecco (totally allowed at Christmas right?) Eddy handed me an envelope with a huge grin on his face. I remember it as if it was yesterday.
Now to paint a picture of present opening in our house I will say that I get super nervous. I always, and I mean always, look like I don't like it, even if I do, because I get so nervous that I won't like it and that I will somehow have to tell my face not to tell the whole room as they are staring at me intently, that no matter what the outcome, my face remains the same!
Anyway as I nervously opened the envelope which of course housed a voucher for sky diving I immediately burst into tears, actual tears rolling down my face like a fool in front of Eddy and his whole family! Nailed it, totally nailed it! I then had to explain that they were in fact tears of joy, that I absolutely loved it and was so excited to be able to get to do something I had always wanted to do.
We booked it for the following June in the hope that the rain would stay away and we would not in fact make the 2-3 hour journey to Huntingdon only for it to be rained off. I was so excited. Except, that was, until May when I found out I was pregnant! We cancelled and they were kind enough to let us extend the period of use for another year in the circumstances, which would mean I would have to use it by the time this baby, that was currently no bigger than an olive, was just 6 months old. Would I be up to it? Would I even want to anymore? Should I take the risk? I mean who does that?
Well, I do! Once she was safely here we booked the jump for another hopefully sunny June day and despite a hairy moment the night before with the accommodation at the airfield and an emergency visit to the nearest hotel we turned up at 9am ready for my jump with a 5 month old Eva in tow.
After a bit of a wait and a slightly terrifying briefing it was my turn to get kitted up just as the rain was threatening it altogether, it may have been 6 years but I still recall that walk, and the fact that at just 5ft 2 I needed a leg up to even get in the door! We sat in a row in this little plane, silence as the tension built and we flew higher and higher with the ability to see through the open side. We stopped climbing.
The photographer/videographer I had with me edged towards the door before we moved closer too, all I could see was clouds of white, that moment on the edge of the plane felt like forever, I sat leaning out facing the ground as my tandem instructor held on for those last few seconds that felt like minutes and my heart was racing, I still get butterflies thinking of it now. Then it was time.
The sensation of free-falling through the clouds and out into the world was almost indescribable and absolutely breathtaking in more ways than one. Even though the wind (and in my case rain) ran over your body, the echoing of the world at great height in your ears, so much I struggled to hear the instructor I was strapped to talking to me, even though it is incredibly loud, it was also the most peaceful, still, free and beautiful place to be. For me all the fear subsides when you fall and you just let the experience consume you.
Before long I felt the tap on my shoulder to put my arms out and I knew it was time for the parachute to open, the feeling of stopping free-falling and in contrast gliding so gently down to the ground was just incredible. I could probably have done that all day. Alas as we landed on the grass with a thud, rain covering my face I think my smile said it all.
We were the last people of the day to be able to jump as the rain came in thick and fast from then on so I was extremely grateful for that experience I had, even if they said it would have been even more beautiful on a sunny day, maybe that's an excuse to do it all again one day! I came off the field and after being me again for those few moments and doing something I have always wanted to do, I got to come back down to earth literally and figuratively with a bump. A cuddle from my baby girl, my other calling in life, the other thing I have always wanted to do, to be, a mum.
It was hands down the most amazing experience I have ever had and despite everyone's surprise that I would even like it, and still to this day people have trouble believing that I have done it, let alone with a baby, I would do it again in a heartbeat, probably made even more special knowing I was sharing it with Eva, there really is no feeling like it.
Xx
I look ridiculously young in this photo, that's what 6 years of parenting will do to you!