World Book Day…
if you're anything like me you have all the plans, all the screenshots, Pinterest boards and excited conversations. "Please Mum can I dress as *insert random character you have never heard or intricate design ideas too big for a 7 year olds boots here* for World Book Day" Then before you know it you are just about getting into the new year groove, wishing warmer weather to arrive and here we are staring down the barrel of another World Book Day. Already! Plans still exactly that. Plans!
Well fear not, whether you are someone who loves the idea of creating a bespoke outfit and are a dab hand with a sewing machine; or rather that person who just wants it off the never ending to do list of parenthood. I've got you covered.
Over the years I have partaken in this lovely reading focused day with my two bookworms with no less than 11 costumes between them. Some are homemade with little prep, thrown together from a last minute change of mind or global pandemic! Some with a little more preparation when time and creativity is on my side. And occasionally store bought because sometimes you have to do what you have to do and of course it all depends on what they wanted at the time. Basically there is something for everyone.
I have written many posts before if you want to go into detail with Miss Honey, Willy Wonka, Professor McGonagall, or Danny The Champion of the World. We cross genders and genres but you will most definitely find book characters, no films over here! There are also many that I have never gotten around to blogging about in their own right so I thought I would share here in a whole round up ideas post.
Willy Wonka
For Eva's first World Book Day in school it was always Roald Dahl. Willy Wonka was a combination of a costume from Sainsbury's that we already owned, customised and changed a bit adding a fascinator and sunglasses. Complete with a personalised Wonka bar that I made (complete with golden ticket) and accessorised with a cane which actually came from a night out when I was 21 and we all dressed as dancing girls. You see you can repurpose almost anything in motherhood!
Danny The Champion (Take 1 & 2)
In 2017 the Roald Dahl obsession continued into her second year and I loved that she didn't even hesitate to choose a character depicted as a boy. Danny The Champion That was no barrier for her and this was put together again with items we already had, not including the toy pheasant which we sourced from the pet toy aisle. Yes it did have a squeak! We had some bronzer for that dirty hunting in the woods look, raisins and a sack and medal and she was ready to go.
2020 saw her revisiting this loved character and by this point we had added a flat cap to our fancy dress repertoire (again from a night out that Eddy had gone on!) Lots of the same as the first time with her usual clothes, a little bottle she labelled and twine to hang it from her belt loops. She was in her element yet again.
Miss Honey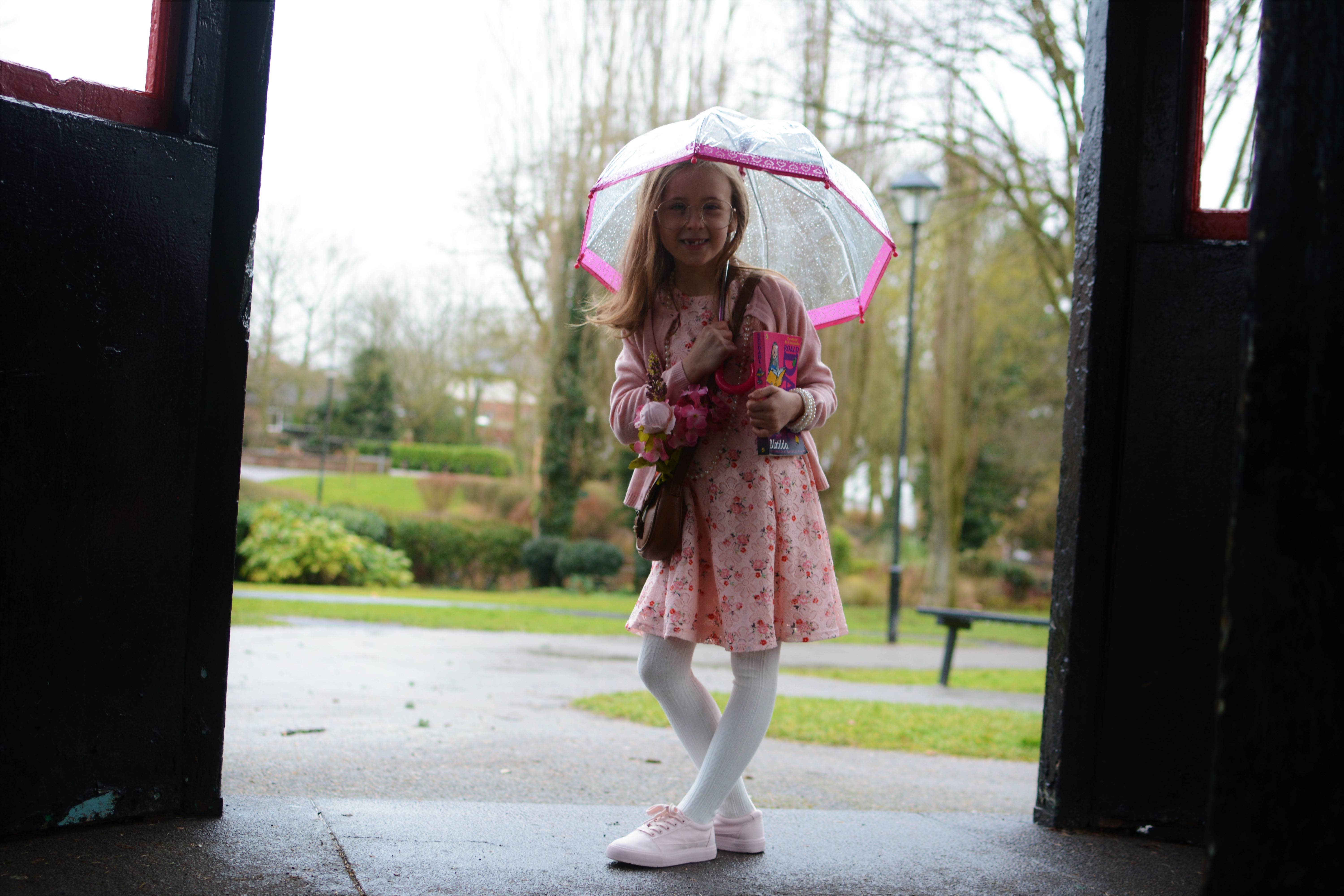 Year 2 Eva saw a very different look but another long loved Roald Dahl book Matilda. I swear she did read other books but this year it was all about a supporting character and one that she just loves the depiction of in the book. Miss Honey. Someone kind, loving, caring and someone to aspire to. Thats my girl. This was trickier for us as she has never been a pink kind of child and of course Miss Honey meant lots of it. We purchased a dress and pumps from the high street and spray painted some reading glasses. We finished off the look with pearls and as many bracelets as she thought was appropriate from my collection. It's all in the details
Professor McGonagall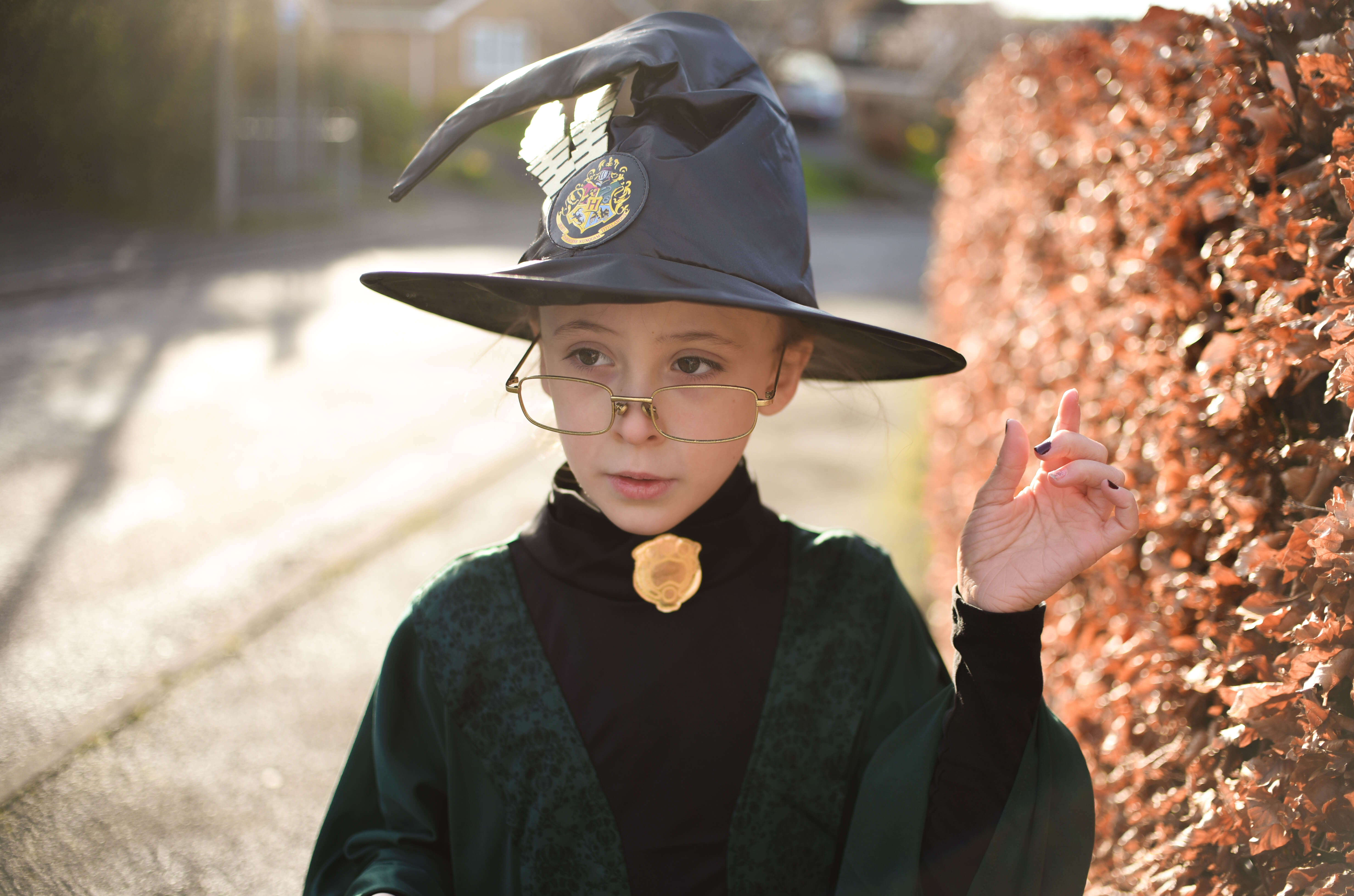 2019 Eva took to Harry Potter in a big way. So we took the year off of Roald Dahl (before going back again in 2020 as above!) for some last minute supermarket costume action. Professor McGonagall. Another pair of spray painted glasses, a tight bun, black nails, a wand we already had joined the cape and hat to complete the look. Oh and a stern face. Expertly Done.
I'll be honest this was born from my inability/unwillingness to dedicate the time to make the Hedwig Costume she had seen on Pinterest and fallen for (fancy sewing 100s of feathers to a white outfit anyone!?) because sometimes, as awesome as I am sure that would have been, you just have to put those boundaries up and expectations down for one day a year!
Lou – Mystery of the Colour Thief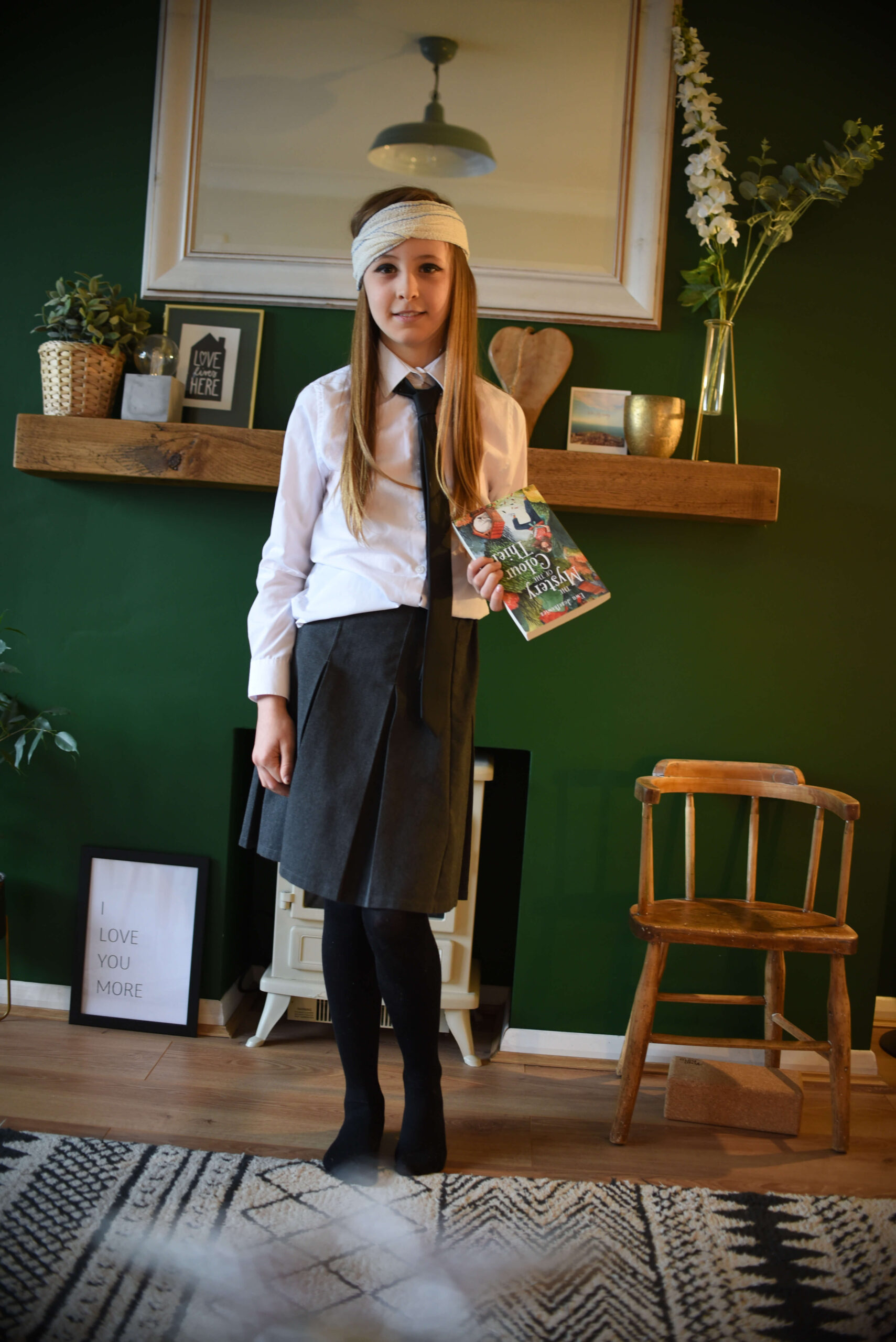 Here we have the lockdown edit of the World Book Day. Our school encouraged the dress up and you didn't have to tell my children twice. Eva of course chose a character in a book she was loving at the time that just so happened to be an excuse to put on the school uniform which had been left unloved in the wardrobe of late! Complete with a bandage and some eye make up which made her look so grown up!
The Singing Mermaid
I am not sure if year 6 Eva was way over world book day or she really wanted to revisit some of her favourite books before she in fact said goodbye to world book day altogether but here we have The Singing Mermaid!
I sourced the bottoms on Facebook marketplace (always worth a look at preloved costumes that are generally not worn that much) this was actually a blanket that I unpicked the bottom of and then stitched some press studs in the bottom so that she could pin it up with the good old British march weather. It also meant with the stretchy material she was still able to walk in it! I painted with water colours the shell bra and pinned that on to a pink skin coloured top. Although there does seem to be a theme here the head dress came also from a grecian hen night I went on and it was the perfect addition.
The BFG
The Roald Dahl theme continues with the littlest of the family and she had been so obsessed with the BFG that the excitement when she could dress up in reception was off the chart! But it wasn't Sophie for her, it was the man himself. So of course we had to make it special.
I made the ears out of felt and hot glue onto a headband, the cape by simply adding a press stud to a black pillow case, the trumpet by spray painting a funnel on a stick and thankfully she already owned sandals that were perfection. She also took one of the decorative suitcases from the playroom for her 'dreams' as the newly 5 year old Roma spelt it!
She truly was the happiest I have ever seen her. Find me a cuter BFG!
Samira the Superhero Fairy
Lockdown edit once again and Roma had got into the Daisy Meadows Rainbow Magic Fairy series. She chose Samira the Superhero Fairy and we kept it fairly simply (we were at home after all). We chose a wand and wings we already had, and made together a superhero badge to colour in with the colour of the book. Completed of course with a fairy tattoo and some fairy glitter on her face for good luck, coordinating clothes and naturally a plait for her hair too.
Belle (Belle & Boo)
Year 2 saw Roma simplify (I think there was a theme here the year after the pandemic) and she went with Belle, from Belle & Boo. These happen to be my most favourite books to read to the children, albeit much more when they were little, and I think she took full advantage of that. It was basically an excuse to wear pyjamas and messy hair to school and take along her beloved grey rabbit that she never wants to be away from to play the part of Boo. A perfect day all round!
Year 3 is yet to come for Roma and who knows how Eva will feel in this first year of senior school where she doesn't get to be involved, but here are also a few costumes they have sported over the years for one dress up day at school or another. Because lets be honest be it World Book Day, explorer day or dress up like something in space day there is literally always some reason to need a new idea…or two in your back pocket!
Miss Trunchbull
Roald Dahl Day. Perfect for us and Miss Trunchbull was the chosen one in this instance. A lot of repurpose of school uniform, a waistcoat she already had with one of my belts for the iconic look along with some fingerless gloves. Simple, then the monobrow was probably my favourite bit and really what makes Miss Trunchbull. Not to mention the angry face, that and missing teeth models own.
Astronaut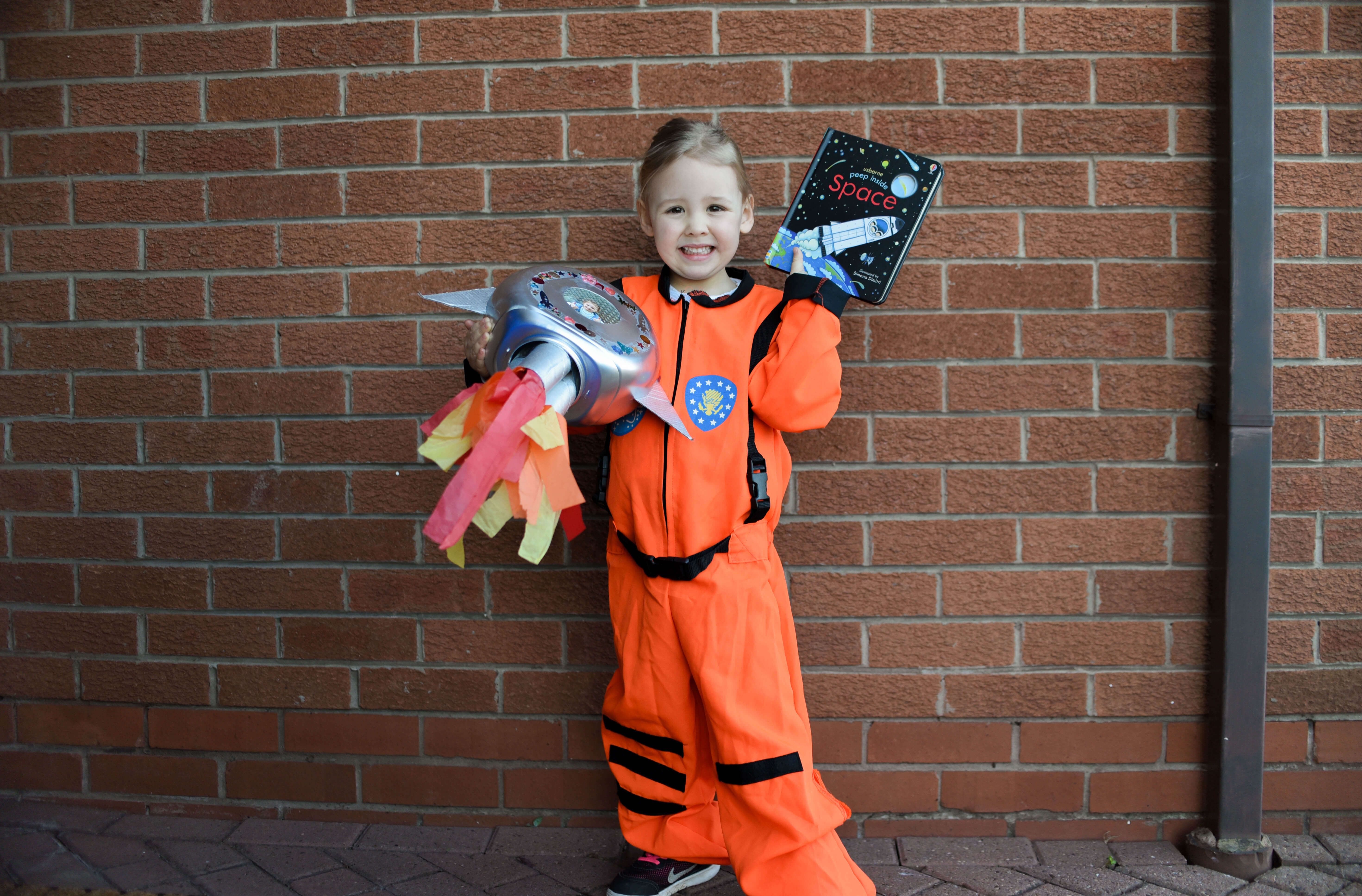 Tim Peake here we come. I think this was actually just a nursery project to build a rocket but my little space mad lady wanted to go the whole hog and wear her astronaut costume too! This was an Amazon purchase and lasted the test of the dress up life time for sure. Rocket made out of washing tablet packet and toilet rolls optional!
A Monkey, A Ballerina, A Witch, An Explorer and….. A Dice!
I have also included these little additions below because who doesn't love dress up? I am also sure they will come in handy if you happen to know a book with a Monkey, Witch, Ballerina, or a dice. Surely there's a book about a dice somewhere isn't there? Or, like our school, maybe yours does 'number day' too and you happen to have huge boxes to hand to paint and make as dice! Worth the effort for sure.
I hope this post has helped or given you some ideas for World Book Day and beyond as you really can make a great costume with some imagination and what you have at home. Whatever you do, let's hope the children enjoy it and are inspired to pick up that book at the end of the day.