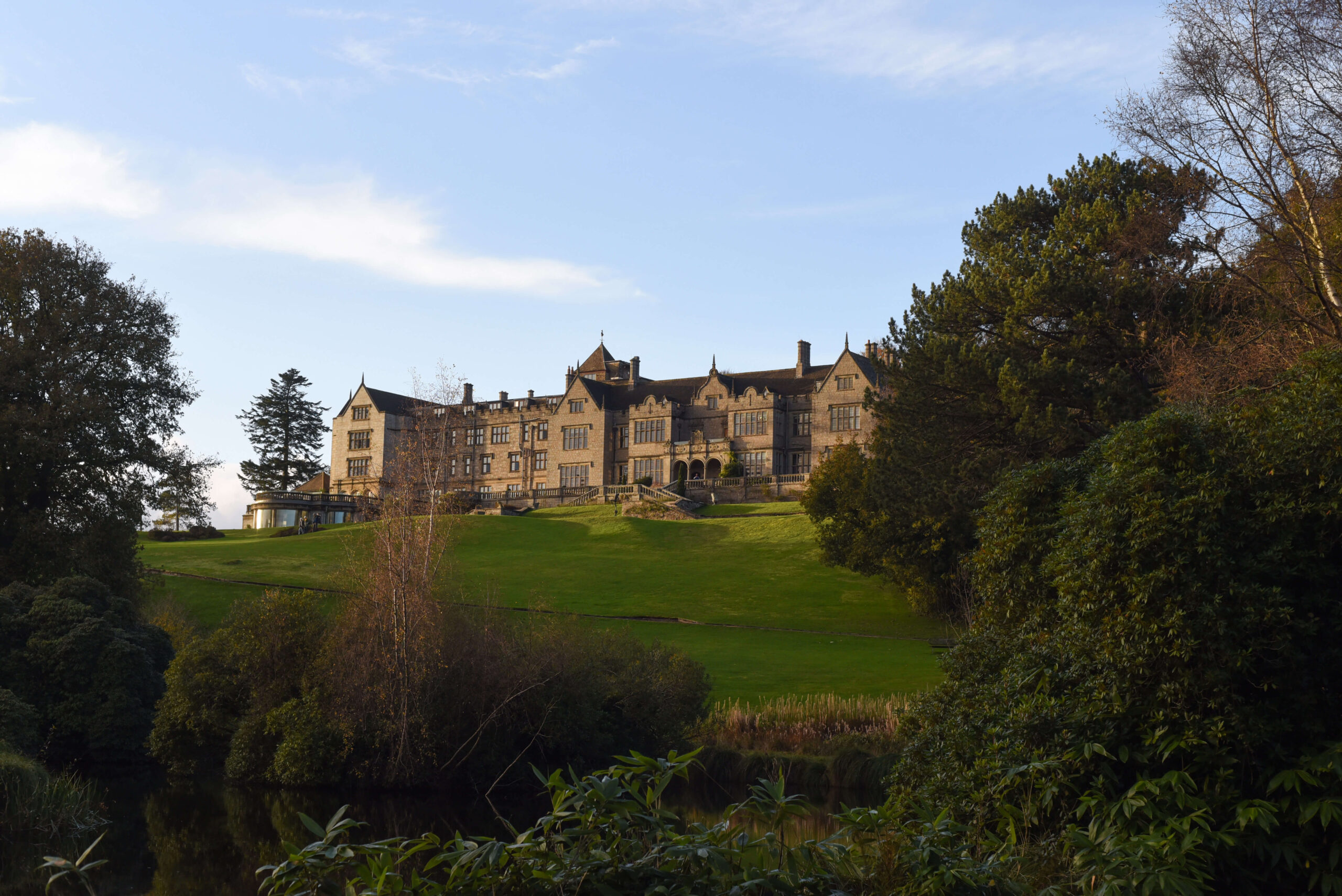 After a change of plans for various reasons in November 2022 my sister and I were looking at the prospect of a free weekend and nowhere to go. And by that I mean we came to this conclusion the evening before we were going to be staying! Talk about last minute. With a quick search on IHG to use my husbands points we happened upon the 5 star Bovey Castle in Devon.
We took a few moments contemplating whether the 4 hour drive to Devon was worth it for a mere two nights to enjoy an autumnal stay and celebrate my sisters birthday. We of course decided to go for it.
Spoiler alert, it absolutely was!
Arrival
We journeyed through the beautiful North Devon countryside to the heart of Dartmoor National Park (after a quick stop off to a windy beach in Somerset en route for a birthday fish and chip lunch that is. What more could a girl ask for?) full of enthusiasm that only a child free sister break with two days of relaxing ahead can bring. Eventually arriving at the top of the long private drive on a bright cold crisp Thursday looking at the views as we approached the castle on the hill. Literally and ok maybe musically too (Ed Sheeran has a lot to answer for with that one) it was an English Autumn at its very best.
There is definitely that traditional old castle wow factor when you drive through the gates, if a little daunting being faced with the waiting tweed wax jacket clad staff ready to welcome you with valet parking & a personal concierge to carry your bags. Needless to say my sister nipped in a space she saw before we rolled around the stone fountain in the courtyard because that's just who we are, and all was well. If valet parking is your thing though, you're in for a treat.
Staff were welcoming and attentive as we made our way through the entrance amidst lines of wellies, canned water and umbrellas to assist exploration of the grounds in the good old British weather. The small details really make a difference in my opinion.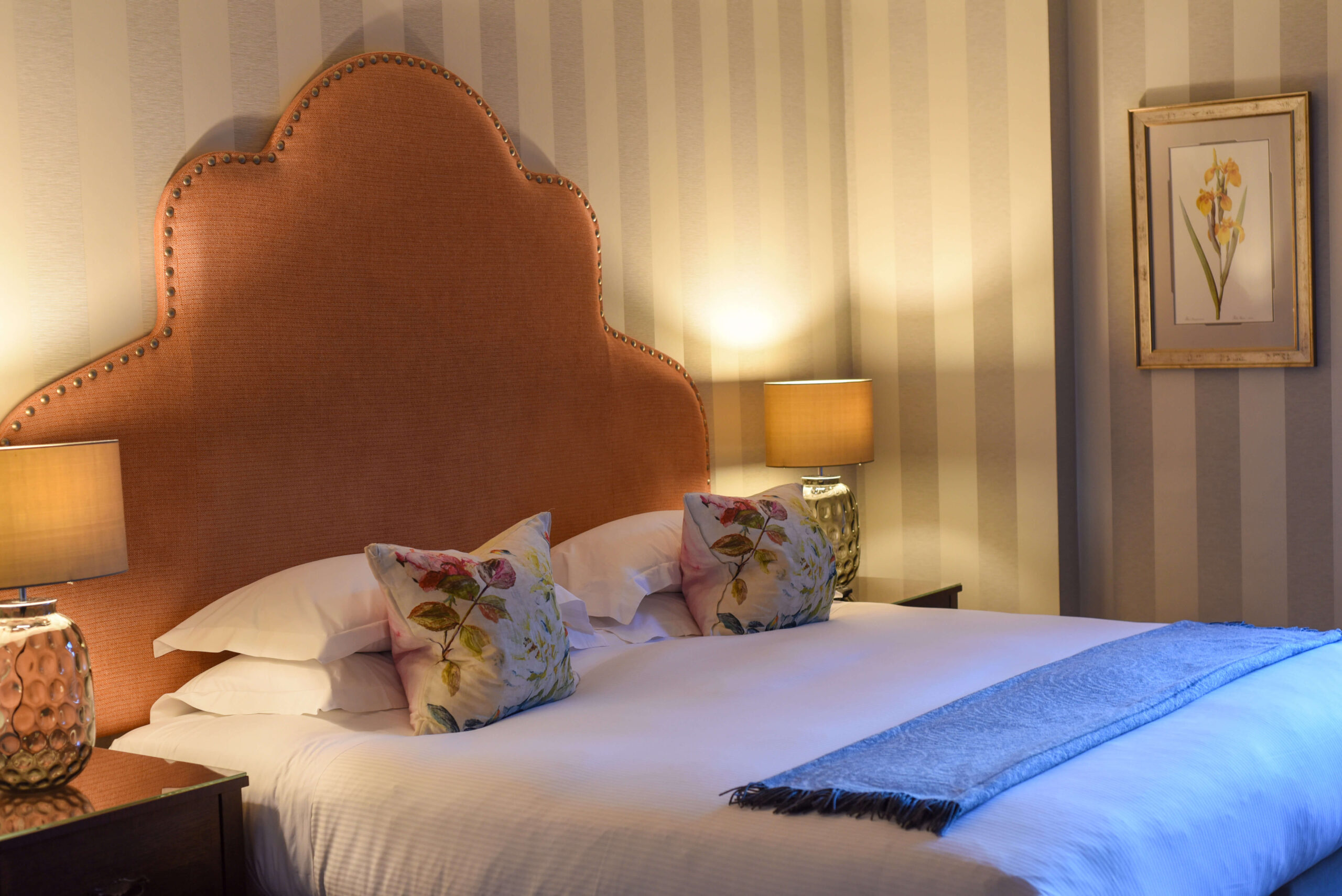 The Room
After a smooth check in and finding out we had been upgraded we were led up the grand dark wooden staircase to the 1st floor of the main hotel, to our surprise we arrived at room number 13. It's a good job I'm not superstitious! On the contrary actually as I know most hotels don't have a number 13 so maybe this made our stay even more special! The room was in the castle part of the hotel with a view of the front courtyard. It did mean we weren't party to the epic views that you would appreciate if your room was at the back of the hotel so definitely worth checking or mentioning on booking if that is important to you. Those views are pretty special.
What we were met with was a large room complete with a desk, seating area, warm large wardrobe to store all of your luggage and came in handy when drying swimsuits and wet clothes from a paint stroll! There's a walk in rainfall shower, free standing large (but sturdy) bath and beautiful big windows. Aswell as complimentary toiletries, mini fridge with water & milk, tea and coffee making facilities including a coffee machine and the room was cosy as soon as we stepped in. The heating was cranked up for sure.
They also popped in each evening to turndown your room leaving the Bovey Bugle which my sister said was very cruise-esque. I'm yet to try that particular type of holiday but I could definitely get used to this and it's already on my incredibly long, 'would like to experience one day' list. It detailed the weather forecast and activities on offer for the following day and I just thought it was a really cute touch making for the perfect bedtime reading and ensuring we went to sleep knowledgable and excited for the next day.
The beds were comfy and very large, it was actually two beds attached together so would easily make twin beds. We spent a lot of time relaxing on them with a glass of wine which greeted us, reading books, chatting and watching tv in beautiful silence.
Water
Now, there is a very unique feature with the water here. As helpfully explained with a little note in the bathroom, there is a (harmless) yellow tinge to the water which is never more apparent than when running a long bath! Just add lots of the bubbles provided is my advice! Although of course they say it is harmless and we had no issues there was plenty of bottles of water available to drink with more left on your bedside at turndown so to us it was just a weird little quirk.
Food
In my opinion this is where the hotel could do some work. The first night, my sisters birthday, we dined in the restaurant. The menu was quite limited and expensive. My food when it came was sub par, greasy and unappetising. They did handle it well, they went above and beyond to rectify and I cannot fault them for this, just a shame it happened in the first place and I would say that the quality of the food didn't match with it's price point.
Breakfast was lovely (it is not included in the room rate which wasn't altogether clear with no price on the menu (£25 per person)) but there were limited time slots despite it being completely empty which was a bit odd. There is a small continental buffet and then hot food menu and the food was nice enough.
There is also a small fridge in the room so some of the time we simply relaxed and took in the slow life without even having to worry about dressing for dinner. It was the ultimate relaxation.
Facilities
And relaxation was mainly the order of the day. Our time there was spent in the most indulgently relaxing way. When the sun shone we walked and explored some of the beautiful grounds, swam and read our books in the room. But by far our favourite activity was sitting in the inviting lounge on huge comfy chairs playing board games with a drink from the oak bar. The roaring fire was accompanied by the meditative sound of the rain tapping on the huge floor to ceiling windows which served merely as a reminder that we were inside dry and warm.
The grounds as you would expect are vast and beautiful with pockets of surprises and hideaways like a croquet lawn and a magical woodland with toadstool seats! It is set on a golf course which is very apparent and good for the golfers among us (not me!).
Spa
On the lower ground floor, encased in the most dramatic and spectacular glass bay window with the most breathtaking views was the spa and swimming pool. Every guest has access to the indoor swimming pool, whirlpool, sauna, steam room and gym (not something I can personally comment on, a walk around the grounds and a swim was enough exercise for me for the weekend!) and there are also treatments available.
The Art Deco inspired pool was large, warm (although not quite warm enough) with a few loungers lining the tall windows. I loved sitting there with a book and taking in the landscape as the sun shone through. I would say that the whole area was a bit tired. Clean, and that was apparent with the visible staff on hand, but the changing rooms were run down and it was very small to be called a spa in my opinion with no air of luxury at all. Aside from the insanely fluffy towels that is. Seriously though, how do they do that!?
Activities
Apart from relaxing in the lounge in front of the fire, there is so much you can choose to do at Bovey Castle. From the obvious golf to driving experiences, falconry display, clay pigeon shooting, horse carriage rides, archery, fawn feeding to name a few. These are mostly all additional costs and booked with the hotel (aside from the falconry display which is held on the terrace of a morning unfortunately we weren't aware it wasn't on Saturday morning which was a shame as it looked great). The driving experiences and clay pigeon shooting I would always have a go at if we ever returned. Basically there is ample opportunity to while away the days in the hotel with your own company at whatever pace you like and so much scope to fill your stay with a lot of adventure too.
Children
Although we were of course staying child free (have I mentioned that!?) they are never far from my mind and I am always looking at places from a family perspective. I think it's just ingrained once you have children and I have to say the hotel seemed to be very family centric and friendly whilst still keeping the air of grown up sophistication and charm. There were plenty of children around who were indeed welcomed with open arms.
The hotel has a play park, egg collecting, animals they can meet and pet and the pool had clear family swim times. They also provide extra beds and child sized robes which is very cute and I know my girls would love very much.
Location
The hotel is positioned in the beautiful area of the Dartmoor National Park so of course if you wish to explore further than the hotel room and the cosy lounge there are ample towns, villages and countryside on your doorstep.
Personally we didn't feel much need to leave the hotel I won't lie, we ventured into the local village Moretonhampstead which was small with a few amenities; pub, some shops and cafe. There is also absolutely no phone signal at all at the hotel so a peaceful disconnect was welcome. Of course there is good wifi for your peace of mind and contact needs. Or ok maybe an instagram share or two. Love me some travel content, even when travelling. Though would be a welcome off grid post for some I have no doubt.
Price
Like I mentioned at the beginning we purchased the stay through my husbands IHG rewards points he collects from often working away. But as you would expect it is on the upper end of a hotel stay from £209 per night for a classic room to lodges (sleep 6) from £689 per night. Our stay in a Castle Room would have been £249 per night and these are all room only so realistically with added two breakfasts you are looking at from £300 per night (prices as of 2022/2023).
There is also a discretionary service charge of 12.5% on food and beverages. Of course it states this can be taken off if you care to ask but it's worth bearing in mind when the food and drink prices already have a higher price point.
Our stay would have cost £600 plus additional food and drink, activities and service charge.
So. Was it worth it?
Let's be honest you can get better value and more for your money elsewhere, you could even have a weekend in Europe for that amount. However, overall I would say that for the enjoyable and relaxing stay we had, yes it was. I would really have liked a more luxurious pool spa experience and I think that would definitely amplify the value, aswell as improving the dining and it isn't somewhere I could justify budgeting on a regular basis. But we had the most wonderful stay and would not hesitate to go back and explore more. Especially if you could use reward nights again too!
Overview
There are a lot of mixed opinions out there about Bovey Castle and I always like to offer a humbly honest balanced review with compassion and understanding in such that no-one is ever going to be booking anything that doesn't suit them on my recommendation, whilst remembering that everyone has different tastes, requirements and experiences. So this is purely mine.
Essentially I think it is probably a long stretch to call itself a spa hotel, and falls slightly short of a 5 star standard especially in terms of food, aswell as being on the upper end of a budget I would want to pay for what you get. Yet it was a lovely stay in which we were able to relax. The grounds and location are beautiful as is the interior and the offerings, especially for families, were great. I feel it has huge potential and a really lovely feel. If budget is not a consideration, or it's a special occasion, this just may be the place for you.
Finally
One of my favourite things about last minute non planned travel on your doorstep is the discovery of seemingly hidden gems. Places you'd never have considered but turn out to be just the thing you didn't know that you needed just by jumping in the car last minute and taking it for whatever it will be making memories along the way. Don't get me wrong I am a planner and I bloody love that. Especially when it comes to travel, particularly abroad. The more research the better and it almost doubles the joy as I feel like I am experiencing it twice over. However the spur of the minute plans, where it is indeed too late to worry or plan too much more have their own sense of freeing magic to them that make them just as, if not more, special.
This stay was just what we needed that came at the right time. Thank you Bovey Castle, for the memories.