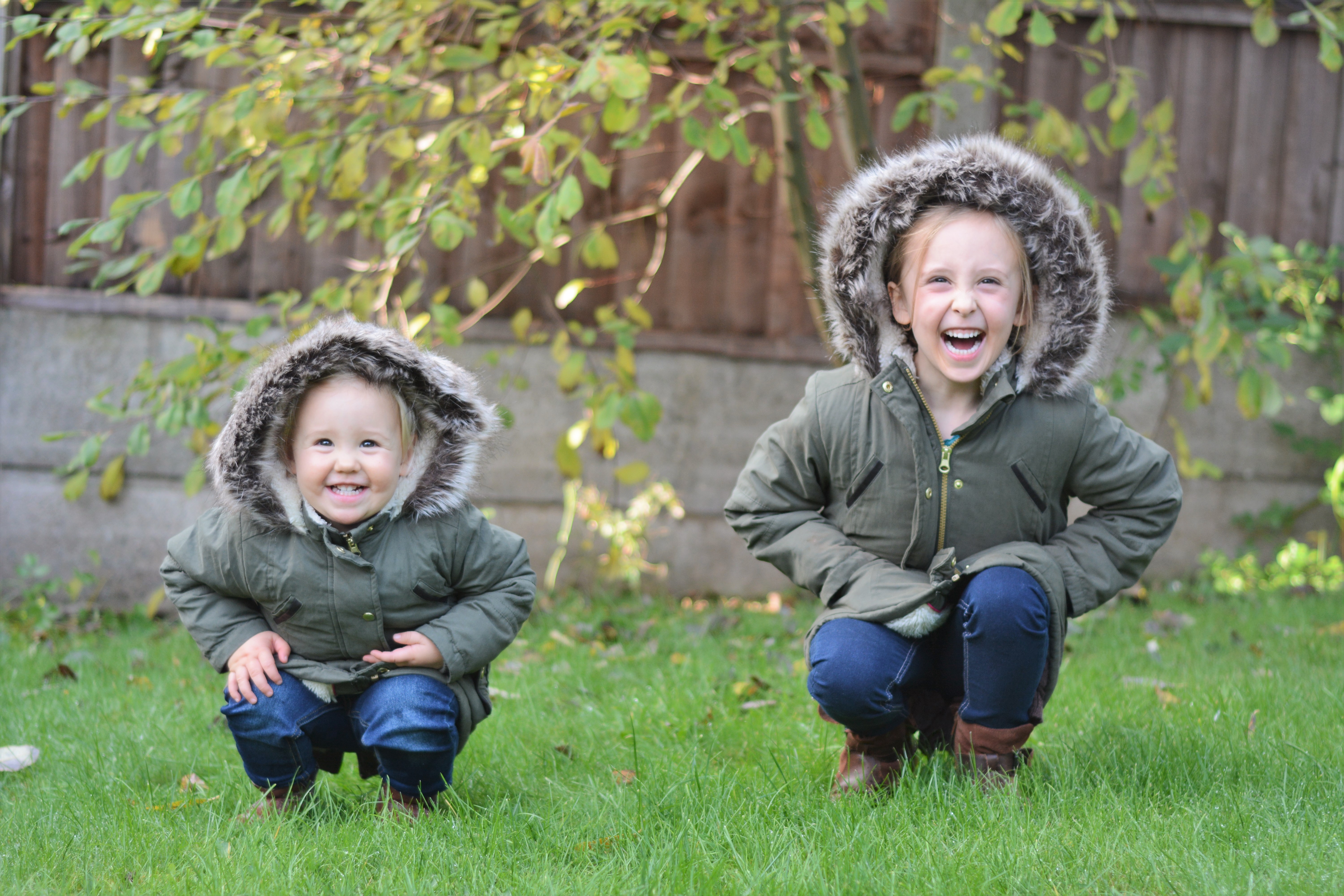 I've always been super grateful to have had two children. To be able to give Eva, who was and still is my absolute world, someone to share in hers. Because even though right now I am still her best friend and I wish with every single fibre of my being that this lasts, it isn't the same as having a sibling.
Having someone that is there to go through life with you, to learn with you and to have the same child like days that I thrive to give them. The days of no responsibility in the most innocent way. Where sofa cushions can be an adventure, where sparklers and marshmallows are quite frankly things of epic beauty on a cold October night where you can see your breathe and hear the fireworks surrounding you. Where elves, fairies and Christmas magic is around every corner to fill your little eyes with a sparkle and pure wonder never to be beaten. To feel those moments so intensely…and to reach out a hand and have someone there to feel it too. Not someone to remember what it feels like. Not someone to marvel at the stunning life I see before my eyes (which I will always be there to do) but to live in the moment right there alongside you. To find joy in your wonder and for their wonder to infect you in return.
I have always felt blessed, yet these past few weeks I feel even more so. The start of this month has been a tough one. And one that makes me ever more grateful of this sibling journey we are all on together. For them to have each other even when I'm not quite there.
Life just feels a little hectic with a lot of things out of place and I'm not even entirely sure why. It's nothing big, just moments, we've had moments. Like the one when I locked Roma in the car. Cried floods of tears as I did my best to entertain her by drumming on the window whilst frantically calling for help. The one where Eva started swimming lessons which definitely did not go swimmingly and lead to many tears and me feeling like maybe I'd done her an injustice not starting before. Where said lessons aggravated her poor eczema and made the situation worse. Or indeed the one where after sending her to school in her Forest Friday clothes and wellies, I forgot to send her with her shoes for the rest of the day. Yes, I actually forgot her shoes!
These moments mostly pail into everyday parenting life I know that, and I will laugh about them too, I know that. I wanted to believe that but with so many things to juggle I admit sometimes that is hard. And why? Because even though I know I have things to do, life to organise, work to complete etc etc I also have on the top of this priority list that I want to spend all the time I can soaking up my beautiful amazing children, to be the best I can be for them.
And because truthfully this is not like me. Or at least it wasn't. Before having two children I was the super organised person who never forgot a birthday. Who had all Christmas thought out before December even hit and I was the person who stalked Pinterest of an evening for craft ideas to make the most of each and every stage and season. I was THAT mum. The one that made Easter bonnets from scratch, Halloween outfits in September, made a toy kitchen out of a tv unit, a shop out of an old wooden bed and served up home made meals with the help of a baby/toddler/small child every single day.
Then, on top of all these little moments, last week I got poorly. I am thankful that since my tonsillectomy in July I have been generally well but I have a sensitive immune system that seems to pick up anything going and this time it has affected my chest, my airways and my breathing and currently I am on bed rest and steroids until I get better. So this past week I haven't done much parenting at all
It has however given me chance again to think, to see if from their eyes. They don't have guilt, they don't have judgement or expectations of how the day should look. They see a mummy who gets up every morning with a smile on her face and sings along to the radio even if internally she is worrying about being late or if the reading/homework/umpteen letters have been looked at. They see a mum who pulls faces and makes patterns on a steamed up window from the other side of a locked door and not the inner turmoil of the longest 45 mins of her life and the utter guilt ridden devastation of her own key placement stupidity. A mum who is there for a hug and to wipe away tears and tell them that everything will be ok when something is daunting and scary and they know they are not alone. They see a Mummy who lets them crawl all over her, who sits and cuddles and smiles the biggest smile with her eyes just to hold you both in her arms, even if it is from her bed. They see the moments only with their eyes. And what an amazing way to be.
Eva doesn't have the super organised life anymore. And after 21 months of thinking we'll all adjust, maybe we never will, maybe I never will. Maybe she will have school lunches on a Wednesday because there is no food or time left for packed lunch, maybe Roma will be dragged on a long trip to the shops to panic buy a child's birthday present the day before their birthday and maybe we will now be the ones to pack a suitcase as the engine is running outside. But chances are they won't even notice. Because they have each other, and that is better than any 'boxes all ticked, lists all done' day in the whole world. We will get through, days still come and go and they will always have each other.
Since last months siblings post we have also had such exciting times and with half term in there too their time together has been really special. Eva has loved all of our half term adventures, picking pumpkins, crunching in autumn leaves and watching Disney on Ice. Closer to home was Halloween craft, lots of time with daddy and the season for toasting huge marshmallows on a fire. We also attended Eva's parents evening and it is of no surprise to us that she shows the same writing and stationary addiction there as she does at home. She has started writing her birthday and Christmas wish lists in notepads all around the house and it is the most adorable thing to find. Although so far she would like an office of her own, jewellery, an artificial plant, an information book about tractors and ….. a trumpet!!
Roma has of course loved having her sister at home and copying everything she ever says and does (something that makes Eva both laugh and roll her eyes in equal measures!) She has a new obsession with both the ABC song, which she sings on repeat all day every day and counting to 10 in French, which is quite possibly the cutest thing I have ever heard. The tractor ride at the farm made her eyes sparkle and she thought that the monkeys were really funny when we went to the monkey forest.
They have both loved being as close to each other as they can be, whether that is sitting with a protective arm around one another at a party, running and jumping so close that they bash heads frequently or pushing their faces against one another and the glass as they watch fireworks from the window before bed.
In light of the mixed few weeks I realised at the weekend whilst in bed I hadn't taken any photos for two whole weeks. None. So I hauled myself and my pyjamas into the garden with my little ladies and a football. I didn't last very long before I retreated and these definitely aren't the best most adventurous shots but they do tell the story so well.
Simple days spent together.
xx