When we came to booking our family holiday this year there was only one stipulation… relaxation. Or at least as much relaxation as you can get from a family holiday with young children! Although we are generally people who like to explore and have experiences to remember we also just needed a break. Last year we visited France for a month with Eddy's work trip where of course he was working, and when he wasn't at work we packed in as much as we could to make the most of the experience therefore, we needed this year to be different. It would in fact be the first time we had, as a family, been on a true holiday abroad and so we booked two weeks of sunshine in Portugal. The Algarve to be precise. It made us all very excited to spend this uninterrupted time together.
Our arrival was late at night after a bit of a delayed flight but the girls were good as gold, especially considering it was Roma's first ever flight. Walking into the modern reception with a sleeping Roma in my arms I somehow felt like this was already the epitome of holidaying with children. In a really good, proud way. We all took a peek at the grounds as we were taken to our room on the third floor and it made us all (except a sleeping Roma) excited for the next day.
And relax..
Most of our days, particularly our mornings were spent at the pool. After either breakfast in the apartment, the restaurant or Eddy heading to a little bakery just down the road with the best coffee and pastries ever, we would be at the pool even before opening.
Eva would eagerly count down the minutes until she could dive in and I loved this time as it was always so quiet. Having learnt to swim by herself just before we left it was wonderful to see her confidence grow. More and more as the days went on she would go off and swim by herself and want to show us just how good she had become. Roma has always been confident in the water and with her float vest she too liked her independence and it was the best day ever when some people who were leaving gave them some inflatables of their own!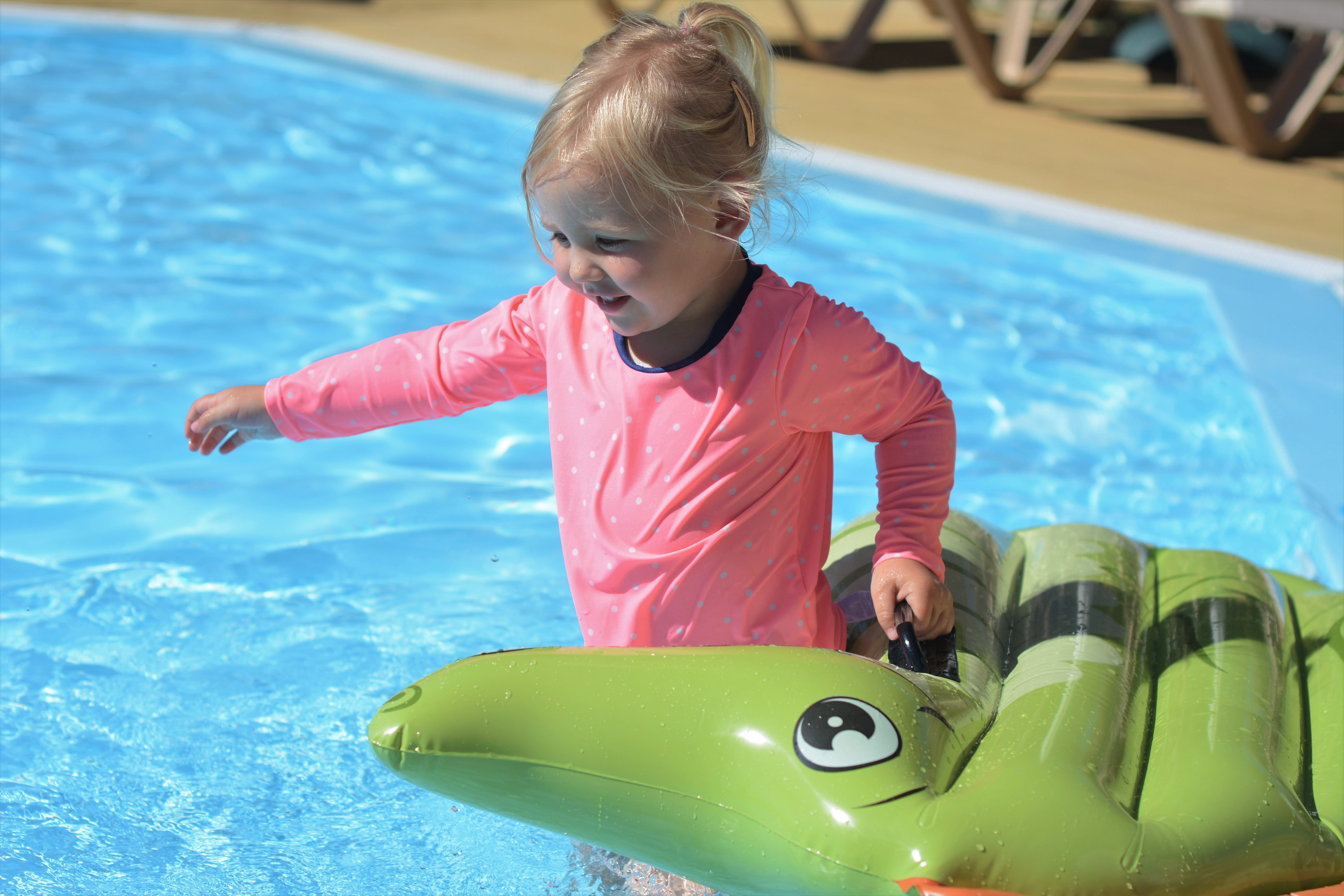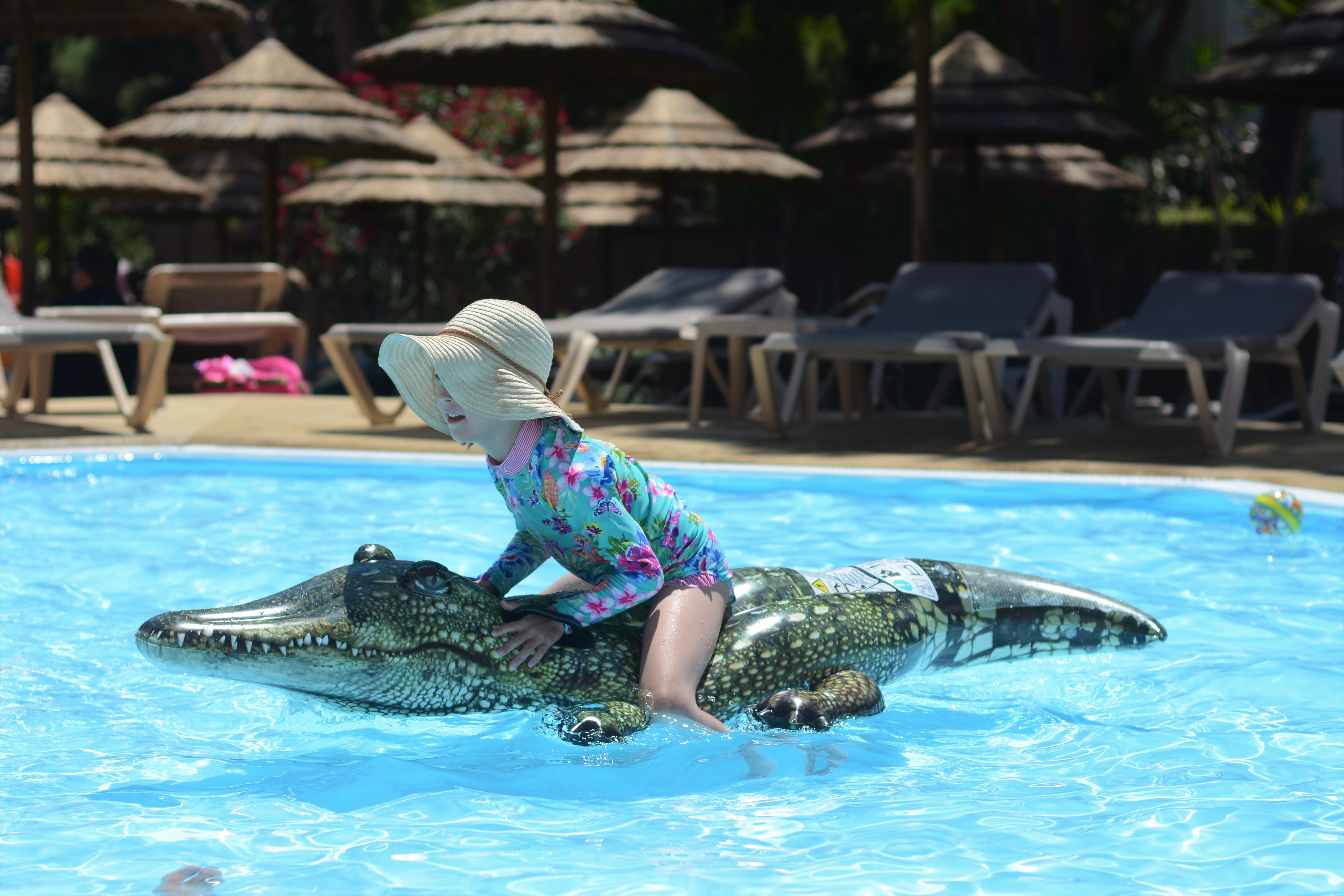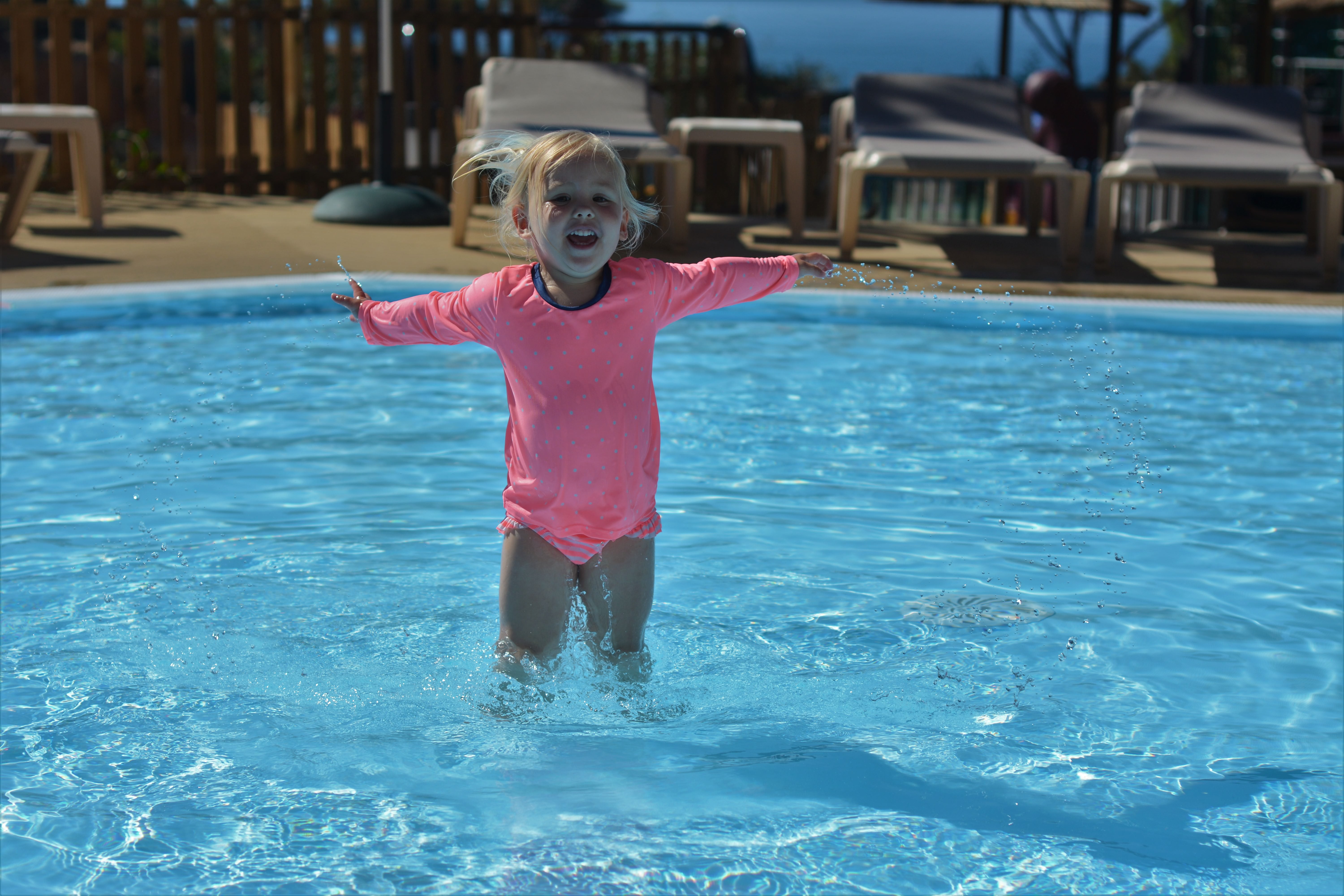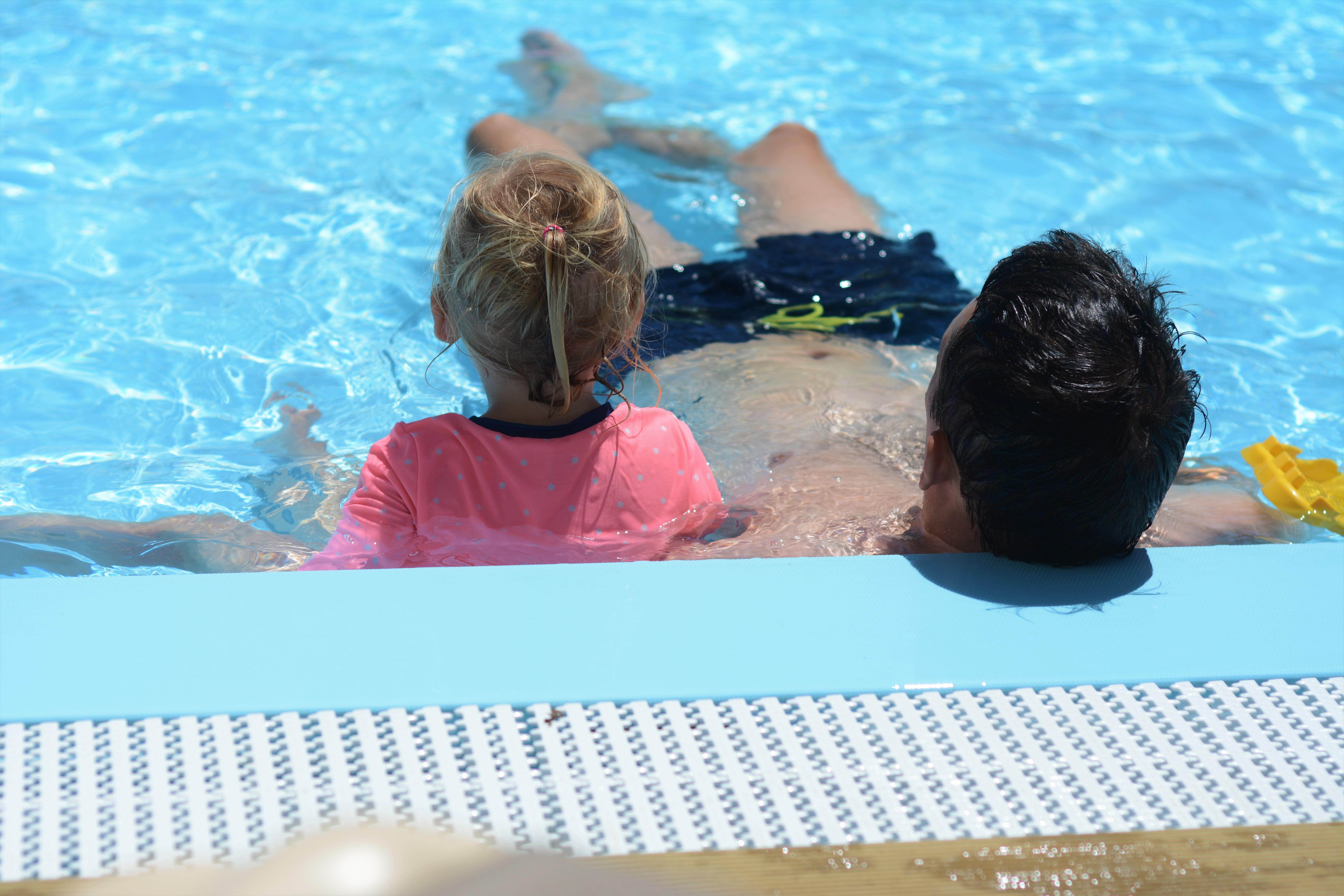 One of the best things about this pool time was how simple it was. Even with what felt like 100 false alarm toilet trips with a newly potty trained toddler and constant supplies of food we managed to have so much fun. We all swam together, we sat together and I feel like the girls got to see the real us. Not just the busy parent us but the, jump in the pool together holding hands and playing cards kind of us that is so often forgotten but so important for them to see. After all that is what holidays are for aren't they? Less responsibilities and much more fun.
At home I struggle with my muscle condition to go swimming with them and this is often not the swimming itself but the whole getting there, getting everyone changed etc etc that comes with it so for me this time to both sit and watch and dip in and out with them was totally priceless. Eva and I even managed to take a Pilates class together.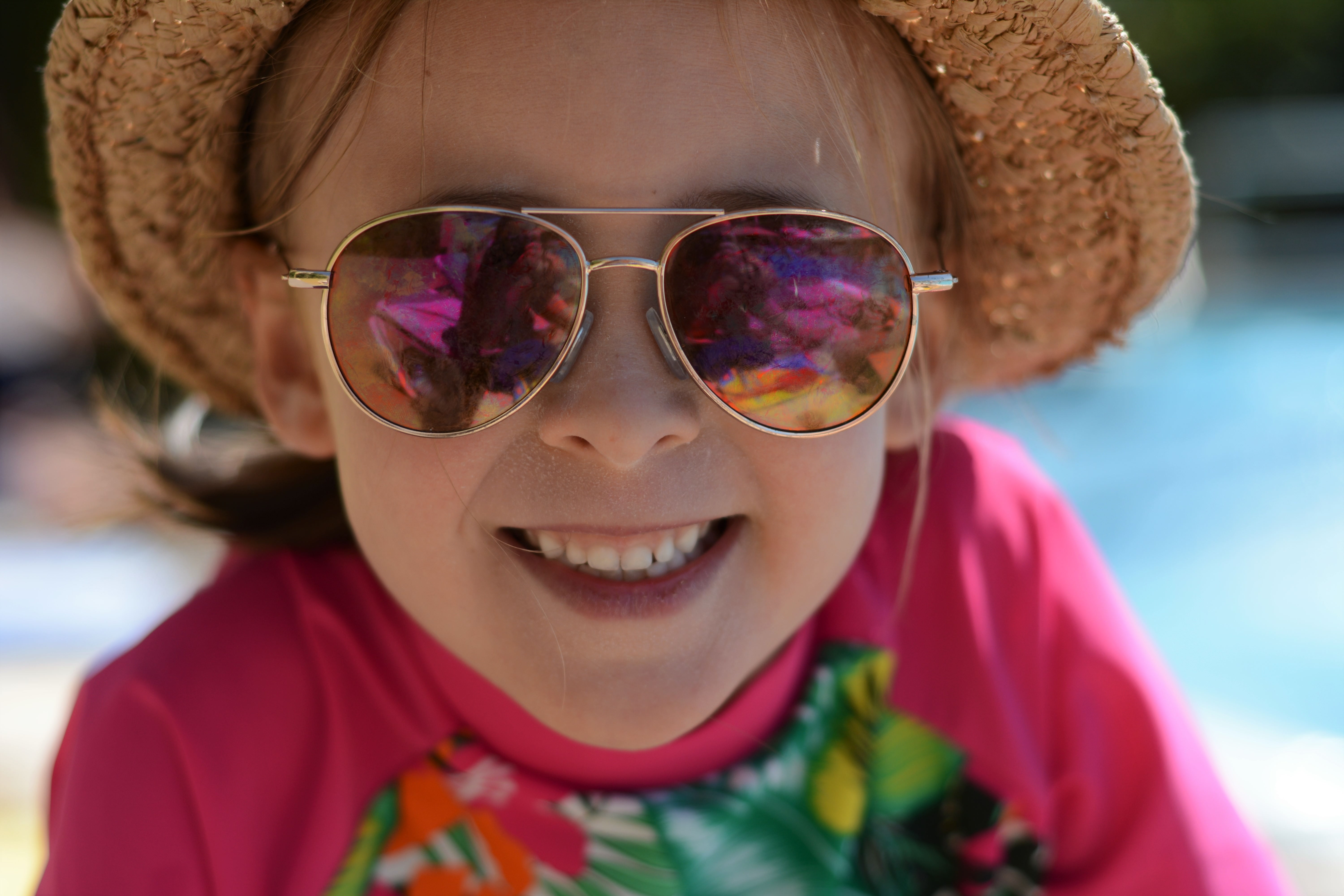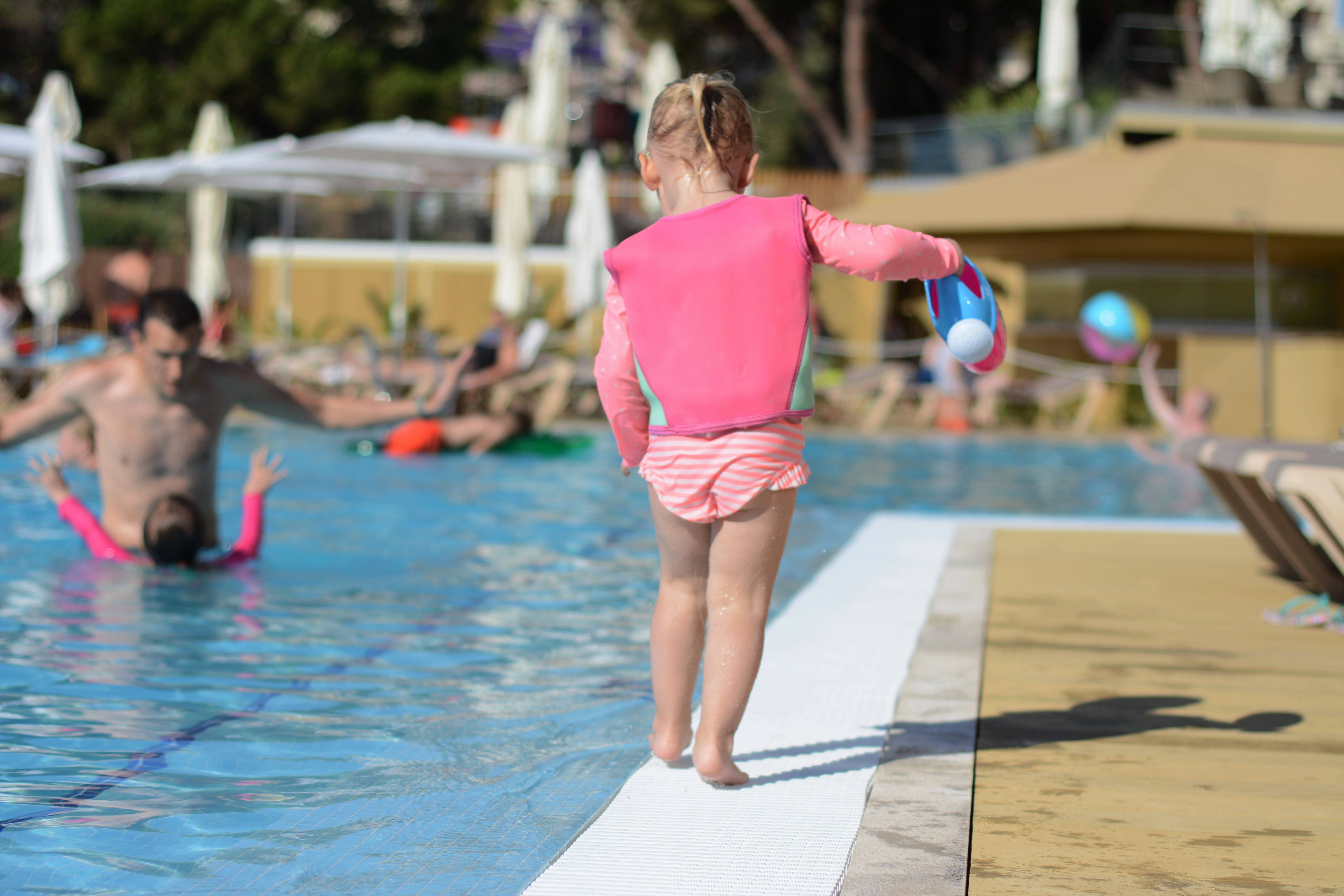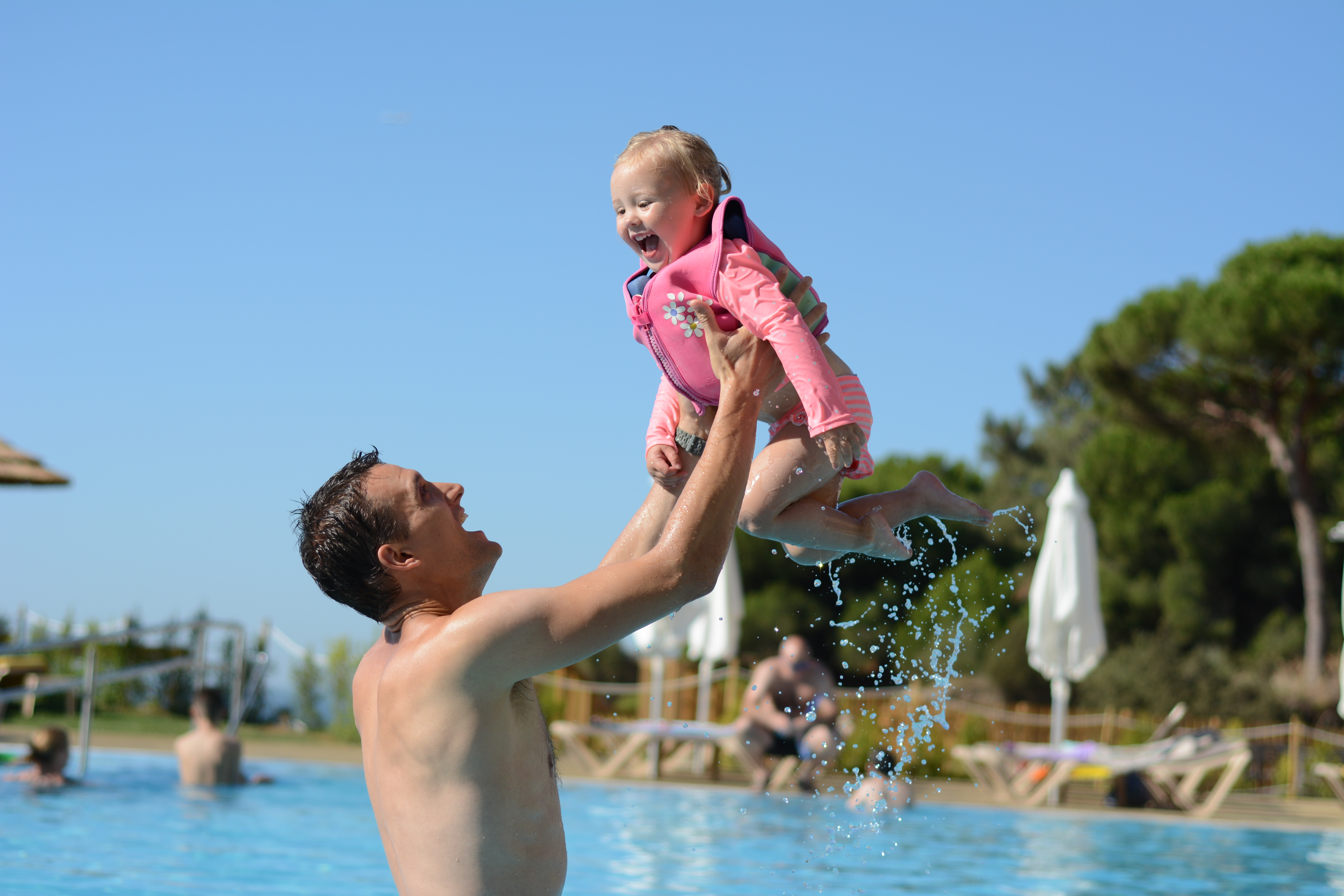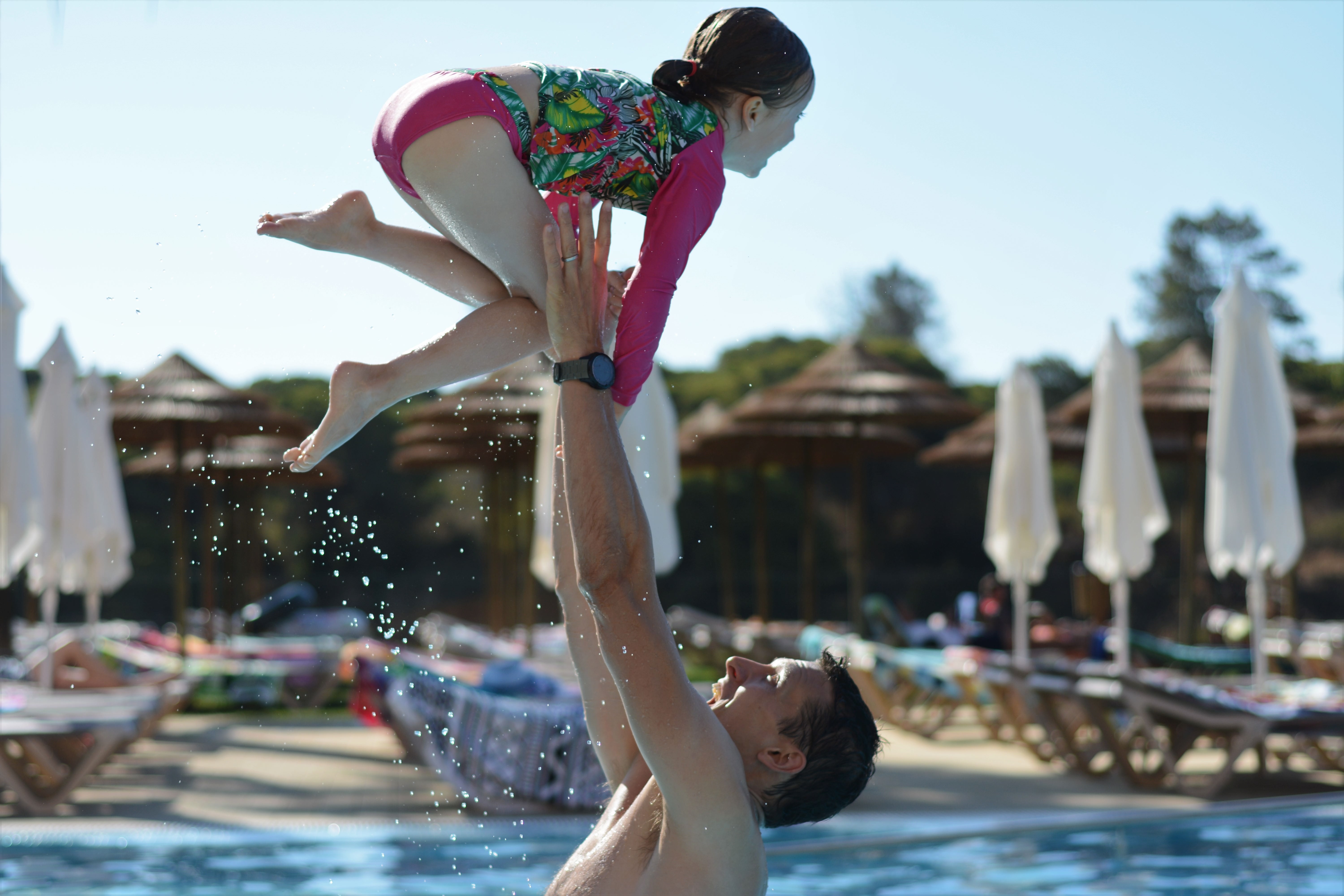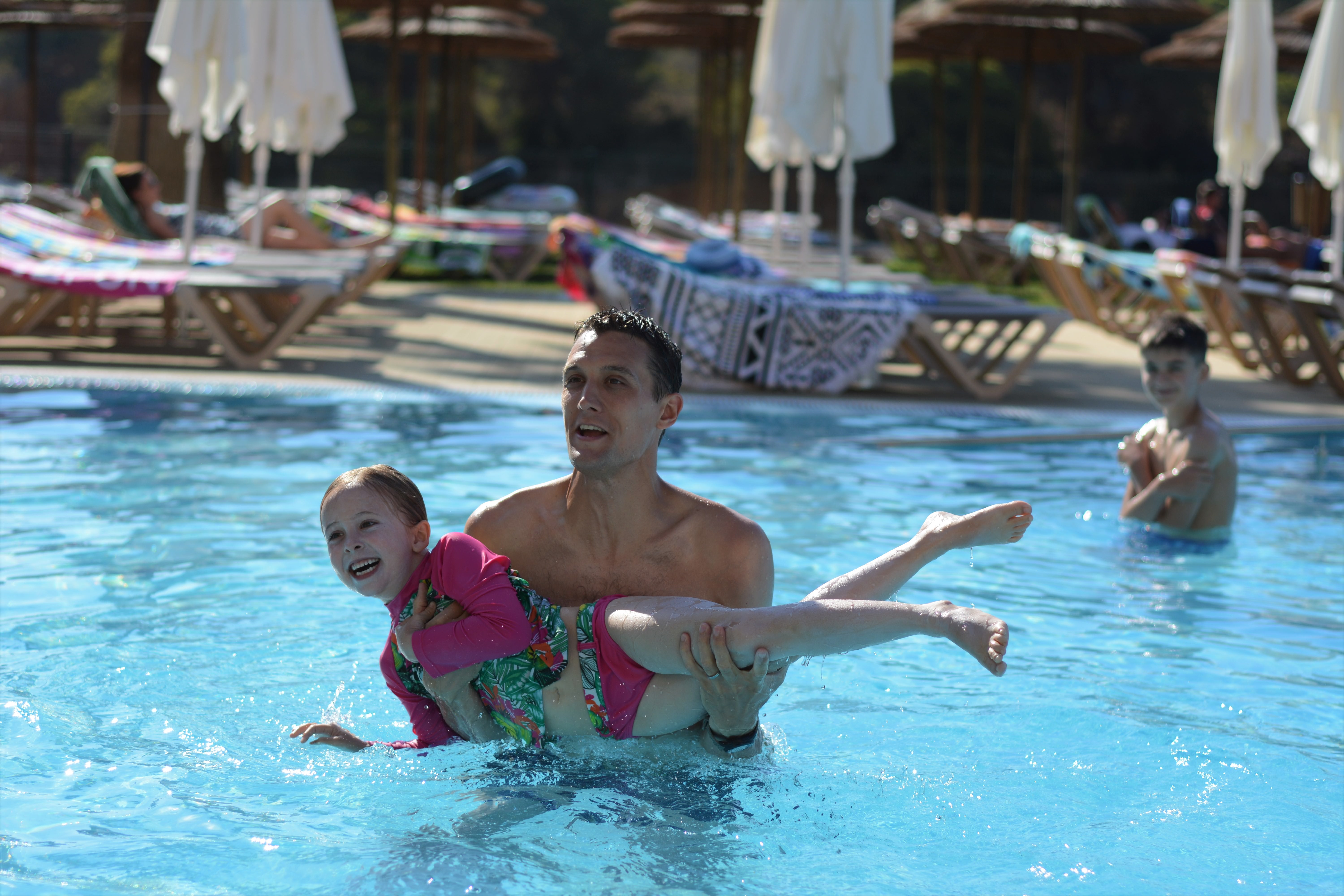 I love this photo because I think it shows so much of what Eddy is about, he is fun Dad, he is the one who can throw them in the air, the girls love it (as you can see) and he fills that role so very well. But most of all the boy in the background makes me smile because it looks like he has such pride in what Eddy is doing, I like to imagine he is thinking 'what a cool Dad' – or maybe he isn't but that's how I see it and I am sticking with being proud of Eddy for that!
Out and about
Having eczema and allergies sometimes Eva does struggle a bit on holiday with the heat, the food and the suncream so in the afternoons or some days we would take a break from the pool, cover her up and explore the nearby beaches. One day we also decided to visit Albufeira old town, on a bus that was called Eva transport so that was the height of excitement for Eva, and just going on a bus was apparently enough for Roma too, she even asked if we could go on a bus at home!
The beaches were really beautiful with some stunning rocks and little caves. At the right times there were the most amazing rock pools and so I told Eva we would come back and explore when the tide was just perfect as she loves rock pooling. It didn't seem to matter what time of day we went the beaches were really really busy with people not shy to jump in the sea. We took a walk a little further down to one with some more shops, a cute little row of blue beach huts and the all important sorbet for Eva.
Whilst there we just so happened to find the least child friendly bench to sit on (see the video for that beauty). I didn't even notice until I had taken a picture of Eddy sat on it with the girls but I really can't bring myself to put that up here! We did make a sharp exit before Eva read it but it did also make us laugh.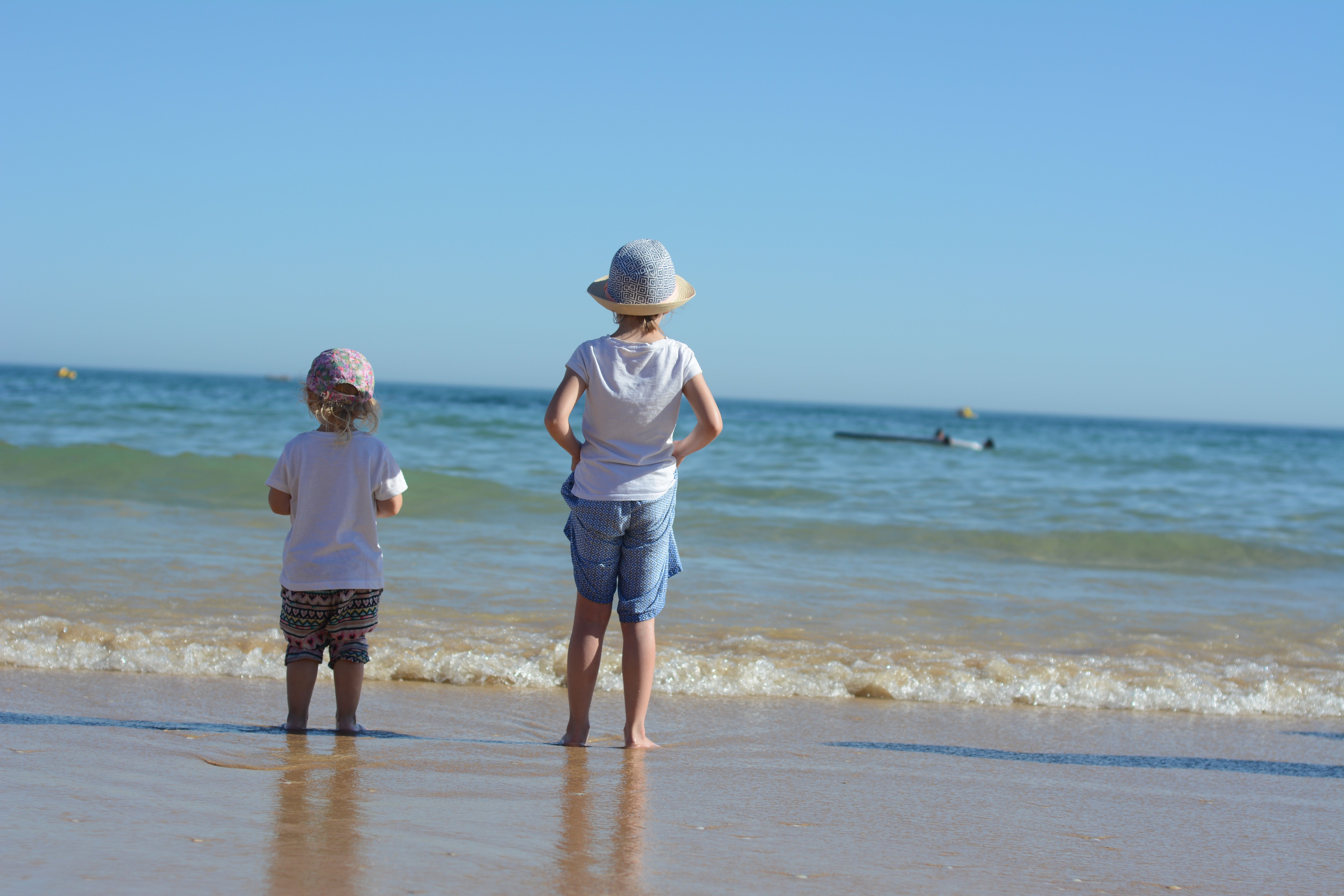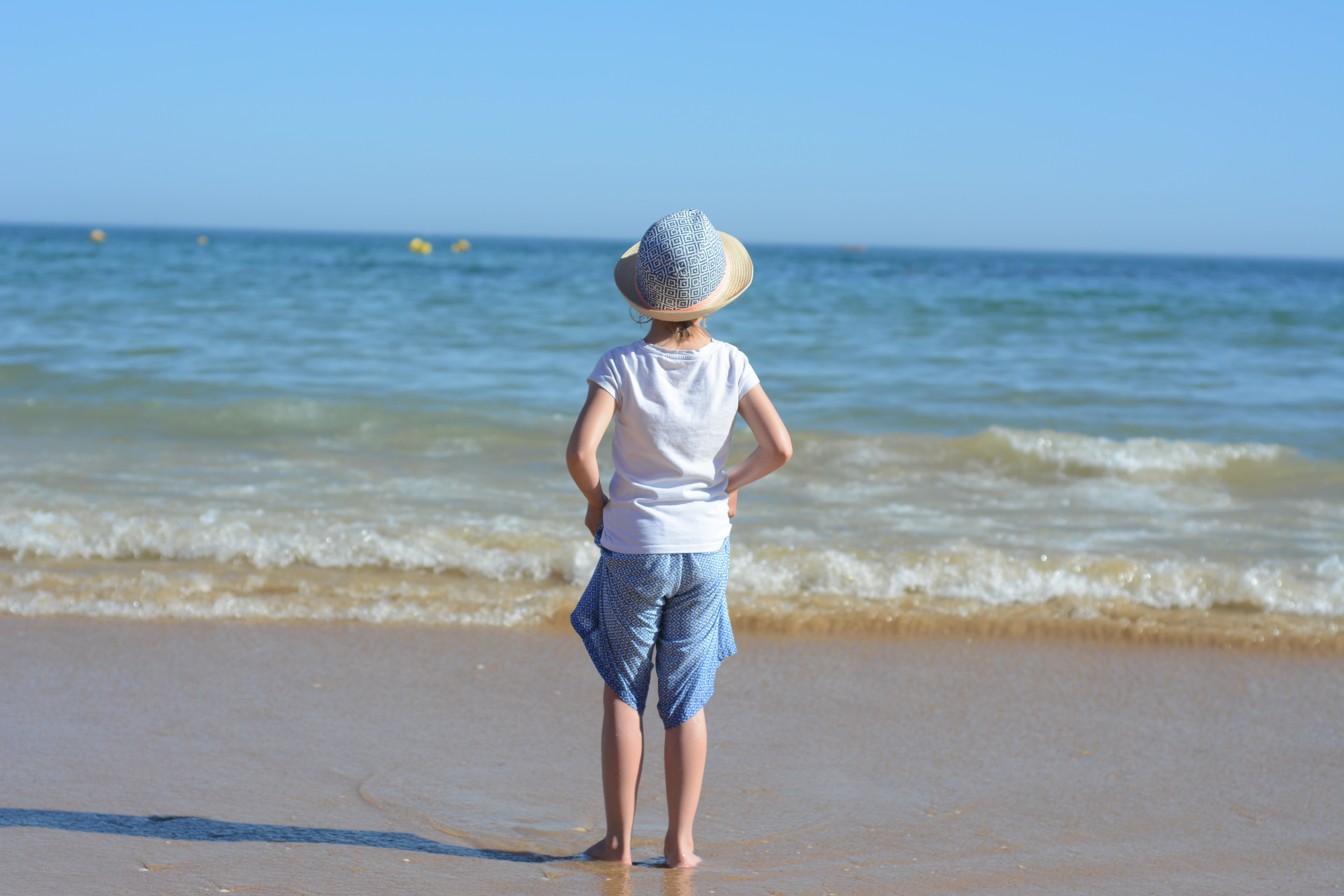 Roma is a treasure hunter, we had pockets full of stones and shells every single time we stepped foot off the beach.
Albufeira
When we visited Albufeira I kind of assumed we were in for a traditional Portuguese town with lots of blue and white houses and traditional restaurants, you know just the kind of thing I like to immerse myself in when I am exploring a place. However we found it quite touristy and busy. I am not sure if we properly explored the right areas to be honest, although some parts were really lovely, after a couple of hours of walking the really hilly streets with two very hot children we got the bus back for more swimming fun!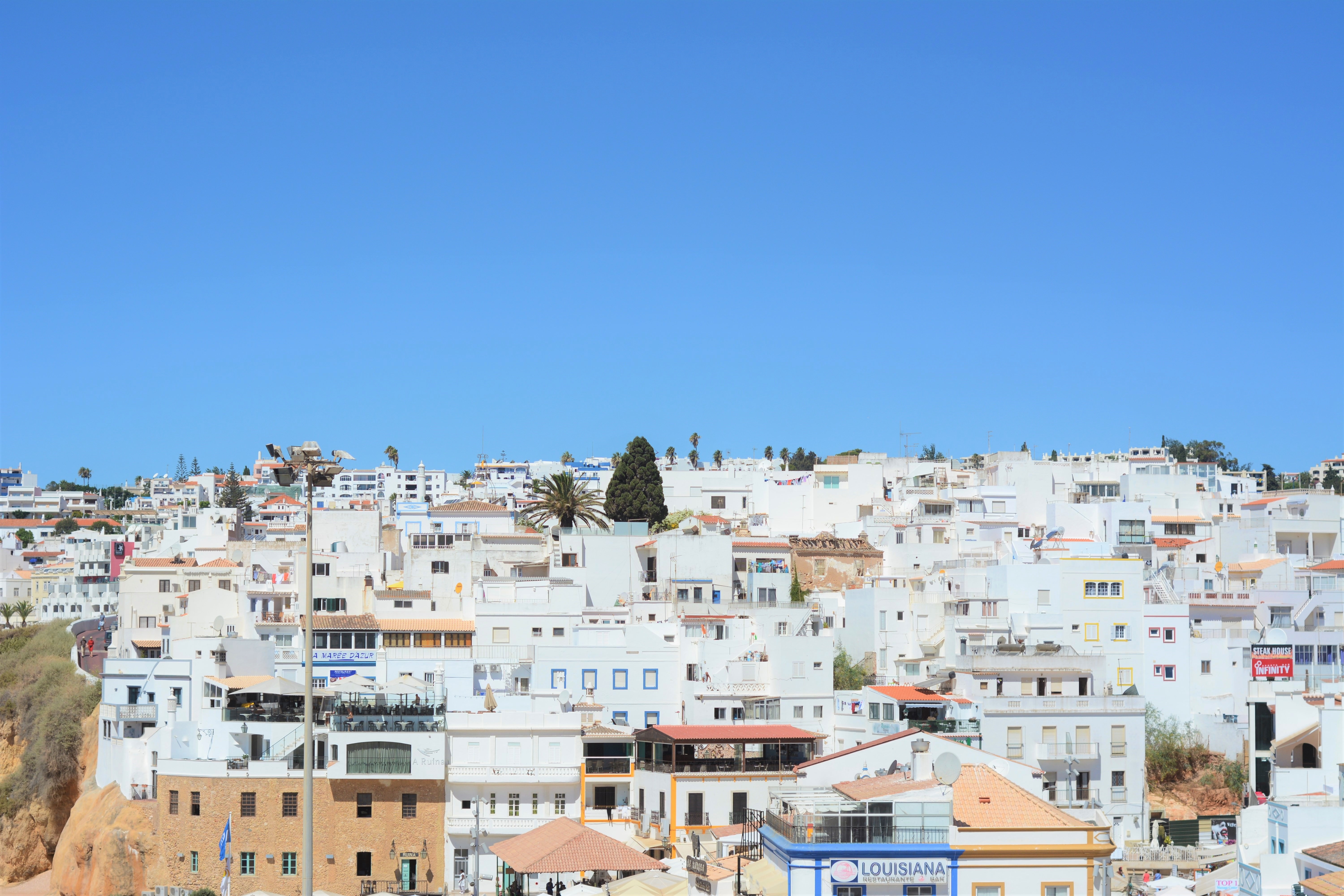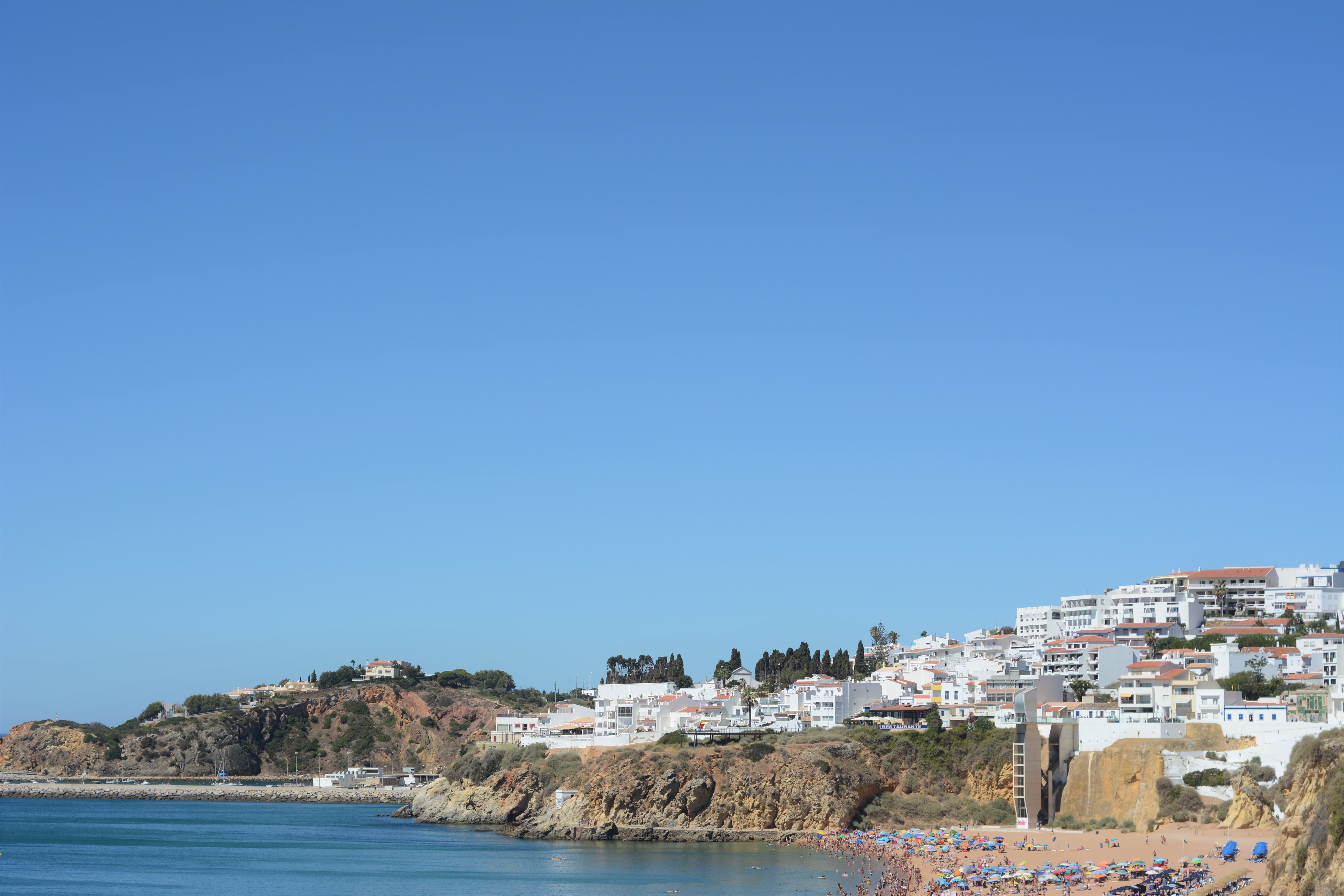 Routine
As I said before our girls seem to fair much better when mostly sticking to routine so as the restaurants didn't open until 6/7pm in most places we either chose to eat out at lunch time (we had the most amazing sushi lunch on our anniversary which is our favourite) or cooked in the apartment and then headed out for an ice cream and a park or beach trip after dinner.
Eva loved the entertainment around the pool, especially the little jingle they did a few times a day and she read on the board that there were some animal shows at 5.30 so we would come back down to the pool bar for those and actually they proved a big hit. Roma held a huge owl and had it fly right onto her arm, she held a parrot (after laughing hysterically at the tricks they could do) and Eva even had a chameleon sit on her arm which for her is a pretty big deal. Therefore we didn't mind too much when we spent 30 euros on buying pictures of them holding said animals!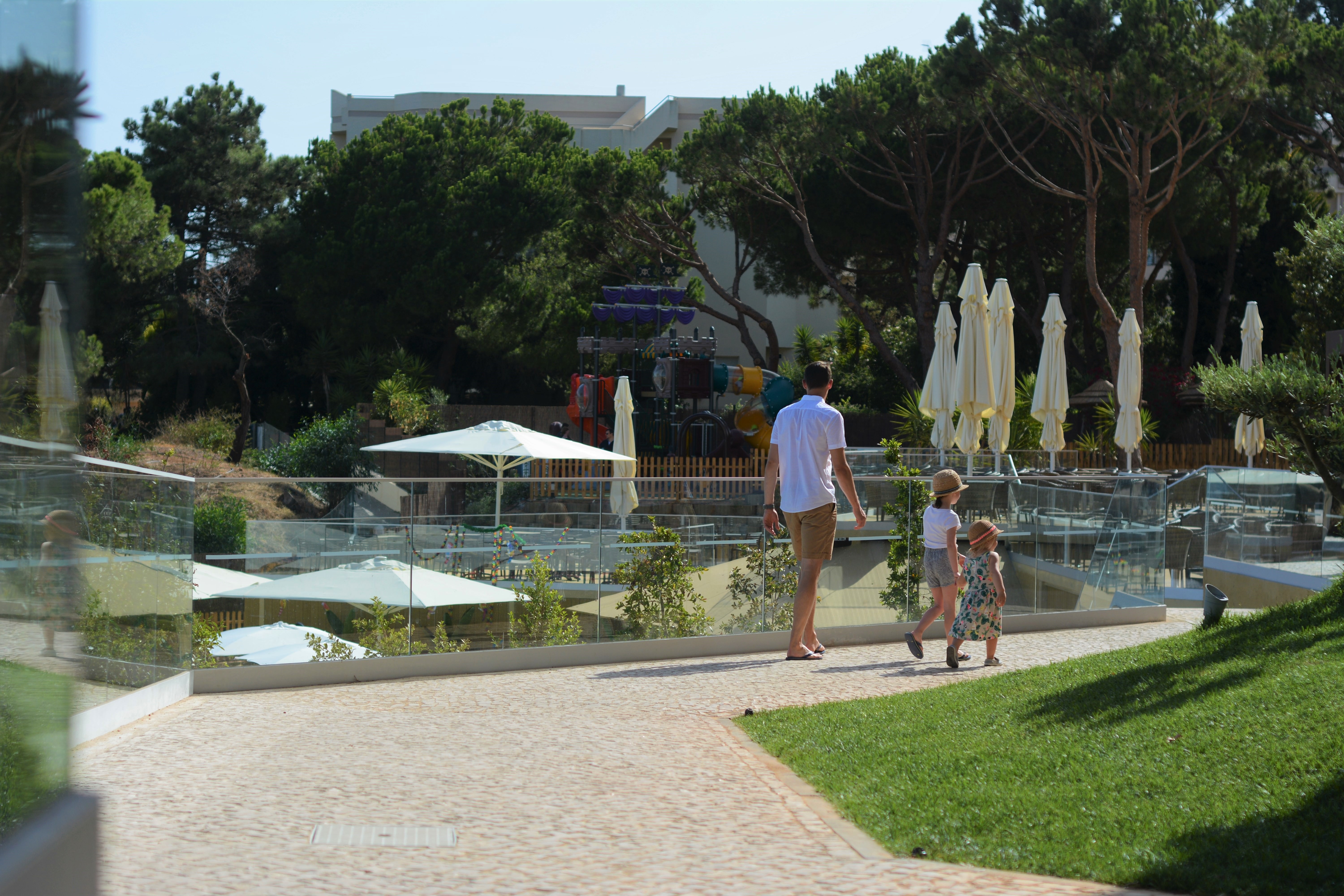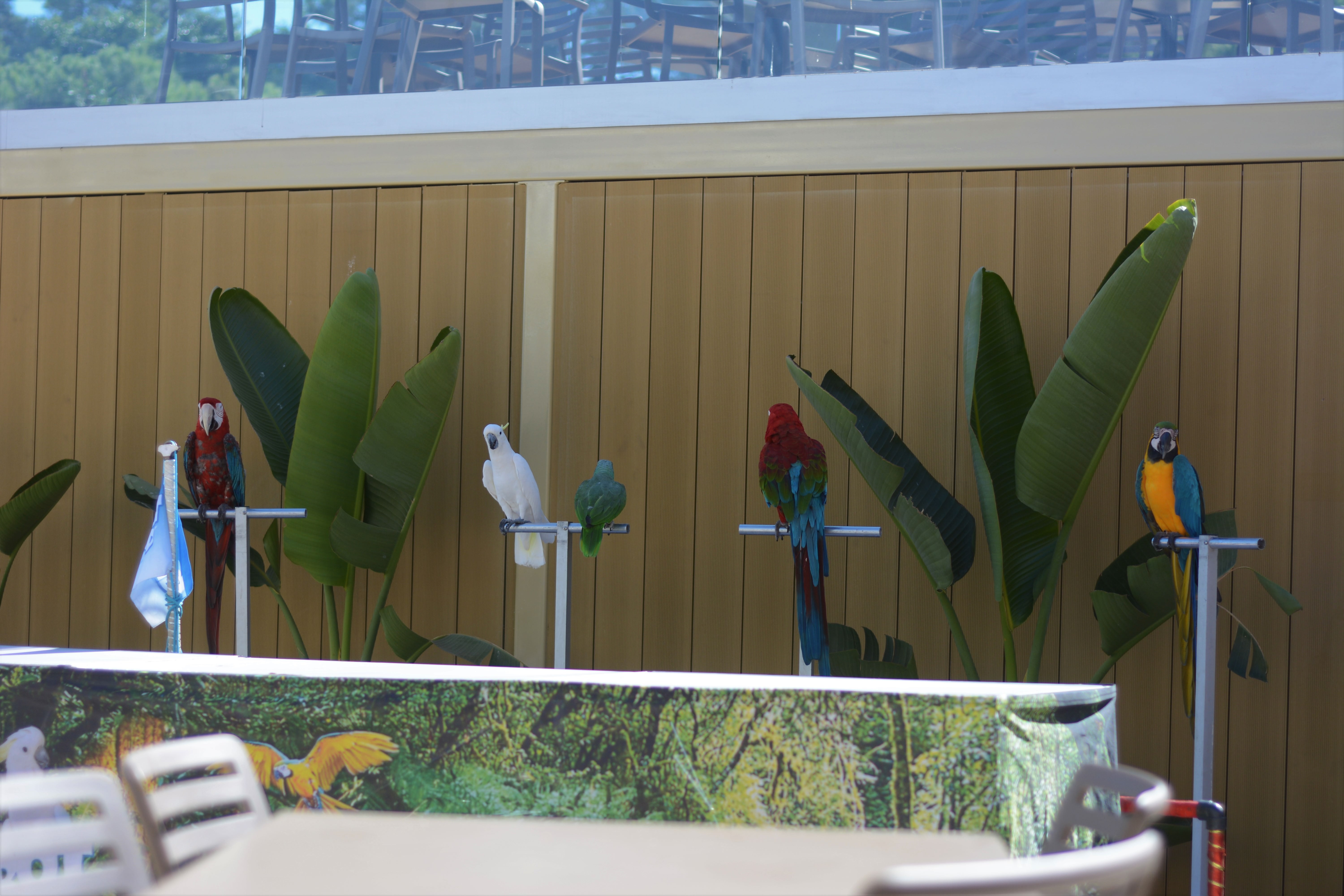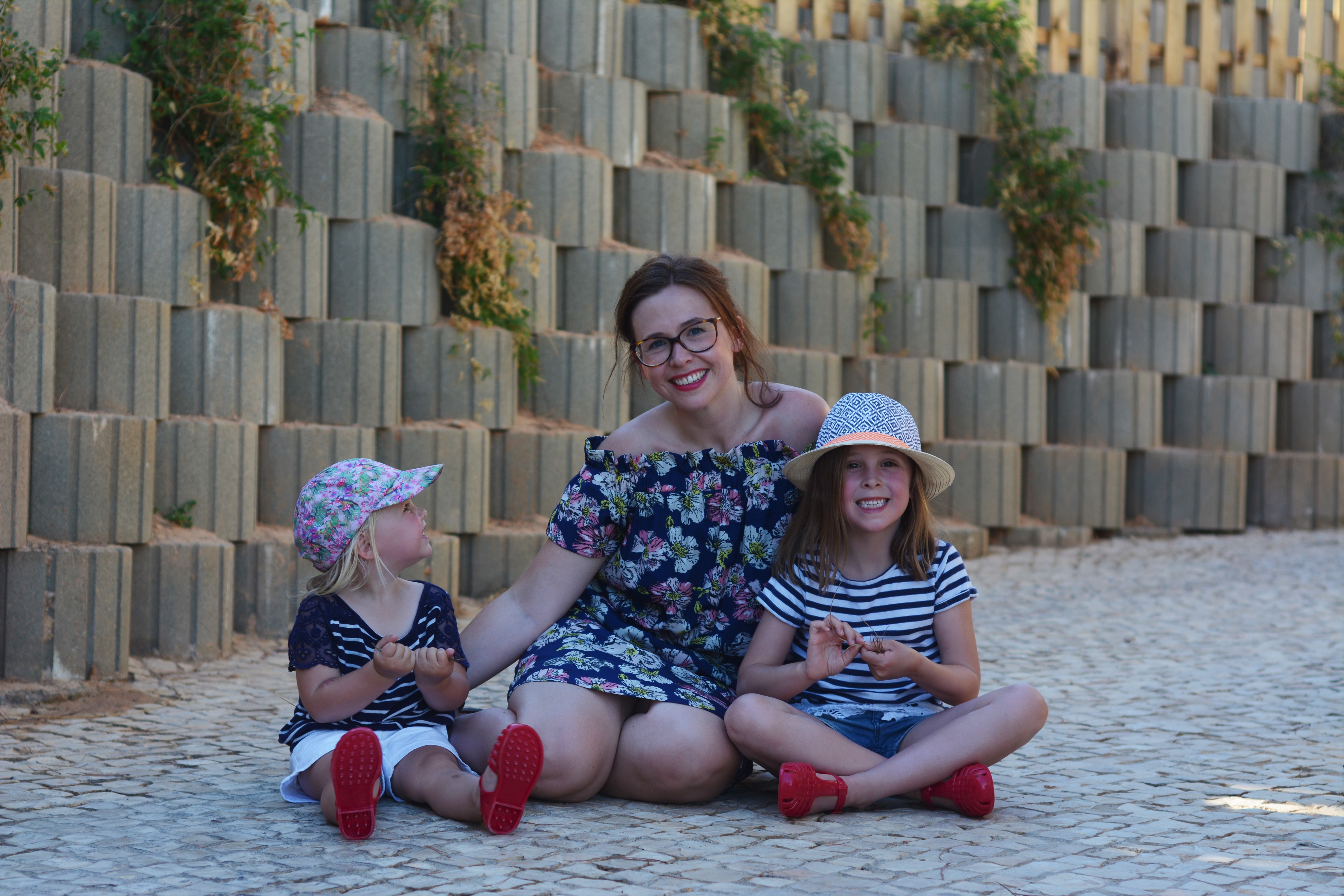 My little climber, whilst we were taking some photos she took it upon herself to climb up these planters and collect twigs, there really is no stopping this one!
Falesia Mar Hotel
The grounds where we stayed (which was Falesia Mar Hotel) had recently been refurbished and you could definitely tell. It was absolutely beautiful with the most stunning view and really great facilities. There was a main pool, a 'bubbly' pool as Eva liked to call it and children's pool which was also next to a really great play park. Even the view from the balcony was mesmerizing especially at night when we would see the most beautiful pink sky over the red rocks.
The apartment we stayed in was basic and I would say didn't quite match the grounds as it was probably a little dated and tired. I do know that the refurbishment is ongoing so maybe this will come too but I did love that it had a lift, it helped with not only my legs but the pushchair that was still necessary not only for a tired toddler but for carrying stuff too….I am really not sure what we will do when we don't need one anymore!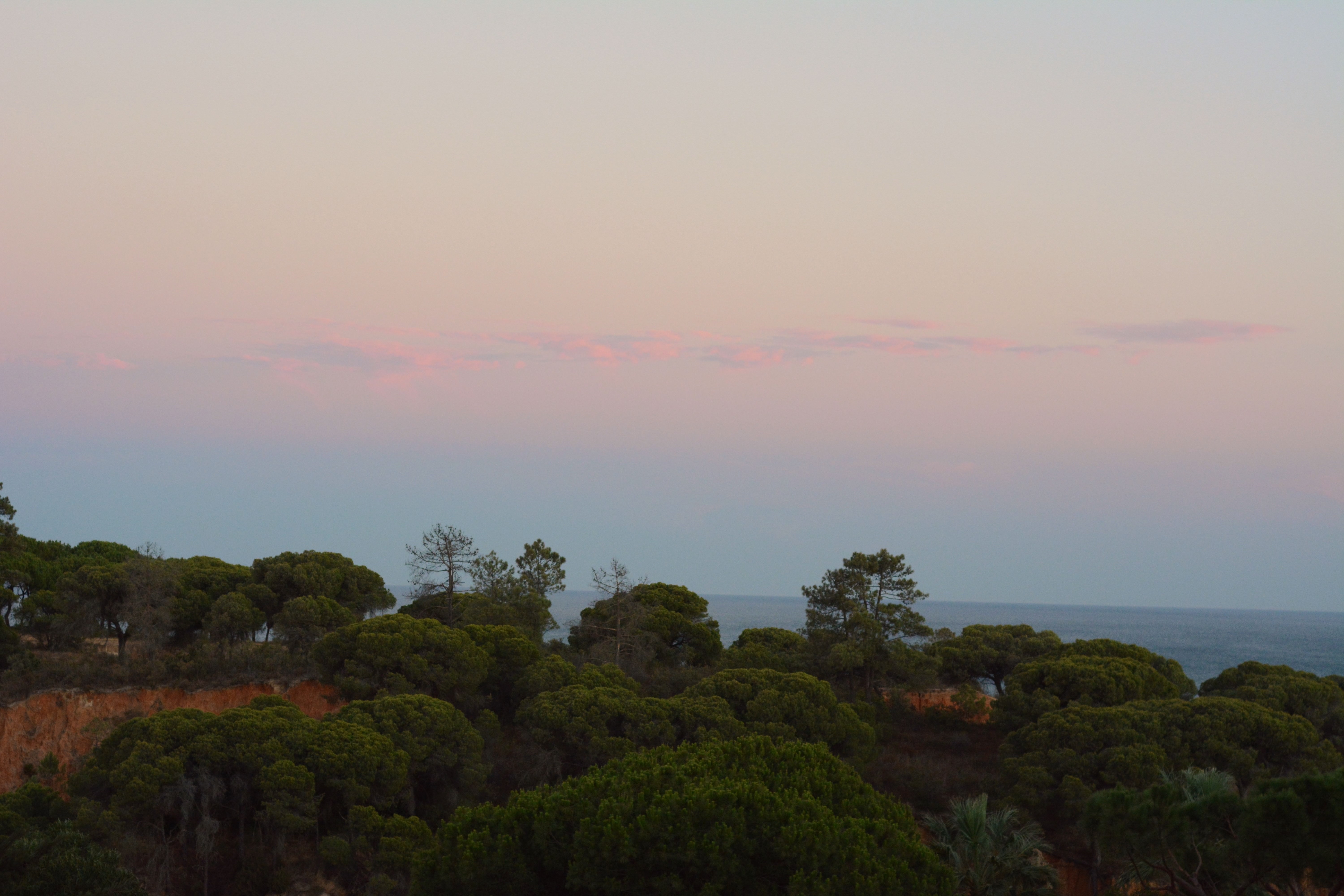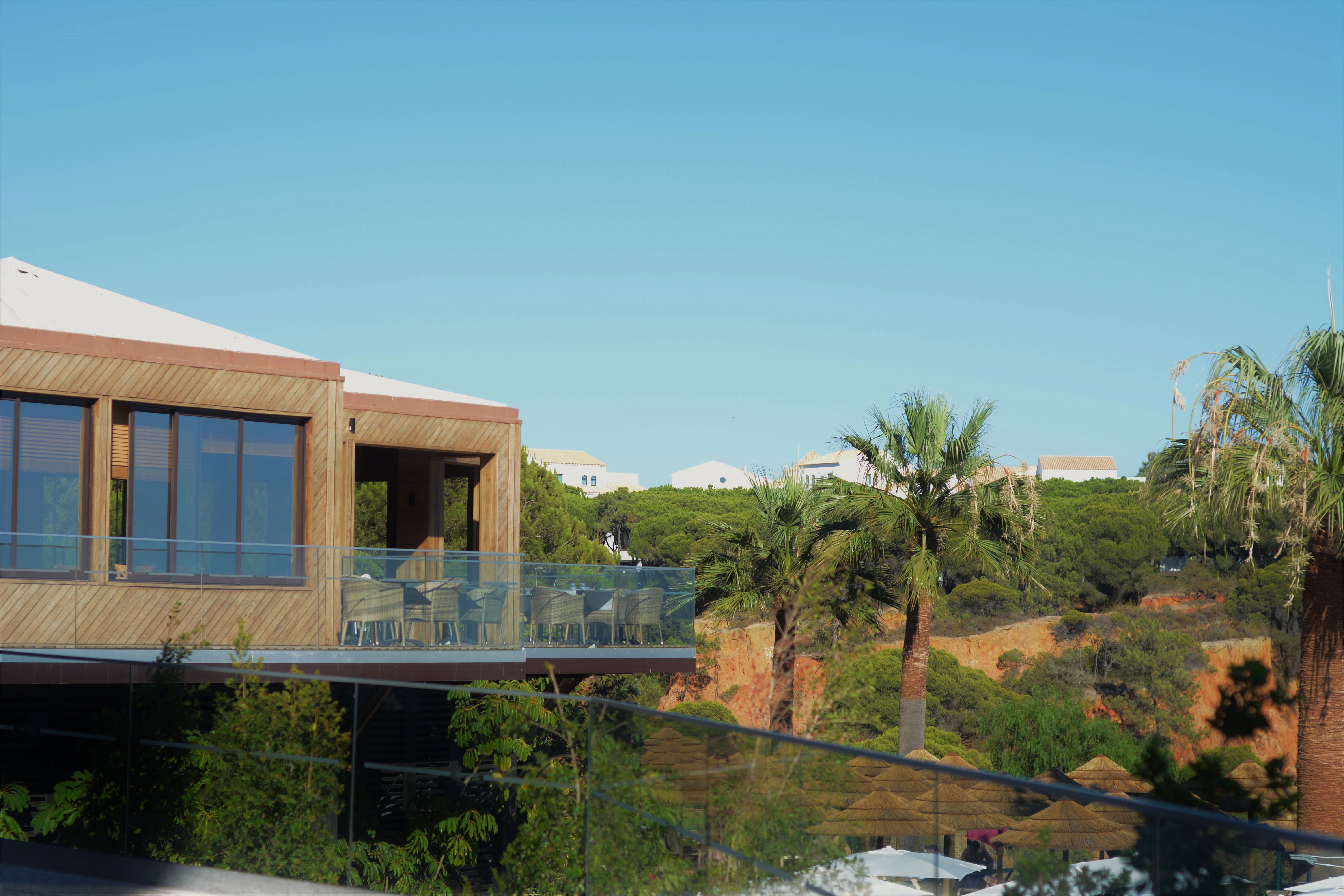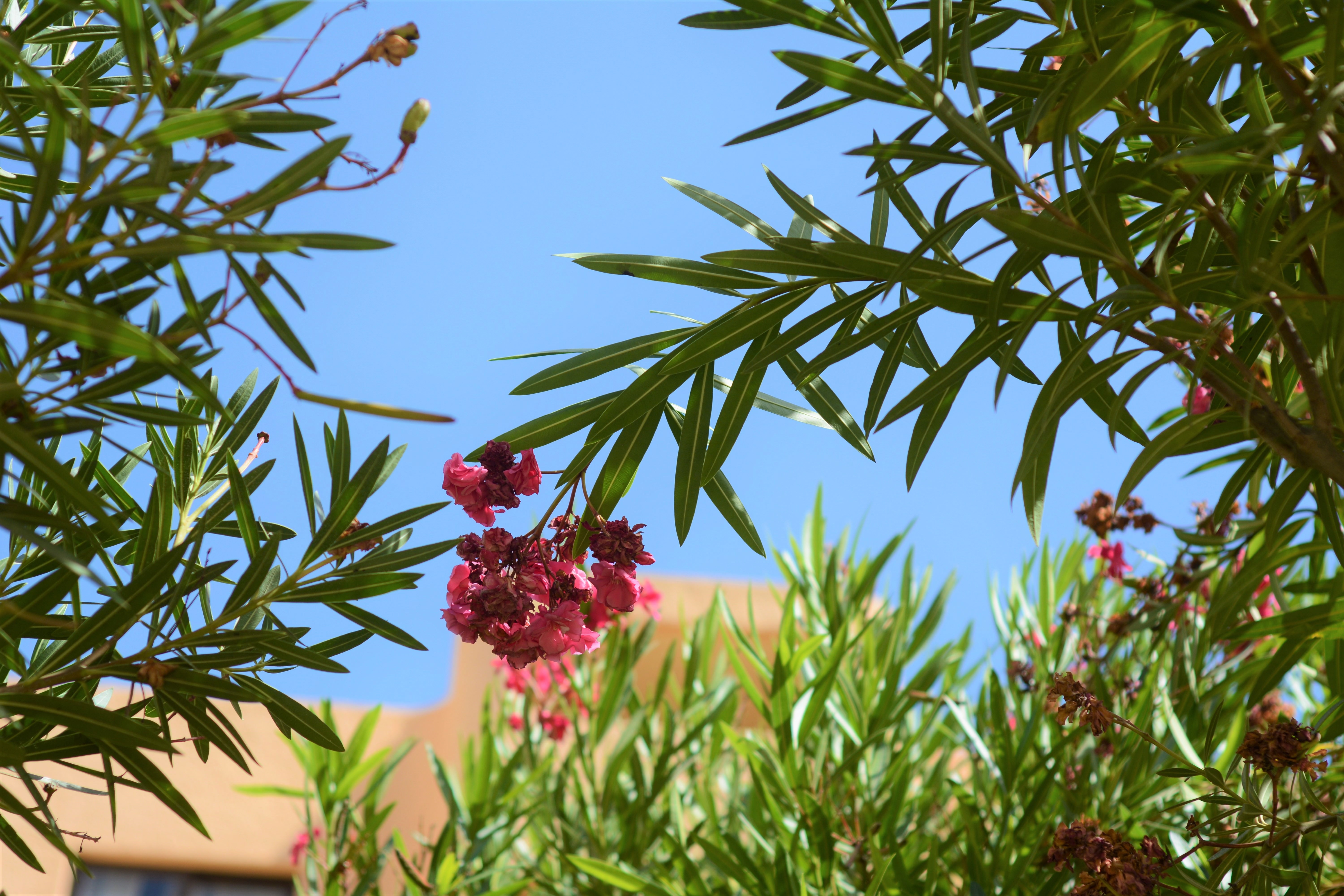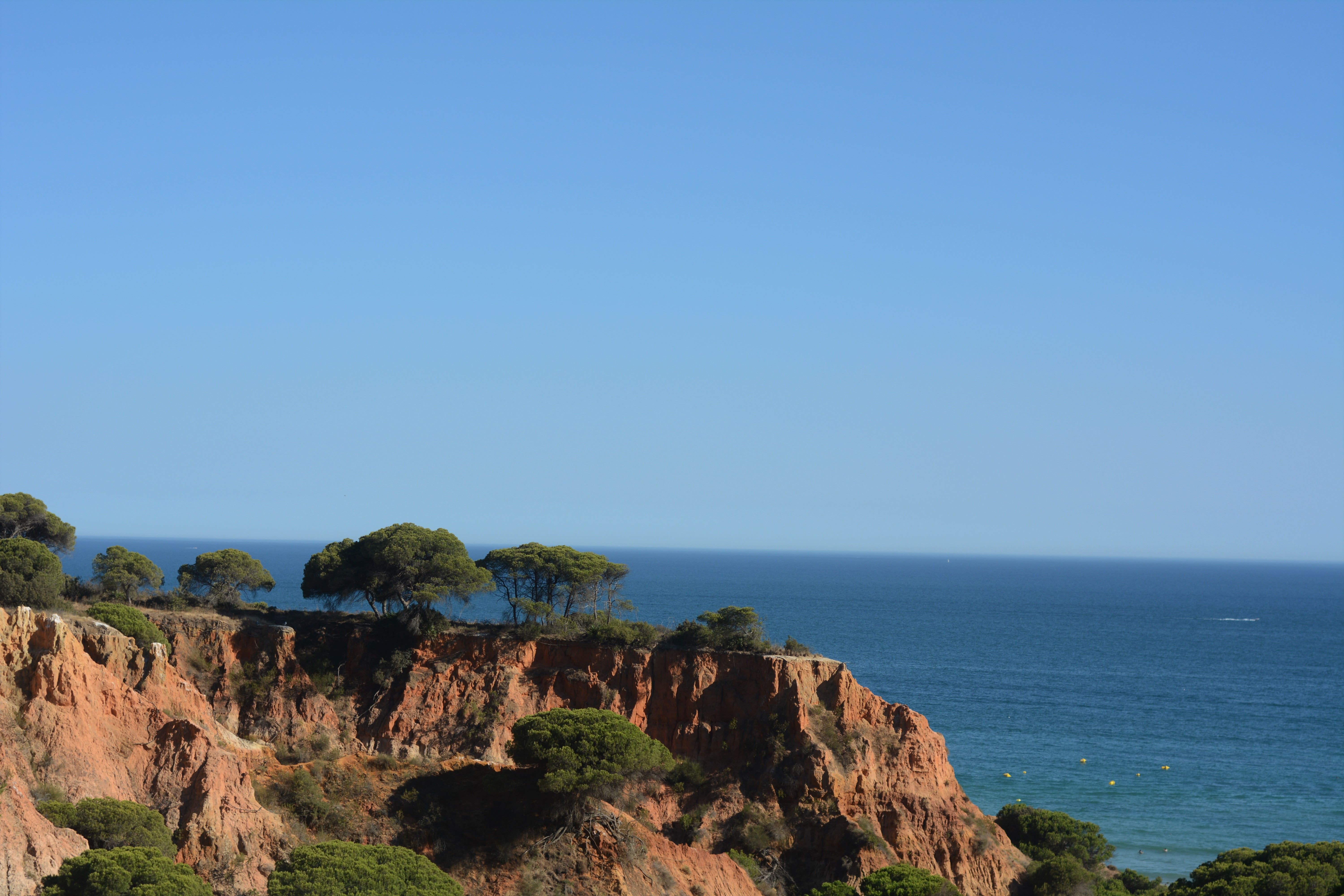 It was the biggest complex we have ever stayed on which I will be honest came as a bit of a surprise (that's my own fault for the lack of research there) and it wasn't necessarily the best thing for us. We are people who love to stick to routine, the children like to be settled at bedtime and everyone is just happier and more settled if we generally do so. This meant that as we were heading home for bed lots of others were just going out and therefore it could be noisy which of course wasn't the best for us. However we worked with it and after this and some teething troubles with them sharing a room they actually coped so so well with it. Probably better than me truth be told – Oh I love a bit of silence!
All in all the first week was exactly what we needed it to be, we relaxed and had fun and were refreshed and ready to use our second week for more exploring. As a family we realised we get itchy feet and although the local area was lovely, the adventurers in us was definitely ready to go further afield, escape the complex and we ended the week with plans to hire a car with a list of other places to visit.
xx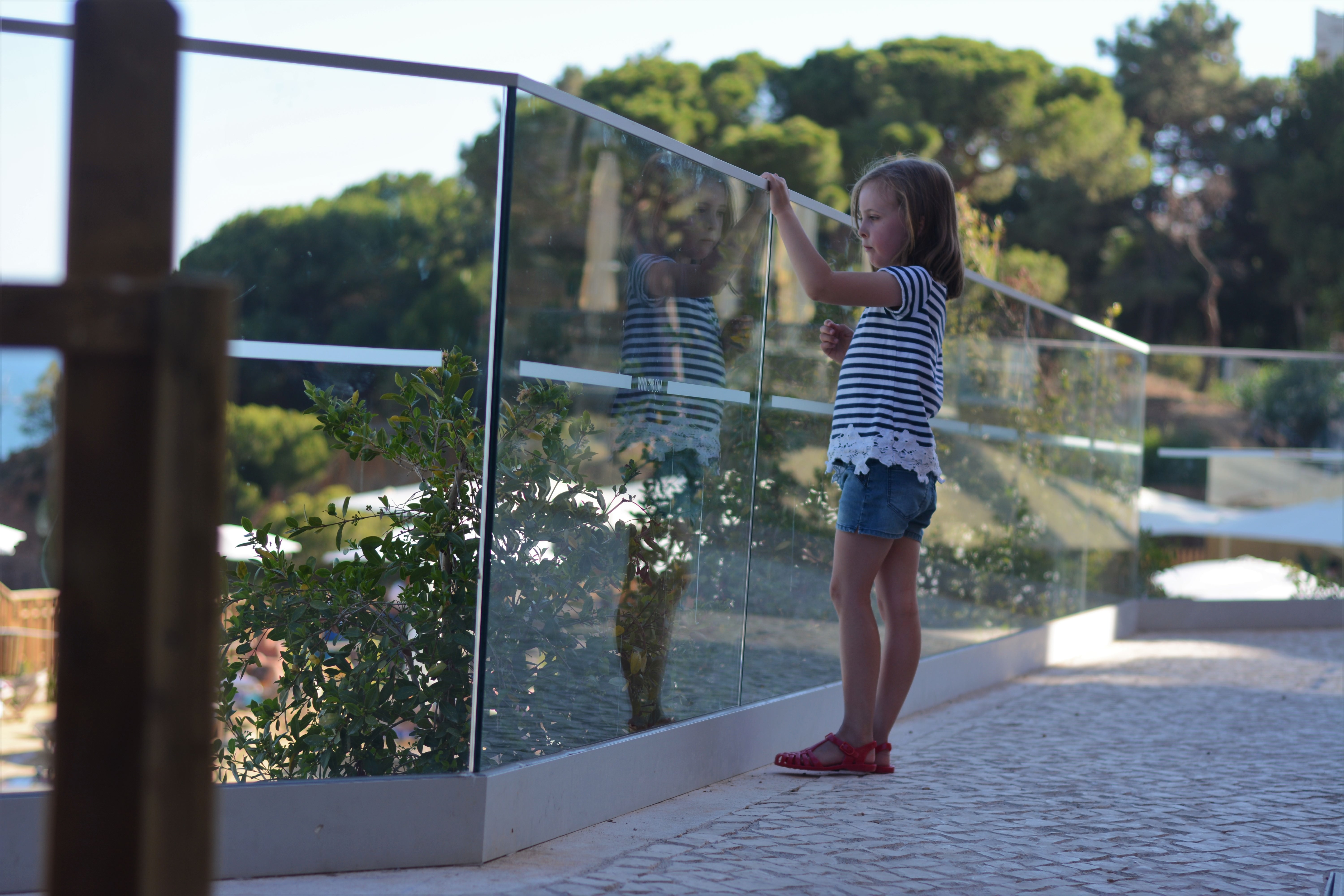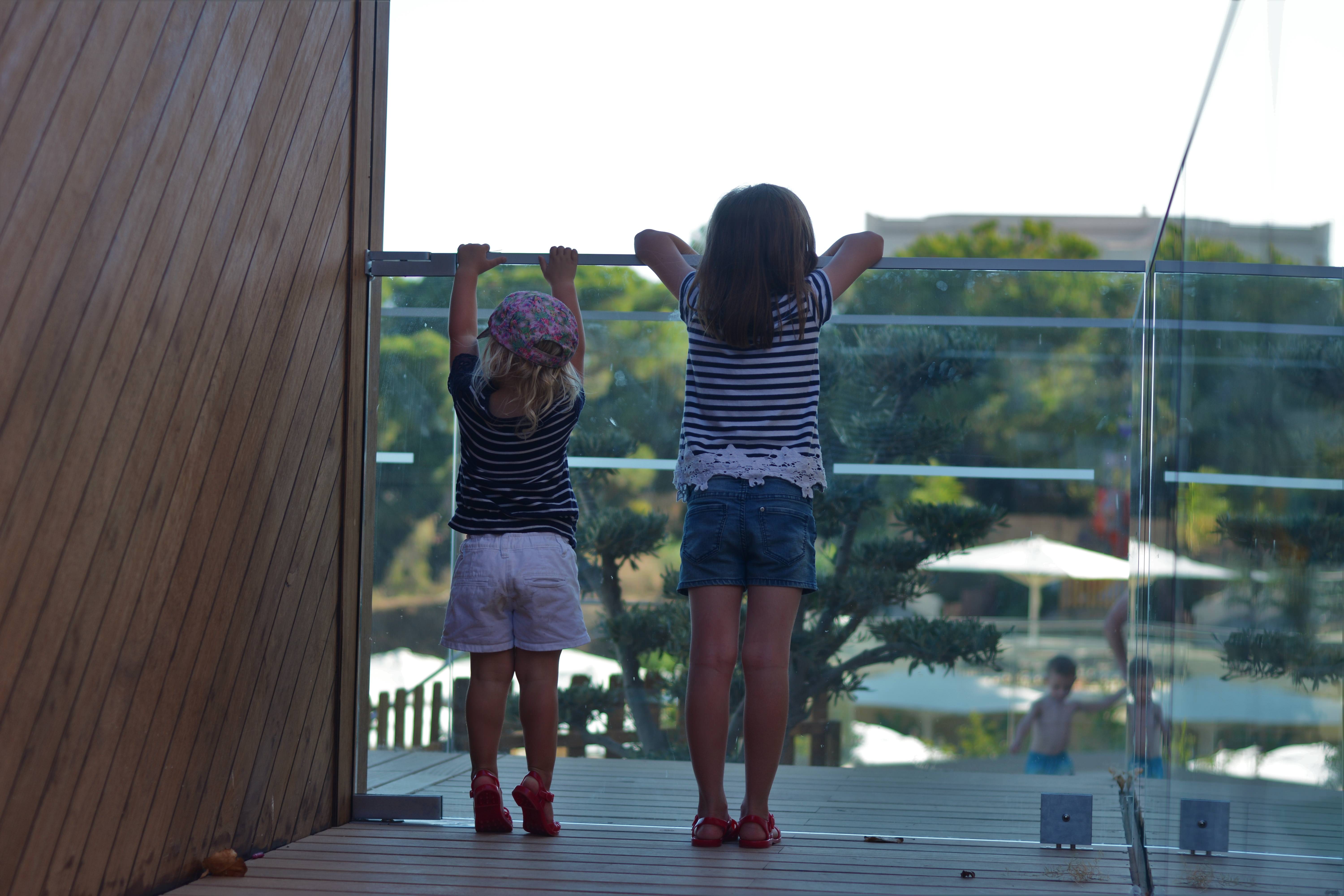 Here is the video, it is a little longer than my usual vlogs but I really wanted to capture our memories for years to come.