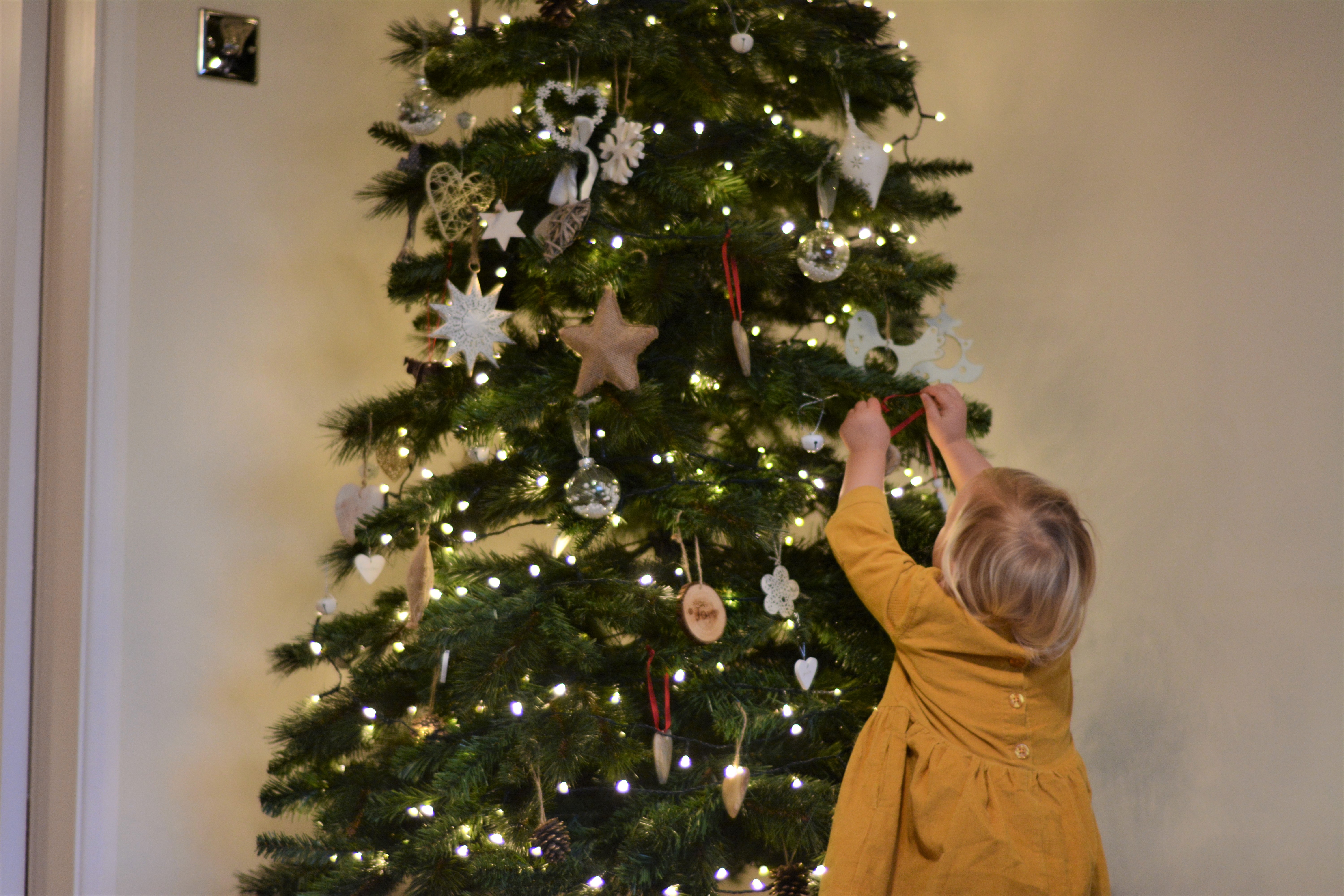 For lots of people Christmas day and the immediate days surrounding it are full of traditions, must do's, must see's and sometimes simultaneously trying to keep everyone happy. Of course we have some of that here but it is funny that when you have small children each year also seems so different to the next. In 6 short years Christmas time has changed for us so much. From the one when I was heavily pregnant for the first time knowing that in just a few days our lives would change forever. To a first Christmas with an almost 1 year old, the one where we lived among boxes having had a delayed house move and the one in said new house. Another one heavily pregnant with the littlest knowing that our lives would become complete and then last years first Christmas for Roma, a fully walking 10 month old and the special first one as siblings.
This year again seems a million miles from any of those and I have to say it was just utterly wonderful. I have loved every Christmas for different reasons but this one seemed to feel like home. We were not getting used to dramatic change, there was no firsts, no lasts, and although of course the children change each and every year and the excitement I am sure will build to even more epic proportions as they grow, but I almost felt settled because we know, this is us. This is our family dynamic and we can settle down a bit knowing that Christmas time is just going to get better and better.
I actually love not having the same routine or structure for the day itself and each year we decide whether to spend it at home, just us, with family or out and about so it always feels new and exciting. With illness still at the forefront this year we decided to stay home and it was a pretty relaxed affair but also a really really lovely one. I don't feel like I can really explain it without sounding too gushing, or even boring as we didn't do anything exciting at all, in fact we didn't even leave the house for a frosty walk or anything, but it was absolutely perfect in the most ordinary way.
The children were so excited and I feel like having Roma to share in this childlike unhinged joy is allowing Eva to feel it so much more acutely, they fed off each other in the most wonderful way. Roma at 22 months fully understood what was going on, what she was expecting to find from Father Christmas after asking for it every single day in December and to see them revel in each others joy was heartwarming to watch.
We always start the day opening stockings on our bed and I love this time. It gives us chance to wake up a little and drink coffee after the inevitable early start (6:53 is still too early for me!) and they really appreciated the albeit small gifts they got. There were squeals of excitement and much like Christmas eve it feels like the magical time of anticipation mixed with calm and reflection.
After our traditional croissant and fruit breakfast we decided to stay in our pyjamas to open some presents, the last few years we have put wrapping paper up over the double doors that lead from the dining room into the lounge and Eva has absolutely loved bursting through it each year, so much so that she was asking all the time over breakfast if it was there! It is just a little thing that builds up the excitement even more and honestly I just love to try and make their childhood as special as I can in the simplest of ways.
We opened presents, played games, drank prosecco and welcomed Eddy's parents to play some more. Eddy generally cooks when we have occasions anyway but always at Christmas and this year he also took care of pretty much everything else so even though we had guests for dinner it didn't feel rushed or stressful at all – at least not for me!
The children helped one another open even more presents (they were very lucky girls this year), taking it in turns and also telling Eddy and I it was our turn too. I think you can sometimes forget about yourself when you have children at Christmas, at least I do, and I am so proud that Eva especially thinks of others.
They were both so pleased with their gifts with Eva's favourites being the dress up wedding dress she had asked Father Christmas for (strange child), her new bike which was a huge surprise and tractor top trumps which we have played pretty much every single day since. Roma asked Father Christmas for a pushchair and whilst she was very pleased about that, the most played with thing and the present she squealed at was her tractor with a trailer and the little cars she got in her stocking. It's the small things with this one.
There isn't much more to say of our Christmas time but I have definitely left with a warm feeling of gratitude for my little family and I wanted to document the small things about this year as I know that next year will feel so very different again. Who knows where life will take us. 12 months is so very long and so very short at the same time.
Here are just a couple of photos of my little ladies, you may have seen similar for the Siblings post but to be honest I didn't really take any photos at all Christmas day. I didn't even get one of us all together which I do feel bad about and will try harder next year.
I do think though that when recording our memories I have to choose somewhat between photos and filming and for a day like Christmas day, where I want to be as in the moment as possible – and pretty much throughout December really having taken part in Vlogmas, I definitely chose film. I find that I can put the camera down and not be behind it so much or just take little snippets, of which I did. I have actually really missed filming our days and want to get back to it soon. I filmed Eva's birthday and party so I will be editing that shortly but for now here is a little video of our Christmas day. Make sure you watch it to the end as the children (well Eva) wanted to record a song and it is quite possibly the cutest singing ever….ok I may be a little biased there!
I hope you had a wonderful Christmas whatever that looked like. And a very Happy New Year. Here's to 2017
xx