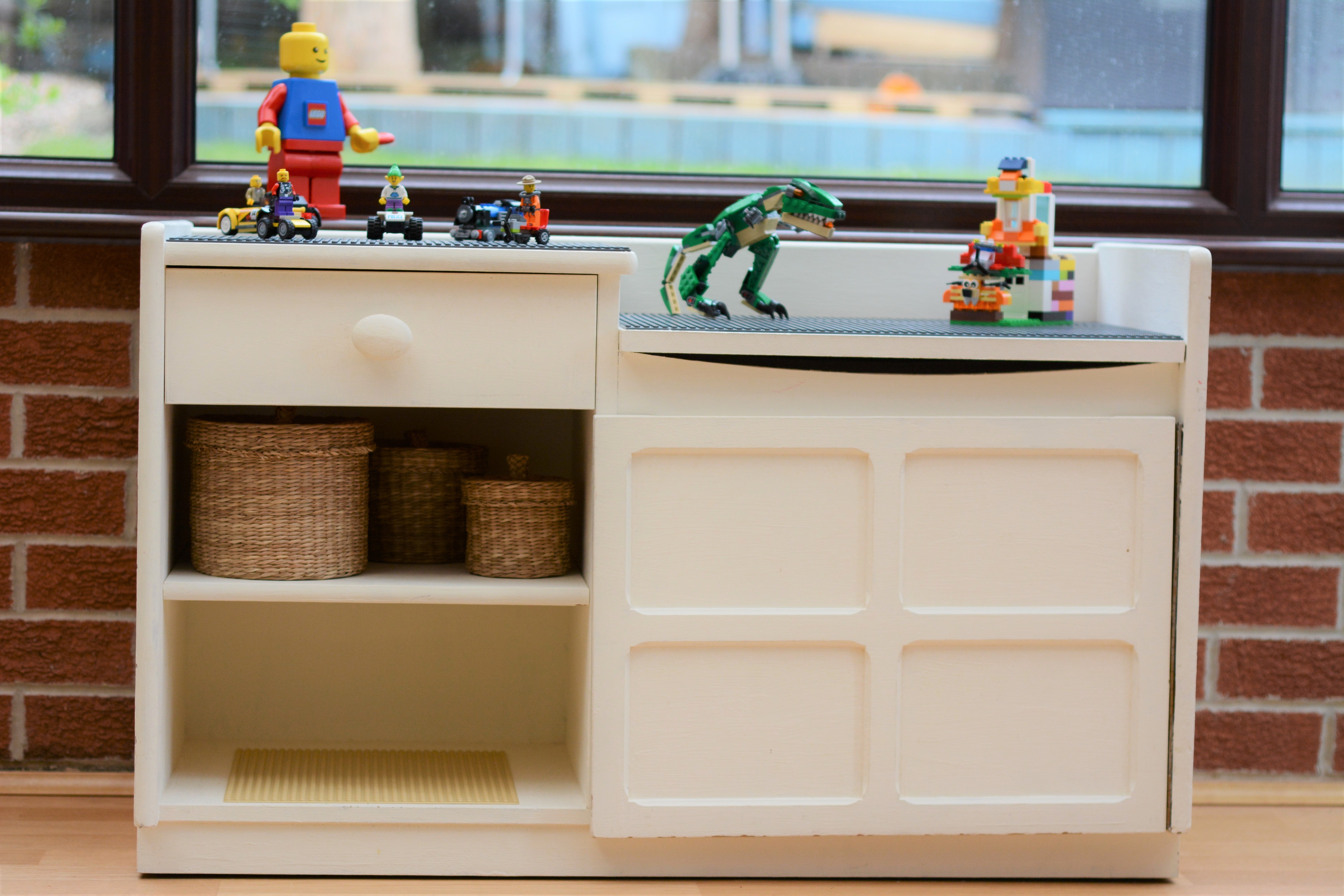 When it comes to toys and interiors I am a bit of a stickler, I like what I like and that is mostly traditional wooden toys and muted earthy tones. Pretty much everything in my house fits that description actually and white and wood feature heavily – or more specifically antique cream, even my sofa's are cream! I do love interiors though, I love to mix old with new, Ikea bought to upcycled old furniture, and the playroom is no exception.
Since Eva was little we have tried our hand at making certain toys for her and over the years (with the help of pinterest of course) we have made her a wooden kitchen from an old tv unit which I wrote about here , a shop/theatre from an old bed which I really should write up too, and we are currently in the middle of making them an outside kitchen from the shed we took down in the garden a few weeks ago (although definitely not to be confused with a mud kitchen, I just cannot handle the mess!) We told them today what we were doing and they were so excited I just love to be able to share it with them and let them actually see the process of making something out of nothing and help them appreciate it.
After I wrote about Legoland this week though I realised that I hadn't shared the Lego table either, despite the fact that since we gave it to Eva for her 5th Birthday – which seems like a lifetime ago – it has been used pretty much every single day. I think perhaps as they all sit in their own space in the playroom and are in fact so ordinary to us now that we don't even really notice, or appreciate that they are there. I hear the familiar sound of little fingers rummaging around to find the perfect brick or the tell tale clink of said bits on the wooden floor and it is just one of those things, those noises that pale into ordinary parenting days.
It came about basically as a place to house the ever growing Lego collection that was merely being thrown in a box and then really there was nowhere other than the floor or the coffee table to actually play with it, plus anything that was made then had to be put away too. I thought it would be such a nice idea to be able to have somewhere where their 'creations' could be on show and also played with from one day to the next, there was a perfect space in the playroom to house it and so I set to work to find supplies and design it.
I managed to get hold of an old fashioned telephone table for I think it was about £25 which would be perfect (apologies for the old pictures it was before blogging and just taken on my phone in the darkness that is December!) I simply removed the cushion seat, replaced it with a piece of wood cut to size we already had, painted it with some furniture paint and glued lego base plates onto the top. Voila, a Lego table! I mean I say it like it took 5 minutes but the reality when you have a birthday 5 days after Christmas is that I would drag myself into the spare room each evening to do a little bit more whilst the children were asleep, around the madness that is December!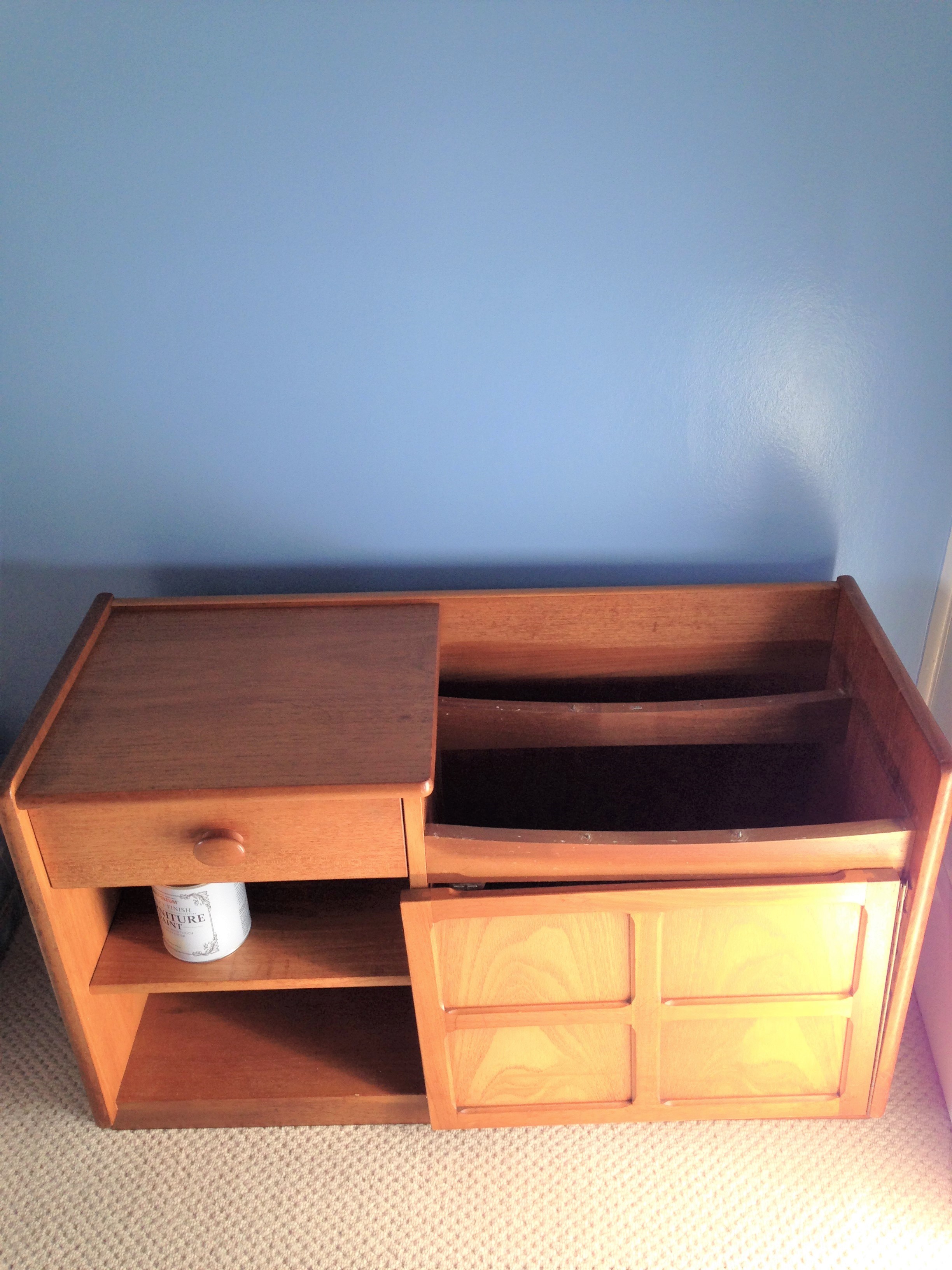 This is what it looked like when we gave it to her on her birthday, again a bad picture taken late at night ready for the birthday girl.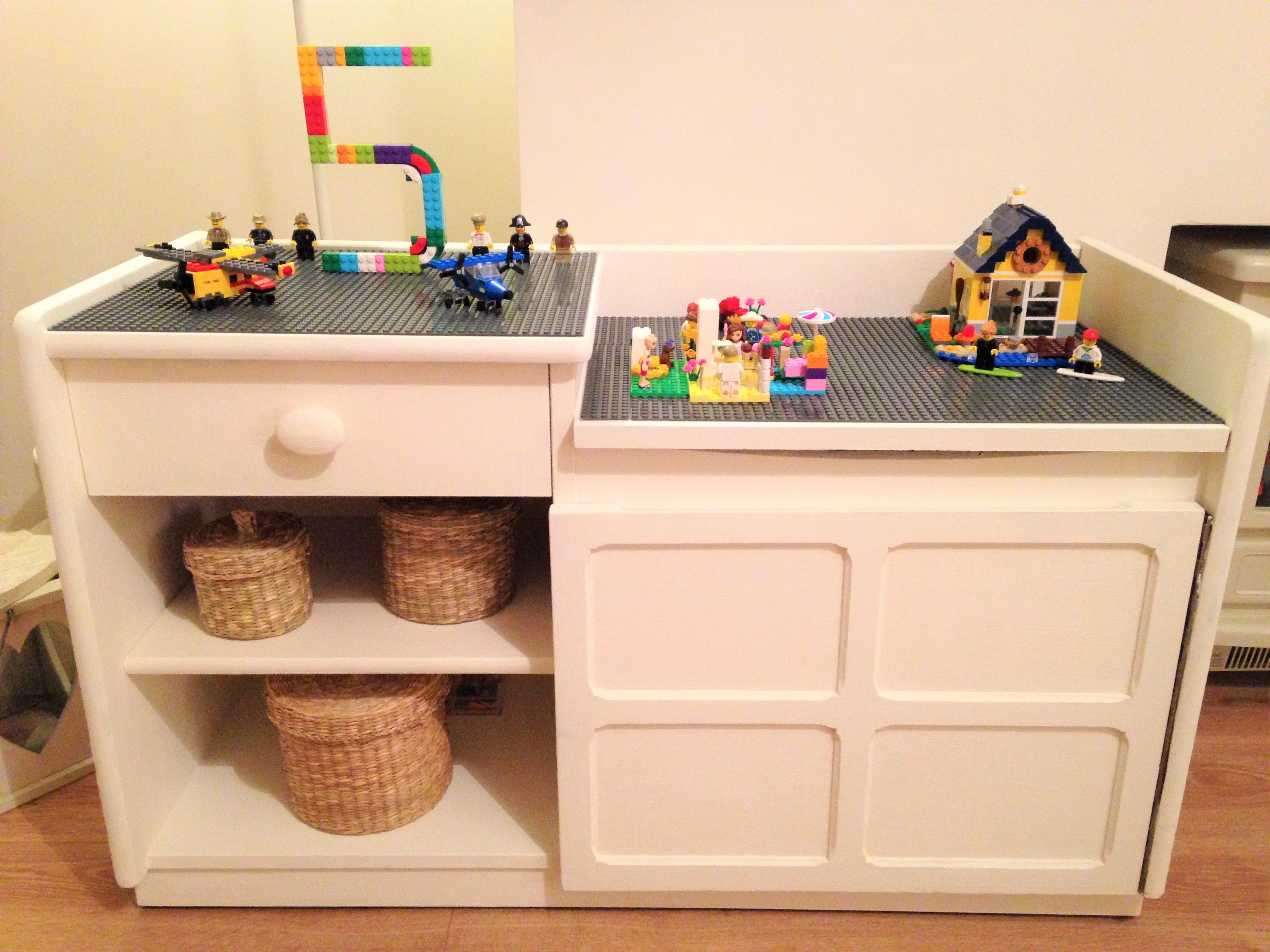 Here it is today.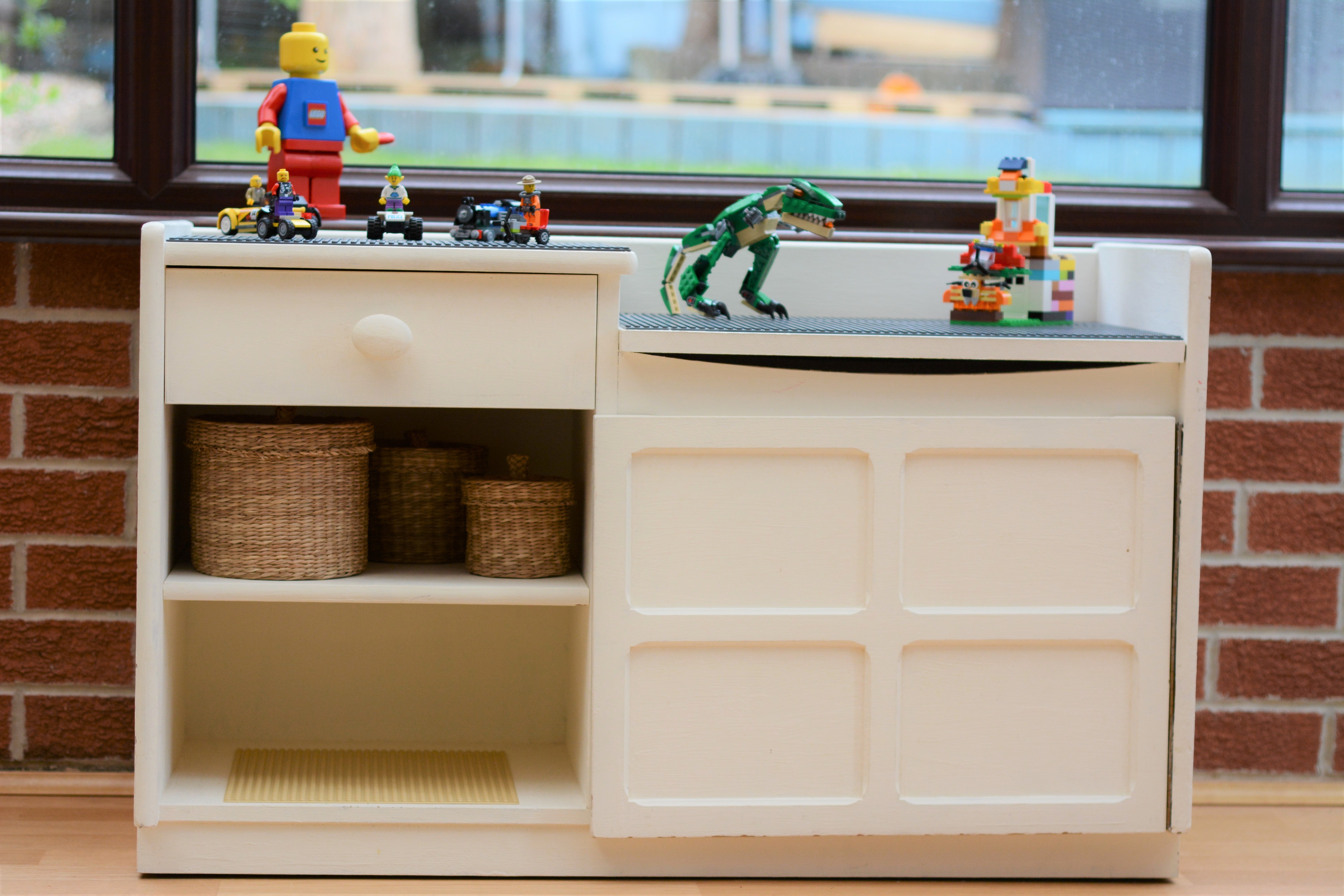 As you can see it is a bit worn around the edges, it has had a few knocks in it's time and is, as I said before, well played with. But I adore that about our home made toys in that they were never perfect, we are not precious over them, we of course take care and the children do too but we have managed to make them without too much expense, put our heart into them and made them for the purpose of play, the scrapes along the way can be touched up or indeed left for 'character'!
It has evolved a little over time as their Lego collection grows and recently, despite Eddy thinking I have gone a little organisation crazy, I got them two storage tubs from Dunelm here and separated the Lego in colours, all stored in the cupboard. Now before you think I am some sort of crazy person who doesn't let her children just play with a big box of Lego, I will say that it has transformed the way that they play. Now instead of diving into said box frantically, they can find everything they want, they play much more on their own and together without me having to find a specific piece, especially when they are following instructions, and it also helps to be able to put all the tiny bits (that are housed in one little pot of their own) out of reach should any smaller children come to play. It is more enjoyable, easier to share, marginally less noisy and no I don't get cross when they put them in the wrong tubs (much!!)
We store the instructions to everything in the draw, random Lego and big pieces in the baskets and larger spare base plates on the shelf – you know for the times when you just have to play Lego elsewhere! I absolutely adore seeing what they have made and what they find precious displayed on the table once they have cleared the rest of it away. It never fails to make me smile when I come into the playroom of a morning to see what they choose to be special that day, usually that is dinosaurs and anything with wheels for Roma and houses and gardens for Eva, it really is a little bit of their personality sat on the table for all to see.
xx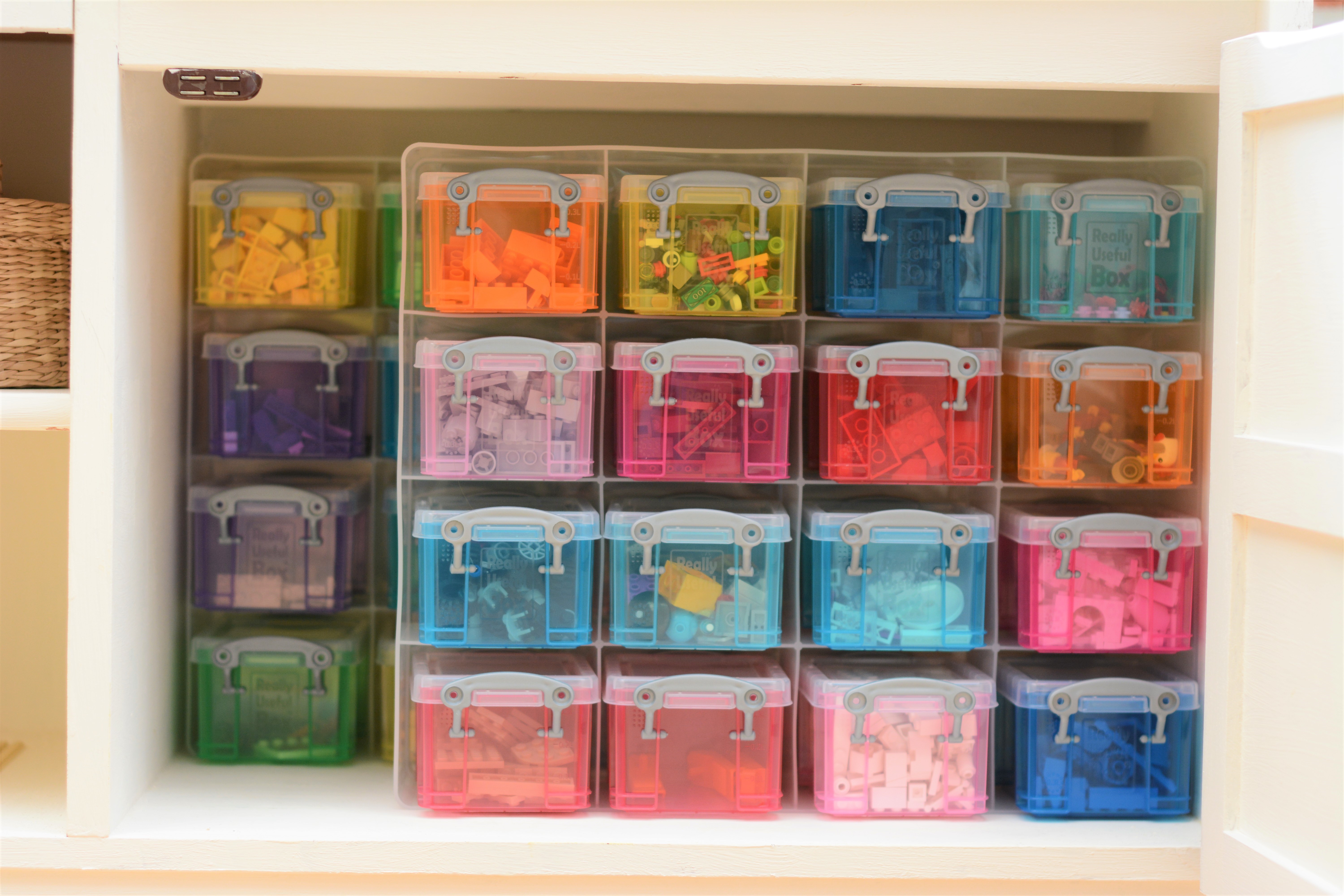 Is it too far to want to label the boxes too!? Asking for a friend!!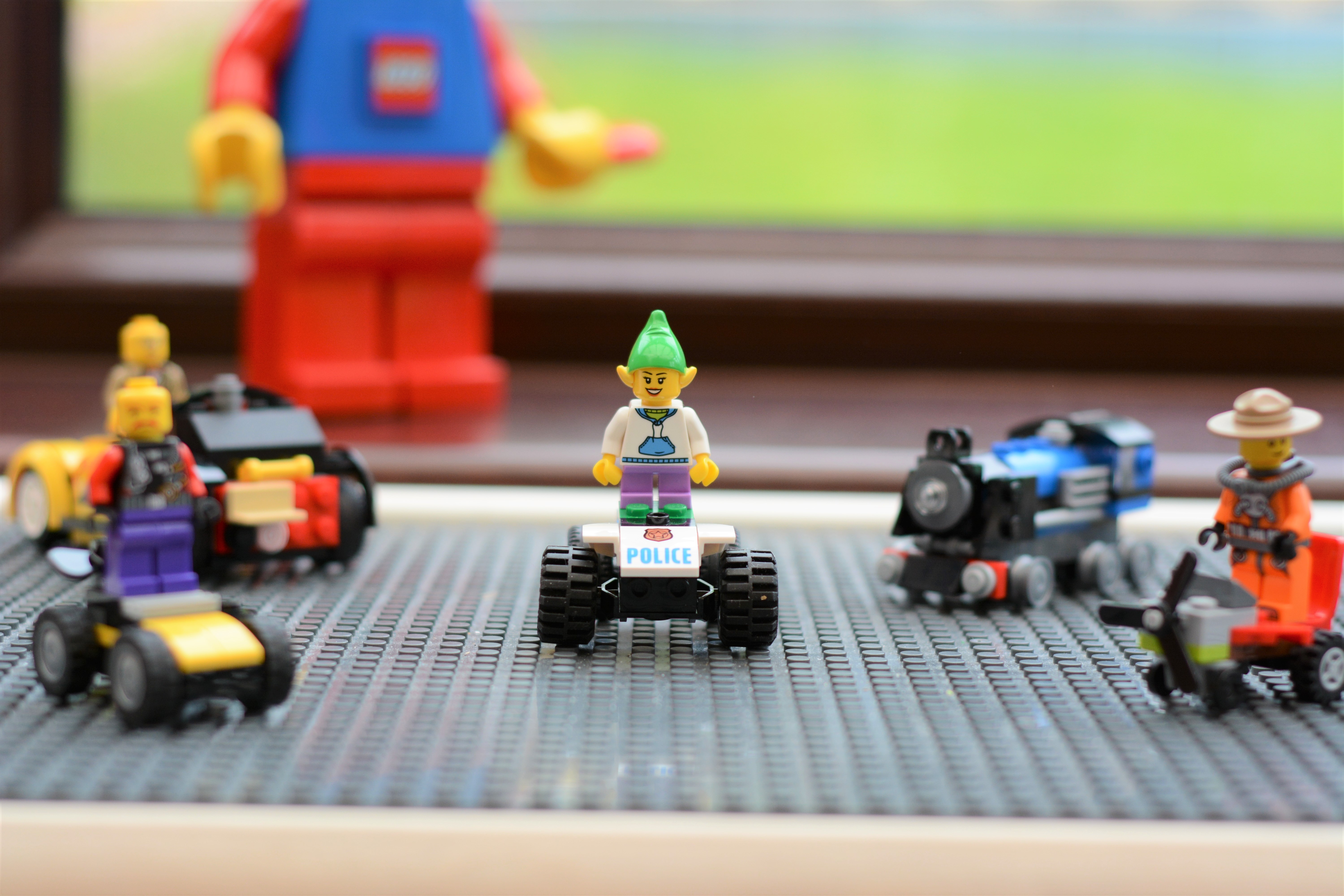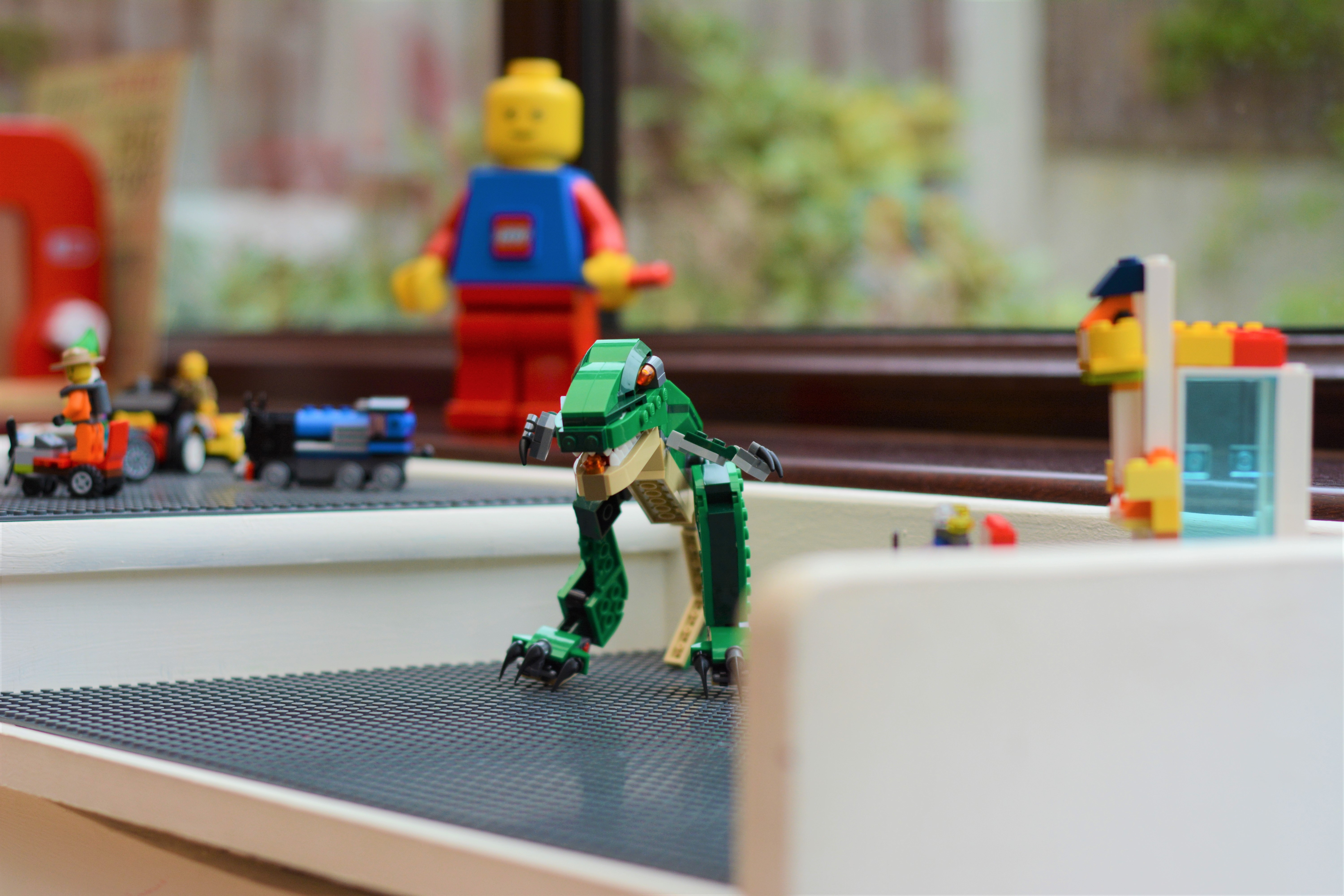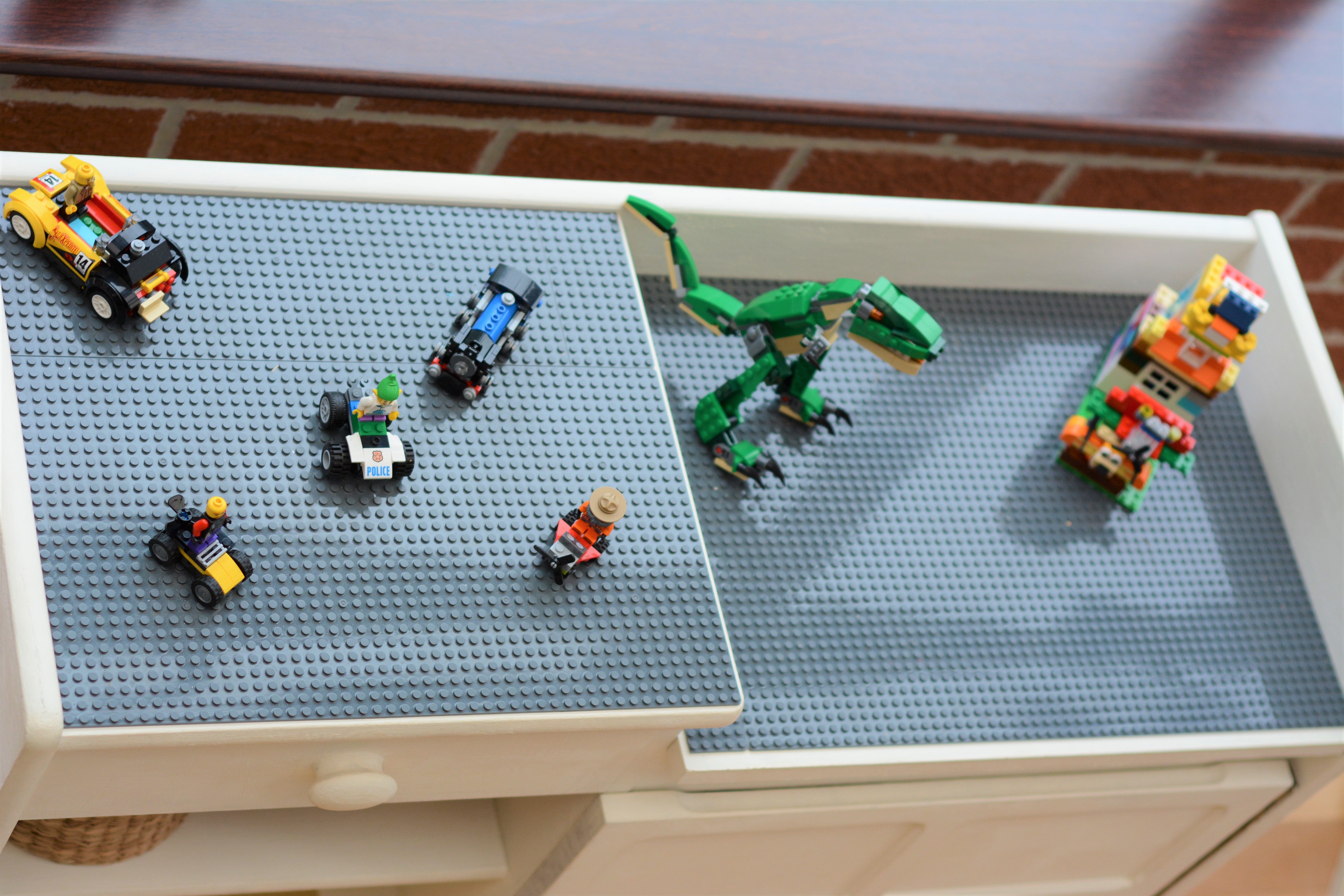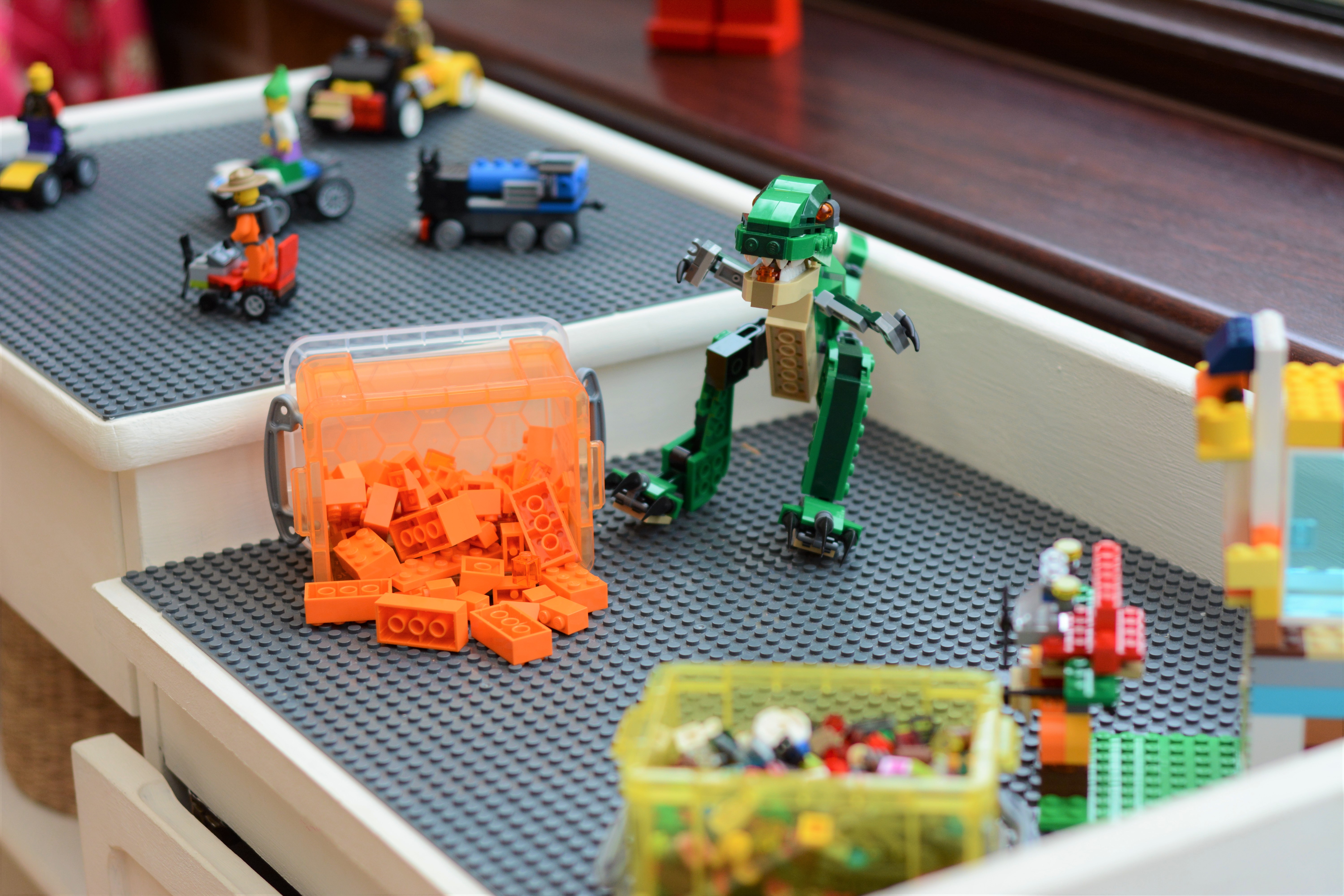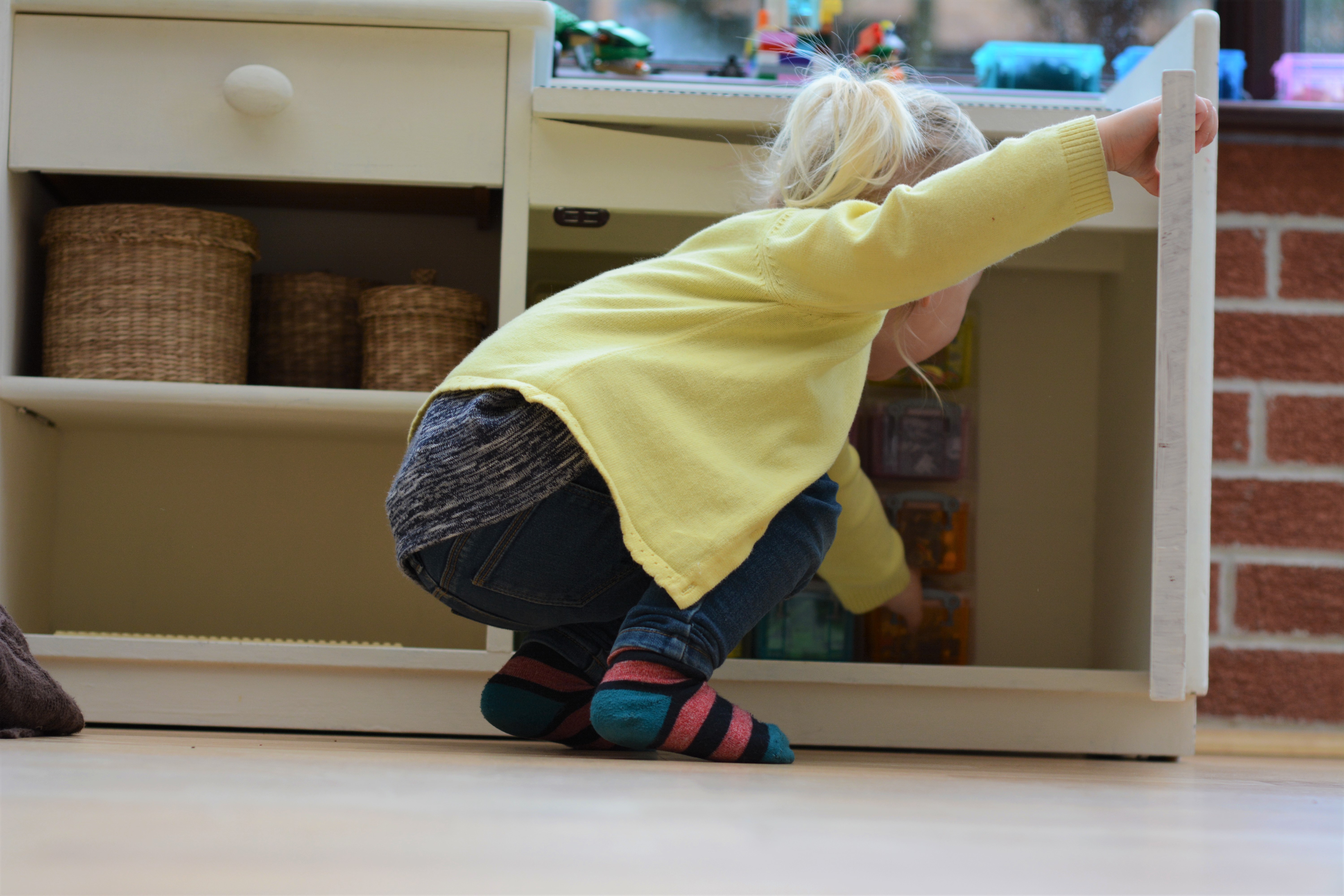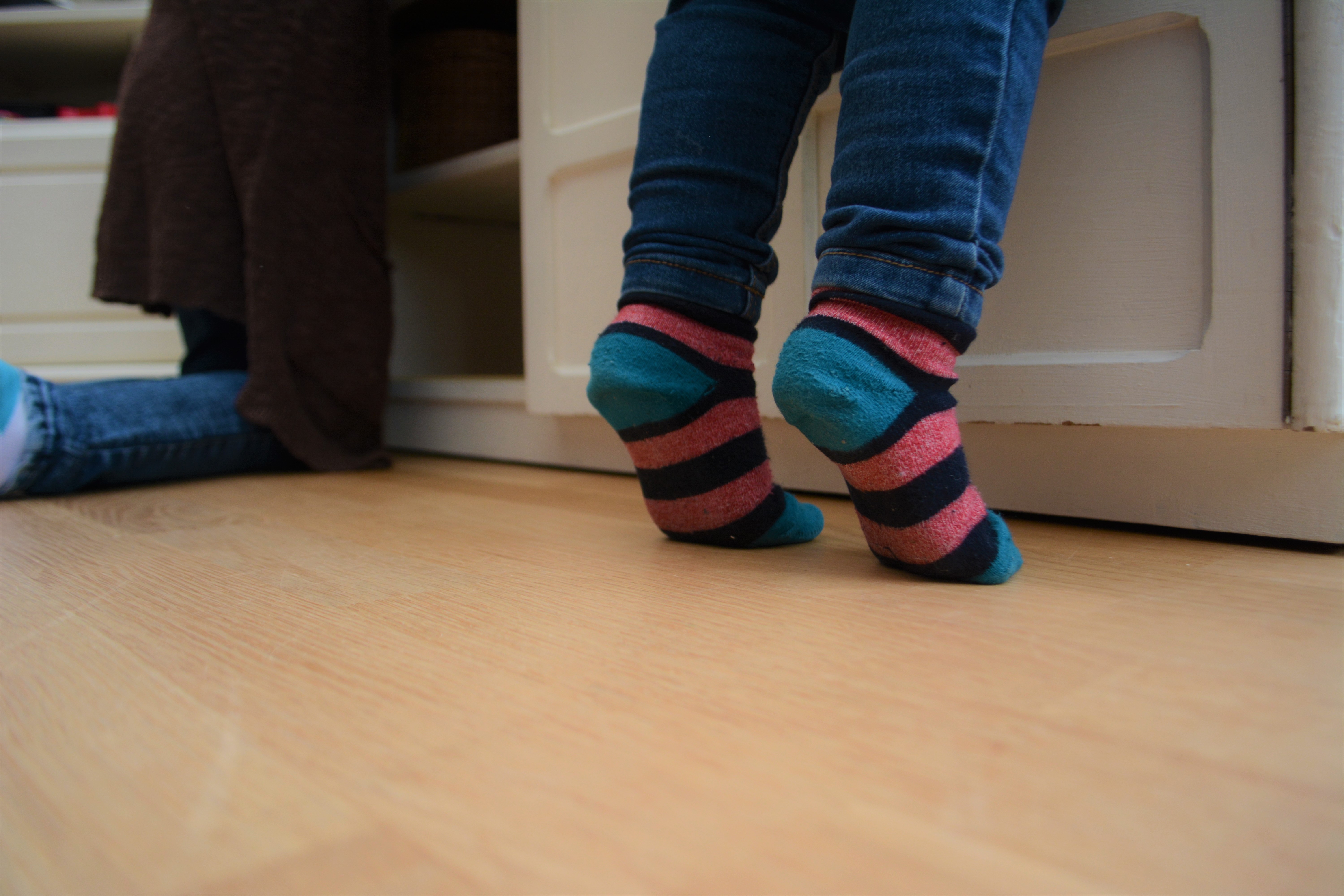 Look at those tippy toes and the concentration tongue, it really is the little details I always want to remember.
Linking with Katie Mummy Daddy Me & Donna What the Redhead said for the Ordinary Moments