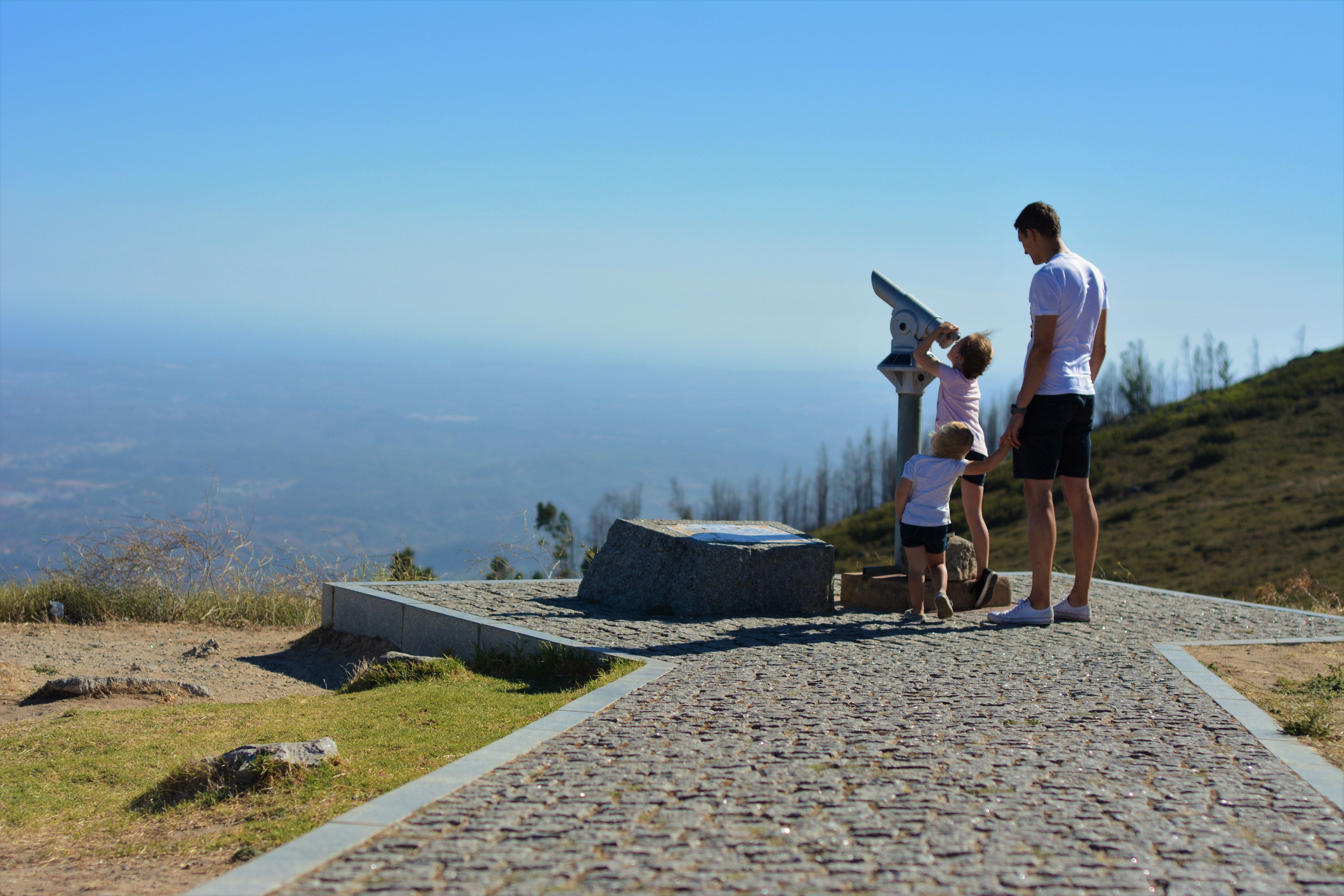 It might only be two small weeks in the year, one week even, but holidays I am sure we all agree are so important. They are one of the things we tend to most look forward to and can teach you so many things, about culture, about each other, about life.
Whether that be exploring or the realisation that as a family so much has changed since the last one. A real tangible time in which to compare and be grateful for. It's mostly an opportunity to stop, to escape the day to day life and relax.
So why hire a car? Why not just sit back and relax by the pool and discover the local area?
Well for me the one thing that being away for two weeks confirmed, something I have always known about Eddy but has somehow infiltrated the rest of us now too, is that we get itchy feet. Not literally of course, I'm talking about the saying that means a strong desire to leave a place and travel.
I am always desperate to explore so many parts of the world. Not just merely visiting them and ticking them off the list, or pinning the giant map more over. As lovely and amazing and relaxing as a beach holiday is, I always look for a little bit more and that was definitely something that happened to us at the end of our first week.
Before we came away we had contemplated hiring a car for the whole holiday and whilst a part of me wishes we had, and probably would do if I got my time again, I definitely would have had at least one week by the pool and beach as like I said in my last post I think that is just as important and integral to a family holiday as exploring is. That being said we in fact hired a car for one day, to visit as many places as we could and boy did we fit a lot in. It was definitely the most fun day we had there.
We had made a couple of trips on the bus and walked to various parts around where we were staying but the morning we had the car we planned a trip a little further afield. We left bright and early and returned way past everyones bedtime with sleeping children in the back. A pretty perfect way to end any family day if you ask me.
We hired a little Fiat Punto complete with car seats for the girls from a shop just down from the complex. We were able to pick it up the night before so we could get ready and set off bright and early.
Our first stop was the traditional Portuguese town of Silves which was just under an hours drive. There was something about being in the car again after 10 days that meant the girls were giddy and it seemed it was a huge novelty which helped the journey a lot! Eddy has driven quite a lot in European countries too so is quite used to driving on the other side of the road even if I am not!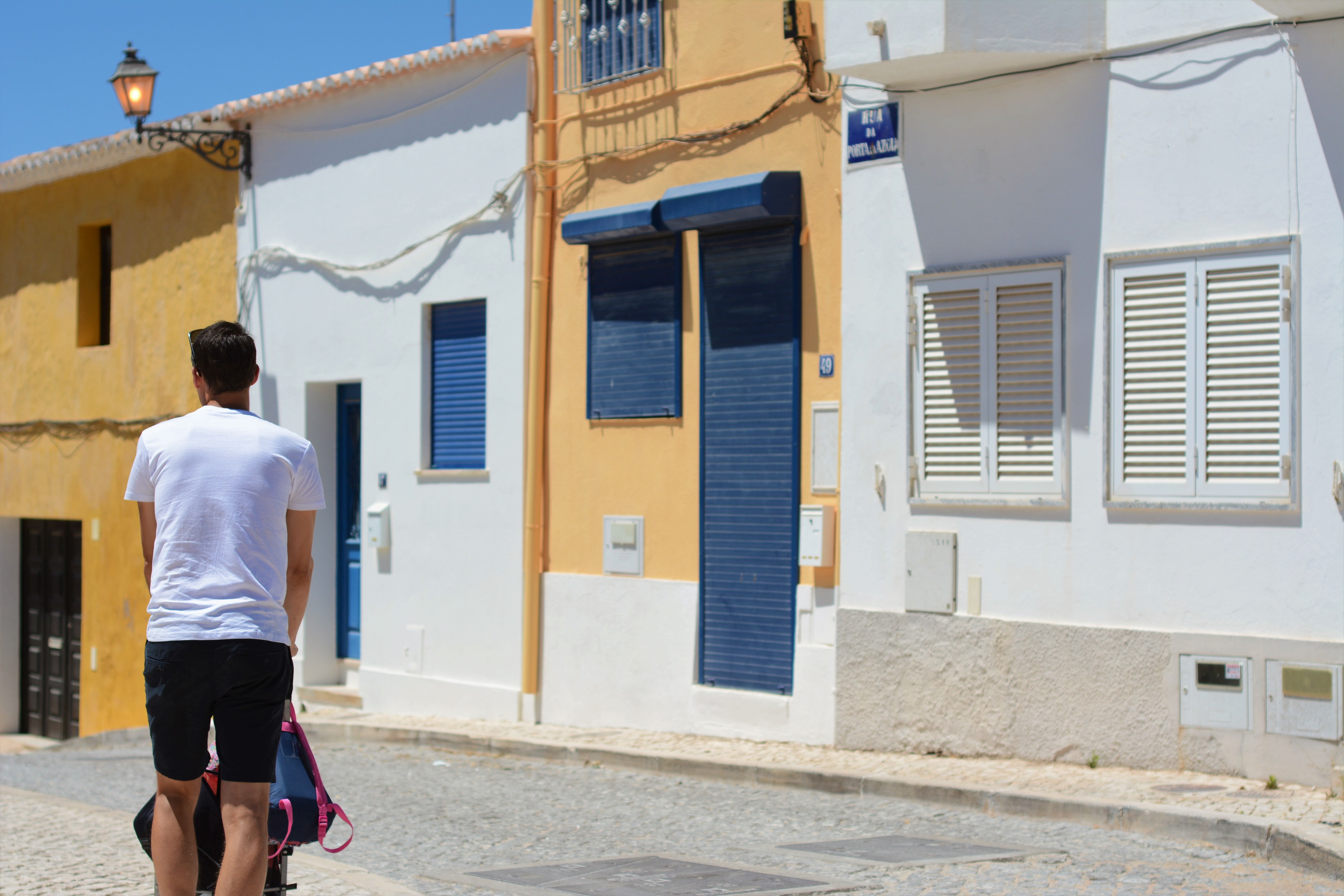 We walked the narrow, pretty streets with it's beautiful coloured houses to visit Silves castle. This huge red brick castle has absolutely stunning views across the town and little rooms off the castle walls to see historic artefacts. The grounds itself are filled with gorgeous flowers and although Roma was not so keen on the heights as we walked all the way along the top she was fascinated by the exhibition underground. On the day in August when we visited there was a stage being set up for a performance event which I think was to do with the Medieveal festival held in the town just a few days later. Eva was fascinated watching them and overjoyed when we came across an eagle and belly dancing show. It created quite a crowd as it flew very close over their heads! We stopped for lunch right inside the castle with the restaurant having a gorgeous mix of modern and traditional features.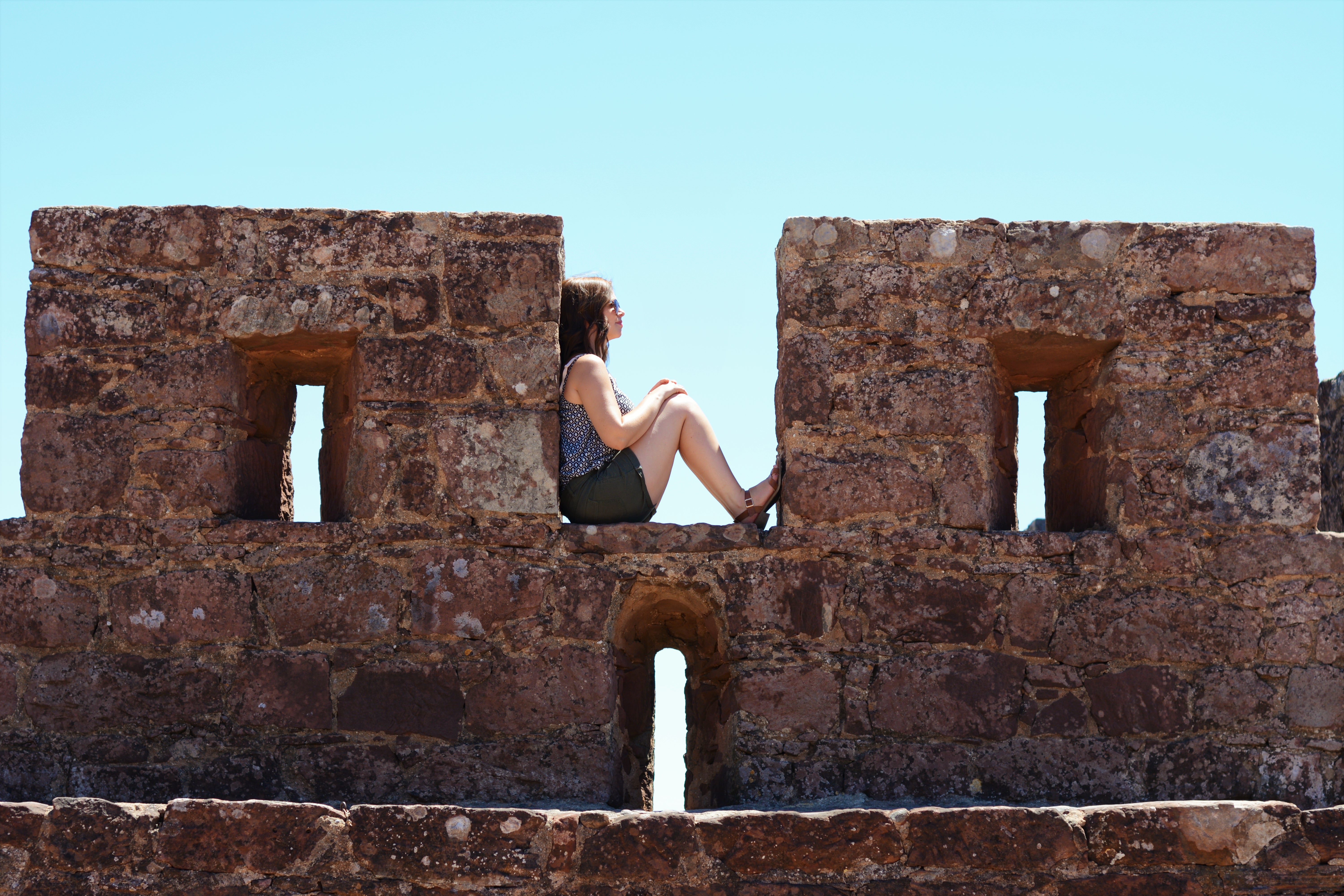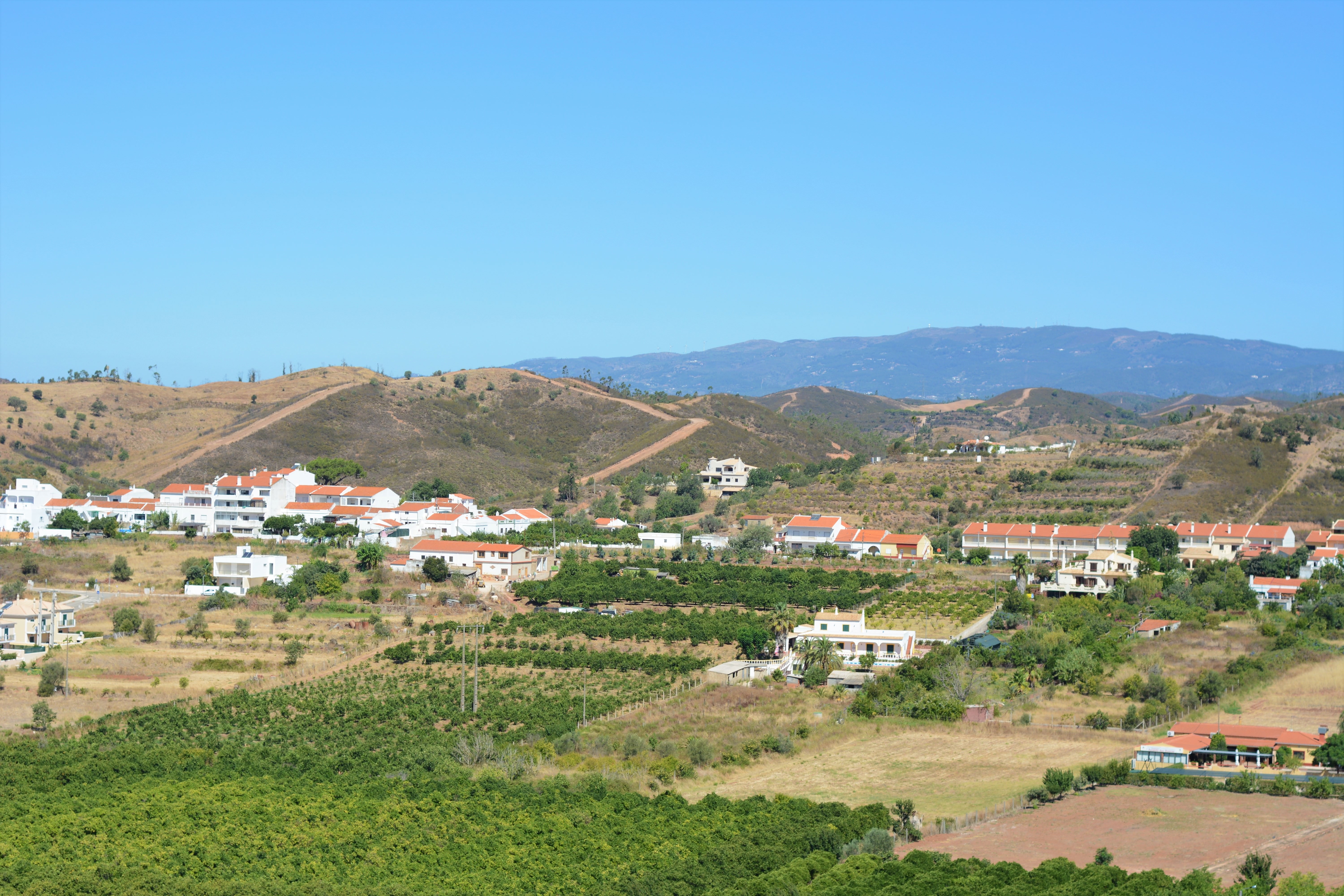 The girls loved exploring the different places in the castle and had so much fun playing hide and seek and pretending the walls were a maze or their houses!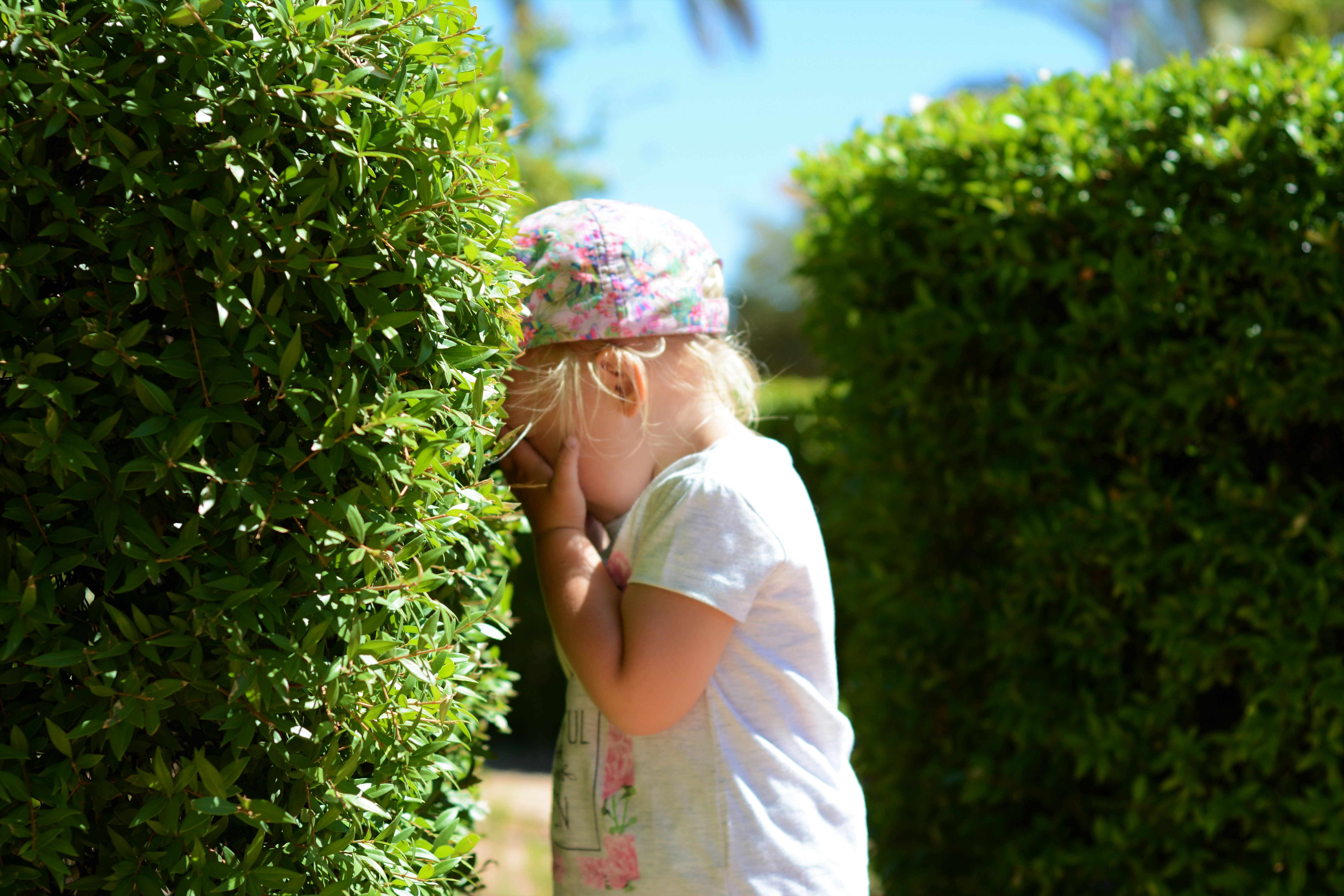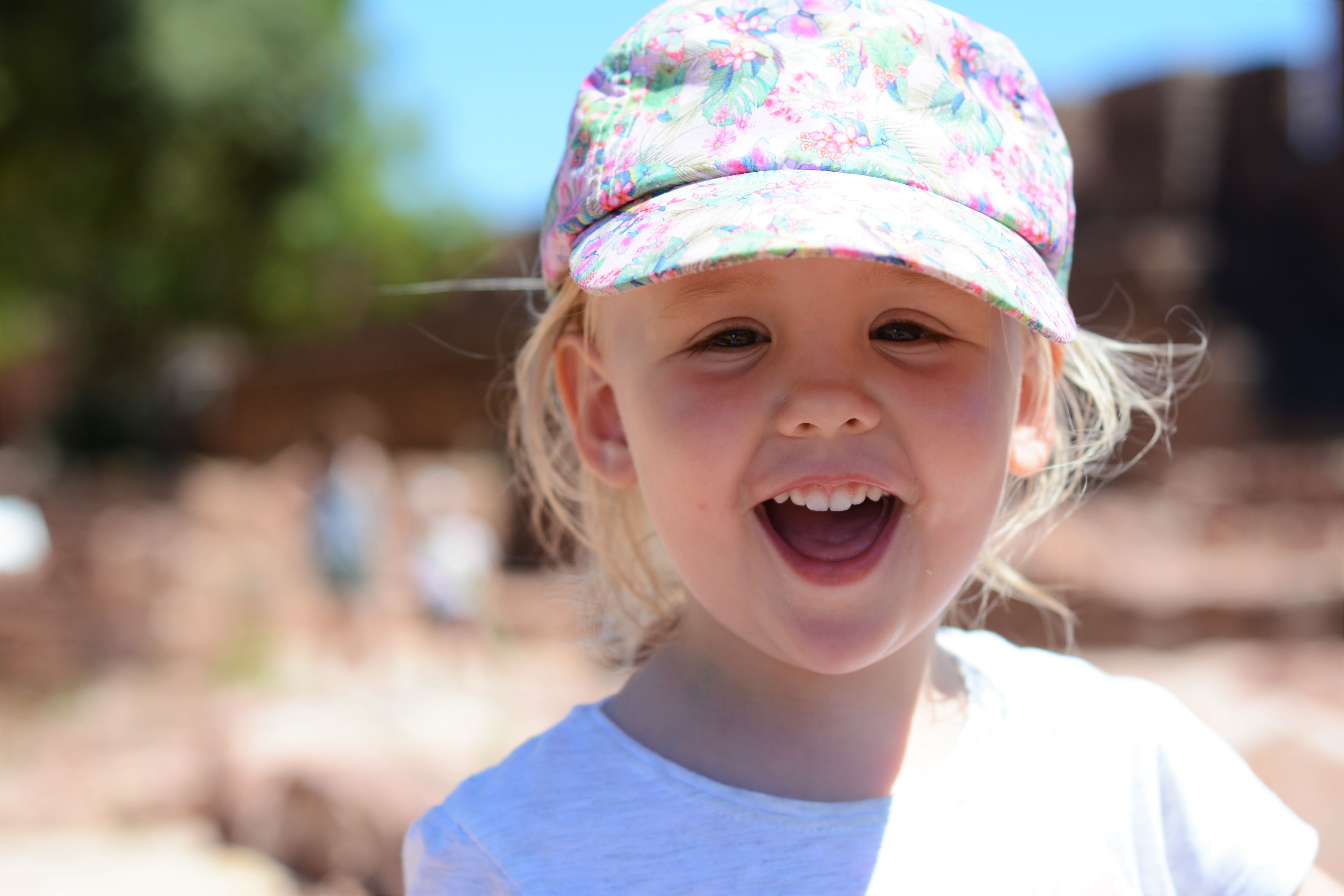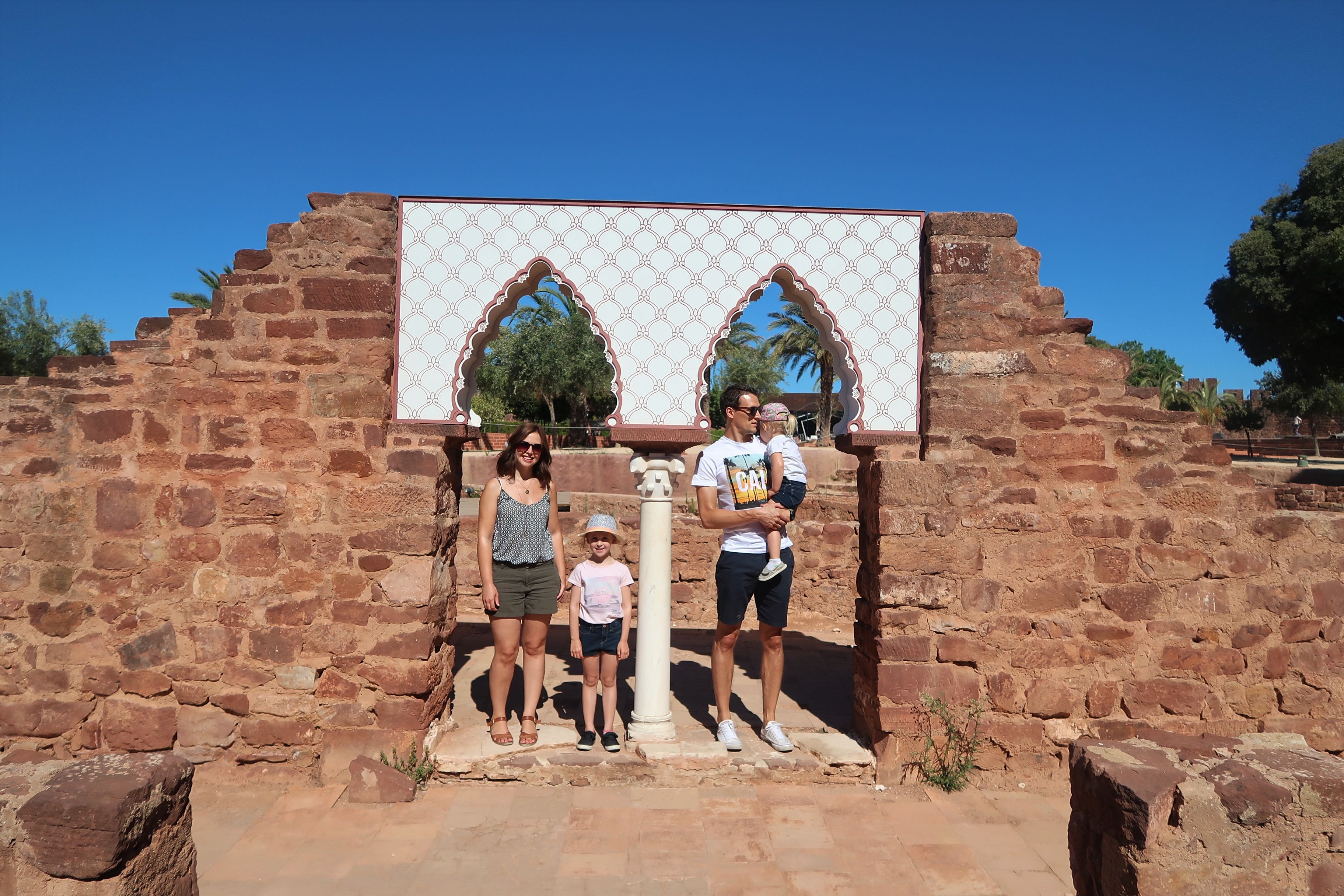 As we were taking some photos under this arch a lady asked if we would like a picture of us all which was so kind. It is definitely difficult to get them all together on days out and I always feel slightly awkward asking people, so although Roma refused to look at them, I love it anyway!
We navigated the many steps with the pushchair and visited the little shops dotted along the streets behind pretty painted doors. We watched them making the products right in front of us and Eva was transfixed. She has some trousers the same print as the traditional Portuguese blue and white pattern so she spent a good while spotting patterns on anything that was similar.
We also went into the Cathedral, Eva is in awe of churches and loved having a look around. We seem to do this everywhere we go now and we also always light a candle there for my Nana which is something we have done since she passed away whilst we were in France and we lit one there on the day of her funeral. It is a little thing but it was a way of showing her we were there and I know that she would love for us to do that. It is really sweet that now Eva has taken that memory on and she even sat holding my hand as I shed a tear for her.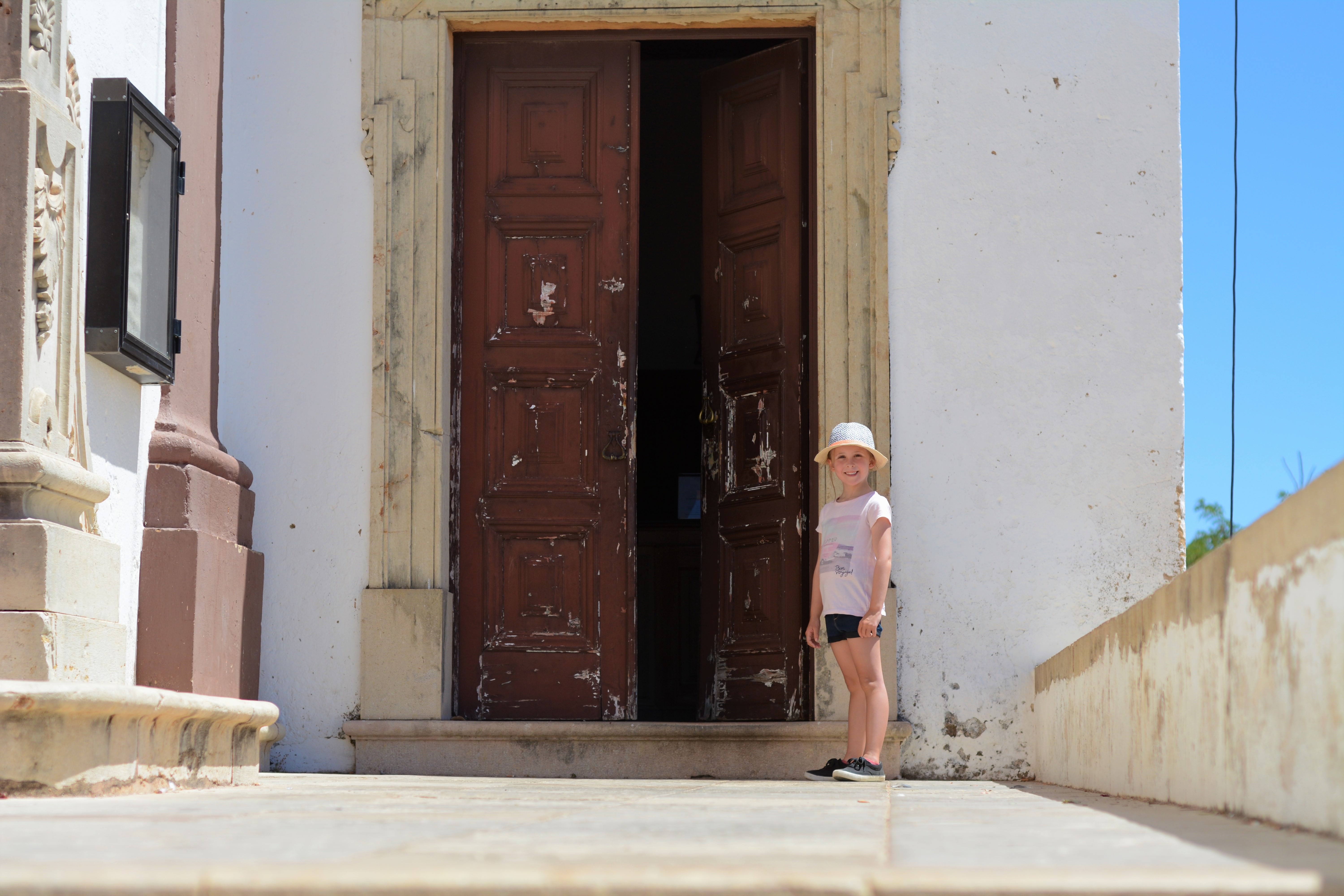 After a couple of hours we decided to head on our next 30 minute drive to Caldas de Monchique. The journey was made interesting by the huge nests we spotted on the top of lampposts all along the road. It became a bit of a game to look out for them and think what kind of bird it could be. It is the small things that keep children entertained isn't it?
Caldas de Monchique is a small spa town which is famous for it's natural mountain water with supposedly healing properties (there is still to this day a thermal treatment centre there for rheumatism and respiratory illnesses). The girls are fascinated by nature and where things come from so I was excited to show them the 'tap' knowing it would be fascinating to see and talk about. It was a really tricky place to find (no thanks to google maps there) and we almost bypassed it entirely as we ended up right by the actual water factory itself joking that we were sure this wasn't actually it! Thankfully I persevered with Eddy and it was definitely worth it.
It is a really small town but really beautiful, there was a cool shop that I remember seeing when Katie from Mummy Daddy Me visited with painted stones outside and lots of wood and natural products there. Roma was fascinated with a little wooden door with a cat flap painted to look like a cats house too. After an ice cream stop and for the girls to pick up some pine cones off the floor to keep as treasure, we took a walk up to the spring (actually we did have to ask the lady in the shop which way to go as it wasn't exactly clear).
Apart from one more family that were just leaving as we got to the top it was just us up there and my goodness it was beautiful. It was peaceful and really cool with lots of stone benches and seating. There were a lot of steps so I was glad we didn't bring the pushchair. As we came to the top and what felt like right in the mountains there was the tap, you would have thought the children hadn't seen a tap before but I guess in the mountains it is pretty surreal. they squealed as they put their hands in it to drink some and even filled up a little bottle. I don't think they have ever been so excited to drink water! As we made our way back down the other side to where we came up we followed the stream of water and talked all about it. They also got wet in the process! It possibly seems like such a simple place to visit but we all really liked it.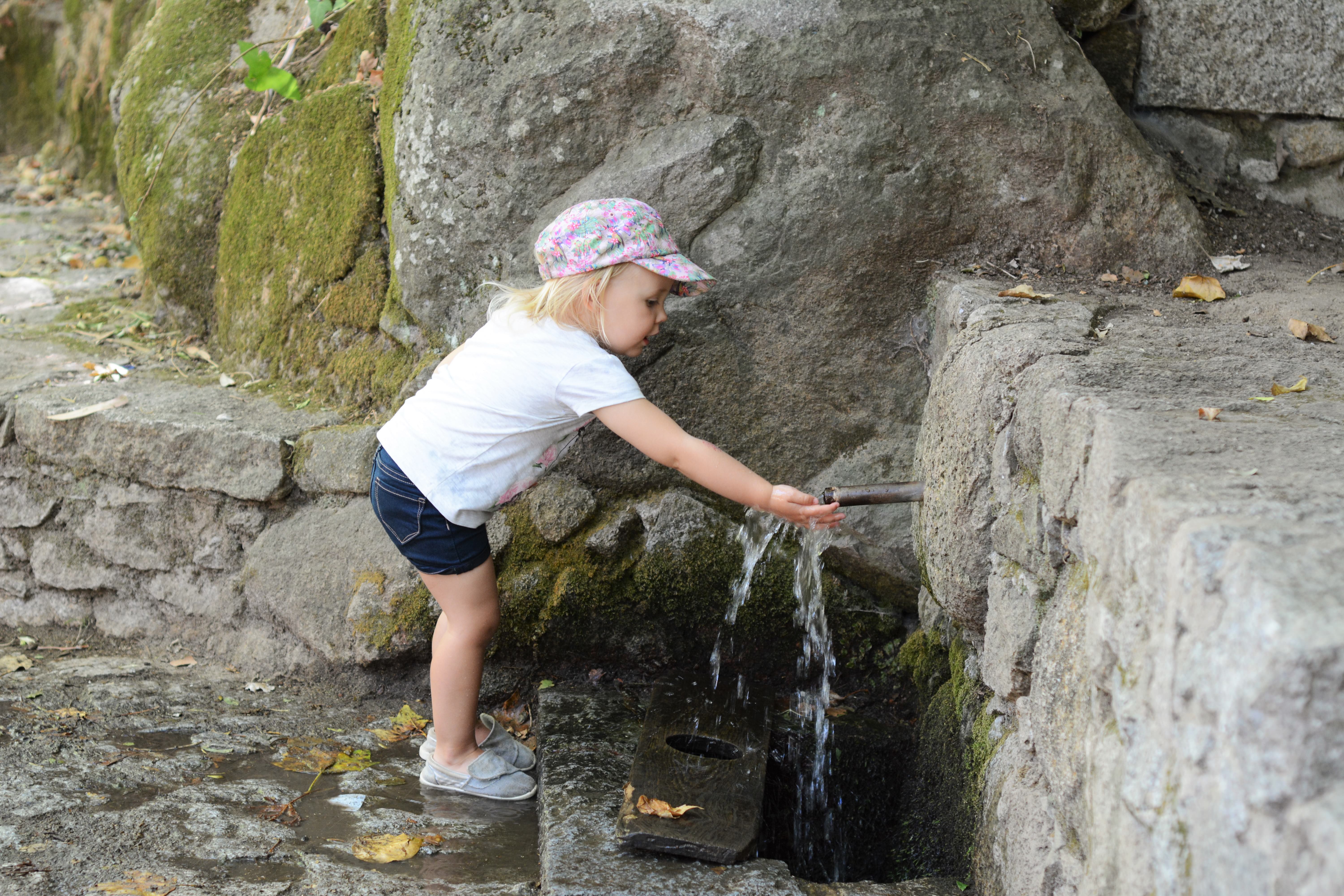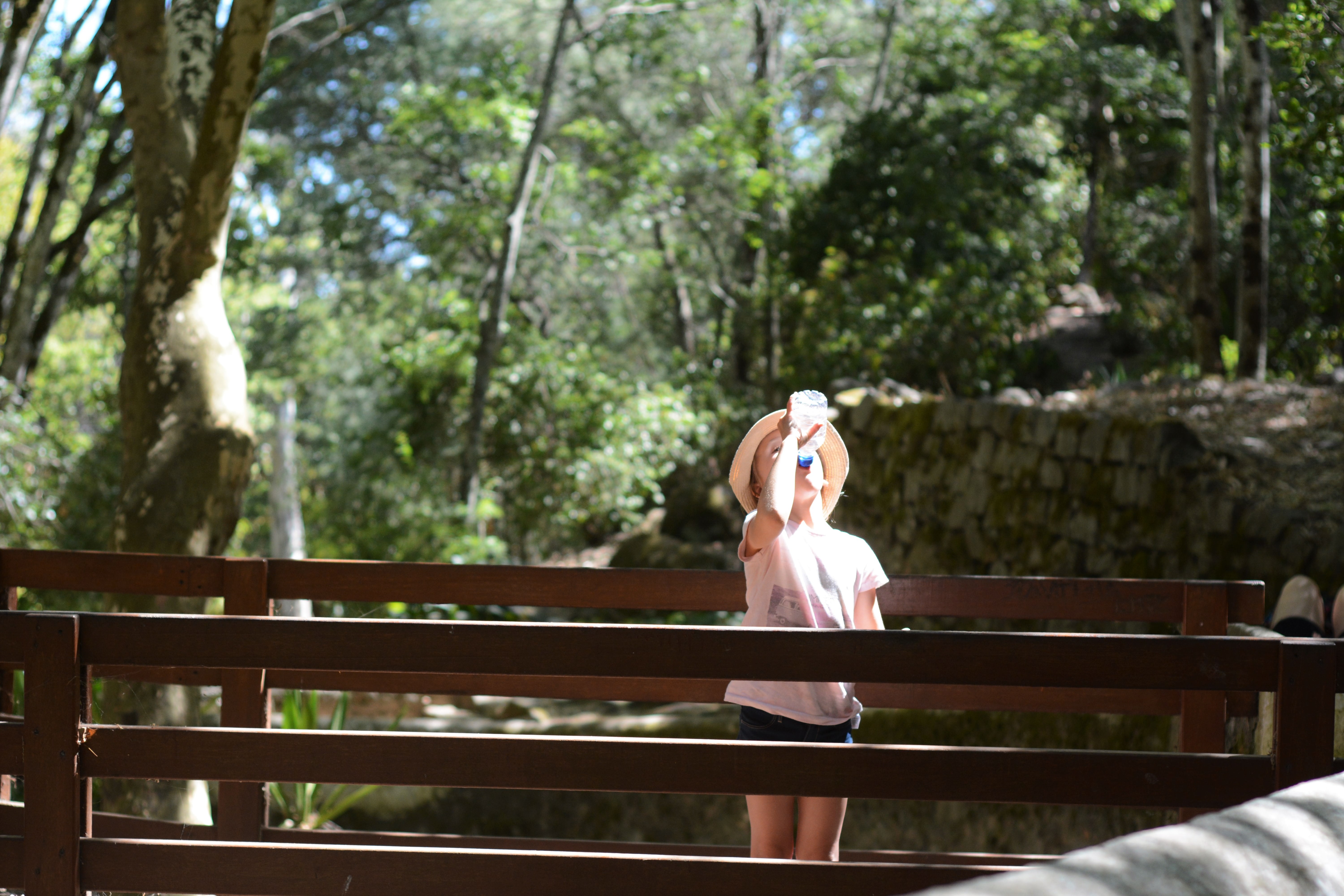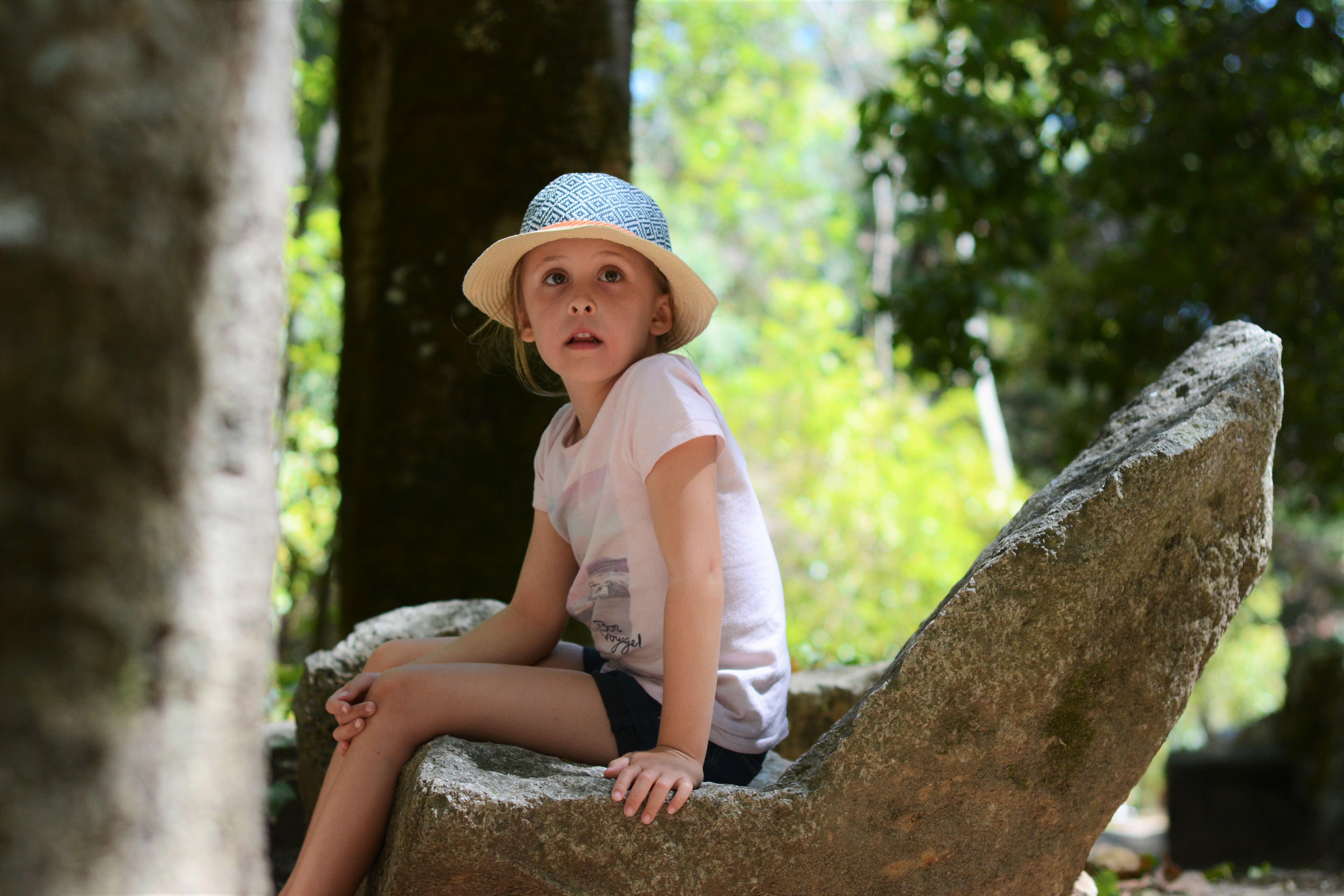 Back navigating the winding streets in our little Fiat Punto was a 15 mins trip up to the town of Monchique, again a lovely little traditional town with the most stunning views. The Algarve truly has a beautiful landscape and driving higher up each time meant it just kept getting better. I am a sucker for a good view. The town which is characterised by its cobbled streets which seem to criss cross through the hills as you climb higher was a really quiet place. In the main square we came across a very cool wall for an instagram picture which was the side of a local honey shop which Monchique is known for. It felt really cool as they had a ghetto blaster (yes think 90's pop start with baggy trousers and music blasting out!) It was balanced on a little table and was playing traditional music, we couldn't help but have a little impromptu street dance together, thankfully there wasn't many people around to see us!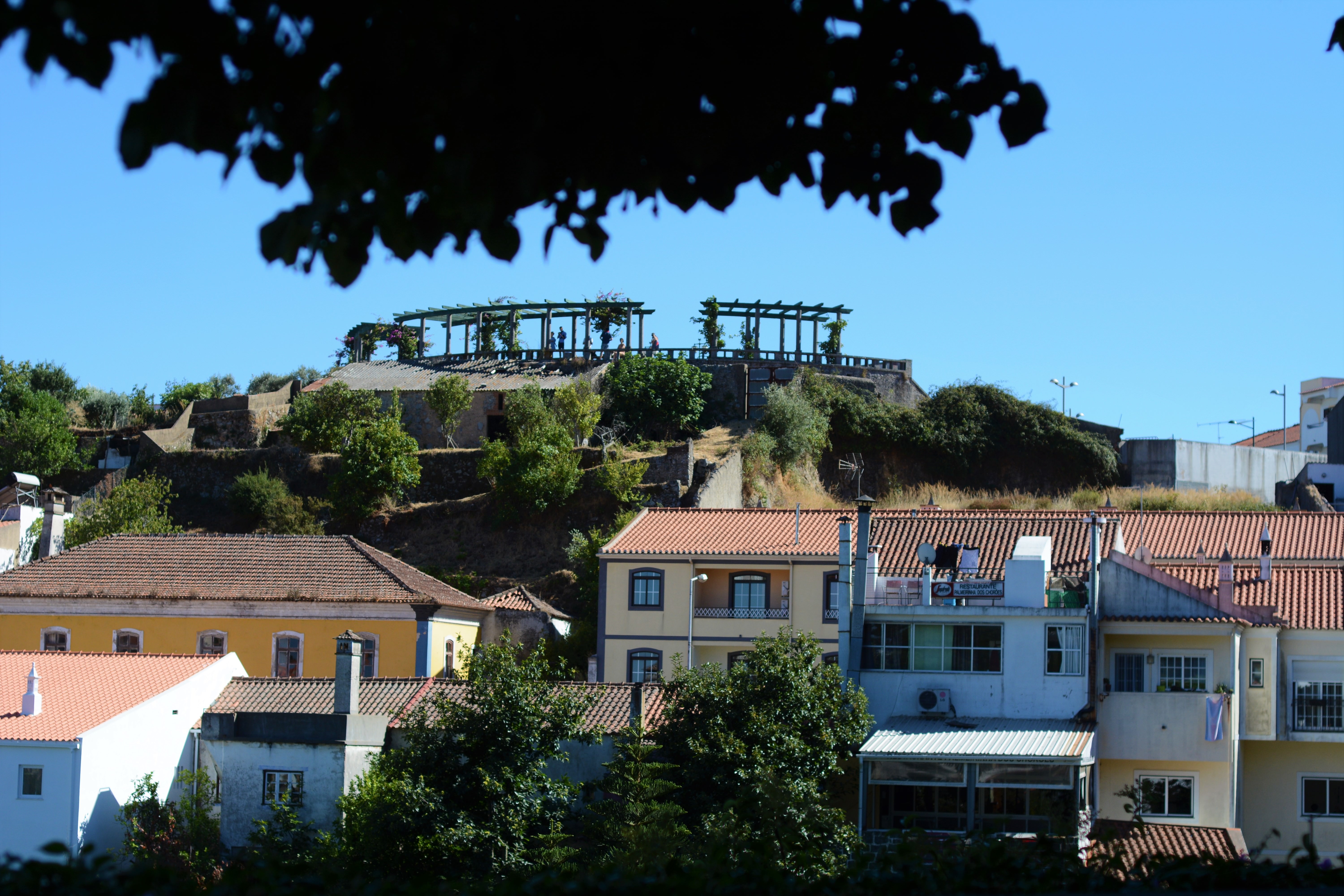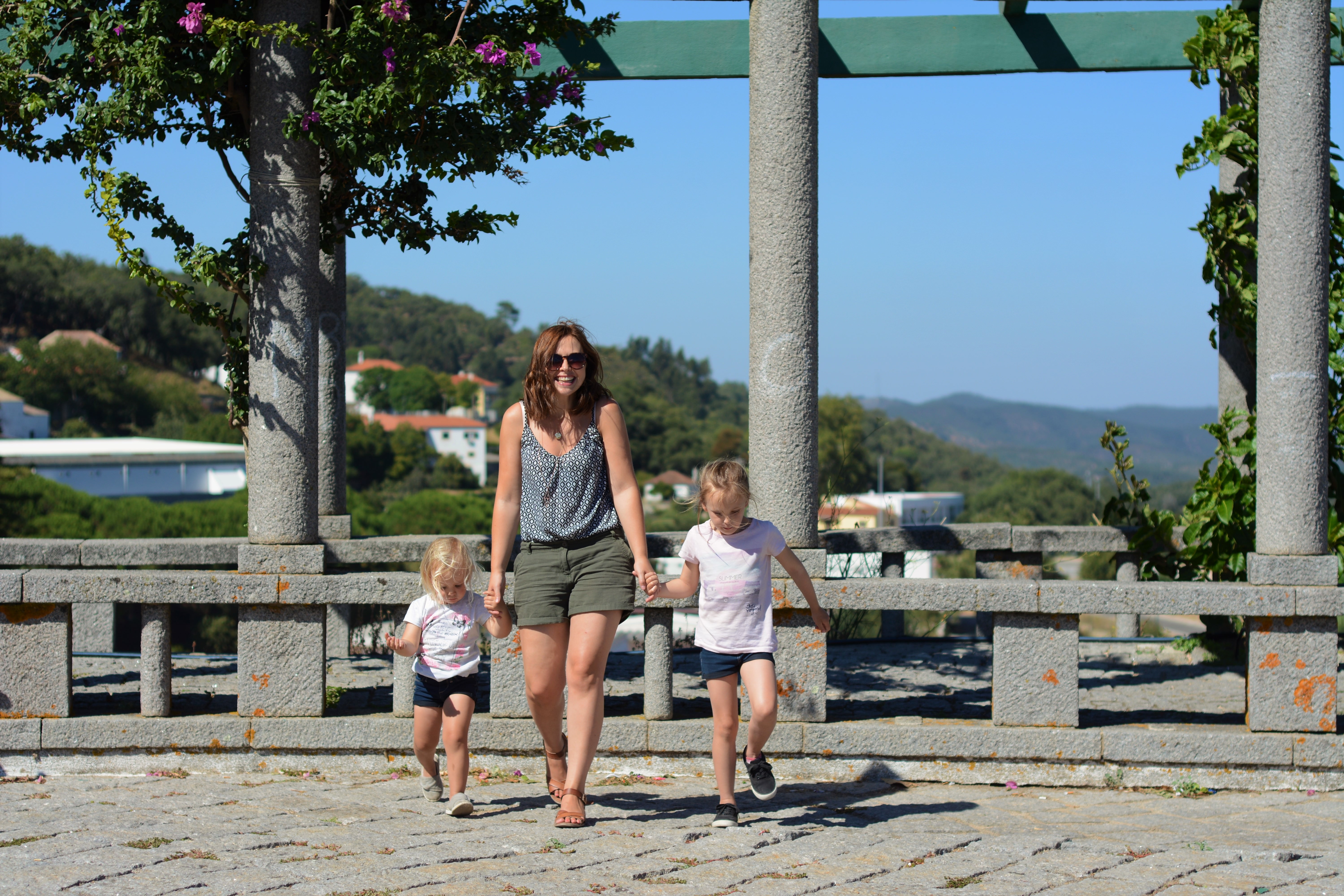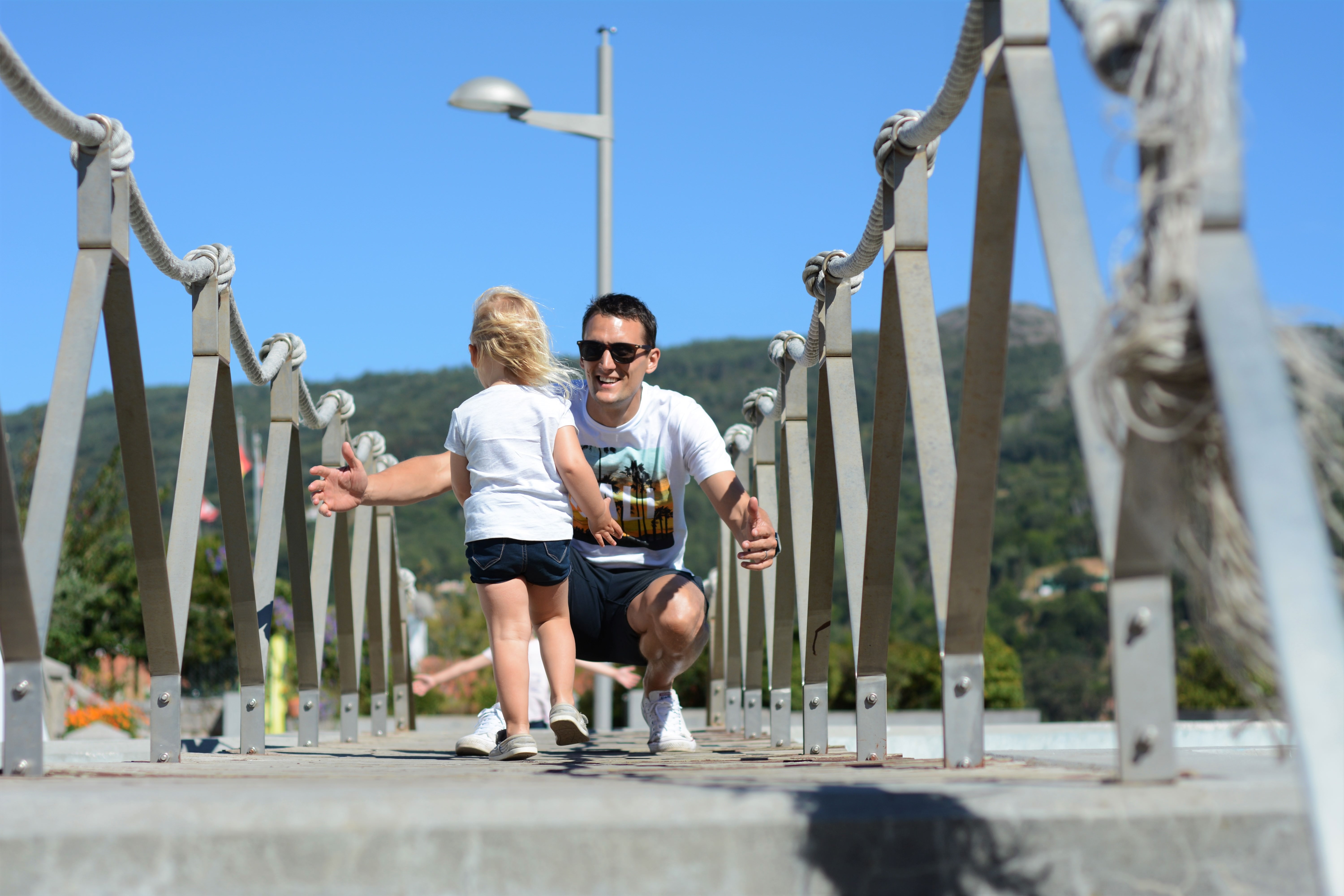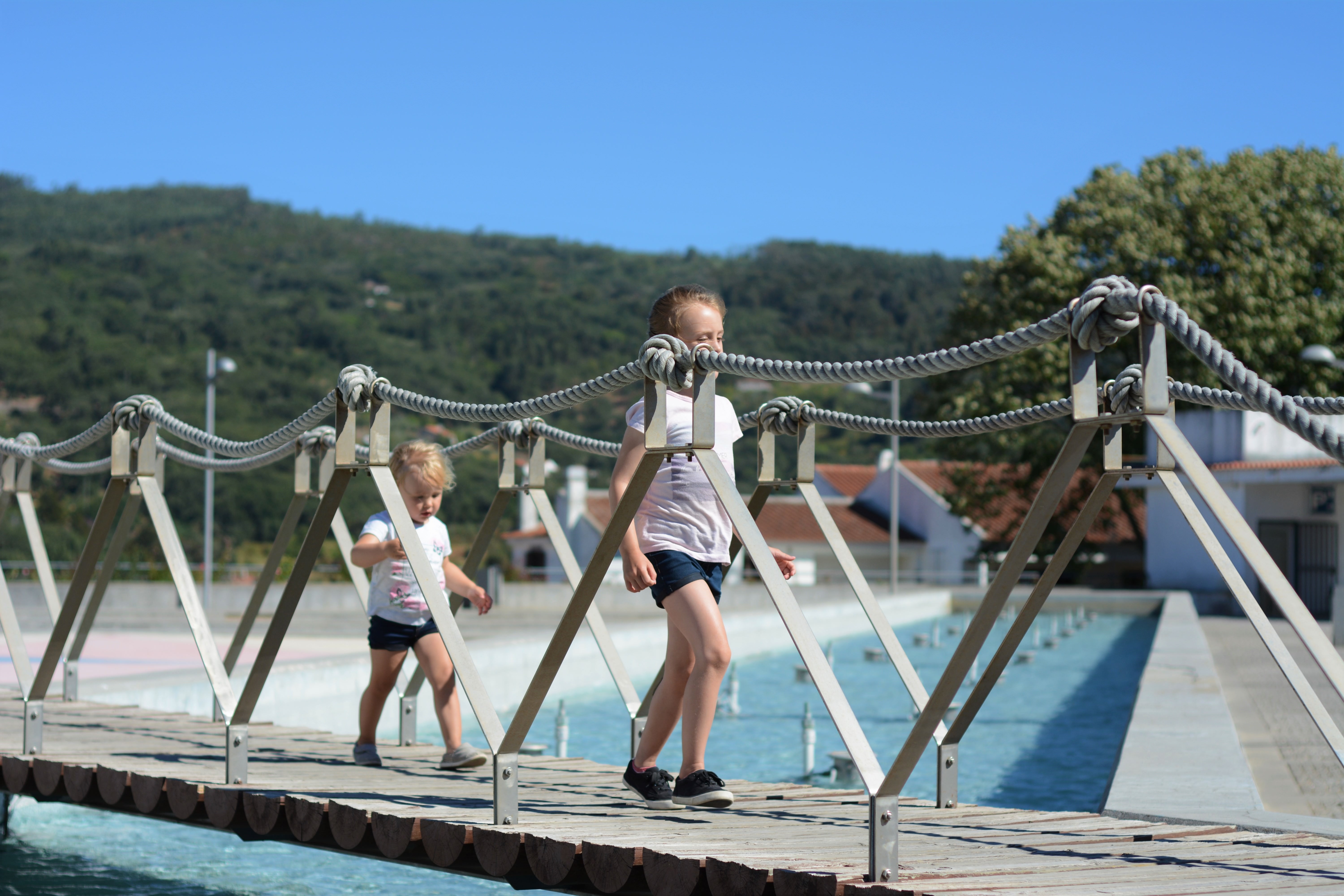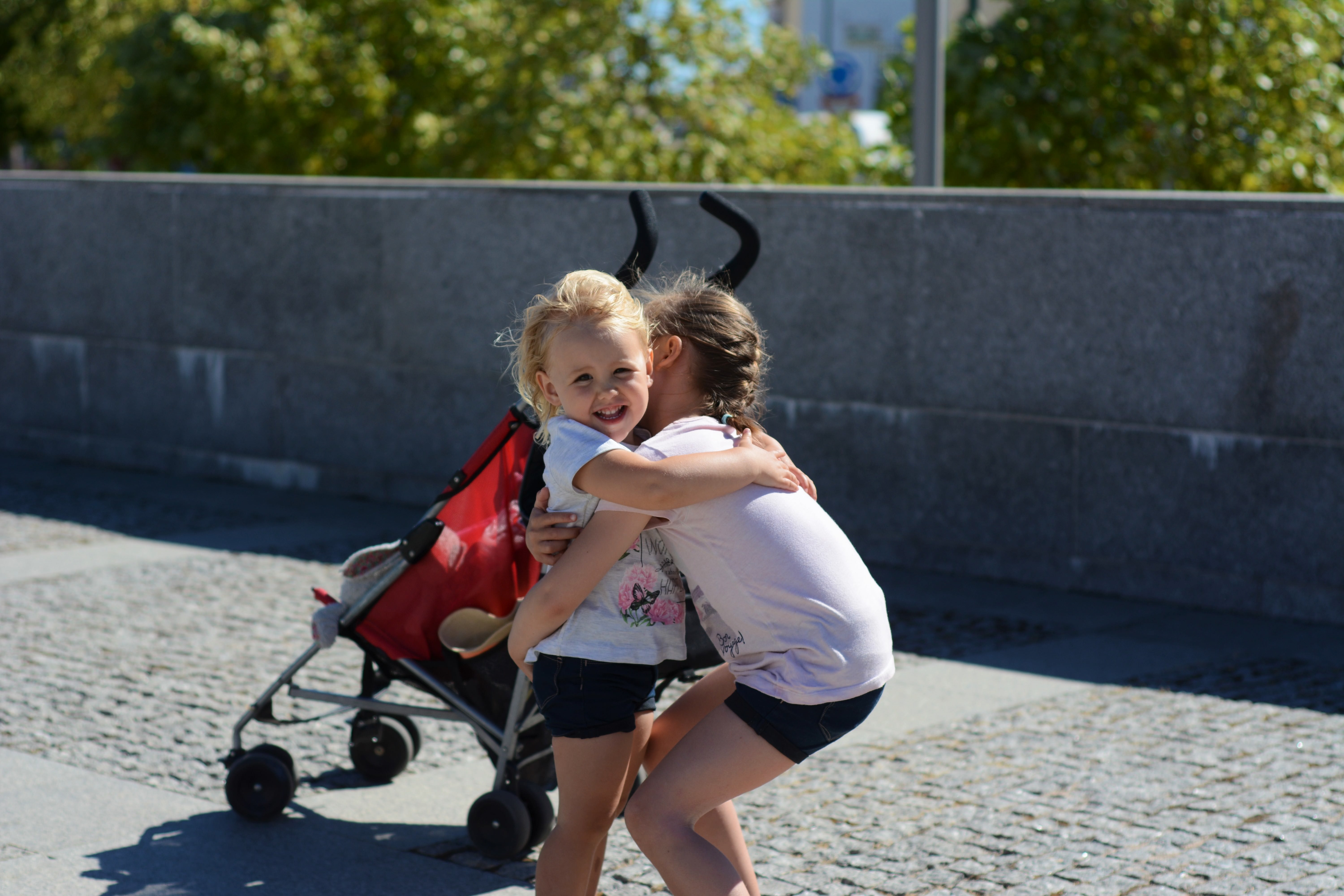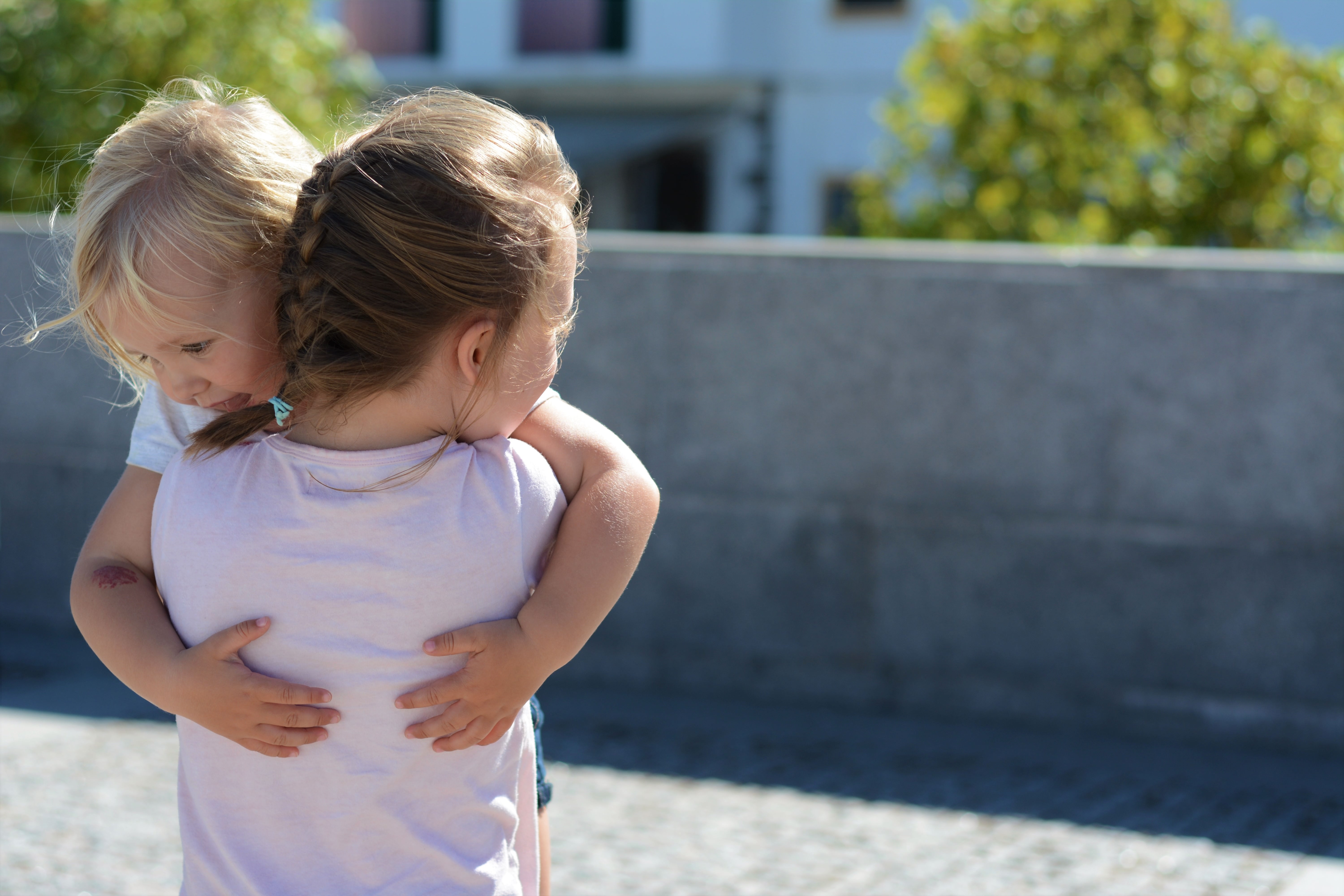 I love these pictures of the girls having a hug, even if the pushchair of doom is in shot! There were so close this holiday and in particular this day, they really were exploring together and I love the happiness on both of their faces to have a random hug in the middle of the street for no reason!
We didn't stay too long in Monchique to be honest probably an hour or so and on the way back from the car Eva, who had picked some flowers on the way, decided she she wanted to give them to this statue, it was so sweet, although I think maybe she should cover up a bit!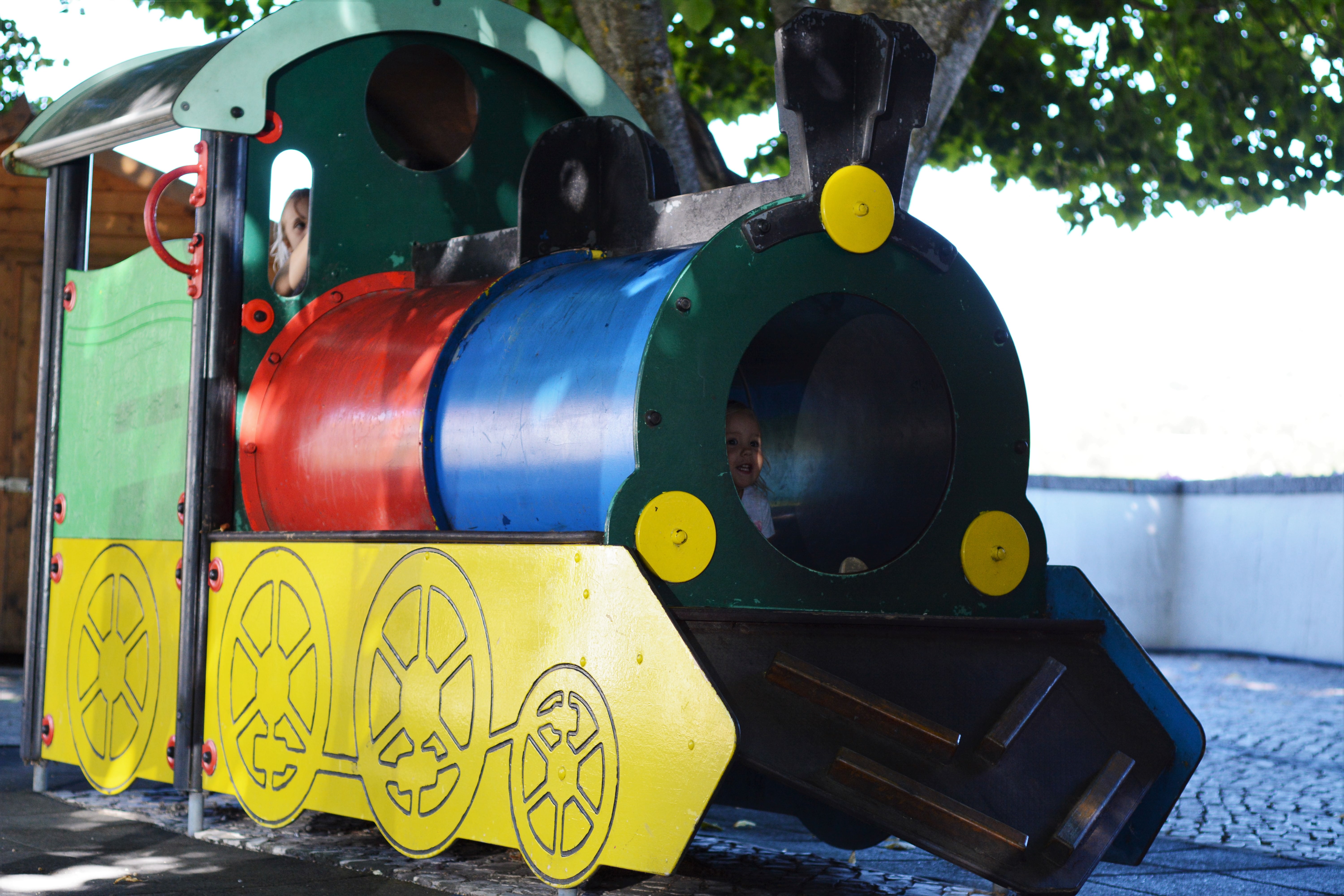 Just where we parked the car on the street was a little train so of course we couldn't leave without them having a play. It was great that even in the traditional cultural places there were always little things to pique the childrens interests and it was important to me to stop a while and let them soak it up too.
We talked to the lady in the tourist information there too who was really lovely and helpful and pointed us in the direction of Foia, just another 15 min drive and the highest part of the Algarve, 902 metres high to be exact.
Even though there are some out of bound areas due to military communications and there have been changes to the landscape because of this, it was still so stunning up there. After the very steep and very picturesque drive up it opens up to just the best view. As you can see, and imagine it was incredibly windy, the girls hair was everywhere and it would make them laugh that they might just fall over! It is also a good few degrees colder up there than anywhere else so be prepared with something warm, something we were indeed not.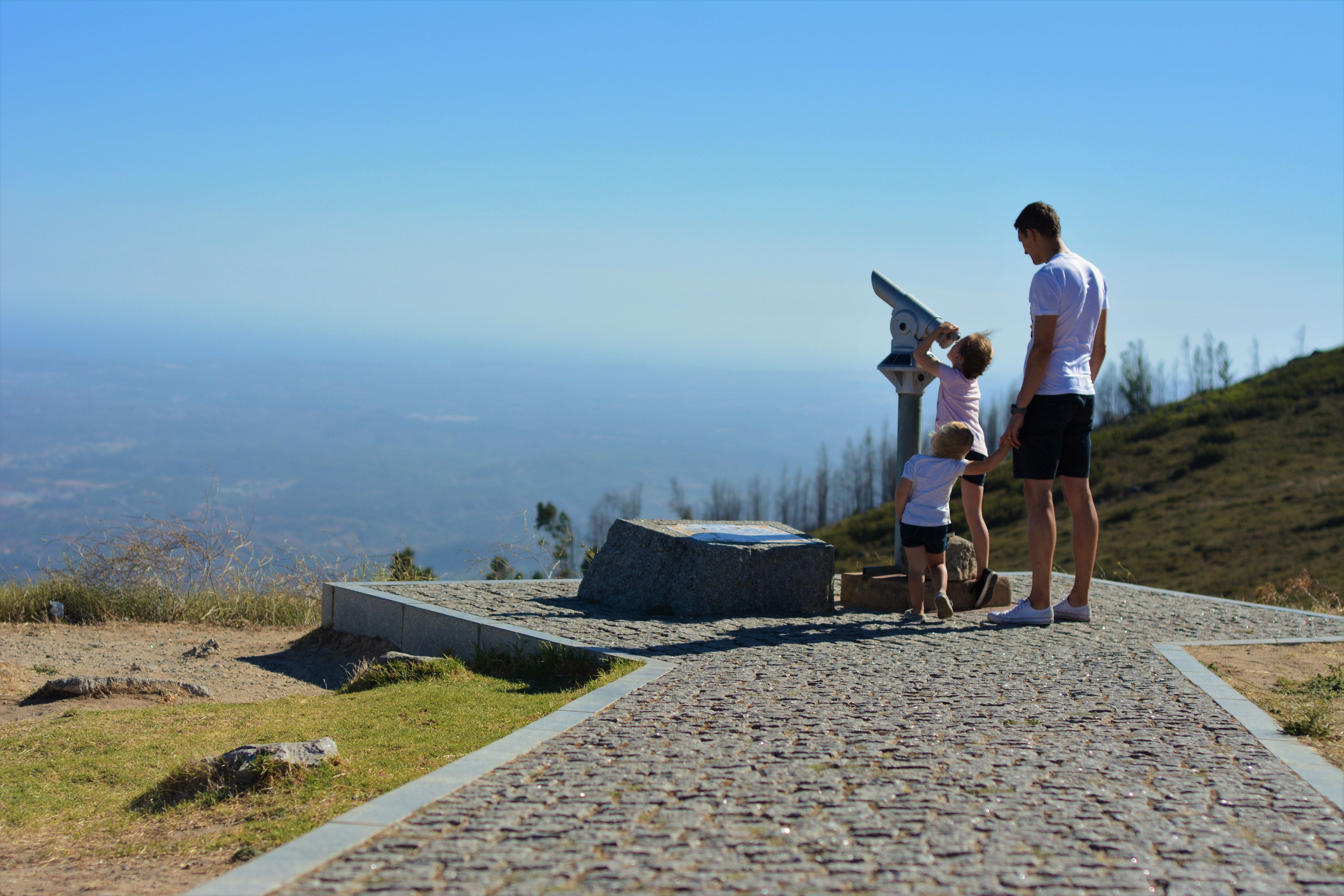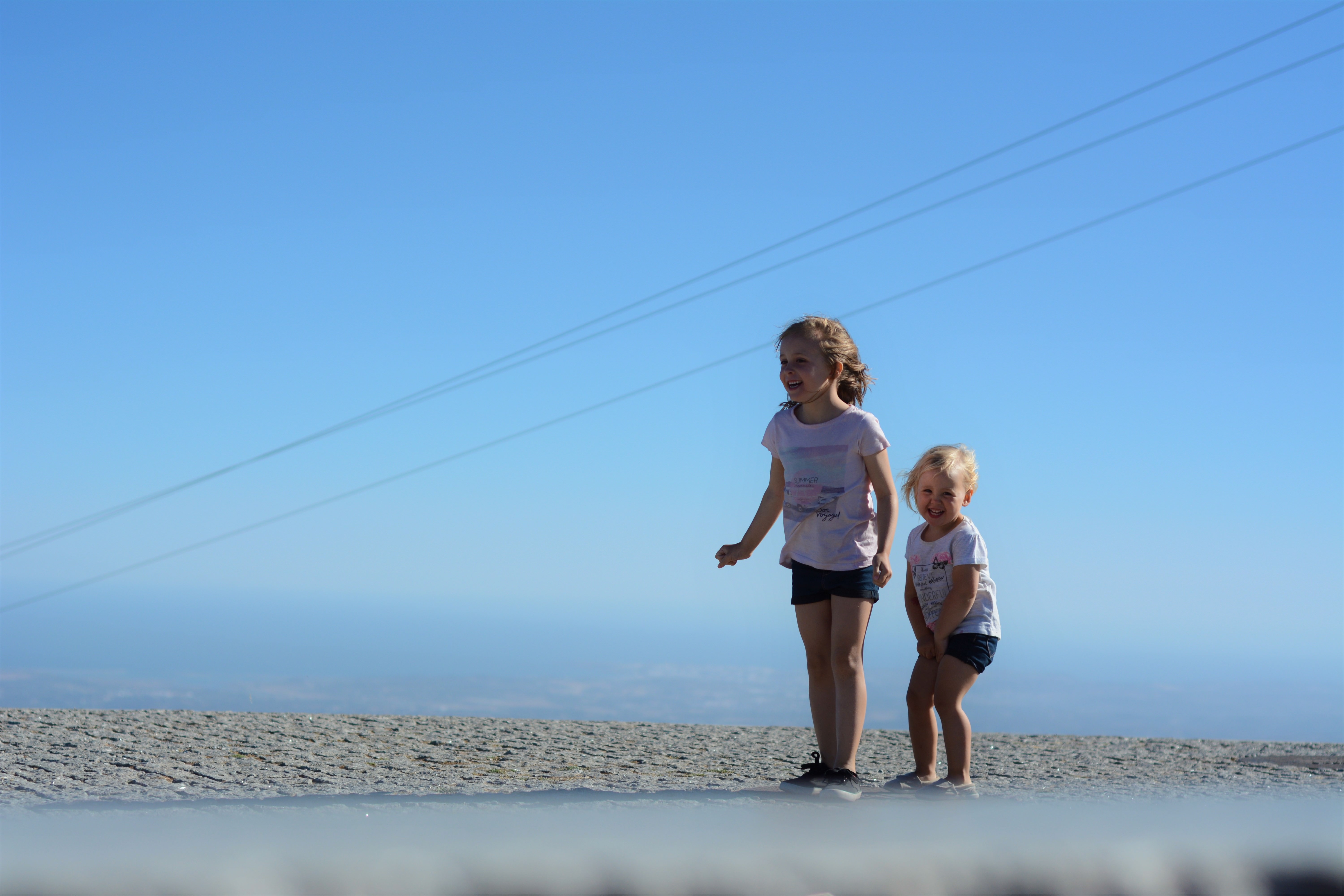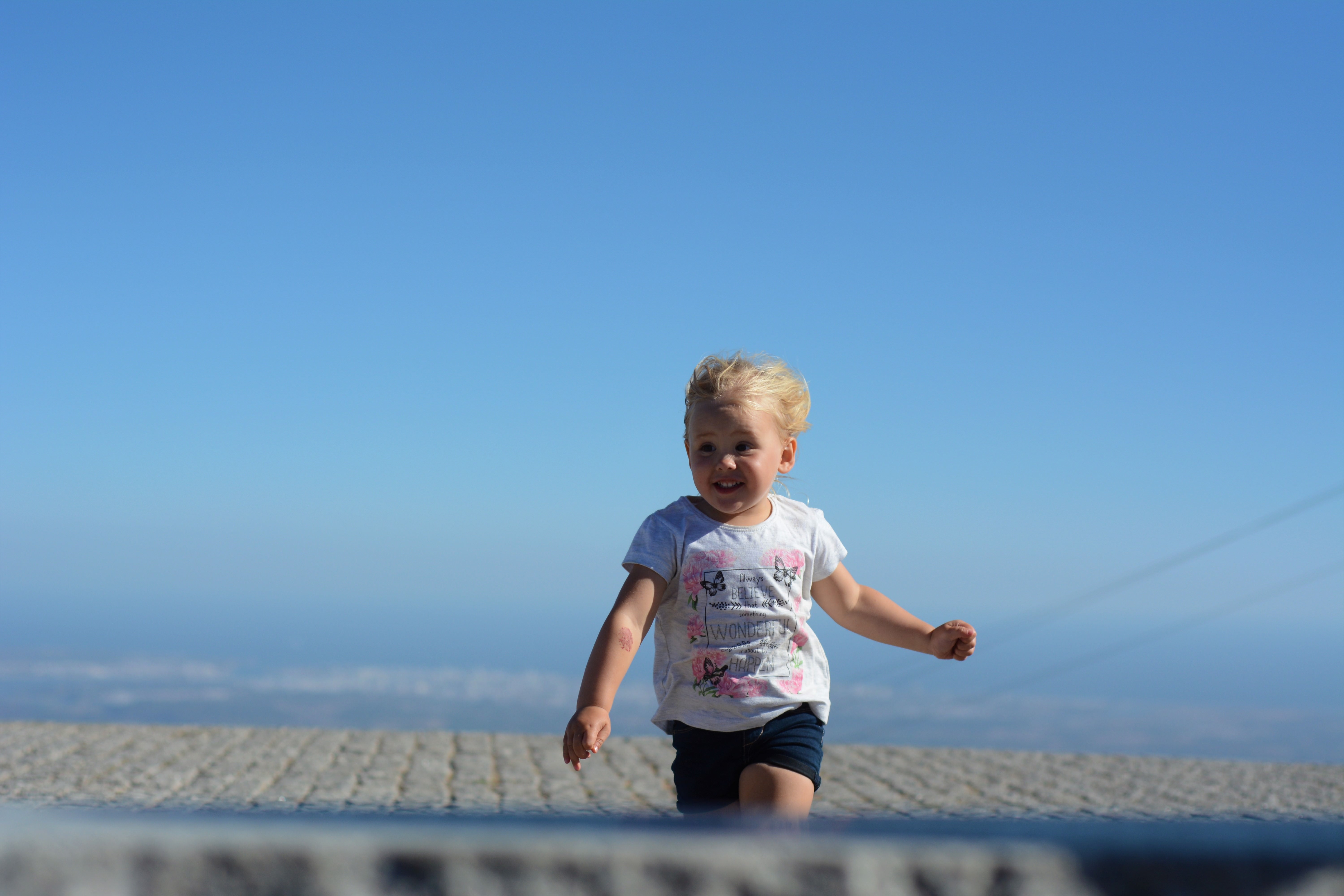 The girls were having running races and they definitely felt like they were on the top of the world.
As you looked around it was hard not to notice the stacks of stones littered everywhere your eyes wandered. Having looked into it when we returned noone is really sure why people do this and it seems to divide opinion. I guess it may just be a butterfly effect but of course we had to make our own, to leave our mark on this little place, four stones of us.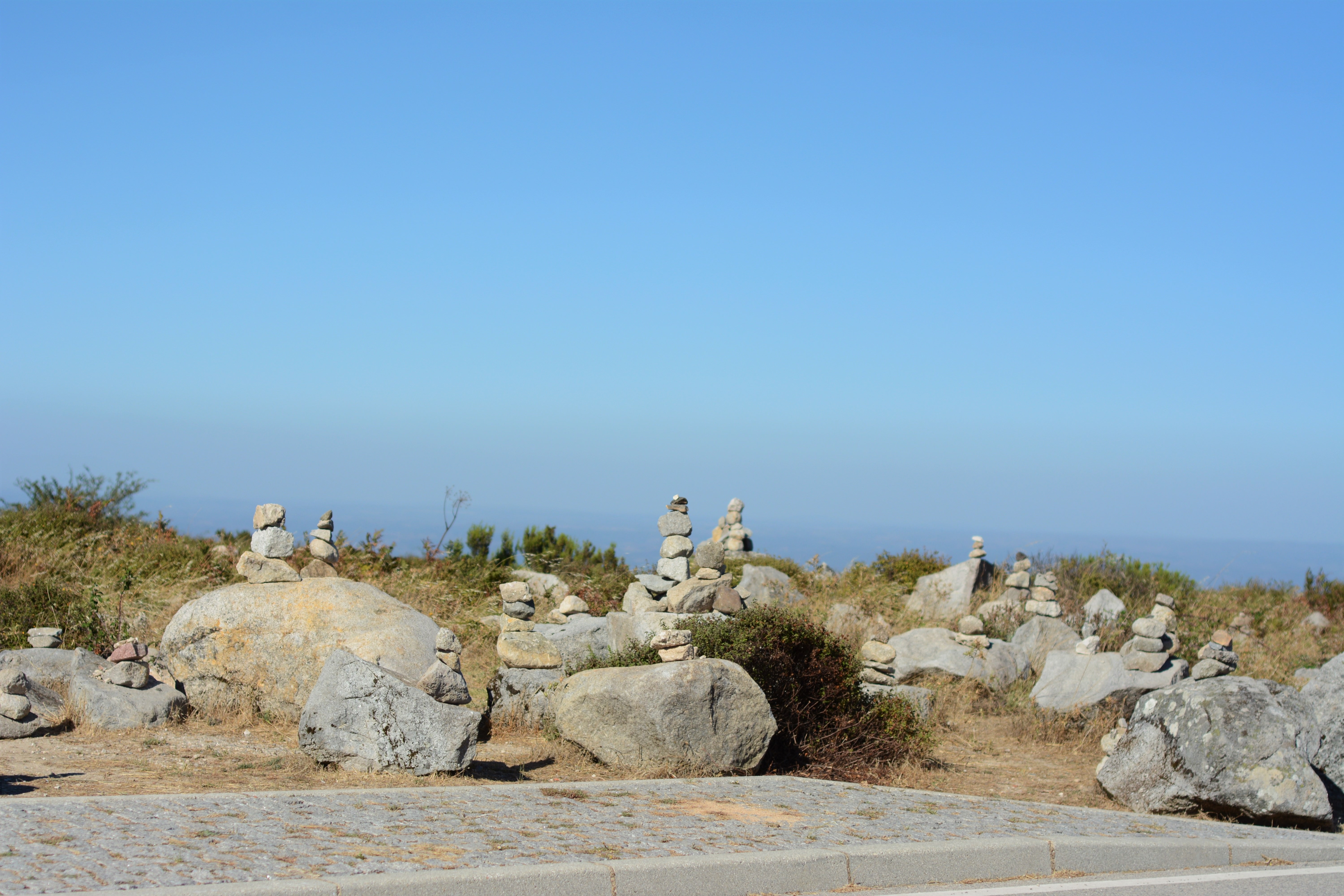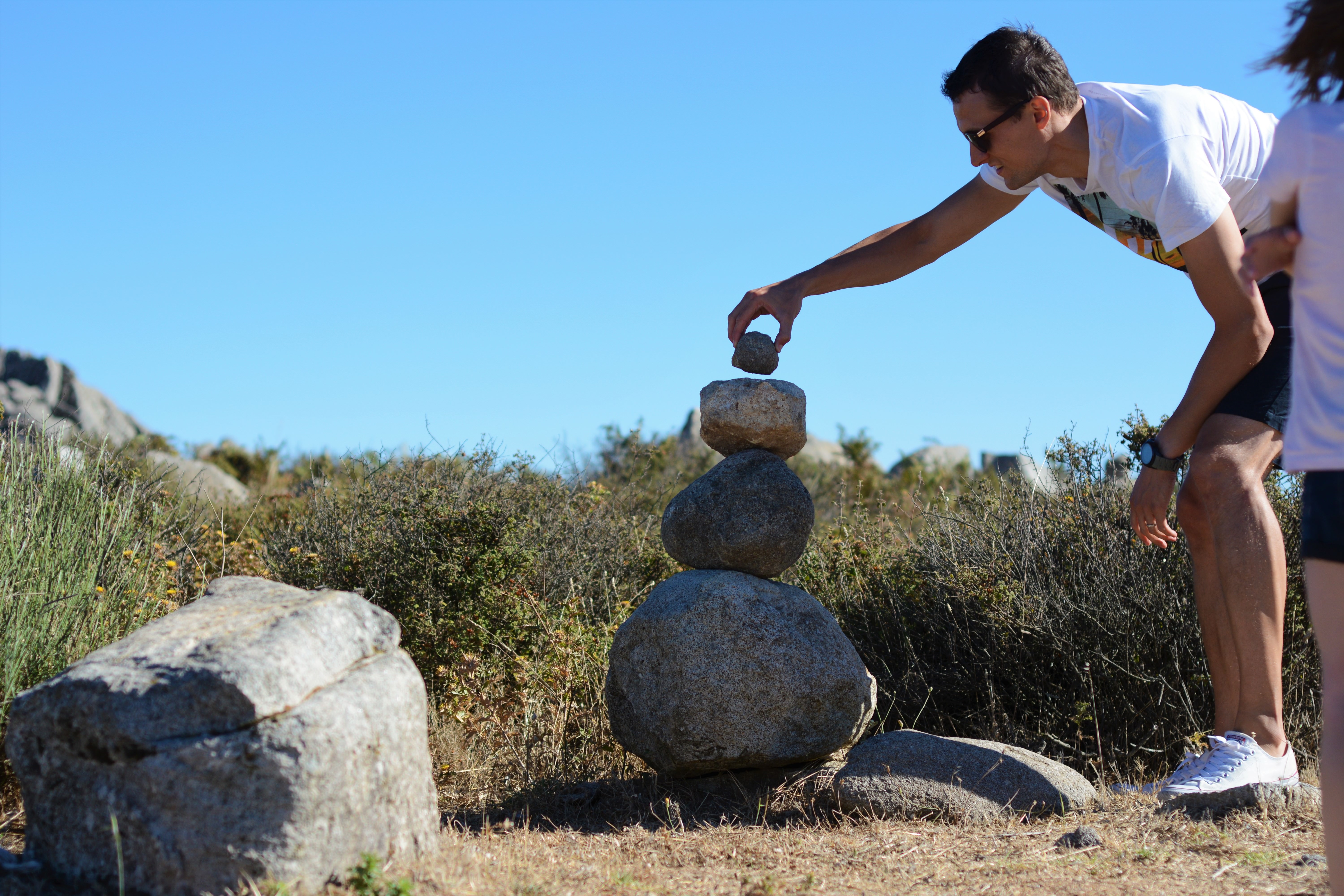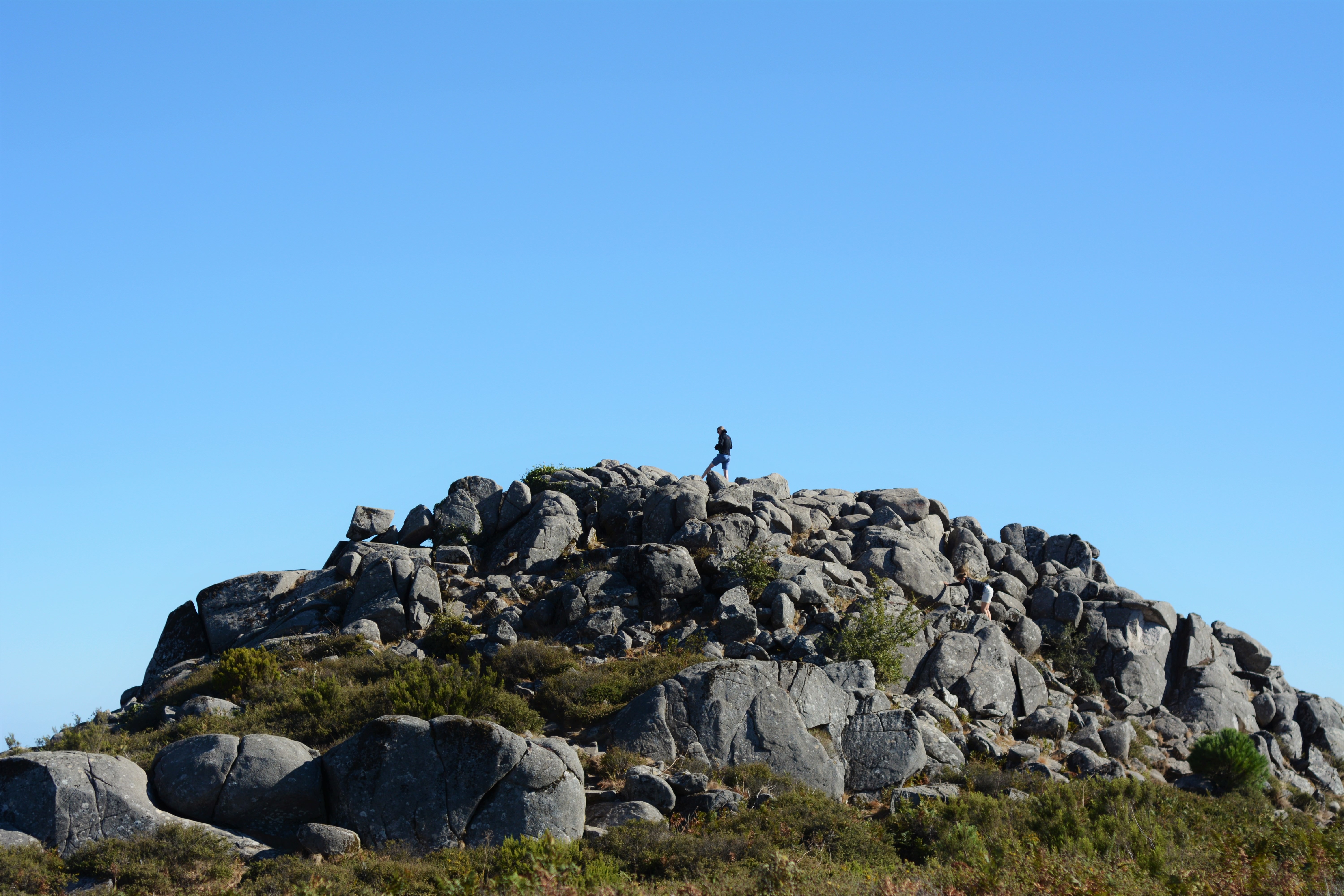 If I had the stamina, the right footwear, the time and perhaps was minus two children I would have loved to have climbed to the top of this. By the way that isn't Eddy, just some random man at the top!
There is also a shop and a little cafe there but we didn't stay long enough for that and drove back down. This time the car entertainment was the fact that they could see the opposite view than the way up and singing competitions with judges. It was simple family fun that I don't think I will forget in a hurry.
As it was getting late rather than drive back to the hotel we decided to head to Silves and grab dinner on the way, although as is the way in Portugal, we couldn't find anywhere open en route so ended up right back where we started in Silves Town for sushi. We parked just by the Ponta Romana bridge which was stunning in the late evening light. If only the children were not too tired to have some photos there!
Although it wasn't the traditional catalane that I was hoping for we had a delicious sushi meal. The girls love sushi too and they kept bringing out more and more for us to try, it definitely neat us in the end. Of course the girls were getting tired by this point but it was so lovely just to sit, even if they were flagging and sitting right on my knee, it was lovely to just be somewhere different.
It was such a shame that we had gone just as they were setting up for the medieval festival which is a really big thing there, think huge forts and activities all over the town. We also noticed some cool statues on our way out and it would have been great to have spent some more time there or at the time of the festival, maybe another trip!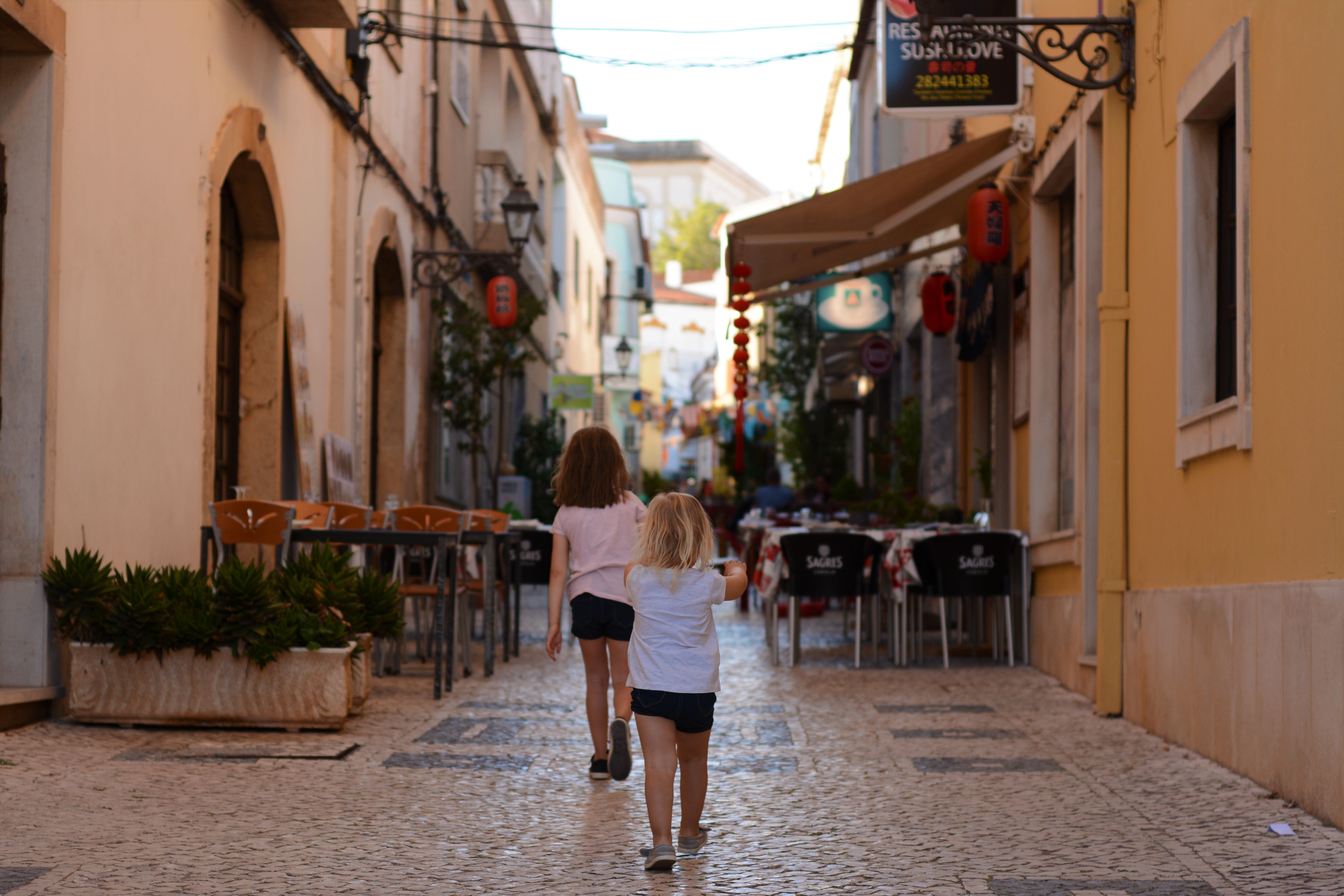 In most of the places we went to in the Algarve there seemed to be a point of making things colourful and fun and everywhere dotted around were these boxes in all dfferent designs, this was just on a street in Silves and the girls thought they were really cool and would run around spotting different designs together.
All in all and surprisingly, hiring the car wasn't just about all the places we could visit and experience but being in the car itself. The forced time to stop and be together. The singing contests, the laughs, the chats about everything around and of course the beautiful sleepy heads that we returned back with after the hour journey. I know you can get that at home but there was no real agenda there, no place we had to go, no time to be there and we could relax and go with the flow. Personally, despite being only 1 day of 14, it was the highlight of our trip for me and I would do it again in a heartbeat.
xx
You can see my other Portugal posts here and here and I have popped one of the videos below too which includes our day out.